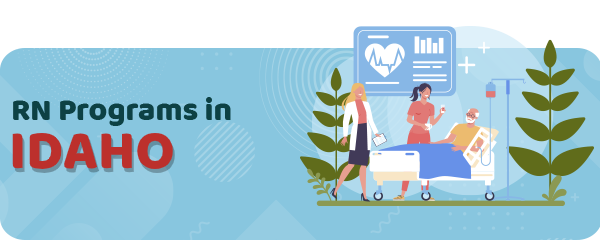 One of the most attractive things to do in life is traveling.
And traveling to the USA will open your eyes towards many things.
Most of all to the education and work opportunities that await you there.
However, traveling is not our topic today.
It's Nursing!
In Idaho for instance, you will have enough from Nursing opportunities to choose from.
This state offers you chances in this field as well.
Since now you know, let's take a look at this article together.
See how you can become a Nurse in this state in an optimal time period.
Though Idaho is large, its population is small.
However, there you will find many post-secondary institutions offering advancement in the field of nursing.
You can find their institutions in different locations inside the state such as Boise, Coeur d 'Alene, and Twin Falls.
In them, you will be able to experience the most effective science and technology methods.
Through them, patient-care and evidence-based nursing practices are implemented.
As seen, the state is in constant pursuit of acquiring more growth and development in nursing.
This way, it can offer patients quality patient-care and expand the profession-wide in general.
Nurses with BSN or a higher degree in nursing are more apt to receive better job opportunities and consequently, higher wages as well.
As we reach 2022, Idaho is expecting to increase to 600 job positions through its areas.
Basically, the best nursing care in the state is offered by attaining a Bachelor of Science in Nursing.
So, nurses with this degree are most favored in this regard.
For RN bridge programs visit:
RN to BSN Programs in Idaho
RN to MSN Programs in Idaho
ADN Programs in Idaho
The ADN or the Associate Degree in Nursing is the most commonly acquired degree type in Idaho.
Being only 2 years long, and having the privilege of having the summer off, it is available in many community colleges.
The degree is most useful to those students who want to go through a post-secondary and license as a Registered Nurse.
The number of ADN programs in Idaho is optimal.
In them, both students and teaching nurses do their best to meet the healthcare needs in the state by offering healthcare with a focus on the patient
What to Look For in an ADN Program in Idaho
What you look for in an ADN program in Idaho depends a lot on what you need as an aspiring student.
Many times, you will find different programs having different skill sets and outcomes out of them.
But if we are to be simple and short in this aim, you need to look for accreditation, licensure status, and program outcomes.
This way you will make a good decision about your school choice.
Accreditation
In Idaho, nursing institutions are accredited by various bodies.
For example, the Northwest Commission on Colleges and Universities (NWCCU) is available for accrediting community and technical colleges in the state.
So obviously, accrediting bodies offer high quality and standard accrediting services to the educational institutions in the state.
This accrediting body is only meant to accredit the institution.
While ADN programs as part of it, receive accreditation through the Accreditation Commission for Education in Nursing (AECN).
Or else, they may be accredited from the American Association of Colleges of Nursing (CCNE).
The issue of accreditation for a school is made public on the website of the accrediting bodies.
So, it up to the student to check it every now and then to make sure, his school choice works towards accrediting standards.
Licensing
In the most to-do lists of a nursing program is Licensing too.
After acquiring the ADN degree, there comes sitting for the NCLEX-RN exam, as the last step towards the license.
To sit this exam on time, you can contact the Idaho Board of Nursing to give you the right information.
Without having obtained licensure, students are not able to use the title of "Registered Nurse" anywhere.
Program Outcomes
Program outcomes are a great stimulation to future nursing students.
This information is used in Idaho nursing schools to attract them to the programs they offer, and they are put on the school's websites.
Through this practice, they also manage to keep their accreditation as well.
However, from the most common program outcomes, you may find the following and compare therein:
Total number of program graduates
Raw enrollment vs graduate data
NCLEX-RN exam pass rates (first attempt, not aggregate data)
Student experience data
The most competitive program is offered at North Idaho College.
The college offers health sciences in nursing to all students.
It also offers preferential placement for those who hold an LPN diploma.
ADN Program Admission Requirements in Idaho
Regardless of the nursing shortage in Idaho, nursing admission criteria cannot fall short.
Admissions do change between institutions, but there are a number of similarities:
High school or GED transcript with posted graduation date
Record of all college-level credits
Cumulative GPA of 3.0 (cumulative) on prerequisite courses
Meet the ADN Admissions criteria for physical ability
Individual TEAS score of 60% or greater
Provide evidence of current CPR certification
Tuition and Costs of ADN Programs in Idaho
Tuition and nursing costs in Idaho are regulated by state and federation.
However, they are nearly similar in all nursing institutions.
Usually, uniforms, nursing equipment, housing, and student fees vary from the institution.
But, in community and technical colleges, this money will be spent well in an ADN program.
Here is a sample school for you to have an idea of the cost of your education in Idaho.
The College of Western Idaho, with its campuses in Boise and Nampa, as well as its online availability, has the credit hour per student of $140.
The quoted book cost is about $1000.
But as expected, nursing students will likely exceed the sum.
Nursing supplies and uniforms, on the other hand, are not quoted on price lists.
But it is a common practice that teaching staff has recommended vendors to source these items from.
Advantages of ADN Programs
Every way has its own advantages and disadvantages.
Now I am going to tell you only about the first.
Some of the advantages of pursuing an ADN degree in Idaho are the 2-year length of the program, less time, and money to commit to the studies too.
In addition, there is also the possibility of transfer offered from community and technical colleges with streamlined universities in the state.
Also, colleges offer more hand-on practice to learning which highly important to nursing students.
BSN Programs in Idaho
Apart from ADN programs, in Idaho, you may aim for a Bachelor of Science in Nursing too.
This program is available in the state with 4 years of block studies.
It can be obtained through an ADN to BSN bridge or as an RN, as part of the continuing education in the nursing career.
This type of degree prepares students for the strict clinical practices at work.
As well as offer them more in-detail reading and theoretical work.
This way they can expand their knowledge and skills in the field.
What To Look For in a BSN Program in Idaho
BSNs mission in Idaho is noble.
For this reason, they are continually looking for university programs that would enable them to learn more in nursing.
As a result, they would be able to educate, serve, and enter the research and service realm of patient care field for all types of population.
Nurses are committed to a path of lifelong inquiry and education for their field and schools should match this.
One University to check for in terms of what to look for in one is the University of Idaho.
Its main philosophy is to offer holistic management of the patient's state in order to heal him or her.
Through this philosophy, nursing students and RNs are striving to improve patient care and nursing standards in the university in particular, and in the state in general.
BSN Program Length in Idaho
The standard BSN program in Idaho is 4 years or 8 semesters.
However, there can be accelerated program options as well.
The 4-year program may also be shortened in 2.5 years, and the knowledge gained at this period of time will be the same anyway.
So, nothing to lose.
BSN Program Admission Requirements in Idaho
Admission requirements for BSN programs in Idaho depend on many factors.
They depend on funding, program space, and surrounding community and state data.
Anyway, there are some common requirements that each student may expect to meet in a standard BSN program in the state.
These are:
Satisfactory completion of general education and program course requirements
Submit your official transcript and any other post-secondary documentation you may have
Ensure your GPA is 2.0 or higher for pre-requisite courses
Submit the appropriate application forms with fees if applicable
Visit your assigned Academic Advisor
Tuition and Costs of BSN Programs in Idaho
A Bachelor of Science in Nursing is a value in the nursing profession.
It hourly rate of $25 to $30, it is worth it.
For the purpose of helping a student pass into adulthood, tuition rates, and other costs such as housing, uniforms, texts, and equipment are publicized from the universities.
For instance, the resident cost of the University of Idaho is $3,500 per semester for 12 credit hours.
While approximately $11,000 for those out of the state.
Other fees may be as much as an additional $2500 for first-year students.
In this cost, housing and transportation are calculated separately.
Advantages of BSN Programs
First and foremost, BSN programs are highly required in Idaho.
The question is why?
Well, they offer a double number of credit hours, the health care industry in general supports RNs with such a degree in their pocket.
As a result, the candidates with BSN degrees are mostly needed in hospitals, clinics, and other health departments across Idaho.
These candidates have the necessary extended learning of the degree along with the additional experience in clinical placements.
So, if you think you may want to pursue an MSN degree at some point, you should start with a BSN in the first place.
MSN Programs in Idaho
The MSN degree in Idaho covers many nursing education aspects such as public education, leadership, and other specialty medical pathways.
The lessons of this educational level are offered online for those nurses who have more personal and professional duties to do.
The ideal time frame for the MSN degree in the state is 2 to 3 years at most.
In Idaho, MSN programs are offered in two universities.
Apart from them, students may also choose to attend out of state universities as well.
MSN Program Length in Idaho
MSN program length is usually offered full-time with three to four semesters of study.
This phase of education demands time and effort from the students.
So they should primarily see if they can commit to the intense clinical and theoretical workload that awaits here too.
MSN Admission Requirements in Idaho
At the graduate degree level, standards of professional experience, practice, and pre-requisites are important.
Institutions may vary, but admission criteria are similar for both MSN schools.
Degree from a regionally accredited institution
Current US RN licensure or its international equivalent
Evidence of good standing by the Idaho Board of Nursing
Evidence of current employment as an RN
Meet or exceed the minimum prerequisite course grade of "C"
Provide transcripts indicating a cumulative GPA of 3.0
Tuition and Costs of MSN Programs in Idaho
Compared to other states, MSN programs in Idaho are neither the most nor the least expensive.
The Northwest Nazarene University Schools of Nursing and Health Sciences has per-credit-hour tuition of about $600.
Additional fees are calculated separately per semester.
Graduate students are expected to enter the program having procured nursing equipment and uniforms.
For NP programs visit:
Idaho DNP Programs
Idaho FNP Programs
Idaho Nurse Practitioner Programs
Idaho Post-Graduate Certificate Nursing Programs
Getting an Idaho Nursing License
Idaho requirements for nursing licensure by examination or endorsement must include a completed and notarized application package.
The application should be consisting of the following information:
Photo – taken with in the last year (2″ x 2″ or 2″ x 3″)
Completed census questionnaire
Completed 'Affidavit of Graduation' – sent from school directly to state board, after being notarized
Fingerprint Card – criminal background check
Registration for the NCLEX-RN exam
Licensure by endorsement can be obtained by providing:
Completed, notarized application form
Census questionnaire
Verification of license form – via NURSYS if applicable
Satisfactory employment reference
Declaration of state residence
Completed, notarized affidavit of validity
Fingerprint card
Accelerated Nursing Programs in Idaho
One way to go for a nursing career in Idaho is through an accelerated program.
The beauty of attending this type of program is that it rewards you as a student with two degrees within a short period of time at study.
Both clinical hours and courses are given at the same time.
This means that students should cut off the work at that time in order not to miss the classes.
In order to enroll in this program, there have to be some requirements met as well.
One of these is the completion of a particular course beforehand.
While other additional courses may also be an advantage to being admitted to the program.
Therefore, students should consider the set of requirements needed before application.
Idaho Accelerated BSN Programs
Idaho Accelerated MSN Programs
The Best RN Schools in Idaho
In life, we always want the best.
But we do not always know what's best for us.
To know better, we need to want and to explore more.
Similar to that, the best nursing school for you is the one that works in good standards and is accredited.
But most of all, the one that offers the program you have an interest in.
| School Name | Address |
| --- | --- |
| Boise State University | 1910 University Dr, Boise, ID 83725 |
| Brigham Young University - Idaho | 525 S Center St, Rexburg, ID 83460 |
| Carrington College | 1122 North Liberty Street, Boise, ID 83704 |
| College of Eastern Idaho | 1600 S 25th E, Idaho Falls, ID 83404 |
| College of Southern Idaho | 315 Falls Ave, Twin Falls, ID 83301 |
| College of Western Idaho | 2407 Caldwell Blvd., Nampa, ID 83651 |
| Idaho State University | 921 South 8th Avenue, Pocatello, ID 83209 |
| Lewis-Clark State College | 500 8th Avenue, Lewiston, ID 83501 |
| North Idaho College | 1000 W. Garden Ave, Coeur d'Alene, ID 83814 |
| Northwest Nazarene University | 623 S University Blvd, Nampa, ID 83686 |
| Stevens-Henager College - West Haven | 1890 South 1350 West, Ogden, ID 84401 |
RN Salaries in Idaho
Salary is just like water, we need to always have it flowing.
The better we get paid, the more stimulated we are to do more.
But to receive better payment as a nurse, you have to make an input first.
This input is your education, your skills, and work experience in the field.
Annual Salary Range: Annual Salary by Location:
| Location | Avg. Annual Salary |
| --- | --- |
| Boise | $60,279 |
| Nampa | $59,644 |
| Pocatello | $55,210 |
| Idaho Falls | $57,754 |
| Meridian | $60,216 |
| Coeur d'Alene | $58,771 |
| Twin Falls | $55,019 |
| Lewiston | $62,725 |
| Caldwell | $59,581 |
| Moscow | $62,516 |
RN Programs by State
---