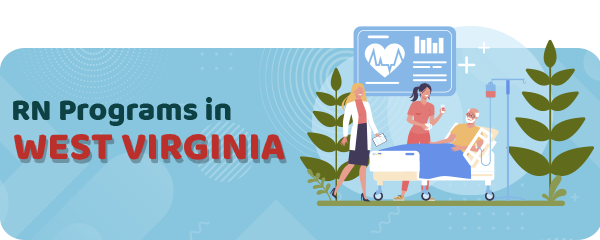 Being a highly populated state, and of a large area, West Virginia has so much to offer.
Depending on what you look for, it will give you.
If you are looking for an education, you're in the right place.
But if you're looking for both education and career in Registered Nursing, welcome to the state!
You might have heard very little about West Virginia.
You may have heard it in news, in social media, or anywhere else.
But it's enough a click in Google, and here you have all that you need to know about this profession.
However, if you don't find exactly what you need, don't be discouraged.
Take a look at this article and learn how to become an RN in the state in a few steps.
RN School Choice
The most important things first.
The school.
The school you choose to follow a nursing career has a huge influence on your professional development.
Prior to registering one, you have to check if one offers licensure or not.
One way to find it out is through NCLEX-RN exam passing rates.
The present and historical student passing rates will give you a huge reason to continue with the school.
In terms of these passing rates, I have reviewed the 26 RN programs in West Virginia.
From this analysis, ten of them are top-rated in the field.
Generally speaking, the programs that offer an Associate Degree in Nursing.
Better said, the programs I will be telling you about in this article, which include an ADN, ASN, BSN, or MSN degree.
With this number of programs in the state, you will surely find jobs in the field too.
The state boasts with 30 hospitals that are equipped with 6,000 beds.
As such, even the need for nurses is present.
Registered Nurses, in particular, are highly needed and have a good standing in West Virginia.
The Bureau of Labor Statistics suggests that.
In addition, you will also find 107 Health Profession Shortage Areas in the state.
Their shortage is clearly seen in dental, mental health, or primary medical care.
With so many areas of extended areas of the field, chances to practice Registered Nursing in the state are many.
The salary is also satisfactory, with $61,780 in a year.
As such, both advanced nursing degrees are available as well as opportunities to earn more in the field.
Where are aspiring nurses?
If you're up to this profession, check the RN bridge programs in the state as well:
RN to BSN Programs in West Virginia
RN to MSN Programs in West Virginia
ADN Programs in West Virginia
In the variety of nursing degrees, an ADN degree is the shortest and most popular one.
In two years' time, you can complete this program and work at the same time.
You can get this type of education in more than 10 schools if that is your concern.
Technical and junior colleges are the right institutions to go for it.
Though you can find an ADN degree in universities around the state as well.
So basically, opportunities are waiting, you only need to grab them soon.
What to Look For in an ADN Program in West Virginia
The key to a successful nursing program is finding the right one.
The right ADN program for you so far is the one that meets your criteria the most.
But do you know your criteria yet?
Let me teach you some good ones.
Accreditation
Have you heard about accreditation?
I am joking, of course, you have.
It's the first most important criteria to look for in a school.
If it is set well, the entire ADN program you pursue will go the same.
It ensures legitimacy.
The best way to find accredited schools is to search for them.
In West Virginia, you will find three organizations doing this practice on a regular basis.
The first accrediting organization there is the Accreditation Commission for Education in Nursing.
The second is the local one The West Virginia Council for Community and Technical College Education.
While the third is the West Virginia Board of Examiners for Registered Professional Nurses.
Licensing
There are some things in life it's okay to be unsure, but licensing isn't one of them.
The NXLEC exam is one proof of why it should be otherwise.
Registering it is crucial to get the license and become an RN soon.
The exam has a history since 2015 in West Virginia.
A percentage of 86,7% of nurses who graduated took this exam and the license along with it.
Program Outcomes
ADN program outcomes in West Virginia have a significant role in drawing students.
But as an aspiring student, you have to keep an eye is a few indications they make public.
These include:
Graduation rate
Licensure exam pass rate
Graduate satisfaction
Employment rate
An example of the school in the state is the Fairmont State University in Fairmont.
It's the school where an accredited ADN is available.
ADN Program Admission Requirements in West Virginia
ADN programs have their own set of requirements to admit students.
It's their working practice through which they perform.
Some of the crucial ones include:
Make sure you meet the general admission requirements of the school you apply in
Reach the minimum overall GPA (most of the times a 2.0 or higher GPA)
Must submit ACT, SAT or COMPASS scores
Completing the Test of Essential Academic Skills  is a must (TEAS)
Pass the Admission test with a proficient or higher score
Send a completed health form
Pass a criminal background check
Tuition and Costs of ADN Programs in West Virginia
An ADN program starts with tuition, but the cost does not end with it.
You have to pay for other additional fees as well.
They usually include fees, uniforms, textbooks, and similar.
These are separate fees.
Of course, tuition differs from school to school.
But in the Saint Mary's School of Nursing through Marshall University in Huntington, you will find tuition of $13,000.
This tuition cost is special for students who live in the state.
Additional pay comes right away attached.
And congratulations!
You have pursued an accredited ADN program in West Virginia.
Advantages of ADN Programs
The shorter the degree, the better the advantages that pursue it.
One important one is program shortage.
It helps you finish things faster.
The other advantage is the affordability of the ADN program, and the opportunity to access it easily.
How cannot it be so when flexible schedules are the best feature of the ADN program in technical and community colleges!
As such, you can both work and study at your comfort.
LPN to RN Programs in West Virginia
If it were not for the transition RN programs, I would think nursing limited in West Virginia.
But having the chance to jump from LPN to an RN degree is a privilege.
This transition can be an accelerated program.
However, they are always faster than traditional ones.
The beauty of these programs is that they offer students the right amount of credits since they have already completed nursing courses in an LPN Program prior to the RN.
LPN to ADN/BSN Programs
Luckily, LPN to RN programs are of two types.
You can choose to pursue an LPN to ADN program.
Or else switch to an LPN to BSN one.
The first is rather short.
You will complete it in as short as a few semesters.
It is actually available at Bluefield State College.
While an LPN to BSN degree is a longer program because it culminates in a Bachelor's Degree.
The program is available at Alderson Broaddus University.
You can complete it in 36 months' time.
The program is indeed a heavy one.
So the student should be prepared to learn the same.
Both of the transition programs have their own admission requirements, which include the following:
At least have a high school/college GPA
Have an Active LPN license
Complete all prerequisite courses with a passing grade
Professional LPN experience students are preferred
BSN Programs in West Virginia
The second reason why you should try a nursing career in West Virginia is a Bachelor of Science in Nursing.
These programs have a tradition of four years in the state.
Yet, the fruits of pursuing them are sweet.
Simply speaking, you can advance in your career more than with an ADN program.
In WV, there are 6 schools offering this degree in an accredited form.
Go and check them.
What To Look For in a BSN Program in West Virginia
There are two things you need to keep in mind when looking for a suitable BSN school.
They are accreditation and reputation.
The more types of programs a school offers, the more convenient for you.
However, you have to choose only one.
An RN to BSN program is common in the majority of BSN schools in West Virginia.
Having an LPN or ADN licensure will pave the way for your BSN in a short time.
By all means, you will find an accredited BSN program at The University of Charleston.
BSN Program Length in West Virginia
The length of the BSN program is four years.
But length may vary a little depending on the type of the program.
An RN to BSN path for instance will take only two years.
So, they are flexible.
BSN Program Admission Requirements in West Virginia
There are two general admission requirements you need to meet to enter a BSN program in the state.
They consist of:
A Cumulative  GPA of 2.75 or higher
Take the Essential Academic Skills (TEAS) and pass it with 62% or higher
Tuition and Costs of BSN Programs in West Virginia
The tuition of a BSN program will be different in each school you check.
Similar, to other states, here too, tuition and additional costs are separate in payment.
However, tuition is a primary cost for which you need to make research when it comes to school choice.
If you check the West Virginia Wesleyan College in Buckhannon, you will see it has a tuition of $14,287 per semester.
This price is valid for 12 to 17 credit hours of working.
In this cost, additional expenses such as travel, books, exams, equipment, fees, and so on are excluded.
Advantages of BSN Programs
The fact that you can earn better pay with a BSN program is a good start.
The other benefit of career advancement is another bonus.
One way to do so is through an RN to BSN program.
MSN Programs in West Virginia
Previous degrees are not the only ones to advance as an RN in West Virginia.
You can do so with an MSN degree as well.
The types of specialties you can choose in one are various.
However, three are the most common.
Basically, you have the chance to become a Nurse Practitioner, a Certified Nurse Midwife, or a Clinical Nurse Specialist.
Whichever specialty from these you choose, you can pursue them in 3 or more MSN schools in WV.
MSN Program Length in West Virginia
The length of an MSN program here is generally three years.
It always depends on the course you choose and the school you choose to study in.
MSN Admission Requirements in West Virginia
Entering an MSN program is a big success in Nursing.
For this reason, requirements are necessary to respect.
Some of the most common requirements needed to meet in a nursing school in West Virginia include:
Complete/ graduate from an accredited BSN program in the state
Have an RN license
Reach a minimum of 3.0 on all previous college work
Submit official transcripts and letters of recommendation
Tuition and Costs of MSN Programs in West Virginia
If you've done any Master's previously, you will know it has a considerable cost.
An MSN has also one.
But it varies from the schools you check.
The Wheeling Jesuit University in Wheeling offers an MSN program with $665 per credit.
$130 others are required to pay the technology free for the semester.
$212 is needed for the course audit fee.
While $265 for your graduation.
If you' want to move on with the degree, check NP programs in WV:
West Virginia DNP Programs
West Virginia FNP Programs
West Virginia Nurse Practitioner Programs
West Virginia Post-Graduate Certificate Nursing Programs
Getting a West Virginia Nursing License
After all the nursing degrees, one thing is sure.
You need to attach a bunch of documents when applying for a license.
Being possible in two ways, by exam, and by endorsement, it is some ease for you.
Applying for nursing licensure by exam, you must send the following documents:
Verify your nursing education
Register to take the NCLEX – and make evident the passing score as you complete it
Send the Criminal Background Check – with fingerprints
Passport type photo 2"x 2" – signed and dated
Affidavit notarized
Certification 1 & 2 – to be signed by the appropriate designate
While applying for licensure by endorsement includes sending the completed/notarized application, as listed below:
Passport type photo 2" x 2" – signed and dated
Verify your Licensure – either by request form or through NURSYS
In case you have more questions for the RN license in West Virginia, here is a contact you can make.
It's the West Virginia RN Board.
Accelerated Nursing Programs in West Virginia
All matters depend on the perspective.
If you see yourself going well, you do.
Now, completing an accelerated BSN program in 12 to 18 months is a dream to many.
Though the programs offering this degree are not many, the chance is glorious.
It's a way to fasten your nursing career.
The programs are full of clinical hours and course loads.
Apart from them, you may need also to take additional courses.
The latter is a must if you fail to meet all admission criteria in the first place.
As a result of these courses, comes the payment too.
However, it is best to check all programs and choose the one you find a good fit for.
So far you have two types of Accelerated programs in the state:
West Virginia Accelerated BSN Programs
West Virginia Accelerated MSN Programs
The Best RN Programs in West Virginia
There are 10 best RN programs to find in West Virginia.
However, to really get the best, you need to find the one that meets your criteria the most.
Check them carefully below.
| School Name | Address |
| --- | --- |
| West Virginia University | West Virginia University, Morgantown, WV 26506 |
| West Virginia Junior College | 148 Willey St, Morgantown, WV 26505 |
| University of Charleston | 2300 Maccorkle Ave SE, Charleston, WV 25304 |
| West Liberty University | 101 Faculty Dr, West Liberty, WV 26074 |
| West Virginia University - Parkersburg | 300 Campus Dr, Parkersburg, WV 26104 |
| West Virginia Northern Community College - Wheeling | 1704 Market St, Wheeling, WV 26003 |
| West Virginia Northern Community College - New Martinsville | 141 Main St, New Martinsville, WV 26155 |
| St. Mary's School of Nursing | 2900 First Avenue, Huntington, WV 25702 |
| West Virginia Wesleyan College | 59 College Ave, Buckhannon, WV 26201 |
| BridgeValley Community & Technical College | 2001 Union Carbide Drive, South Charleston, WV 25303 |
RN Salaries in West Virgnia
But remember, your education has a crucial role in future work.
ANd it has a huge role in your income as well.
Check the RN salaries in West Virginia as you go.
Annual Salary Range: Annual Salary by Location:
| Location | Avg. Annual Salary |
| --- | --- |
| Charleston | $58,082 |
| Huntington | $56,315 |
| Parkersburg | $56,621 |
| Wheeling | $62,424 |
| Morgantown | $62,424 |
| Weirton | $62,199 |
| Fairmont | $62,424 |
| Beckley | $57,571 |
| Clarksburg | $56,111 |
| Martinsburg | $70,247 |
RN Programs by State
---