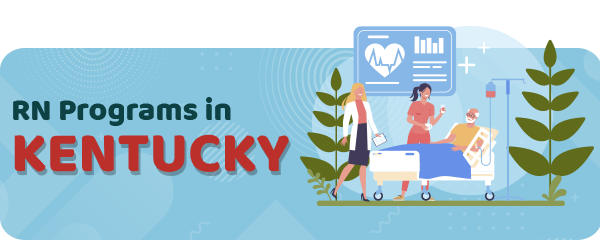 In life, it is impossible to get something without putting effort into it.
The same happens when we want to move to a new house, to build a strong relationship, or even to study.
All of these take time and effort to remain strong.
Thus, pursuing a nursing career in the USA has become a trend nowadays.
And that for many reasons.
One of them being job opportunities and the quality of the studies.
In Kentucky, for instance, there are various nursing schools for interested students.
And this is my next step in this article marathon.
So follow me to know more how to become a nurse in this state in just a few steps.
The first thing to know when in Kentucky for nursing, is finding the right school.
The right school is always the one that assures you of licensure and other career opportunities.
But the way to finding this out is through.
You have to measure the NCLEX-RN passing rates.
That's what I did myself as well.
In particular, the top ten ranked nursing schools where analyzed in terms of current and historical passing rates of this exam.
The selection was done amid 50 nursing programs around Kentucky.
The programs were all that offers an Associate Degree in Nursing such as ADN, ASN, BSN, or Direct Entry MSN Degree.
Second, the healthcare system in Kentucky is of a high standard and functions with professional staff who are skilled in the field.
Yet the need for them is still present.
Therefore, the state is constantly asking for candidates for a higher level of education.
The need is indeed rewarding for them since it gives them higher salaries and progress in special aspects of nursing.
In the future, nursing positions are expected to increase by 20%.
This, in turn, makes an average of 1,000 new job positions.
The need is huge especially for nurses with a Bachelor of Science in Nursing or is in the process of earning it.
RN bridge programs take a look at the options:
RN to BSN Programs in Kentucky
RN to MSN Programs in Kentucky
ADN Programs in Kentucky
The Associate Degree in Nursing is a commonly frequented degree from high school and mature students.
This type of nursing education can be accessed in community or vocational colleges.
With this degree, nurses can enter the national licensure exam, which is the NCLEX-RN exam.
After that, they can practice as registered nurses.
The number of programs that offer a diploma in nursing is 40.
They are usually colleges.
So, nurses who are in the phase before acquiring the license, who wish to learn and practice in their home state should be well equipped to do so.
What to Look For in an ADN Program in Kentucky
A great way to find out which nursing program is good for you is to check their main characteristics.
Usually, in this aspect, accreditation, licensing and program outcomes are crucial.
Since there is a relatively huge number of schools across Kentucky, this evaluation is useful to make a better choice for the ADN program.
Accreditation
Accreditation is a highly important element in a nursing school.
With this feature, both public and individual consumers are endowed and benefit from their goods.
In Kentucky, two organizations make sure they accredit nursing programs.
One of them is the Commission for Education in Nursing (AECN).
While the second is the Commission on Collegiate Nursing Education (CCNE).
Various nursing programs have periodic review options in their faculty, in their programs, institutions, and outcomes.
This way, we can see whether they are accredited or not, approve them or disapprove.
Each organization has a list of which programs have met the accreditation standards in a given review period.
So, the students should check them continually.
Licensing
ADN programs in Kentucky are regulated by the board of nursing.
The board also regulates the issue when a program does not work for some nursing candidates.
For this reason, the licensure of the nursing program is under review all the time and waits for feedback if it does not fulfill the necessary criteria set from the board.
A particular school, in reality, must have multi-year NCLEX pass rates.
These statistics should align with those of the entire country.
This information will then be adjusted for time frames and demographics.
Program Outcomes
The easiest way to attract students in nursing programs is by showing them previous success stories.
Students can check various program outcomes and see which is more stimulating and worthy of choosing the program.
Info related to Graduation
Enrolment information program and demographics
Hiring information
First-attempt on passing the NCLEX as well as fail data
Reviews of Students
One of the colleges that meet all license and accreditation reviews and pre-licensure students and graduates of SKCTC is the Southcentral Kentucky Community&Technical College.
Its ADN program is strong in terms of these characteristics.
The college is located in Glasgow.
ADN Program Admission Requirements in Kentucky
Different schools have different admission requirements for students.
Some of the most common elements, however, have been listed below.
They have bee listed this way so that you can best prepare your application and be admitted to the school of your choice.
These are:
Submit all transcript documents to the Admissions department
Have a cumulative GPA of 2.5 or greater; pre-requisite courses must meet competitive standards
Be fluent in additional languages and meet the competitive standard
Admission department should recognize you 'in good standing'
Pass the check of drug screening, abilities screening, and criminal background check
Tuition and Costs of ADN Programs in Kentucky
Tuition and costs are relatively high in Kentucky nursing schools.
In this cost, materials, living expenses are quite an issue for students.
But fortunately, students can also qualify for financial aid and different scholarship.
This way, the costs will be lower.
Students are also given the chance to work part-time and at the same time, attend an ADN program in a local college.
Direct entry to the workforce after licensure also lowers the cost of post-secondary education in the state.
However, you will not get me fully, until you see an example of a cost.
Take for instance the Elizabethtown Community and Technical College.
If you attend an ADN program in this college, you will have to pay $3,800 in a year if you happen to be a resident student.
This cost also includes books, material, administrative fees, as well as living and food costs.
Advantages of ADN Programs
The best thing about an ADN program is that it prepares you for the NCLEX exam.
Also, these types of programs are cheap and accessible when attended on campuses.
Therefore, students will cherish them the same as other BSN ones.
LPN to RN Programs in Kentucky
LPN to RN is the easiest pathway to other nursing career goals.
Basically, with the first, students may aspire for other LPN to ADN or LPN to BSN pathways.
LPN to ADN/BSN Programs
The second Nursing path is the LPN to ADN, BSN program.
This program is, in essence, faster than the traditional RN one.
You may wonder why.
Well, it's because students already have the credits for some courses taken in the past.
However, they can pursue this career path in Maysville Technical & Community College for online LPN to RN classes.
The other way is through a Bachelor's degree in LPN to BSN pathway.
The latter opens up more career opportunities, as soon as students graduate from its program.
The program can be found at the University of Kentucky's College of Nursing.
The college offers entrance in both summer and fall semesters.
BSN Programs in Kentucky
BSN programs in Kentucky are offered mostly in Universities.
The program lasts 4 years after which a student is eligible to sit the NCLEX exam for licensure as an RN.
BSN graduates can then follow with more career opportunities.
These opportunities may be a doctoral degree.
BSN programs in Kentucky are more than 15.
They are mostly attended by pre-licensure nursing students.
What To Look For in a BSN Program in Kentucky
Some of the factors students should pay attention to when registering a BSN program in the state are cost, tuition, faculty reputation, and whether the university is public or private.
In addition, students should strive to find a faculty that works in accordance with their personal values.
Also, they are expected to have a good impression from previous students in terms of program culture and campus setting.
BSN programs are traditional in Kentucky.
They are offered at the University of Kentucky-Lexington, with four years period.
The university offers lab, classroom, and clinical experiences for students.
This way, students strengthen their nursing education with other internship and career opportunities.
BSN Program Length in Kentucky
BSN programs are usually completed in eight semesters time.
At this time, they have to complete 120 classroom time hours successfully.
And also complete clinical placements so that they are able to graduate from the program.
Accelerated degrees are also an option in the state.
With 2.5 year length, they are the main focus of students who have graduated from an ADN program.
And for those who want to make progress in their qualification.
At this point, they may aspire for an RN to BSN program.
These are shorter than the four-year ones.
BSN Program Admission Requirements in Kentucky
BSN programs are meant to attract high school students around Kentucky as much as possible.
Also, they strive to attract post-secondary transfer and a suitable workforce in their directive.
With that in mind, you can see how admission requirements would be similar yet unique across programs in the state.
Here we've listed a few of the most common ones for your review:
Complete and accurate online application submitted
25 GPA or higher as per official transcript
ACT composite score of 22+ and math score of 19+
Pre-requisite courses have competitive marks
You are a student 'in good standing' with the university
Negative background and drug screening results
Tuition and Costs of BSN Programs in Kentucky
Tuition and costs of BSN programs are different from the universities where the programs are taught.
However, they generally include administrative fees, tuition, housing, food costs, transport, materials, books, and nursing equipment.
One example of tuition is Kentucky State University with $5,700 per semester.
In this cost, room and board make about $7,000 per semester.
While books and supplies cover around $1,300 on a yearly basis.
Advantages of BSN Programs
In general BSN programs offer more career opportunities than other degrees.
Also, BSN graduates' degree is more asked for in the state, since it is of a higher level.
MSN Programs in Kentucky
If you want more money, literally, you must study more.
An MSN degree should be one of your educational paths to take.
The degree offers specialization in some aspects of nursing such as Nurse Practitioner, Nurse Teacher as well as leadership, and policymaking roles.
As such, MSN programs are highly pursued.
Programs that lead to an MSN degree are usually RN ones.
There are five of them in Kentucky, with online, on-campus, and hybrid options to consider.
MSN Program Length in Kentucky
MSN programs in Kentucky take 2 to 3 years.
At this time, there are 40 credit hours of didactic study that students should complete.
While there is also another set of 800 clinical time hours.
The latter is useful to make them ready for graduation.
The most common schedule of the programs is part-time.
However, students should be careful about using time well to complete different degree elements.
MSN Admission Requirements in Kentucky
MSN programs are becoming more in demand year-on-year as our population continues to age.
Each program has its own unique criteria for admission, but there are some similarities:
Be able to do nursing in Kentucky
A minimum BSN GPA of 3.0
Have already sent the professional letters of recommendation from practicing nurses
Submit all post-secondary and CE transcripts
Submit a Resume and Personal Statement
For NP programs visit:
Kentucky DNP Programs
Kentucky FNP Programs
Kentucky Nurse Practitioner Programs
Kentucky Post-Graduate Certificate Nursing Programs
Getting a Kentucky Nursing License
Kentucky state candidates looking to acquire nursing licensure through examination or endorsement are required to provide:
A completed application and the corresponding fees, as well as further information such as:
Criminal background check
Fingerprint card – signed and completed
Kentucky Jurisprudence Exam completed
Graduate of an approved nursing program
Passing score on NCLEX exam
Candidates that are applying by endorsement must include all preceding documentation and these additional requirements:
Proof of required continuing competency
Verify Licensure earned from the original state
Official transcripts from the nursing program – sent directly via program to a state board
Accelerated Nursing Programs in Kentucky
The beauty of accelerated programs in Kentucky is that students can opt for a BSN degree through another Bachelor's degree.
These programs can be found in different institutes around the state.
And the time you get the second degree in them is 12 months.
However, this time may be shorter or longer, depending on the coursework before the entrance.
The additional course can add to the cost of completing the degree program.
So you should make an effort to research the program and college to find out more about tuition costs for these types of programs as well.
Kentucky Accelerated BSN Programs
Kentucky Accelerated MSN Programs
The Best RN Schools in Kentucky
There are in total of 40 RN schools in Kentucky.
But in this article, only 20 of them have been shown.
And you know why?
They are the top-ranked one in terms of the NCLEX-RN exam passes in the state.
So basically, they're the first address you should go too for this career.
| School Name | Address |
| --- | --- |
| Berea College | 101 Chestnut St, Berea, KY 40403 |
| University of Kentucky | 315 College of Nursing Building - 751 Rose Street, Lexington, KY 40506 |
| Maysville Community & Technical College - Licking Valley Campus | 319 Webster Ave, Cynthiana, KY 41031 |
| University of Louisville - Owensboro | 1000 Breckenridge St, Owensboro, KY 42303 |
| Hopkinsville Community College | 720 North Dr, Hopkinsville, KY 42241 |
| Eastern Kentucky University | 521 Lancaster Ave, Richmond, KY 40475 |
| Gateway Community and Technical College | 790 Thomas More Pkwy, Edgewood, KY 41017 |
| Somerset Community College - Laurel Campus | 100 University Dr, London, KY 40741 |
| Lincoln Memorial University | 14892 N. US Hwy 25E, Suite 210, Corbin, KY 40701 |
| Bellarmine University | 2001 Newburg Rd, Louisville, KY 40205 |
| Southcentral Kentucky Community & Technical College | 129 State Ave, Glasgow, KY 42141 |
| Bluegrass Community and Technical College | 470 Cooper Dr, Lexington, KY 40502 |
| Western Kentucky University - Bowling Green | 1906 College Heights Blvd, Bowling Green, KY 42101 |
| Galen College of Nursing - Louisville | 1031 Zorn Ave, Louisville, KY 40207 |
| Northern Kentucky University | 100 Louie B Nunn Dr, Highland Heights, KY 41099 |
| Somerset Community College | 808 Monticello St, Somerset, KY 42501 |
| Owensboro Community and Technical College | 4800 New Hartford Rd, Owensboro, KY 42303 |
| Southcentral Kentucky Community & Technical College - Bowling Green | 1845 Loop Ave, Bowling Green, KY 42101 |
| University of Louisville | 555 South Floyd Street Suite 3019, Louisville, KY 40202 |
| Elizabethtown Community & Technical College | 600 College Street Rd, Elizabethtown, KY 42701 |
RN Salaries in Kentucky
RN salaries are in direct relation to your level of education.
The more qualified you are as a nurse, the higher pay you will get.
The highest you can be paid is with an MSN degree.
Though, other degrees are also rewarding.
Annual Salary Range: Annual Salary by Location:
| Location | Avg. Annual Salary |
| --- | --- |
| Lexington-Fayette | $58,913 |
| Louisville | $59,911 |
| Owensboro | $59,668 |
| Bowling Green | $57,269 |
| Covington | $62,218 |
| Hopkinsville | $57,179 |
| Frankfort | $58,037 |
| Henderson | $60,049 |
| Richmond | $59,224 |
| Jeffersontown | $60,138 |
RN Programs by State
---