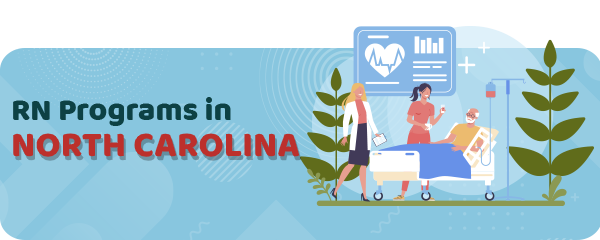 Nowadays, the world has come into the palm of our hands.
The farther the distance, the closer the opportunity to get there.
North Carolina is in America, but once you've decided to go there for a nursing career, you will find the way.
However, finding the right school takes a step by step process you have to go through.
The right school is never so far away from you if you know what to ask from it.
The main requirement should be licensure by the end of the program.
Once the schools meet it, you go for it.
The best way to find out if the school offers licensure is to check its NCLEX-RN passing rates.
Specifically, you have to check the percentage of the exam passes among the entire programs in the state.
In North Carolina for instance, there are in total 82 RN programs available.
For this article, I had to go through all of them and analyze their momentary and historical passes of the exam.
That was the best way to come up with credible information.
From the programs, 30 of them were selected as top-ranked in this aspect, and you can see them by the end of this article.
In general, the programs I checked were those that offer an Associate degree in Nursing.
To begin with, ADN, BSN, ASN, and MSN degree programs ought to be emphasized.
Here we go!
But that's not all you have to know about Registered Nursing in North Carolina.
Aren't you all looking for higher pay?
Perhaps also being hired in the position you are skilled in?
Well, these are two of the main features of progress expected to happen in Registered Nursing in the state in the future.
Yet the state is looking for even more ways to extend this progress.
In other words, there is expected a 3,500 job increase yearly as we approach these next five years.
Furthermore, you will be able to witness an average salary of $64,850, as projected from the Bureau of Labor Statistics.
With this good news in mind, you will dream of joining this career.
For RN bridge programs you can always visit these options:
RN to BSN Programs in North Carolina
RN to MSN Programs in North Carolina
ADN Programs in North Carolina
The moment you make it clear a school offers you a license in nursing, you want to find the way how to achieve it.
Let me tell you that way.
It is through an ADN degree.
The program is initially 2 years long, and you can access it in either technical or community colleges in North Carolina.
The sooner you complete the program the better for you.
Since the program is meant to prepare you for the licensure exam, you will not regret choosing it in the first place.
Also, an ADN program is, in essence, cheaper than other nursing programs which take nearly 4 years of studies.
This program can be found in 50 RN schools across the state.
So don't bother about this matter at all.
Just seek opportunities.
What to Look For in an ADN Program in North Carolina
Before taking any decision about nursing school, you should consider all factors related to it.
Some of these factors that help you in your studies have been listed below.
Accreditation
Let's start with the major factor each nursing school should be endowed with.
It's accreditation.
Nursing schools in North Carolina receive accreditation from national organizations that operate across it.
Namely, they are two.
The first option is the Commission for Education in Nursing (ACEN).
While the second option to go for is the American Association of Colleges of Nursing's Commission on Collegiate Nursing Education (CCNE).
The third last option to go for is the North Carolina Board of Nursing.
This one approved the programs locally.
Licensing
Then comes licensing.
What would you do without it!
The license in nursing comes by sitting and passing the NCLEX-RN exam.
But first, you have to finish an ADN program in the state.
However, you should check whether the program prepares you for the exam first.
To do so, you need to check its curriculum content.
Another way to know about license in a school is to check the students passing rates.
In 2015 the percentage of nurse graduates in NC was 91.8% according to the American Association of Colleges of Nursing.
Program Outcomes
Nursing Program outcomes to consider include the following:
Graduation rates
Licensure exam pass rates
Graduate satisfaction
Employment rates
One model to check is the Durham Technical Community College.
There you can find a quality accredited ADN program.
ADN Program Admission Requirements in North
Carolina
Being admitted to an ADN program in North Carolina requires meeting some conditions.
Though they differ from school to school, they cover up some general ones as well:
Send the high-school and any transcripts from post-secondary education
Achieve a minimum score in English, Math, and Reading competencies on SAT or ACT exams
Achieve and keep a minimum 2.5 cumulative GPA
Complete one unit of high school biology and one unit of high school chemistry with a C grade or higher
Tuition and Costs of ADN Programs in North Carolina
When looking for an ADN program in North Carolina, you should definitely check the program costs.
But as always, tuition is the biggest cost.
Yet, there are other costs to pay in the meantime.
These costs include transport, mandatory fees, and textbooks.
A general cost to be checked in North Carolina is the Wake Technical Community College in Raleigh, with $14,000 for students in the state.
Advantages of ADN Programs
Everything in life comes with both advantages and disadvantages.
However, an ADN degree comes only with the first.
These advantages are numerous.
First, an ADN program is an adequate choice to start working in the field right away.
Second, this program is relatively short, which makes it cheaper as well.
Thirdly, it is available in small colleges around the state, which means you can access it anytime.
With so many programs to consider in the state, there is no room for complaint.
You will soon find the best program for you.
LPN to RN Programs in North Carolina
One way to change your nursing path is to go for an LPN to an RN program.
This program then diverges into two other nursing programs.
It's the LPN to ADN and the LPN to BSN paths.
LPN to ADN/BSN Programs
Various nursing programs can be found in various places.
So far, you can opt for RN to ADN programs as well.
An RN to ADN program is one of the options to go for in the state.
Through it, you can go for an RN practice.
Through this program, you can pass the gap between LPN and RN within a short amount of time.
The other program is the RN to ADN one.
This program can be found in Bladen Community College in Dublin.
It demands 33 credit hours upon completion.
While the other program available in the state is also the RN to BSN path.
This one is available at Winston-Salem State University.
The program is best for candidates who are qualified with a minimum of direct patient care in North Carolina.
The program is also a good choice for students who seek to pursue a BA degree in nursing.
Some of the requirements for LPN to RN programs in the state include these:
At least a cumulative GPA (usually 2.5 or higher)
Having a present unencumbered LPN license
Having graduated from an accredited LPN program
BSN Programs in North Carolina
In the wide range of nursing programs, you will search long.
However, once you come across a BSN program in North Carolina, it means you need to dedicate it more time and resources.
The degree is a traditional one in the state, with four years length.
This degree, if nothing else, it will open up many careers and work opportunities.
An RN to BSN program is only one of the nursing paths to go for.
This path is best for students who are licensed in nursing but are seeking more ways to grow in their careers.
RN to BSN programs in the state are 20.
While pre-licensure BSN ones are 25.
What To Look For in a BSN Program in North Carolina
Some of the characteristics you have to pay attention to in a BSN program in North Carolina are simple.
Take for example location, cost, whether the program holds accreditation or not ad well as the outcomes of the program.
A BSN program can be completed faster than usual through an accelerated one.
The latter works best for students who have a BA in another field in the first place.
Yet, for a role model accredited BSN program check Pfeiffer University in Misenheimer, NC.
BSN Program Length in North Carolina
We all want to finish things on time.
When it comes to education, we all agree it's the same.
However, you can pursue a BSN program in 4 years' time.
As well as use the opportunity of an accelerated BSN program in only 15 months length.
The other option is the RN to BSN program path.
This works best for students with an ADN and is seeking career advancement.
This program will take them for nearly two years.
However, length always depends on the course and the school that you attend.
BSN Program Admission Requirements in North Carolina
BSN program admission requirements include the following:
Completion of all pre-requisite courses with a grade of C or better
Overall GPA of 2.8 or higher
Submission of one-page essay on the nursing profession
Clear criminal background check and drug screen
Tuition and Costs of BSN Programs in North Carolina
BSN costs are nice, but they have their own price too.
However, tuition depends on the type of program you attend.
Initially, you will have to take into consideration extra costs such as lab fees and textbooks and tuition costs.
As expected mandatory fees and tuition are separated from each other.
To make sure you meet the cost, you need to check it previously in the specific program.
An example to consider is the BSN program at the Queen's University of Charlotte.
Its total tuition cost is $31,360 yearly.
Advantages of BSN Programs
BSN programs in North Carolina are indeed versatile.
To be able to complete such a program takes responsibility.
And a BSN program will eventually equip you with that virtue.
In addition, this degree may be pursued right after finishing high school.
While with it, you can aim for a specialized program as well, as long as you have a BA degree in another field.
MSN Programs in North Carolina
The view at the top is always better than the floor.
The best view in the nursing career can be seen through a Master's of Science in Nursing.
With this type of education, in California, you will be able to earn various titles in the profession.
These titles include Certified Nurse Midwife, Clinical Nurse Specialist, and Nurse Practitioner.
As a result of pursuing this degree, nurses will be able to have a better salary at work.
In the state, you will find nearly 15 schools that offer such a program.
While the Nurse Anesthesia program is available only in 7 of them.
MSN Program Length in North Carolina
MSN programs are created to fit busy working nurses.
This way they can both work and study without a problem due to the flexible schedule.
As for the length, MSN programs take two and three years to finish.
The beauty of these programs lays in their availability.
They can be accessed at night or online.
In order to apply in any of the MSN programs, you need a BSN degree in the first place.
So what are you waiting for!
MSN Admission Requirements in North Carolina
In order to be admitted to a particular MSN program, you need to meet some requirements.
These requirements include:
Must possess a BSN from a regionally accredited college and a nationally-accredited nursing program
Minimum 2.85 cumulative GPA
Three letters of recommendation
Current RN license and one-year clinical experience within the last 5 years
Tuition and Costs of MSN Programs in North Carolina
MSN's cost of tuition is of a considerable extent.
Yet it depends on the specialty you choose.
However, you will generally need to pay double: tuition and additional expenses.
The latter usually includes labs and books.
If you still don't have an idea of the cost, let me give you one.
Check for example the University of North Carolina in Chapel Hill.
Its total cost is $43,652.09.
This cost is valid for an MSN candidate that chooses Family Nurse Practitioner studying specialty.
For NP programs visit:
• North Carolina DNP Programs
• North Carolina FNP Programs
• North CAROLINA Nurse Practitioner Programs
• North Carolina Post-Graduate Certificate Nursing Programs
Getting a North Carolina Nursing License
There are always two different ways to do a thing.
And one is always the best for you.
Similarly, earning a nursing license is possible by going through two ways: by exam or endorsement.
Both ways demand to send some documents to the school you apply for licensure in.
These documents include the application filled, recurring fees, and other related information below.
Applying for licensure by means of the exam means you must meet the following criteria and provide this information:
Graduate of a state-approved school of nursing – transcripts automatically sent from school to board upon completion
Registration for NCLEX – obtain successful completion of the exam
Criminal Background Check – including fingerprints
Whereas applying by endorsement means you must include the following documents as well as a completed application:
Proof of education
Criminal Background Check
Successful completion of NCLEX or SBTPE
Verification of licensure from originating state
Previous Employment information
Accelerated Nursing Programs in North Carolina
If you think going slow is boring, try going faster.
An accelerated MNS program will end and begin in ten to fifteen months in North Dakota.
Through this program, you will earn many benefits.
First of all, this type of program is the key for work opportunities and career growth.
While bridge programs of this type will not be amiss either.
The programs can be enrolled full time, and as a result, in a full-time schedule.
While prerequisite courses, tuition and admission requirements depend on the program you choose.
North Carolina Accelerated BSN Programs
North Carolina Accelerated MSN Programs
Latest North Carolina NCLEX-RN Pass Rates and Statistics
Total Number of State Approved Schools: 82
Total Number of Test Takers in 2019: 4,310
2019 Average Statewide North Carolina NCLEX-RN Pass Rate: 92.6%
The Best RN Schools in North Carolina
With 30 options to consider, you will hardly fail to find the school.
Now you know the main requirement.
The rest of it depends on you.
However, all RN schools in North Carolina offer various degrees and nursing paths.
| School Name | Address |
| --- | --- |
| Cape Fear Community College | 411 N Front St, Wilmington, NC 28401 |
| Johnston Community College | 245 College Rd, Smithfield, NC 27577 |
| College of The Albemarle | 1208 N Road St, Elizabeth City, NC 27909 |
| Western Carolina University | 28 Schenck Pkwy, Ste 309, Asheville, NC 28803 |
| Duke University | 307 Trent Dr, Durham, NC 27708 |
| Western Piedmont Community College | 1001 Burkemont Ave, Morganton, NC 28655 |
| Caldwell Community College and Technical Institute | 2855 Hickory Blvd, Hudson, NC 28638 |
| East Carolina University | 1001 E 5th St, Greenville, NC 27858 |
| Appalachian State University | 287 Rivers St, Boone, NC 28608 |
| Surry Community College | 630 S Main St, Dobson, NC 27017 |
| Central Piedmont Community College | 1201 Elizabeth Ave, Charlotte, NC 28204 |
| Wake Technical Community College | 9101 Fayetteville Rd, Raleigh, NC 27603 |
| Forsyth Technical Community College | 2100 Silas Creek Pkwy, Winston-Salem, NC 27103 |
| Carolinas College of Health Sciences | 2110 Water Ridge Parkway, Charlotte, NC 28217 |
| Mitchell Community College | 500 W Broad St, Statesville, NC 28677 |
| Queens University of Charlotte | 2025 Selwyn Ave., Charlotte, NC 28274 |
| Fayetteville State University | 1200 Murchison Rd, Fayetteville, NC 28301 |
| Wayne Community College | 3000 Wayne Memorial Dr, Goldsboro, NC 27534 |
| ECPI University | 4101 Doie Cope Rd, Raleigh, NC 27613 |
| University of North Carolina - Chapel Hill | UNC Chapel Hill Carrington Hall, CB#7460, Chapel Hill, NC 27599 |
| Campbell University | 143 Main St., Buies Creek, NC 27506 |
| Gaston College | 201 Highway U.S. 321 S, Dallas, NC 28034 |
| Richmond Community College | 1042 W Hamlet Ave, Hamlet, NC 28345 |
| Wingate University | 315 E. Wilson St, Wingate, NC 28174 |
| University of North Carolina - Wilmington | 601 S College Rd, Wilmington, NC 28403 |
| Cabarrus College of Health Sciences | 401 Medical Park Drive, Concord, NC 28025 |
| Brunswick Community College | 50 College Road, Bolivia, NC 28422 |
| Stanly Community College | 141 College Dr, Albemarle, NC 28001 |
| Gardner-Webb University | 110 S Main St, Boiling Springs, NC 28017 |
| Fayetteville Technical Community College | 2201 Hull Rd, Fayetteville, NC 28303 |
RN Salaries in North Carolina
Here are the three types of salaries in North Carolina.
There is a minimum salary, a maximum, and a constant average prevailing.
Yet the salary depends on different factors.
Most of them, skills, education, work experience, and similar.
Annual Salary Range: Annual Salary by Location:
| Location | Avg. Annual Salary |
| --- | --- |
| Charlotte | $62,345 |
| Raleigh | $61,061 |
| Greensboro | $60,824 |
| Durham | $60,723 |
| Winston-Salem | $60,972 |
| Fayetteville | $58,401 |
| Cary | $61,061 |
| High Point | $61,188 |
| Wilmington | $58,051 |
| Asheville | $58,464 |
RN Programs by State
---