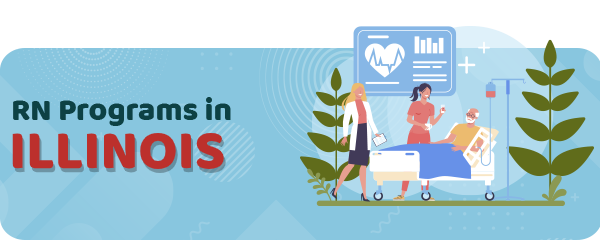 They say ''a journey of a thousand miles begins with a single step''.
One of the most important steps towards a nursing education is the school.
Hence, finding the right nursing school in Illinois is the same.
But with a bit of interest, it can be easier.
However, one of the main things you have to be sure of is part of the school's program is the licensure.
And to know that, you need to make some research.
This time, I did it for you.
The NCLEX-RN pass rates were measures in this process.
To be more exact, the percentage of graduates who passed the exam recently and historically in Illinois Nursing Programs were analyzed.
From this analysis, the top-thirty schools where chosen, from among 77 RN programs in total around the state.
All the programs chosen were the ones that offer an Associate Degree in Nursing ADN, ASN, BSN, or the Direct Entry, MSN Degree.
In the USA in general, Nursing has become a mission in itself.
In Illinois, nursing care is offered as a patient-focused philosophy.
Through it, it is meant to offer a care level that makes other industries also make moves toward additional education.
Nurses with a Bachelor of Science in Nursing in Illinois are estimated to be 39%.
The attainment of this degree has rewarded them with higher salaries and better job positions at the same time.
With all this success and the number of BSN nurses, there is still a near-future where the need for them is projected to be met.
This need will surely be met with patient-focused care and the practice of the same working philosophy as in the present.
For RN bridge programs visit:
RN to BSN Programs in Illinois
RN to MSN Programs in Illinois
ADN Programs in Illinois
Nursing education has a long history in Illinois.
It is active there since 1889.
With such a long history, there is no obstacle for it to meet the growing care demands of the present day.
An Associate Degree in Nursing is just one of the pathways high-school students choose to pursue in Illinois.
They are not to be blamed as the program offers evidence-based and practical training for exams prior to licensure.
This degree is good for students who want to make a short education in nursing.
The number of ADN programs in the state is optimal.
There are more than 40 ADN programs in the state.
The program entry is offered one or more times within the year for a two-year diploma.
What to Look For in an ADN Program in Illinois
With so many programs available, it's hard to choose one only.
However, there are some elements you have to pay attention to in a program to see if it works for you or not.
Mostly, you need to check the program outcome, accreditation and licensing.
If these are right, the rest will most likely follow.
Accreditation
When the nursing program you apply in is accredited, you need not worry anymore.
This action means that the degree is worth your money, time, and effort you will spend on it along the way.
Being a voluntary action, it protects students as consumers in the wide market.
Usually, colleges in Illinois receive their accreditation with the help of the North Central Association of Colleges and Schools.
This issue was set from the federal government prior.
While the programs themselves receive accreditation through the Accreditation Commission for Education in Nursing (AECN).
Or else, through the American Association of Colleges of Nursing (CCNE).
Licensing
I Illinois, healthcare, in general, is regulated by certain rules.
Nurses need to be aware that they should pursue an ADN program that would enable them to sit for the NCLEX exam in the long run.
The Illinois Board of Nursing has designated a list of post-secondary programs that fit the industry standards and knowledge of Nursing in the state.
Program Outcomes
In a digitalized world, it is impossible to miss anything.
Nursing Program outcomes can also be found online.
For instance, the Institution Progress and outcomes website offers such information related to nursing.
So checking this data will help you to compare the colleges on a yearly basis and see which one has better program outcomes.
From the elements you need to check in this regard are:
Enrollment data
RN exam attempts per student
Student satisfaction survey data
In-field employment data
After that, you may consider the Danville Area Community College.
It has its campuses in Danville and Hoopeston.
The college is in good standing, accredited, and licensed with the Board of Nursing in Illinois.
ADN Program Admission Requirements in Illinois
Though the ADN program is similar in Illinois, their admission requirements do vary from each one.
The following ones are the most commonly found in schools.
For more, you will have to get in touch with the schools.
Competitive GPA, verified by original transcript
Verification of any college-level courses taken
Have a TEAS score of 60% or greater
Carry current CPR certification
Have a grade of 'B' or better in core pre-requisite courses
Complete all forms on time
Tuition and Costs of ADN Programs in Illinois
In Illinois, nursing programs cost has been the same in the last ten years.
The increases have been small.
And they have been more noticeable in tuition, housing, food, materials, textbooks, and other supplies.
With this pricing, students will be able to benefit from their program that takes 2 years' time to complete.
One example to check in Illinois is the Shawnee Community College.
In this university, students who live in the state pay $110 per credit hour.
While those who don't live in Illinois are expected to pay more than that.
In the university students need also to pay other administrative and campus fees.
Here are also included technology and lab fees as well as transcript expenses.
The college, however, does not publish all costs, such as residence and food for its students.
This occurs as a result of changes in living prices in the state in general.
Advantages of ADN Programs
First of all, ADN programs are cheaper than BSN ones.
In the USA, ADN programs are functioning since the 90s.
Back then there was nearly 50% of nurses with this degree across the nation.
The fact remains that community colleges are important in boosting nurses from minority backgrounds throughout the country.
LPN to RN Programs in Illinois
LPN to RN pathway is the most popular in Illinois.
Through this pathway, LPN nurses can pursue another specialized curriculum which helps them expand their previous knowledge and experience so that they can be RNs in the future.
Through it, students will have a much shorter program to enroll than the normal RN one.
Also, they are free to choose whichever from RN programs they want to obtain.
LPN to ADN/BSN Programs
The second pathway to take in Illinois in regards to nursing is the LPN to AND program.
In fact, this is the first option to consider, though it is ranked second.
However, this program is the shortest one, consisting of only a few months.
By the end of it, the candidate earns the RN degree.
In the Lincoln Land Community College, you will find for instance an LPN to ADN transition program, through which you will get an RN career.
In addition, there are also LPN to BSN programs as well.
These programs are best for those who want a bachelor's degree in Nursing.
The only difference is that they demand more semesters than the ADN.
The pathway of LPN to BSN is available at the Saint Xavier University of Chicago.
The program is a mixture of both classroom learning and clinical experience.
No matter the pathway, LPN to RN programs typically require the following for admission:
Graduate of an approved LPN program
Current, unencumbered Illinois LPN license
Completion of prerequisite courses with a minimum GPA
BSN Programs in Illinois
The first address of post-secondary education is the Bachelor of Science in Nursing.
Universities that offer this type of education are located in large centers.
They provide theoretical methods that are fit to students who want to go beyond the practical aspect of nursing.
As soon as the student gets the degree, he or she undergoes the NCLEX licensure exam.
This exam is similar to the AND one.
Through this license, BSNs are ready to nurse.
What To Look For in a BSN Program in Illinois
A BSN program in Illinois should be the best environment for nurses.
In it, they should be able to share new ideas with colleagues, doctors, and patients.
The program should also be a source of ethics and professionalism.
Since nursing is known to be a full-time practice, all nursing levels should work in an integrated and evidence-based practice.
One of the main sources of professional nursing development is the University of Chicago.
Founded in 971, it is still expanding.
The faculty offers experiences that serve as a role model educational institution for the nursing future generations.
BSN Program Length in Illinois
Length is what makes BSN degrees different from the ADNs.
The BSN degree requires 120 hours from the student upon graduation and then for licensure.
The program is 4 years long, and students have 15 credit hours per each semester.
BSN Program Admission Requirements in Illinois
BSN programs have unique admissions criteria that vary between institutions.
Here's a selection of the most common requirements that you may see for your nursing program of choice:
Cumulative GPA of 3.0 or higher
Pre-requisite courses are complete with competitive marks
Personal essay
Up-to-date vaccination history
Complete a background and health inquiry screening
Tuition and Costs of BSN Programs in Illinois
Among other responsibilities of adulthood is money.
When going for nursing education in Illinois, you will have to keep that in mind too.
However, universities across the state have already published their educational costs.
You can find a BSN program at Robert Morris University for example, with a credit hour of $930.
While room and board make up another $10,000 in a year of study.
The good news is that the demand for nurses is growing significantly up to 2020.
So students may count that their studying cost as well as license, diligence, and aptitude in it, will reward them with a job after they graduate from the program.
Advantages of BSN Programs
After the BSN, the best thing that can happen to a student isn't only a job in the field, but another degree in nursing too, such as MSN.
That's the first advantage of this education.
The other is that they are able to practice leadership nursing activities after graduation.
Through the BSN, nurses may spend their time in a technical environment where they can make the clinical judgment for a better patient outcome.
MSN Programs in Illinois
MSN programs come right after the BSNs.
Through this degree, nurses can take other nursing roles such as Nurse Midwife, Advanced Clinical Nurses, or even become doctors in nursing.
The programs can be accessed both online and local, in a part-time and full-time schedule.
MSN Program Length in Illinois
MSN programs take 2 years of full-time study, with all the competitive admission there is.
The focus of these studies in leadership and specialized nursing practice.
The classes are held on campus.
The high number of clinical hours and the low student-faculty ratio makes it possible for valuable and diverse clinical experiences in nursing.
MSN Admission Requirements in Illinois
Though they are small programs, they have some requirements.
Among them, there is competitive experience and undergraduate grades.
In Illinois, there are five programs to check for.
While there are also online opportunities too.
Criteria for admissions often look like this:
Undergraduate degree from an accredited institution within the region
A current Illinois RN license in good standing
2-4 professional reference letters
Transcripts that reflect a GPA that exceeds the minimum cut off of 'C'
Official transcripts from each post-secondary and CE studies
Attend an interview with faculty
Tuition and Costs of MSN Programs in Illinois
Different MSN programs in Illinois have a different cost of tuition.
You can see that in the Millikin University.
The tuition for MSN students there is $800 per credit hour.
To graduate in this program, students need 30-40 credit hours.
In this course, an extensive clinical rotation is needed to make the learning process complete.
For NP programs visit:
Illinois DNP Programs
Illinois FNP Programs
Illinois Nurse Practitioner Programs
Illinois Post- Graduate Certificate Nursing Program
Getting an Illinois Nursing License
State of Illinois nursing licensure requirements either by examination or endorsement must provide the following documentation:
The application must include the following sections to be completed, as well as supporting documentation:
Category Information
Identity Information
Nurse education and employment information
Record of Examination (if applicable)
Personal history
Child support/student loan information
Certifying statement
Criminal background check
ED-NUR form – completed by institution and sent to the board
Licensure by endorsement must include the same application form with completed sections, as well as this additional information:
Record of licensure information
Record of Examination
CT-NUR form – certification of licensure by licensing state
Accelerated Nursing Programs in Illinois
We all want to make things happen faster to us.
We want the same in a nursing program.
The fastest a nursing program in Illinois can go is 10 to 18 months.
The programs are made off courses with a full-time schedule and a lot of clinical requirements.
Accelerated programs in Illinois are 11.
Some require the students to have some type of courses prior to application.
While the costs do vary from one another.
In this group, additional costs such as housing, prerequisite courses, and so on, may increase in the meantime.
Illinois Accelerated BSN Programs
Illinois Accelerated MSN Programs
Latest Illinois NCLEX-RN Pass Rates and Statistics
Total Number of State Approved Schools: 77
Total Number of Test Takers in 2019: 7,186
2019 Average Statewide Illinois NCLEX-RN Pass Rate: 88.3%
The Best RN Schools in Illinois
Check below 30 RN schools in Illinois.
In them, you can get ADN, BSN, and MSN degree.
| School Name | Address |
| --- | --- |
| Trinity Christian College | 6601 W College Dr, Palos Heights, IL 60463 |
| Southeastern Illinois College | 3575 College Rd, Harrisburg, IL 62946 |
| Graham Hospital School of Nursing | 210 W Walnut St, Canton, IL 61520 |
| Rush University | 600 S Paulina St, Chicago, IL 60612 |
| South Suburban College | 15800 State St, South Holland, IL 60473 |
| Saint Anthony College of Nursing | 3301 N. Mulford Road, Rockford, IL 61114 |
| Bradley University | 1501 W Bradley Ave, Peoria, IL 61625 |
| Heartland Community College | 1500 W Raab Rd, Normal, IL 61761 |
| John A. Logan College | 700 Logan College Dr, Carterville, IL 62918 |
| McHenry County College | 8900 US Hwy 14, Crystal Lake, IL 60012 |
| Joliet Junior College | 1215 Houbolt Rd, Joliet, IL 60431 |
| Illinois State University | Campus Box 5810, Normal, IL 61790 |
| Lewis University | 1 University Pkwy, Romeoville, IL 60446 |
| Oakton Community College | 1600 East Golf Road, Des Plaines, IL 60016 |
| Black Hawk College | 6600 34th Ave, Moline, IL 61265 |
| Kaskaskia College | 27210 College Rd, Centralia, IL 62801 |
| Kishwaukee College | 21193 Malta Rd, Malta, IL 60150 |
| Loyola University Chicago | 1032 W Sheridan Rd, Chicago, IL 60660 |
| Ambria College of Nursing | 5210 Trillium Blvd, Hoffman Estates, IL 60192 |
| Aurora University | 347 S Gladstone Ave, Aurora, IL 60506 |
| Illinois Wesleyan University | 1312 Park St, Bloomington, IL 61701 |
| Lincoln Land Community College | 5250 Shepherd Rd, Springfield, IL 62794 |
| Kankakee Community College | 100 College Drive, Kankakee, IL 60901 |
| Northern Illinois University | 1425 W Lincoln Hwy, DeKalb, IL 60115 |
| Moraine Valley Community College | 9000 W. College Pkwy, Palos Hills, IL 60465 |
| Trinity College of Nursing & Health Sciences | 2122 25th Ave, Rock Island, IL 61201 |
| Western Illinois University | 1 University Cir, Macomb, IL 61455 |
| Harper College | 1200 W Algonquin Rd, Palatine, IL 60067 |
| Spoon River College | 23235 County Hwy 22, Canton, IL 61520 |
| Illinois Valley Community College | 815 North Orlando Smith Road, Oglesby, IL 61348 |
RN Salaries in Illinois
RN salaries in Illinois are indeed great.
However, the salary depends on many factors.
These factors are work experience, skills, and education.
Annual Salary Range: Annual Salary by Location:
| Location | Avg. Annual Salary |
| --- | --- |
| Chicago | $67,344 |
| Rockford | $62,891 |
| Aurora | $66,749 |
| Naperville | $65,981 |
| Peoria | $61,366 |
| Springfield | $58,640 |
| Joliet | $65,438 |
| Elgin | $66,260 |
| Waukegan | $63,510 |
| Cicero | $67,344 |
RN Programs by State
---