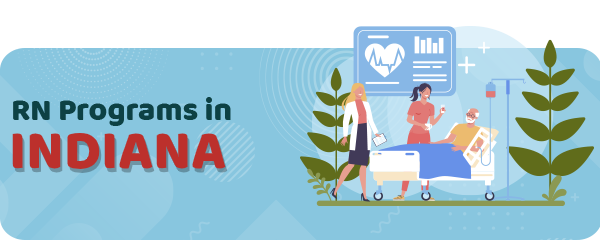 In Indiana, nursing schools are many.
But knowing which one is right for you is a challenge.
However, it is not impossible.
Not when you have the right criteria in your mind.
This criterion is the assurance of licensure by the end of the studies.
If the school offers this opportunity, you should definitely go for the nursing program in this school.
This process, however, is to be considered.
And that's my aim in writing this article.
In particular, there has to be measured the NCLEX-RN exam passing rate of the programs listed in a school.
To be more precise, the percentage of graduates of 49 programs in total ought to be analyzed.
From this extracting, the top 20 schools came out in Indiana.
The programs available in this city are AND, BSN, ASN, or Direct-Entry MSN Degree.
Nursing is getting even better in this state.
Momentarily, we're a witness of a much higher care level for patients in Indiana.
This change for the good has become a call for the entire nursing industry to join in and share the same treatment.
The need for nurses is noticeable too.
Hence, BSNs are highly welcomed.
There is also a prediction of having 2,200 nursing positions free for BSNs.
Indiana has already 49% of these nurses.
However, it is aiming for even more growth in this percentage.
For RN bridge programs visit:
RN to BSN Programs in Indiana
RN to MSN Programs in Indiana
ADN Programs in Indiana
Nothing worthy ever came easy.
A nursing career isn't easy either.
It is a huge amount of work and dedication to reach the academic degree.
Nowadays, in Indiana, there are various nursing pathways.
To begin with, an Associate Degree in Nursing.
Through this career path, prospective nursing students are able to pursue their post-secondary pathway without spending much in education.
The program lasts 2 years.
While it offers many technical, vocational and community colleges in its areas.
The degree is a flexible pathway for students who want to become Registered Nurses in the near future.
Furthermore, it is also an affordable option too.
Right now, there are over 25 community and technical colleges in which students can go for an Associate Degree in Nursing.
In all of them, NCLEX pass-rates are satisfactory.
So the AND degree remains the first most impressive career path in their life as a nurse.
What to Look For in an ADN Program in Indiana
There are some indicators that show a thing to be good.
When your choosing the right ADN program in a nursing school, you may be confused.
However, if you consider those indicators, you will never go wrong.
These are called success metrics, such as accreditation, licensing, and program outcomes.
Accreditation
Accreditation is like cherry upon the cake, and even more necessary than that.
I show that a program works to certain standards and that what you learn there is quality.
While nursing institutions vary from one another in rankings.
It is this element of accreditation that unifies them all, hence making them quality as well.
In Indiana, you will find three accrediting bodies.
The first one is the North Central Association of Colleges and Schools (NCACS).
This body is responsible for accrediting colleges.
The second is the Accreditation Commission for Education in Nursing (AECN).
This is in charge of accrediting nursing programs.
However, they may be accredited from another institution too.
This is the American Association of Colleges of Nursing (CCNE)
Licensing
License is the crown of a nurse.
The road towards it is through the NCLEX-RN exam.
If you pass it, then you can go for an RN license as well, which demands some annual fees.
However, you will not undergo this procedure alone.
The Board of Nursing in Indiana makes sure that nursing programs have the necessary elements and the right practice fitting to the license.
From the statistics, it has been discovered that 80% of the nursing students pass the RN exam with satisfactory scores.
Program Outcomes
Program outcomes in Indiana need to be checked out on a yearly basis.
From the program outcomes, you may consider evaluating the following ones:
What kinds of students enter the program (mature vs recent graduates)
Student enrolment numbers
Post-diploma hiring data
The number of enrolments compared to graduates
ADN Program Admission Requirements in Indiana
Admission requirements in Indiana are regulated by the state and federal forecasts.
They vary from the nursing shortage and faculty or facility needs as well.
ADN admission requirements in Indiana vary from each program to the other.
However, the do have some similarities.
These are:
Official high school transcript and college transcript if applicable
Complete the online application and submit processing fees
Submit evidence of up-to-date vaccinations
Complete the background and safety check prior to registration
Complete all prerequisite credits
Be a student 'in good standing' in the overall admissions process
Tuition and Costs of ADN Programs in Indiana
Tuition is affordable in the majority of public health institutions in Indiana.
This was settled on behalf of making ease for students who might be the future of the health workforce in the state.
While there is some variance across the state, the cost of tuition at a sample school has been outlined for you.
Take for instance the Ancilla College.
Its tuition is $8,000 per semester, in which 11 credit hours are needed.
In this cost housing and food, costs are not included.
While students are sure expected to pay other necessary fees such as lab classes, insurance for malpractice, uniforms, and other expenses.
Advantages of ADN Programs
ADN graduates are a sure contribution to the economy of America in both rural and urban areas.
Another advantage of pursuing this degree is that all programs like it offer licensure at the end of it.
While ADN graduates also help overcome the lack of nurses in Indiana as well.
LPN to RN Programs in Indiana
The LPN to RN Programs are an option to consider for a nursing career as well.
They are most helpful to students who want to continue further education.
Through them, practical nurses can get the RN degree and pass the NCLEX-RN exam in the meantime as well.
LPN to ADN/BSN Programs
The easiest way to become an RN in Indiana is through this program: LPN to AND-BSN.
By the end of it, students are given their Associate Degree in Nursing.
The degree can be completed in a few semesters.
For example, you can consider the Ancilla College.
In it, you will find an LPN to RN program, by the end of which you can get the ADN degree, which takes two semesters time.
The beauty of the LPN to BSN program is that it will give you a Bachelor's degree.
Whereas Indiana State University offers an LPN to BSN program with both full-time and part-time schedules.
The program will also be completed online and locally.
Most LPN to RN programs in Indiana will require the following for admission:
Hold a current, unencumbered Indiana LPN license
Submit all college transcripts
Complete a criminal background check
Must have completed any prerequisite courses with a passing minimum grade
BSN Programs in Indiana
The BSN degree is one way to make progress in nursing.
In Indiana, you will be able to pursue a Bachelor of Science in Nursing.
The degree takes 4 years to complete, and it is very frequently pursued in this state.
BSN programs are indeed expensive.
But anyway, they are appreciated by students because they open up more career options.
BSN students receive their RN license through the NCLEX-RN exam, a procedure known to us already.
What To Look For in a BSN Program in Indiana
The place you study needs to be as close to meeting your expectations as possible.
In other words, it needs to develop your technical skills and compassion for patients.
BSN students' aim is to enter a high-quality environment so that they can improve public health rules for all people.
A BSN program can be found at Purdue University.
The university is a source of stimulation for nurses to become leaders in health management and communication.
It has actually the largest amount of healthcare employees in Indiana.
It offers neonatal intensive care as well as gerontology in hospitals, clinics, and other similar communities.
BSN Program Length in Indiana
The Length of a BSN program in Indiana depends on the credit hour number per semester.
Based on that, it can go to four years long.
The program course offers a balanced amount of nurse education.
While it also offers other coursework, clinical, reflection, and personal time for nurses.
The BSN may take a shorter time if there are other accelerated programs included such as summer sessions and bridge programs.
BSN Program Admission Requirements in Indiana
Each institution of nursing in Indiana has different admission requirements for their future BSN candidates.
These requirements change on a yearly basis.
This way, they manage to make the balance of the program demand, labor forecasts, and faculty decision-making.
The most common criteria are listed below to help you prepare:
The competitiveness of your transcript and personal profile is important
Be in good standing with the university
Early application is not required but can be helpful
Pass abilities testing and ensure immunizations are up to date
Pass drug testing, background check
Tuition and Costs of BSN Programs in Indiana
The cost of education is an issue for all students.
But the thing is all universities have made their tuition cost public.
This way, students are able to check them and see if it fits their budget.
The University of Saint Francis in Fort Wayne has a tuition cost of $28,500 per year.
In this cost, books, materials, room, board, and other related expenses are not included.
The university offers financial aid through which students are able to fulfill academic and financial purposes along with their studies.
Advantages of BSN Programs
The advantages of the BSN programs in Indiana are greater than the disadvantages.
The programs are mainly offered in urban areas.
Another advantage is that there are diverse care practices for students in them.
The universities in the state also offer clinical placements.
To do so they connect with major hospital systems.
The universities also offer large class sizes for students.
But this is an advantage because the faculty quality is high and therefore it shapes the behavior of the student and values in their education in general.
MSN Programs in Indiana
The easiest way to advance in nursing is through a Master's of Science in Nursing (MSN).
Through this degree, a student may pursue pediatrics, oncology, or mental health.
If you're apt for it, you will ripe many fruits from this type of education.
First, you will get better payment, leadership responsibility in his or her community or organization.
In addition, you will also make nursing practice and theory with the upcoming RN generation of nurses.
MSN Program Length in Indiana
MSN programs are relatively short.
They take 1 to 2 years.
At this time, nurses are able to prepare their nursing specialty.
To graduate from this level of study requires 50 hours of classroom time.
Also, several hundred hours of clinical placement are needed too.
MSN Admission Requirements in Indiana
Master of Science in Nursing programs in Indiana are not as common as other degree types.
To enter them, students ought to have prior to a dedicated faculty.
The following requirements are the most commonly required to be met by their applicants:
Evidence of a BSN from a regionally accredited institution
Apply to the appropriate track of coursework with your credentials
Have a state RN license in good standing
Have an undergraduate GPA minimum 3.2; check competitive marks to verify
Submit GRE scores of at least 400/150, and 4.0 on analytic writing
Have taken the pre-requisite courses within the last 5 years
Submit a resume and personal statement
Tuition and Costs of MSN Programs in Indiana
MSN programs are considerably higher than other nursing degrees.
In the University of Southern Indiana, MSN fees go around $450 per credit hour.
This fee is for the students in the state.
While other additional fees such as parking, administration, and university services are to be considered as well.
For NP programs visit:
Indiana DNP Programs
Indiana FNP Programs
Indiana Nurse Practitioner Programs
Indiana Post-Graduate Certificate Nursing Programs
Getting an Indiana Nursing License
Indiana State nursing licensure requirements by examination or endorsement:
A completed application and subsequently paid fees must also include the following documentation:
Original photograph – signature and seal from dean/administration of the nursing program
Certificate of completion – with original signatures sent directly to the board from the institution
Copy of GED – if applicable
Criminal background check
Confirmation of paid fees and registration for NCLEX
By endorsement, the candidate will have to include an application, as well as:
Original photograph with signature
List of licenses/certifications from other states
Verification of licenses/certifications
Official transcripts or NURSYS verification – must be sent directly to the board from the institution
Criminal background check
Accelerated Nursing Programs in Indiana
Last bot least come to the accelerated programs.
In Indiana, BSN is offered as accelerated programs.
Or they can be offered bridge programs RN to MSN.
The latter can be accessed in more than 200 places.
Through these programs, nurses get to earn a nursing degree faster than usual.
The time period is usually 12 to 18 months.
The classes in these programs are given full-time, while there are also clinical requirements to be met too.
As for the cost of these programs, tuition and housing apply.
In the end, there are also prerequisites to be met before entering the program.
Indiana Accelerated BSN Programs
Indiana Accelerated MSN Programs
The Best RN Schools in Indiana
If you've read enough, hang one, there is more.
Here are the 20 RN schools located in Indiana for you.
Check them and see which is better for you.
| School Name | Address |
| --- | --- |
| Anderson University | 1100 E 5th St, Anderson, IN 46012 |
| University of Southern Indiana | 8600 University Blvd, Evansville, IN 47712 |
| Indiana University Northwest | 3400 Broadway, Gary, IN 46408 |
| Purdue University | 610 Purdue Mall, West Lafayette, IN 47907 |
| Ivy Tech Community College - Terre Haute | 8000 Education Dr, Terre Haute, IN 47802 |
| Valparaiso University | 1700 Chapel Dr, Valparaiso, IN 46383 |
| Indiana University Kokomo | 2300 S Washington St, Kokomo, IN 46902 |
| St. Elizabeth School of Nursing | 1508 Tippecanoe St, Lafayette, IN 47904 |
| Bethel College | 1001 Bethel Cir, Mishawaka, IN 46545 |
| University of St Francis - Ft. Wayne | 2701 Spring St, Fort Wayne, IN 46808 |
| Purdue University Northwest | 2200 169th St, Hammond, IN 46323 |
| Goshen College | 1700 S Main St, Goshen, IN 46526 |
| Ivy Tech Community College - Evansville | 3501 N 1st Ave, Evansville, IN 47710 |
| Ivy Tech Community College - Bloomington | 200 Daniels Way, Bloomington, IN 47404 |
| Indiana University - South Bend | 1700 W Mishawaka Ave, South Bend, IN 46615 |
| Ball State University | 2000 W University Ave, Muncie, IN 47306 |
| Western Governors University - Indiana | 10 W Market St #1020, Indianapolis, IN 46204 |
| Indiana Wesleyan University | 4201 S Washington St, Marion, IN 46953 |
| St. Mary's College | Le Mans Hall, 149, Notre Dame , IN 46556 |
| Indiana University - Purdue University - Indianapolis | 600 Barnhill Drive, NU 122, Indianapolis, IN 46202 |
RN Salaries in Indiana
After education, there comes the need to work.
It is indeed necessary.
But the RN salary depends on many factors.
Among them, skills, education, and work experience are to be considered.
The more of these elements you have, the higher the salary you will get.
Annual Salary Range:
Annual Salary by Location:
| Location | Avg. Annual Salary |
| --- | --- |
| Indianapolis | $62,062 |
| Fort Wayne | $59,270 |
| Evansville | $60,049 |
| South Bend | $59,390 |
| Gary | $63,278 |
| Hammond | $63,278 |
| Bloomington | $58,522 |
| Muncie | $58,602 |
| Anderson | $58,831 |
| Terre Haute | $58,329 |
RN Programs by State
---