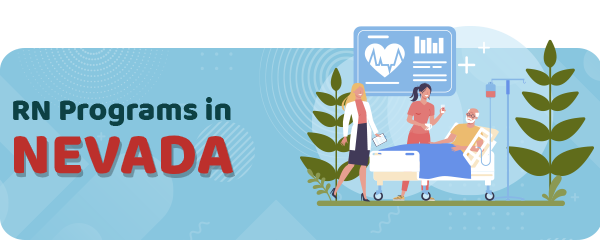 Some things come to us by chance and some by destiny.
Your education comes from the first-from your own choice.
This choice is not all the time easy.
Sometimes you have to forget all the difficulties of the journey and just take the leap of faith.
Going for nursing education and career is a challenge as well.
But the place you go to make makes it easier or harder.
And Nevada is definitely the best place you can go for this career.
As soon as you get there, you will have to find the right school for you.
This, too, is going to be a challenge, if you don't have the right criteria already in your mind.
If you do, you will pass it on.
This criterion is that a good nursing school should offer you licensure by the end of your studies.
And why not also open up to your job opportunities and growth in your career.
You can find out this issue with only a few clicks by checking the NCLEX-RN exam passing rates for each school in the state.
Precisely, you have to check the percentage of the graduate exam passes in nursing programs such as ADN, BSN, ASN, or MSN ones.
Now I took this action myself as well for this article.
I did the analysis of the NCLEX-RN exam in the entire 12 RN programs in Nevada.
But only 5 of them were chosen as top-rated programs to look for a suitable RN education in.
Let's go along the guide and the programs altogether.
But on the go, let's take a look at the nursing profession in Nevada first.
Nursing in this state is quite a rewarding career to pursue.
If you become one here, you will not only be paid well but also you will be in high demand too.
If you're curious about the salary, it is $81,460 as the Bureau of Labor Statistics reported recently.
Furthermore, in Nevada, the cost of living is adjusted with the highest annual wage.
While the number of programs is one of the easiest ways to go for this career.
For RN bridge programs visit:
RN to BSN Programs in Nevada
RN to MSN Programs in Nevada
ADN Programs in Nevada
In Nursing, just like in life, you can start small.
You can start with an ADN degree with only two years of studies and jump right away into work.
Since nowadays youngsters want to do everything fast, this degree is best to do so.
If you have got a keen interest in this type of program, places, where you can attend one, are technical and junior colleges.
While you will find in general more than 5 schools in Nevada that actually offer properly accredited ADN programs.
What to Look For in an ADN Program in Nevada
An ADN program in Nevada should meet a few requirements to be the right one for you.
Here are the following factors that make it so.

Accreditation
First, it's the accreditation.
Receiving it from credible associations makes sure you attend quality RN programs in the schools.
In Nevada, accreditation is usually offered by two organizations.
And that has become common in all US.
One of them is the Commission for Education in Nursing (AECN).
While the second is the American Association of Colleges of Nursing's Commission on Collegiate Nursing Education or CCNE.
While you can get approval for your favorite nursing program from the Nevada State Board of Nursing, as the main healthcare institution in the state.
Licensing
After checking your school's accreditation, go next with licensing.
This procedure of earning it requires you to sit for the NCLEX exam first after having finished the ADN program,
This program, initially, should prepare you for this exam.
However, to make sure it does you should check its curriculum in the beginning as well as the faculty.
In Nevada, there are 90.1% new graduates who have passed the NCLEX exam back in 2015.
This information comes from the American Association of Colleges of Nursing.
Program Outcomes
Program outcomes say a loot about the program in general.
The outcomes you need to pay attention to when choosing one are these:
Graduation rates
NCLEX-RN pass rates
Graduate satisfaction
Employment rates
A properly accredited ADN program offers the school Truckee Meadows Community College in Reno, Nevada, in case you're interested to know about it.
ADN Program Admission Requirements in Nevada
As expected, requirements for being accepted in an ADN program in Nevada are different from school to school.
However, the following ones are the most common ones you should consider:
GPA of at least 3.0 for all pre-requisite courses
Completion of the HESI Admission Assessment Exam with minimum scores
Submit all prior official transcripts
Tuition and Costs of ADN Programs in Nevada
Because they are affordable, ADN programs are consequently quite popular in Nevada.
But that does not exclude you from minimal pay.
This pay includes tuition and other obligatory expenses such as transport, uniforms, and books.
On the other hand, if you happen to struggle with this type of play as well, you may seek scholarship and financial aid opportunities in the meantime.
Yet, the cost of a usual ADN program can be seen in that of Western Nevada College.
The college is in Carson City, and there you may be asked to pay $90 per credit program, taking into consideration fees that apply.
Advantages of ADN Programs
Time is our greatest capital.
If something demands a huge amount of it, it owes us a lot.
Similarly, the short length of the ADN program makes us feel we're doing much without wasting much time, and that's a benefit for us.
With only two years long, this program is the best nursing program you can start nursing with.
The next advantage is the opportunity to attend this program in small areas, small classes.
While learning more interactive coursework, in general, more than in other large school areas in the state.
The last most likely advantage is the cost of the program, which is affordable to all students compared to the rest of the programs of Nursing in Nevada.
LPN to RN Programs in Nevada
One way to start nursing in Nevada is through an LPN degree.
From the LPN, you can jump into the RN.
Through this bridge program, you can then pass into an accelerated nursing program in as little time as possible.
The plan for this program is made of both knowledge and training.
This training, in turn, will also prepare you for the NXLEC-RN exam as well.
LPN to ADN/BSN Programs
Nursing bridge programs so are in the state are two.
The first to go is the LPN to ADN program, which can be accessed in the College of Southern Nevada.
Its length is usually 3 semester's time.
While the second bridge program is the LPN to BSN, whose options are both online and local.
In Nevada presently, there are no on-campus LPN to BSN programs available.
Yet, there are national online options to check.
These options demand students to complete clinical requirements at an area healthcare facility or hospital.
Some of the admission requirements for LPN to RN programs in Nevada may include:
Current licensure as a practical nurse in Nevada
Cumulative GPA of at least 2.5
Satisfactory scores on the ATI test or KAT exam
BSN Programs in Nevada
A nursing school is synonymous with a BSN degree.
Being a traditional nursing program in Nevada, the BSN degree takes 4 years to complete.
You can easily attend the program in urban areas where large universities are located in offering this program.
However, a normal BSN is not the only option.
You can also complete an accelerated BSN program or a bridge program of RN to BSN.
With the increase in schools, so have increased the programs.
So why not be part of them soon.
There are 5 schools offering approved and accredited BSN programs in Nevada.
With these options, you will never be a lost cause.
What To Look For in a BSN Program in Nevada
I am constantly talking to you about choices, but let me be more specific.
What do you want a nursing program to offer you once you've been accepted into one?
You should already know that.
But in case you don't, I can give you some advice.
So, if you're willing to take the advice, please make sure cost and accreditation are regulated with the program.
That's essential.
Second, make sure you have the chance of an accelerated program.
You can apply for this one if you happen to have a BA degree in another field already.
While also consider in the future to also have the chance for an RN to BSN program.
This pathway will make you go far in nursing.
A role model nursing school with an accredited BSN program on its own is the University of Nevada, Reno.
Check it too.
BSN Program Length in Nevada
One of the things you need to know first about BSN programs in Nevada is that they are 4 years long.
Being made of both general courses as well as specific ones, they meet your expectations every time.
For instance, accelerated BSN programs are best for candidates who have a degree in nursing so far.
And who are already seeking another career in the field?
These types of programs take 15 months to complete.
While RN to BSN programs are much shorter.
They take one to two years, always depending on the courses taken previously.
BSN Program Admission Requirements in Nevada
BSN programs, just like ADN ones have their own sets of requirements when it comes to admission.
They usually include these:
Must have a 3.0 or better GPA on selected pre-nursing coursework
Submission of all official transcripts
Must complete HESI exam
Tuition and Costs of BSN Programs in Nevada
The cost of a BSN program in Nevada changes very often.
And that for a few reasons.
It may be that students who live in the state pay less money for their BSN studies.
While those out-of-it, pay more.
That's normal.
However, the case will generally be asked to pay for tuition, expenses that come along, as well as indirect pay like lab fees, textbooks, and so on.
If you want to know the average cost of BSN studies in this state, here is an example.
Check the Nevada State College in Henderson.
Its full tuition cost goes around $16,758 for students within the state's area.
At this price, however many expenses are not covered.
These consist of mandatory fees with $2,000, lab fees with $300 per one semester, and uniforms at $300.
Advantages of BSN Programs
A BSN program will give you some benefits.
With it, you can pursue jobs in healthcare education, pediatrics, emergency medicine, and similar.
Also, they offer the chance to pursue faster BSN programs such as accelerated ones.
While bridge programs of RN to BSN are also an option to consider in Nevada.
MSN Programs in Nevada
When talking about advancement in education, an MSN degree comes right in our head.
You know why?
It's because it has become so popular a degree to pursue everywhere in the world.
And so in Nevada too.
The programs are a good choice for all those who seek to pursue higher peaks of nursing.
With it, you can become a Nurse practitioner, a Clinical Nurse Specialist as well as Certified Nurse Midwife.
In the state, there are more than 3 schools in the state offer a properly accredited MSN program.
MSN Program Length in Nevada
The average length for an MSN program in Nevada is 2 to 3 years.
The programs are quite fitting to nurses who are busy working.
So, the often they attend the classes, the faster they finish the program and vice versa.
MSN Admission Requirements in Nevada
The requirements for the MSN programs in Nevada are quite rigorous.
Though they differ from the programs, they usually include these:
Hold a BSN degree from an accredited institution with a GPA of 3.0 or higher
Possess a current unrestricted nursing license in the state of Nevada
Interview with nursing faculty
Submit a letter of intent
Tuition and Costs of MSN Programs in Nevada
MSN programs are more expensive than others, but they are worth it.
The huge cost of tuition.
Then come indirect expenses such as labs, books, transport, and so on.
One example of the ost is the University of Nevada, Las Vegas with its cost per credit of $269.
In this cost course fees are excluded, since you've had enough to pay.
For NP programs visit:
Nevada DNP Programs
Nevada FNP Programs
Nevada Nurse Practitioner Programs
Nevada Post-Graduate Certificate Nursing Programs
Getting a Nevada Nursing License
Here comes the crown-the the nursing license.
It's what you've worked for so far with the pursuit of so many degrees.
So you deserve it.
In Nevada, just like for the previous steps, you need to meet some requirements for this one as well.
But first, you have to apply for it.
You can apply through the exam.
Or else, through endorsement.
Both are fine.
If you apply through an exam, you must complete the needed application and meet these qualifications as well:
Graduate from an approved school of the nursing – official transcript sent to directly to the board from the School of Nursing
Registered for the NCLEX exam
Completed fingerprint card
But if you apply for nursing licensure by endorsement, you must submit some documentation to the state board.
These documents include:
Completed application form with fees paid
Proof of education – a copy of official transcript or diploma sent directly to the board from the institution
Verification of license from the original state of licensure
Completed fingerprint card
Accelerated Nursing Programs in Nevada
Because they are so flexible in length, accelerated nursing programs are quite popular in Nevada.
Being available in many colleges around the state, they are a good step to the nursing career.
These programs are suggested by many employers when it comes to students' choice to go for a BSN or other higher degrees in the field.
Though the programs are intense in coursework, this intensity makes them shorter.
This is also an advantage since candidates do not have to meet the number of clinical hours elsewhere.
Eligibility and tuition, however, depends on which program you choose.
Nevada Accelerated BSN Programs
Nevada Accelerated MSN Programs
Latest Nevada NCLEX-RN Pass Rates and Statistics
Total Number of State Approved Schools: 12
Total Number of Test Takers in 2019: 1,253
2019 Average Statewide Nevada NCLEX-RN Pass Rate: 92.2%
The Best RN Schools in Nevada
I already said enough about RN schools in Nevada.
Now I will leave you free to only check them.
Here are the top-five RN programs below.
| School Name | Address |
| --- | --- |
| Nebraska Methodist College | 720 N 87th St, Omaha, NE 68114 |
| Bryan College of Health Sciences | 5035 Everett St, Lincoln, NE 68506 |
| Union College | 3800 South 48th Street, Lincoln, NE 68506 |
| Clarkson College | 101 S 42nd St, Omaha, NE 68131 |
| University of Nebraska Medical Center | 42nd and Emile, Omaha, NE 68198 |
RN Salaries in Nevada
There is an average salary for RNs across Nevada that is always constant.
Though it may shift from a minimum to a maximum.
However, know that the salary depends on the level of your education.
Other factors are always secondary.
Annual Salary Range: Annual Salary by Location:
| Location | Avg. Annual Salary |
| --- | --- |
| Las Vegas | $65,968 |
| Reno | $63,900 |
| Henderson | $65,714 |
| North Las Vegas | $65,968 |
| Sparks | $63,900 |
| Carson City | $64,154 |
| Elko | $54,162 |
| Boulder City | $65,077 |
| Mesquite | $65,013 |
| Fallon | $63,072 |
RN Programs by State
---