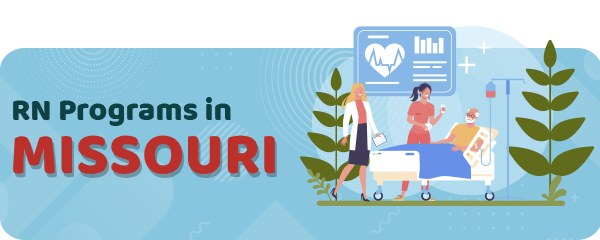 Missouri is home to around 55 RN programs.
Yet, finding the right school to study can be a challenge.
That's the only time when having less in life is better.
You have fewer options to consider.
Anyway, if I tell you concrete criteria to help you choose, will you believe me?
Well, focusing on licensure as the last step of education, is one way to make your choice easier.
But just like so many things, you can't do it on your own.
There is some kind of measure you have to make.
And that is the analysis of the NCLEX-RN exam in all RN schools.
In fact, you need to find the percentage of pass rates in terms of their history and present state.
The programs which should be the focus of your analysis include those that offer an Associate Degree in Nursing.
These programs are an AND, ASN, or BSN degree.
Or even a Direct-Entry MSN Degree in the long run.
In Missouri, however, quality patient care is a huge aim.
The state is promoting this care through degree programs and professional development of nurses in general.
This development is stimulating nurses to continue their nursing education.
This, in turn, is making it possible to fill the void between nursing care and the increasing need for it within the state.
Now, talking about Registered Nursing, there have been reports done on its behalf for its development in Missouri.
One of these reports done from the Missouri Economic Research and Information Center (MERIC) posits nursing as the first occupation in the state between 2008 and 2018.
Now, two years after, things have become even better.
The field is continually distinguished with the most job openings as well.
You can see the traces of this feature in the annual salary of RNs of $65,130.
That's what the Bureau Labor of Statistics reports as well.
So, basically, being an RN in Missouri is a wise and fruitful choice to make since it will pay off in your entire career.
For RN bridge programs visit:
RN to BSN Programs in Missouri
RN to MSN Programs in Missouri
ADN Programs in Missouri
The first RN career degree in Missouri is the Associate Degree in Nursing (ADN).
Being a two-year-long program, it is the fastest and most economic program to pursue in the state.
The program is a good fit for students who like to enter the nursing profession without having to attend many schools, and who want to jump at work immediately.
Programs of this type are mostly available in community colleges, technical schools, and similar small facilities in the state.
While Missouri has in total 30 schools that offer an accredited ADN program that has been approved from the state previously.
What to Look For in an ADN Program in Missouri
Having so many ADN programs in your list, it may be exhausting to choose.
However, the right criteria will open your eyes and help you choose the right one.
Accreditation
RN programs in Missouri are usually approved by the local Board of Nursing.
However, accreditation is still necessary for both the schools and the programs.
In Missouri, there are two accrediting organizations that take care of this matter.
One is the Commission for Education in Nursing or ACEN.
Or else, the American Association of Colleges of Nursing's Commission on Collegiate Nursing Education (CCNE).
Licensing
The second criteria to look for in an RN program is licensing.
This license comes after passing the NCLEX, which comes right at the end of the ADN program.
One way to pass this exam successfully is to attend an ADN program that actually prepares you for it.
To do so, research is needed to be related to all schools, their curriculum, the faculty as well as NXLEC-RN pass rates.
Only after this evaluation is done, you can choose the school that offers you the best educational service.
Program Outcomes
Program outcomes are the third criterion to check when pursuing an ADN program.
This outcome includes information from the previous program graduates, which consists mainly of these:
Graduation rates
NCLEX-RN pass rates
Graduate satisfaction
Employment rates
While checking these criteria, we get to find some pioneer programs in the state.
One of them is the Saint Charles Community College in Cottleville, MO.
The College offers an accredited ADN program that fills the needs of every aspiring student.
ADN Program Admission Requirements in Missouri
Entrance to anything is a matter of meeting certain requirements.
Similarly, RN programs have their own admission criteria.
Though they vary from school to school, the most commonly required ones are these:
Cumulative GPA of 2.8 or above
Complete prerequisite courses
Submit of all official transcripts
Submit ACT scores and HESI A2 Entrance Exam with at least an average score of 75%
Tuition and Costs of ADN Programs in Missouri
When choosing which ADN program to pursue in Missouri, the cost will be the main factor determining your choice.
Part of this cost will be tuition expenses, textbooks, uniforms, transport, and other additional obligatory fees from the school along the way.
If lucky enough to qualify, you may also benefit from financial aid as well.
However, you need a concrete cost to know what to expect.
So for instance the Ozarks Technical Community College in Springfield is an example to be considered.
Its entire ADN program cost is $9,024 for students within the district area.
While, for out-of-district ones, the cost goes around $11,817.
Advantages of ADN Programs
The advantages of RN programs are what make them attractive to students.
To begin with, an ADN program is the quickest route to a nursing career.
Pursuing the degree in only two years' time, and the opportunity to go for other nursing degrees, such as BSN and MSN one, it is quite appealing to attend.
Furthermore, this type of nursing program is also affordable for many students, as well as highly accessible in entire Missouri.
LPN to RN Programs in Missouri
Another way to launch your RN career is through an LPN pathway.
LPNs then can also pursue other specialized programs that will qualify them for the NCLEX-RN exam.
This could be the last step to becoming a Licensed Registered Nurse.
Last but not least.
Since in Missouri, LPN students can choose different RN pathways.
LPN to ADN/BSN Programs
Being a Licensed Practical Nurse does not stop you from becoming a Registered Nurse either.
You can do so by attending an LPN to ADN program.
The program takes 3 semesters of study, which means you will finish this path faster than an entire ADN program.
The program can be found in the Metropolitan Community College in Kansas City.
In addition, you can go for an LPN to BSN bridge program as well.
Though the latter is a longer career path, it is fitting because it ends up with a Bachelor's degree in Nursing, which is a plus in your career as a nurse.
This program can be found at Missouri Valley College in Marshall.
The majority of the program is offered online.
However, for both of the career paths you may choose to pursue, you will need to meet the following requirements:
Hold an active Missouri LPN license
Graduate from an approved LPN program
Complete any prerequisite courses with a minimum GPA
BSN Programs in Missouri
The traditional nursing program to go for in Missouri schools is a Bachelor of Science in Nursing.
The program is mostly found in more crowded areas of the state and can be completed in 4 years.
There are three types of BSN programs in Missouri.
The first is the pre-licensure BSN, accelerated BSN programs.
As well as the RN to BSN bridge program.
The latter can be found in many schools.
While the state numerates more than 25 of them that offer a properly accredited BSN degree.
What To Look For in a BSN Program in Missouri
The best program to look for in Missouri isn't an ideal one.
In fact, each program that is properly accredited and you're okay with its location, cost, and similar factors are the best for you.
However, having some prior education makes the issue easier.
For instance, having a Bachelor's Degree in another field can qualify you for an accelerated BSN program.
And consequently, you will finish it earlier as well.
While being a Registered Nurse, maybe a good start for an RN to BSN pathway at the same time.
A fully accredited BSN program can be easily found in the Saint Louis University.
BSN Program Length in Missouri
Now, we've been used with 4-year Nursing degrees.
But that's the standard length for Nursing programs in all US states.
However, there are various schedules for different programs in Missouri.
For instance, RNs who opt for an RN to BSN pathway, there is a program of one to two years long.
While pursuing any BSN accelerated programs can take even less time of completion.
So, having so many options, the first thing to note should be the program length.
Choosing a favorable one is key to better organize your life around your studies.
BSN Program Admission Requirements in Missouri
Qualifying for the favorite program at school is the dream of everyone.
It shows that you know where you're going and that your aims have not gone in vain.
Entrance requirements in Nursing programs vary, but they generally include these:
Having a high school diploma or GED
High school GPA of 3.2 or higher
ACT composite score of 24 / SAT score of 1160 or higher
Tuition and Costs of BSN Programs in Missouri
The cost of a BSN program may be relatively high.
But one thing is sure.
It will definitely pay off in the long run.
In general, a BSN program cost includes tuition and mandatory college fees.
While other additional expenses include payment for textbooks and uniforms.
So, whichever type of BSN program you choose, you will have to pay some amount of money for each.
Therefore, it is necessary to consider both the cost and financial aid if you find them unaffordable to pay.
The cost can be only imagined unless you check it.
Thus in Missouri Southern State University in Joplin, the total four-year BSN cost is $33,425.20 for a student who lives in the state.
While for a student out of it, this cost is $55,248.40.
Advantages of BSN Programs
With a BSN program pursuit come many privileges.
First, you get the chance to go for even higher degrees.
Second, you get paid a higher salary at work.
And thirdly, it offers in general more nursing positions at work, which means it opens up the potential to grow in your nursing career.
And who does not wish for that!
MSN Programs in Missouri
The higher you climb, the better the view.
You may climb mountains and then see further.
While doing your Master in the Science of Nursing, will make you see more to the profession and opportunities to grow in it.
The MSN program is a must if you want to pursue various nursing positions such as Clinical Nurse Specialist, Family Nurse Practitioner, or Nurse Midwife.
You can for even more nursing titles since the program is quite resourceful in this aspect.
In addition to these positions, you may also challenge yourself with either an educational degree in nursing.
Or else with administrative nursing jobs as well.
The way to reach the two of these is surely through an MSN program.
In Missouri MSN programs are offered in three schools.
The three of them are accredited and with them, you will find high salary jobs in the future.
And that's what stimulates everyone to work and study more.
MSN Program Length in Missouri
An MSN program will surely take you two or three years of your life.
But you will not regret it.
Yet, the length of this program depends on the schedule and the courses you attend.
However, the beauty of these programs in Missouri is that they are empathic toward busy nurses.
For this reason, favorable schedules are common in all schools.
Though the issue of length is a matter of the program and the specialty you are interested in.
If the specialty requires more coursework, it may be longer.
But then, the general length may be shortened.
So, it is a bit of a matter of choice.
And most of the time, a student's choice.
So, I am not telling this to blame you for your interest, but to consider it when choosing the program.
MSN Admission Requirements in Missouri
MSN programs in Missouri are very competitive.
That's why admission requirements are the best way to filter the right candidates.
Though different schools have different criteria for admission, they usually require to meet the following:
BSN from a nationally accredited college or university
Minimum GPA of 3.2
Current unencumbered Missouri nursing license
Completion of prerequisite courses
Personal interview
Tuition and Costs of MSN Programs in Missouri
From what I saw, Missouri MSN programs have different costs for students.
Yet, there is a slight similarity amid all of them.
This similarity is intuition, mandatory fees, lab fees, textbooks, and similar pay.
However, you cannot know the exact price, without trying to get informed about this cost in all schools.
Check for instance the Missouri State University.
Its entire MSN cost is $6,544 for students who live in the state.
For NP programs visit:
Missouri DNP Programs
Missouri FNP Programs
Missouri Nurse Practitioner Programs
Missouri Post-Graduate Certificate Nursing Programs
Getting a Missouri Nursing License
A nursing license in Missouri may be given in two forms.
Either by entering the specific exam or by endorsement.
Either way, you will be asked to send the notarized application with its fees.
As well as the following documents:
Photography 2″ x 2″ – signed and dated
Criminal Background Check – including fingerprints
Proof of registration for the NCLEX exam
If you decide to earn the Licensure by endorsement, you can do so by completing the necessary application and send the following documents:
Criminal Background check – including fingerprints
Verify your original license – you can verify it by request form or NURSYS (if applicable)
Official final transcripts along with the date of graduation and degree obtained. They must be sent directly from the nursing program to the state board
Accelerated Nursing Programs in Missouri
Accelerated nursing programs in Missouri take 12 to 18 months of completion.
If you did not know that, you have missed a lot.
This type of program is accessible in more than 10 colleges around the state.
You can go to any of them for full-time studies, which is the case when you attend clinical hours.
At the end of this program, you get both the degree and the chance to move faster with nursing.
The main important thing, however, when applying to an accelerated program, is to meet the admission requirements.
To know these requirements, you should be informed prior to prerequisite courses.
This way, you can measure both the secondary costs as well as the time you spend on the program.
Missouri Accelerated BSN Programs
Missouri Accelerated MSN Programs
Latest Missouri NCLEX-RN Pass Rates and Statistics
State Approved Schools Peak Number: 55
Test Takers Number in 2019: 3,723
Average Statewide Missouri NCLEX-RN Pass Rate in 2019: 90.2%
With all these programs and schools, you should definitely try nursing in Missouri.
The Best RN Schools in Missouri
The best things in life do not always come easy.
But once they do you have to learn to grab them right away.
Having the chance to choose among 20 schools in Missouri is a great one.
At this point, you need to check what the schools offer.
As soon as you finish the check, just choose the one that fits you best.
For them, you don't have to look much.
Here are the 20 of them listed below.
| School Name | Address |
| --- | --- |
| State Fair Community College | 3201 W 16th St, Sedalia, MO 65301 |
| Missouri State University | 901 S National Ave, Springfield, MO 65897 |
| Crowder College - Neosho | 601 Laclede Ave, Neosho, MO 64850 |
| East Central College | 1964 Prairie Dell Rd, Union, MO 63084 |
| Crowder College - Cassville | 4020 N Main St, Cassville, MO 65625 |
| St. Louis Community College - Florissant Valley | 3400 Pershall Rd, St. Louis, MO 63135 |
| University of Missouri | 810 E. Rollins St., Columbia, MO 65211 |
| Avila University | 11901 Wornall Rd, Kansas City, MO 64145 |
| North Central Missouri College - Trenton | 1301 Main St, Trenton, MO 64683 |
| Truman State University | 100 E Normal Ave, Kirksville, MO 63501 |
| Ozarks Technical Community College | 1001 E Chestnut Expy, Springfield, MO 65802 |
| College of the Ozarks | 100 Opportunity Ave, Point Lookout, MO 65726 |
| Columbia College - Lake of the Ozarks | 900 College Blvd, Osage Beach, MO 65065 |
| University of Missouri-Kansas City | 2464 Charlotte St, Kansas City, MO 64108 |
| Southeast Missouri State University | 1 University Plaza, Cape Girardeau, MO 63701 |
| St. Charles Community College | 4601 Mid Rivers Mall Dr, Cottleville, MO 63376 |
| Lincoln University of Missouri | 820 Chestnut St, Jefferson City, MO 65101 |
| Research College of Nursing | 2525 E Meyer Blvd, Kansas City, MO 64132 |
| St. Louis University | 1 North Grand Boulevard, Saint Louis, MO 63103 |
| East Central College - Rolla | 500 Forum Dr, Rolla, MO 65401 |
RN Salaries in Missouri
A good salary gives you financial freedom.
And aren't we all looking for that nowadays?
We definitely are!
However, living in globalization times, we need to offer quality as well.
What we offer, we will be able to get in terms of income.
So far, an RN salary in Missouri is enough to help you make a good living standard.
Check the three forms of salaries in different periods of time there.
Annual Salary Range: Annual Salary by Location:
| Location | Avg. Annual Salary |
| --- | --- |
| Kansas City | $62,596 |
| St. Louis | $62,781 |
| Springfield | $61,155 |
| Independence | $62,528 |
| Columbia | $62,105 |
| St. Joseph | $62,001 |
| Lee's Summit | $62,358 |
| St. Charles | $62,441 |
| St. Peters | $62,305 |
| Florissant | $62,679 |
RN Programs by State
---