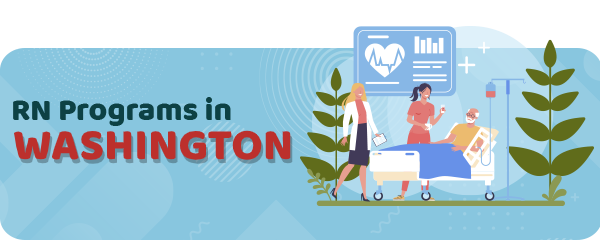 We've been talking a lot about nursing.
But we're not done yet.
Not until we go through the last state in the US where Nursing is taught.
However, let's develop the topic further.
Most of the time, you have read that difficulties in finding the right RN school in each US state exist.
Of course, they are not impossible to overcome.
One of the issues that make this path easier is the possibility of licensure by the end of the nursing program.
If this is assured, all else is fine.
The best way to find out whether an RN school offers licensure or not is to check the NCLEX-RN exam rates.
So far, I have checked the total of 35 RN programs in Washington, and only 10 of them have been worthy of being listed as the top-ranked ones.
All the program checked offers an Associate Degree in Nursing.
In other words, they consist of ADN, BSN, ASN, or MSN degrees.
Registered Nursing in Washington
Being located on the Northwest Pacific side, Washington isn't only a state of sea and beauty.
But rather, it is also home to educational institutions of nursing the same as many worldwide high standard ones.
As such, becoming a Registered Nurse in this state is something you may wish all your life.
How cannot it be so when the nurses who graduate from its programs end up with rewarding nursing careers.
This information comes from the Bureau of Labor Statistics.
According to it, RNs earn an average salary of $82,670 in a year.
For RN bridge programs check these options:
RN to BSN Programs in Washington
RN to MSN Programs in Washington
ADN Programs in Washington
While telling you about the first most common degree you can pursue in Washington, an ADN crosses right away in my mind.
I personally always liked short lectures and enjoyed them.
If you happen to be the same, this degree is for us both.
With only two years of studies, and useful learning information such as critical and analytical thinking, as well as interactive communication in nursing, you will have enough to grow into the profession.
This program is found in more than 25 schools in both urban and rural side of Seattle.
The program is accredited properly.
You can attend it at the Washington State Nursing Care Quality Assurance Commission.
What to Look For in an ADN Program in Washington
Knowing any potential ADN program in Washington is a good starting point.
But it is not enough.
You need to make sure you find the right one.
At this point, you need some clear criteria to help you choose.
They usually consist of accreditation, licensing, and program outcomes.
Follow me for more details.
Accreditation
Usually, I like to start small.
But accreditation isn't a small issue.
Indeed, it is a huge matter when it comes to reassuring you of legitimate and high-quality RN programs.
In Washington, you will not go broke for accreditation.
The two organizations available there will solve this matter for you.
So please make sure you contact the Accreditation Commission for Education in Nursing.
Or else, the American Association of Colleges of Nursing's Commission on Collegiate Nursing Education.
The third option is the Washington State Nursing Care Quality Assurance Commission.
This one will help you find schools that are accredited locally.
Licensing
Completing your ADN program is highly important.
But when you realize you will get the license right after it, you will be even more motivated.
To get to the license, however, you need to take the NCLEX exam.
This exam has a history of five years in Washington.
Only in 2015, 2,523 students took the exam while 88.8% of them got the license.
All these students actually took the exam for the first time, so it was quite a success.
Program Outcomes
Knowing the success of an ADN program is a good idea.
It will help you pick the right school in a short amount of time.
Program outcomes usually raise a school's reputation.
They consist of the following:
Graduation rate
Licensure exam pass rate
Graduate satisfaction
Employment rate
One role model school with its ADN program outcomes is the Bellevue College in Seattle.
It offers an accredited program for all prospective students.
ADN Program Admission Requirements in Washington
When it comes to an ADN program, it is not only the school you need to find.
You also need to meet the school's admission requirements as well.
Some of the common ones required in these programs in Washington include:
Reach a cumulative GPA of 3.0
Make a minimum of 2.0 for all pre-requisite courses
Make at least 74% score on the Test of Essential Academic Skills (TEAS)
Make at least 8  scores on the COMPASS E-Write Test
Tuition and Costs of ADN Programs in Washington
What you worry about isn't always something to be worried so much.
The cost of an ADN degree isn't the same either.
But hey, tuition is a common pay for every nursing student.
Other costs such as fees, uniforms, and textbooks can be included or not in it.
However, the two year ADN program at Columbia Basin College in Pasco of Washington goes around $11,775.
Along with tuition, you need also pay fees, books, and uniforms as additional costs.
Advantages of ADN Programs
If it were not for the benefits we would scarcely choose anything easy in life.
But seeing the good side of the medal, we have to choose it.
Similarly, an ADN program comes with its numerous advantages for you.
As a student, the short time of studies with only two years is a perfect choice.
Secondly, the accessibility of the program in both technical and junior colleges makes the degree very convenient for you.
LPN to RN Programs in Washington
LPN to RN programs are frequent in Washington.
So far, there are two types of these programs to pursue.
One is the LPN to ADN program.
The other is the LPN to BSN one.
Let's learn more about them.
LPN to ADN/BSN Programs
One way to enter registered nursing other than through a direct ADN path is the transition from a Licensed Practical Nurse to an ADN degree.
As such, you earn an Associate degree in nursing in a short amount of time.
This transition program can be found in Tacoma Community College.
In this college students are made part of it every winter.
The other transition in nursing is the LPN to BSN program.
This one ends up in a Bachelor's Degree in Nursing.
You can pursue this nursing path at Pacific Lutheran University in Tacoma in two years' time.
In general, both LPN to RN programs in the state requirements from the student to meet these requirements:
Graduating from an approved LPN program
Have an active LPN licensure
Prepare Official transcripts from all colleges you've attended
Having attended prerequisite coursework
BSN Programs in Washington
"The more you know, the more places you go", says Seuss.
One way to look deeper into Nursing and to also work better in it is to advance in education.
A BSN degree is a good way to do so.
Although it takes four years to complete a traditional BSN path.
However, when you're done, better jobs and better salary await for you.
If you think a traditional BSN path is rather long for you, you can choose the other option.
That is the RN to BSN path.
You can go for it as long as you have a nursing license already.
A traditional BSN path is available in over 10 schools in Washington.
While an RN to BSN path is 14.
The choice is yours.
What To Look For in a BSN Program in Washington
Having so many schools and types of BSN programs, choosing one becomes hard.
However, once you set your own criteria, you will pass this stage easily.
The most important criteria to check for in a BSN program are accreditation and program outcomes.
Other secondary factors such as part-time, full-time, or online schedules are important as well.
However, some issues are clear.
For instance, an RN to BSN program is best for candidates that have an RN degree.
While you are free to check the Gonzaga University in Spokane.
It stands as a role model school of an accredited BSN program.
BSN Program Length in Washington
Not all things come as you expect.
A traditional BSN does come anyway.
But an RN to BSN path takes shorter than you think.
However, depending on your availability, you may choose between the two.
Both nursing paths are available in Washington.
BSN Program Admission Requirements in Washington
After checking the types of BSN paths, let's see what you need to enter the school.
Here are the necessary requirements you need to meet to enter one in Washington:
Complete the Test of Essential Academic Skills (TEAS)
Make 50 hours of work/volunteer experience
Reach a Cumulative GPA of 3.0 or higher
Complete pre-requisite courses with a GPA of 2.0 or higher for each course
Tuition and Costs of BSN Programs in Washington
The cost of a BSN program is divided into two parts.
One is payment for tuition.
The other includes additional fees which include uniforms, books, equipment, and so on.
If we check tuition around Washington, you will see for example the University of Washington in Seattle with $9,694 tuition for students within the state.
In this cost, additional fees are not included.
In this portion, you have the cost of books at $825.
Then the room and board with $11,691.
And finally clinical course lab fees at $200.
Advantages of BSN Programs
Entering a BSN program will only give you benefits.
To begin with, you will have more career opportunities.
And secondly, a better salary at work for sure.
Another advantage is that you can pursue a degree in two ways.
The first includes the pursuit of a degree as an undergraduate nurse.
Or else, you can do more education as the case with being an RN first.
Both BSN paths are frequent in Washington.
And in all, you will be able to make progress in nursing.
MSN Programs in Washington
The more you learn, the more you become.
Professionally, becoming is a life-long process.
However, a Master's of Science in Nursing is a step on this journey.
And you're not alone in it.
Over 10 RN schools offer an MSN program in Washington.
What makes this program resourceful is the variety of specialties it offers.
Basically, you can become a Nurse Practitioner, a Certified Nurse Midwife, or else a Clinical Nurse Specialist.
The only condition you need to meet to earn an MSN is to have a BSN in the first place.
MSN Program Length in Washington
The length of an MSN program depends on the school and the courses are taken before it.
However, the typical MSN program is 3 years long.
You can always regulate the schedule if you happen to work or something.
You can do this by inquiring about the school you like prior to admission about online classes or flexible schedules.
Trust me, they will not disappoint you!
MSN Admission Requirements in Washington
MSN admission programs have some requirements you need to meet along the way.
Among them, you may be asked to meet the following ones:
Have a Bachelor's degree from an accredited nursing program
Make a Cumulative GPA of 3.0 or higher
GRE scores from within 5 years with minimum scores in required sections
Have a Current WA nursing license in the state
Tuition and Costs of MSN Programs in Washington
Tuition always makes us wonder about the entire studies.
Whether we can afford them or not, and similar questions come to everyone's mind.
But sometimes seeing an example of the cost may make it easy for you.
Like for instance the MSN program at Pacific Lutheran University in Tacoma.
Its tuition is nearly $33,000.
In this cost, additional fees are not included.
So feel free to celebrate.
Because MSN programs are many in Washington.
You can explore them below:
Washington DNP Programs
Washington FNP Programs
Washington Nurse Practitioner Programs
Washington Post-Graduate Certificate Nursing Programs
Getting a Washington Nursing License
A Nursing License in Washington can be earned in two ways.
As always, it's either by exam or by endorsement.
Applying by the first rule, you need to make the application ready, fill it, and attach the fees.
While in the second phases you need to send the following documents:
A certificate that proves completion of licensure – you can send it electronically from the school to the state Board
Official transcripts – you need to mail them by the nursing school directly to the state Board
Register the NCLEX -and your  successful completion
Criminal Background Check with Fingerprints attached
Applying by endorsement is the second option for you.
For it, you have to send an application and attach other documents such as these:
Verify your licensure – you can do that by request for or through NURSYS
Verify your Education – either official transcripts or through NURSYS
Have a Proof of a Current/Active License
Send the Passing score on the NCLEX
Criminal Background Check with Fingerprints attached
Whichever path you choose the Washington State Department of Health will help you regarding licensure.
Accelerated Nursing Programs in Washington
Regarding the RN accelerated programs, there are two types of them in Washington.
You can either go for a BSN or for an MSN direct one.
The first may take 12 to 18 months.
While the MSN nearly 27.
In both programs, clinical hours are a must before graduation.
Of course, prerequisite courses needed prior to entering each of the programs differ from the curriculum of each.
So, before applying to any of them, you need to learn more about this aspect or admission.
Additionally, these programs have a modest cost as well.
Usually, courses change the cost.
So does housing and similar factors.
Check two categories of Accelerated programs in the state:
Washington Accelerated BSN Programs
Washington Accelerated MSN Programs
Latest Washington NCLEX-RN Pass Rates and Statistics
Send the number of Schools Approved by the State, which is 35
Test Takers Number in 2019: 2,441
Average Statewide Washington NCLEX-RN Pass Rate in 2019: 90.7%
The Best RN Schools in Washington
Being home to 50 RN schools, Washington does not let you even worry about choosing one.
They all offer various programs and opportunities in an RN career.
Check&see!
| School Name | Address |
| --- | --- |
| Big Bend Community College | 7662 Chanute St NE, Moses Lake, WA 98837 |
| Pierce College | 9401 Farwest Drive SW, Lakewood, WA 98498 |
| Whatcom Community College | 237 W Kellogg Rd, Bellingham, WA 98226 |
| Bellevue College | 3000 Landerholm Cir SE, Bellevue, WA 98007 |
| Columbia Basin College | 2600 N 20th Ave, Pasco, WA 99301 |
| Everett Community College | 2000 Tower St, Everett, WA 98201 |
| Walla Walla University | 204 S College Ave, College Place, WA 99324 |
| Olympic College | 1600 Chester Ave, Bremerton, WA 98337 |
| South Puget Sound Community College | 2011 Mottman Rd SW, Olympia, WA 98512 |
| Wenatchee Valley College | 1300 Fifth St, Wenatchee, WA 98801 |
RN Salaries in Washington
An RN salary will usually shift in three perspectives in Washington.
You may begin with a minimum, continue with an average and reach a maximum of the salary.
Here are the numbers as fit for this shift.
Annual Salary Range:
Annual Salary by Location:
| Location | Avg. Annual Salary |
| --- | --- |
| Seattle | $69,756 |
| Spokane | $66,451 |
| Tacoma | $67,977 |
| Vancouver | $66,457 |
| Bellevue | $67,964 |
| Everett | $69,756 |
| Federal Way | $67,977 |
| Kent | $67,841 |
| Yakima | $63,110 |
| Bellingham | $65,102 |
Regional Salary in Washington
| Region | Employed | Avg. Annual Salary | Avg. Hourly Pay | Top 10% Annual Salary | Bottom 10% Annual Salary |
| --- | --- | --- | --- | --- | --- |
| Bellingham, WA | 1,620 | $93,660 | $45.03 | $121,950 | $74,410 |
| Bremerton-Silverdale, WA | 1,300 | $97,110 | $46.69 | $122,200 | $76,680 |
| Kennewick-Richland, WA | 2,240 | $89,370 | $42.96 | $117,020 | $65,710 |
| Longview, WA | 790 | $96,260 | $46.28 | $121,730 | $74,550 |
| Mount Vernon-Anacortes, WA | 940 | $95,410 | $45.87 | $124,060 | $68,270 |
| Olympia-Tumwater, WA | 3,270 | $97,540 | $46.89 | $137,870 | $82,730 |
| Seattle-Tacoma-Bellevue, WA | 37,120 | $105,540 | $50.74 | $132,970 | $80,770 |
| Spokane-Spokane Valley, WA | 6,790 | $98,090 | $47.16 | $132,720 | $76,600 |
| Wenatchee, WA | 1,130 | $93,680 | $45.04 | $104,600 | $70,220 |
| Yakima, WA | 1,560 | $89,400 | $42.98 | $105,840 | $70,090 |
* Salary information based on the May 2022 Occupational Employment Statistics (OES) Survey for Registered Nurses, OCC Code 29-1141, BLS.
* Employment conditions in your area may vary.
RN Programs by State
---