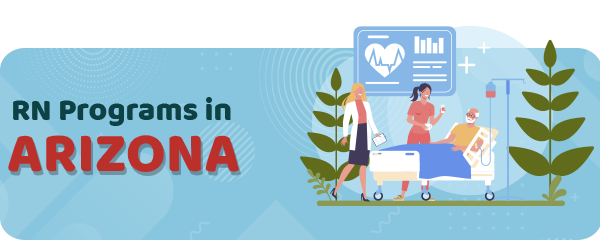 Going to the United States for Nursing is never a bad idea.
In reality, it is your ticket to success in the career in the long run.
In all its states you will find programs and work.
In Arizona for instance, you will find both.
But sometimes, having all the options available makes our choice harder.
However, when in the process of choosing the school for nursing education, you should have criteria for that.
This criterion is usually the NCLEX-RN passing rates.
As pertaining to it, the top-ten RN schools of Arizona have been selected for this article.
This number was extracted from the 28 RN programs available in the state.
Specifically, the graduate percentage of those who have passed the exam is a criterion for the selection.
The type of programs taught in these schools is Associate Nursing Programs such AND, ASN, BSN, or Direct-Entry MSN Degree.
However, Arizona is not just home to nursing education but also to the medical environment such as hospitals, and with very professional personnel at hand.
From the research made in this direction, and increased salary comes as a result of having a BA of Science in Nursing (BSN).
In addition, there are also more career and work opportunities as well.
But Nursing Education in Arizona is making progress every now and then.
From this comes a prediction that the employment rate will grow by about 25% as we approach the year 2020.
Because of all these characteristics of nursing in the state, there is enough stimulation for the potential candidates to engage in career advancement and education in general.
For RN bridge programs visit:
RN to BSN Programs in Arizona
RN to MSN Programs in Arizona
ADN Programs in Arizona
Your nursing education in Arizona may start small.
To begin with, an Associate Degree in Nursing is a good idea.
With this diploma, a nurse will have the basic knowledge of nursing in both practical and clinical aspects during the time of the studies.
The AND program lasts 2 years.
By the end of it, the successful graduates will qualify for the NCLEX exam.
Around the state, however, you will find more than 20 community colleges and private colleges offering this type of program.
Through it, students are able to become registered nurses too.
What to Look For in an ADN Program in Arizona
What students look for in an ADN program in Arizona is usually what they need in the first place.
AND programs in Arizona are generally known there as AAS programs.
They tend to be taught by strong standards so that they can keep the accreditation valid.
However, students should be careful about choosing the programs that fit their needs most.
As usual, some of these elements are common and most important in all programs.
Accreditation
Accreditation is a must for every Nursing program in Arizona.
This issue is regulated by the Arizona State Board of Nursing.
The Board makes sure nursing programs function around the state.
While it also checks people's fitness to finish their practice in registered nursing as a service to the community.
Licensing
Nursing licensure in Arizona is verified from the Board of Nursing.
This verification is free for all people.
Through this institution, patients have the chance to complain about a person or a program inside the state.
All healthcare employers have access to the licensure database.
The database collaborates with secondary institutions in order to verify integrity in the profession of nursing.
Program Outcomes
Program outcomes usually prove or disapprove student's school choice.
The quality of the applicant graduates is a direct result of the porosity of the programs in the first place.
In order to be pleased with a program outcome, the following data should be considered.
Graduation and employment rates
NCLEX pass-rates
Parent, student, and campus satisfaction metrics
Loan repayment data (where not in conflict with student confidentiality)
From the accredited programs in Arizona, you have the Mohave Community College.
The college has its campuses spread in Bullhead City, Kingman Lake, Havasu City, and North Mohave.
With these branches, the medical policymakers in Arizona, do their best to have AAS programs for all people in all the state's area.
ADN Program Admission Requirements in Arizona
AND program requirements are different from each school in Arizona.
These requirements make sure the students are fit to the school.
The most common requirements are usually these:
Complete all application documents in line with college timelines
Ensure residency and citizenship requirements are met with appropriate supporting documentation
Complete new student orientation package
Complete nursing statement of intent, pre-training/orientation, and health screening
Submit evidence of negative drug testing and negative at-risk health screening factors
Submit official transcripts
Submit documentation supporting a minimum ACT composite of 16, or a total SAT score greater than 790
Tuition and Costs of ADN Programs in Arizona
The tuition cost for nursing students depends on many factors.
Sometimes, one can pay yearly tuition, while other times a credit hour one.
And as a specialized program may have costs separate from the tuition.
For in-state students, however, pricing is different.
While they can benefit from financial aid as well.
In the Glendale Community College, for instance, in-country students have to pay a tuition-credit hour cost of less than $100.
In this cost, applicable fees for both nursing programs and college are included.
As well as equipment, supplies, and uniforms.
Advantages of ADN Programs
The advantages of going for an ADN degree in Arizona helps students explore more education options such as a Bachelor's Degree in Nursing.
Or else, it will result in more career advancement.
Another good way of the AND degree is that it comes with lower tuition costs.
The degree is also flexible since it is fitting to students who are more apt to the workforce activities and less of the theoretical part.
LPN to RN Programs in Arizona
LPN to RN programs in Arizona is present as well.
As an accelerated type of programs, those who have graduated from them, can take the NCLEX exam right away and become a registered nurse by license.
LPN to ADN/BSN Programs
There are two options for pathway nursing programs in Arizona.
Basically, students can take the LPN to AND and get an associate degree in nursing.
Or else, they can attend the LPN to BSN, after which he or she earns a Bachelor's degree.
Usually, the first pathway is the fastest one.
This program is offered at Pima Community College.
While it may be attended also in other locations in the Tucson area.
The entire program length can be 3 semesters.
An interesting characteristic of these programs in Arizona is that they can be accessed only online since there are not campus-based programs in the state yet.
LPN to RN program requirements typically include:
Completion of all prerequisite courses
Current, active LPN license
Graduate of an accredited LPN program
Up-to-date immunizations
BSN Programs in Arizona
Being a rewarding profession worldwide, nursing is respected a lot.
Every day, we witness job opportunities and career progression.
But that does not come alone.
Previously, there is an amount of knowledge and challenges that support it.
Especially, RN and BSN degrees are the most frequent degrees so far.
BSNs who have graduated in the field, need to pass the NCLEX exam and then be able to make another discipline choice.
This way, their nursing education would help them shape their healthcare culture for long.
In many ways, a BSN degree is the foundation of your nursing career.
What To Look For in a BSN Program in Arizona
First and foremost nursing students who seek a solid education program in Arizona should look for two things.
One is good, professional teachers.
And secondly, a program in good standing and with the possibility of licensure and accreditation.
With these two important features at work, students will be able to dedicate their time and effort to learning and clinical practice.
Apart from that, they should also engage in scientific learning and the environment.
A renowned BSN program can be found at Northern Arizona University.
The studies in this university last four years and with a tradition of teaching.
It also offers accelerated programs such as RN to BSN option for those who have previously studied another undergraduate nursing field.
The need for students in this university is indeed high.
There are 600 applicants for 150 spaces every year.
BSN Program Length in Arizona
The length of a nursing program is standard.
The BSN program in Arizona lasts 4 years.
Though it can be fashioned to student's previous studying experiences as well.
This degree can be attended in two tracks: RN to BSN and BSN accelerated track.
The latter take mostly two years to finish.
In other cases when freshman students they may take an even shorter time to complete.
BSN Program Admission Requirements in Arizona
Requirements for admission to BSN programs across Arizona vary.
Being ten of them in this state, they may have something in common.
To be informed about these requirements, students should contact the Admissions department as they attend the program.
However, they mostly consist of the following ones:
Students have a GPA that exceeds the minimum program standard (could be as high as 3.4 given program demand)
Students have no record of academic dishonesty and otherwise meet university admission criteria
All transcripts from former institutions have been submitted
The student is 'in good standing' in all respects
Tuition and Costs of BSN Programs in Arizona
Tuition and costs of BSN programs in Arizona are growing each day.
With this growth, however, they vary from place to place and institution.
A part of it pays the taxpayer and government, but still, it is not enough.
Students can make use of the financial aid, but with consideration of the entire cost still, before application.
For instance in Phoenix's Arizona State University students will pay $510 per credit hour in the BSN program.
The only thing that makes the payment vary is the program track.
This means that tuition also depends on the student's choice of the program as well.
What can we do!
Nothing good ever came easy!
Advantages of BSN Programs
With all the tuition thing and application, the program a student chooses to enroll is definitely more important than the school.
And the advantages of education are always many.
But they differ from student to student.
For instance, some advantages are more knowledge, the possibility of making connections, and confidence for life.
While some freshmen find a lot of experiences and opportunities in nursing through a BSN degree.
MSN Programs in Arizona
MSN program is a step higher than BSN.
It can be pursued right after graduation, at the take of the NCLEX exam.
These programs can be found in a few nursing schools across Arizona.
They are usually accredited from the Commission on Collegiate Nursing Education.
While they receive their license from the state's Board of Nursing.
This way, both the students and nursing programs they attend are connected to the American Association of Colleges of Nursing and the Western Institute of Nursing.
MSN Admission Requirements in Arizona
A Master's degree in Nursing is just like the cherry upon the cake, we should always put it.
In Arizona, this study part comes with rigorous training at the undergraduate level.
Admission to the University of Arizona's two MSN tracks is highly competitive.
Candidates who wish to apply are advised to use the following information as a minimum entry requirement.
Though the criteria can change with the demand for candidates:
Graduate with a BSN
NCLEX in good standing and without disqualifying incidents
Minimum 3.0 GPA at the undergraduate level
Record of all official transcripts
Prerequisite course load consisting of Chemistry, Anatomy & Physiology, Microbiology, Statistics, Human Lifespan Development, and Human Nutrition
3 professional letters of reference, mailed directly to Admissions
Tuition and Costs of MSN Programs in Arizona
In Arizona, students who pursue a Master's Degree in Nursing pay a higher tuition cost than AAS and BSN students.
However, the high cost has its own benefits as well.
Through the MSN a candidate can have more job mobility and advancement in the career.
The tuition cost per 1.5 to 3 years of full-time study is nearly 10,000 per semester.
To be informed about this cost, students should, of course, contact the Bursar of the particular school so that they can evaluate the payment options.
With that comes also the information about financial aid, whether it is valid in the school or not.
Because of the rigors of the course material needed during MSN studies, students are asked to work when the school is in its session.
For NP programs visit:
Arizona DNP Programs
Arizona FNP Programs
Arizona Nurse Practitioner Programs
Arizona Post-Graduate Certificate Nursing Programs
Getting an Arizona Nursing License
Arizona requirements for nursing licensure are as follows for candidates by application and those from another state by endorsement:
Along with a completed application, the applicant must have ready:
Possess a diploma, associate degree, or baccalaureate degree in nursing from a state-approved institution
NCLEX exam with a passing score
Certificate of completion – sent directly to Arizona State Board of Nursing
Official transcripts – sent directly to the Board of Nursing
Proof of citizenship or immigration status
Fingerprint documentation
Nurses from other states may apply for endorsement to practice in Arizona.
They should be prepared to submit the following information:
Current license from the former state of practice
NURSES documentation for verification of former state license
Passing score on either the NCLEX-RN or State Board Test Pool Exam (SBTPE)
Fingerprint documentation
Proof of U.S. citizenship or equivalent documentation
Accelerated Nursing Programs in Arizona
One of the key advantages of pursuing a nursing career in Arizona is the possibility to attend accelerated programs.
RN to BSN, BSN to MSN and RN to MSN are some of the tracks to pursue across the state.
These programs are taught in four different colleges across Arizona.
This way, students have many options to consider when choosing an accelerated program there.
Each program takes 12 months of full-time study to complete.
While some of the part-time ones may last up to 30 months.
The cost and admission requirements for these programs vary from one program option to another.
But they mainly depending on full-time course loads or individual online course options.
Arizona Accelerated BSN Programs
Arizona Accelerated MSN Programs
The Best RN Schools in Arizona
RN schools in Arizona are many.
If you go there, you will find different colleges and programs offered across its area.
However, the best of them have been listed in the article below.
And I would like you to really go through them soon.
| School Name | Address |
| --- | --- |
| Scottsdale Community College | 9000 E Chaparral Rd, Scottsdale, AZ 85256 |
| University of Arizona | 1305 N. Martin, Tucson, AZ 85721 |
| Eastern Arizona College | 615 N Stadium Ave, Thatcher, AZ 85552 |
| Mesa Community College | 1833 W Southern Ave, Mesa, AZ 85202 |
| Paradise Valley Community College | 18401 N 32nd St, Phoenix, AZ 85032 |
| GateWay Community College | 108 N 40th St, Phoenix, AZ 85034 |
| Glendale Community College | 6000 West Olive Avenue, Glendale, AZ 85302 |
| Arizona College | 1620 W Fountainhead Pkwy, Suite 110, Tempe, AZ 85282 |
| Arizona State University | 550 N 3rd Street, Phoenix, AZ 85004 |
| Northern Arizona University | 202 E Pine Knoll Dr, Flagstaff, AZ 86011 |
Arizona RN Salaries
RN salaries in Arizona are different from each program.
However, the higher you climb, they say, the better the view.
And so goes with nursing salary as well.
Education is the most important factor in employment, and therefore to a better income.
Annual Salary Range: Annual Salary by Location:
| Location | Avg. Annual Salary |
| --- | --- |
| Phoenix | $62,839 |
| Tucson | $59,586 |
| Mesa | $61,641 |
| Glendale | $62,839 |
| Scottsdale | $61,641 |
| Chandler | $61,641 |
| Tempe | $61,641 |
| Gilbert | $61,641 |
| Peoria | $62,712 |
| Yuma | $65,004 |
RN Programs by State
---