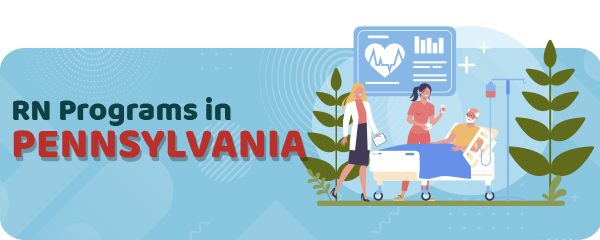 They say: ''Everything is difficult until it becomes easier''.
At first, finding the right RN school in Pennsylvania may seem a big deal.
But this perception is only a result of uncertainty.
Perhaps you don't know what type of program you want.
Or maybe, you don't know where to locate.
These things may cause a mess.
But you don't have to continue like this for long.
I will not let you.
I will tell you the secret to find the right school in the state in just a few clicks.
It's called the opportunity of licensure.
The minute you discover an RN school offers you that, you should definitely apply in its program.
The easiest way to discover this fact is to check the NCLEX-RN student passing rates.
The state is known for 78 RN programs functioning in its areas.
So basically, the top 30 programs were chosen as an object to this analysis.
All the programs are ones through which you will secure an Associate Degree in Nursing.
Programs such as BSN, ASN, ADN, or MSN ought to be mentioned.
In fact, these will be talked about in this article too.
So follow me for more about Registered Nursing in Pennsylvania.
With so many nursing degrees in the state, there is enough room for new skilled nurses.
With these degrees, nurses will have a successful nursing career in Pennsylvania and a high income too.
Isn't this what we're all looking for?
The state has in total a need for 4,800 nurses per year.
All of them, within the year, earn an average of $67,550 according to the Bureau of Labor Statistics.
For RN bridge programs check:
RN to BSN Programs in Pennsylvania
RN to MSN Programs in Pennsylvania
ADN Programs in Pennsylvania
An ADN degree is a common degree in Pennsylvania, but it is worth it.
It is worth it since you can finish it in a little of two years.
So if you don't have the time of the world to devote to it, there is no problem.
This program is best for you.
And if you wonder where you can find it, check technical colleges and junior schools.
And also check the total of 25 schools offering this program around the entire state.
What to Look For in an ADN Program in Pennsylvania
Some of the most important characteristics an ADN program should have are probably known to you.
However, repetition is the mother of learning.
So let's check them again below.
Accreditation
The first thing to check about an ADN program is accreditation.
If a school has it, you know you're applying for a quality program.
In Pennsylvania, you have two accrediting bodies to consider.
You can contact either the Accreditation Commission for Education in Nursing (AECN).
Or else, you have the American Association of Colleges of Nursing's Commission on Collegiate Nursing Education (CCNE).
The third one is the Pennsylvania Board of Nursing.
This organization is in charge of approving nursing programs.
Licensing
Once you're done with an ADN program in the state, the next thing to look forward to is Licensure.
This procedure takes place with the NCLEX-RN exam take.
That's the path you have to pursue to apply for it.
In Pennsylvania, nursing licensure has been sought since 2015.
In that very year, according to the American Association of Colleges of Nursing 7,481 people took the exam.
On the other hand, 87% of new nurse graduates got licensed as a result of this exam take.
Program Outcomes
Some of the program outcome characteristics to check-in ADN programs in Pennsylvania are these:
Graduation rate
Passing rate per Licensure exam
Graduate satisfaction
Employment rate
With these characteristics, you can find the Pennsylvania College of Health Sciences in Lancaster.
This school is a role model one of an accredited ADN program in the state.
ADN Program Admission Requirements in Pennsylvania
Simply saying, being admitted to an ADN program in Pennsylvania is a matter of meeting a few requirements.
In general, you will be asked to meet these:
High school algebra of two years with a grade of C or higher than that
Send TEAS V test results
A minimum of GPA of 3.0
Tuition and Costs of ADN Programs in Pennsylvania
ADN costs in Pennsylvania will always be of two kinds.
First, there is tuition.
And second there come additional fees.
In the latter, you will usually have to cover payment for uniforms, textbooks, lab fees, and similar expenses.
The board and room are then separate costs.
If you've started having an interest in the general cost in the state, I will land you a hand of help.
For instance, you can check the Reading Area Community College in Reading.
Its cost of tuition per semester is $2,655.
This cost applies to a student who lives in Berks County.
While for a non-resident, the cost goes around $4,560.
Advantages of ADN Programs
If you're asking about ADN advantages, here are the main two.
It's the flexibility of length and the cost.
The 2 years of study, first of all, are best for students rushing to enter nursing and start work.
The shorter the length, the closer the opportunity in the state.
With 2 years' length, ADN programs are easily found in community colleges of the state.
So if you're concerned about your educational cost in nursing, choose this degree and sleep calmly.
LPN to RN Programs in Pennsylvania
A Registered Nursing degree can as well be attained from A Licensed Practical Nurse too.
If you're one of them, you can do so by LPN to RN transition programs in the state.
This is the shortest pathways you can take in this direction.
LPN to ADN/BSN Programs
LPN to RN programs have two possible options in Pennsylvania.
The basic ones are the LPN to ADN and the LPN to BSN program.
The first program path can easily be found in Harrisburg Area Community College.
This program is relatively short, with only a few semesters length.
While the case is not the same as the LPN to BSN path.
This one takes longer to complete and through it, you can earn a BA degree in nursing.
The program is accessible at the Indiana University of Pennsylvania.
LPN to RN programs may have the following admissions requirements:
Graduate from an approved LPN program
Have a current, active LPN license
Complete any prerequisite courses
BSN Programs in Pennsylvania
We never like being second, right?
But who knows what hides behind something!
A BSN degree, however, is different.
Though it is your second choice of nursing education, it is in fact a higher level of it.
Indifference to the ADN, this degree can be found in large universities across the state.
The program is perfect for nurses who want to work and earn high.
The RN to BSN program path is also available in the state.
This one is ideal for LPNs who want to make progress in their nursing career.
Are you one?
If not, check the 40 and more BSN programs in entire Pennsylvania and choose your favorite type.
What To Look For in a BSN Program in Pennsylvania
The variety of BSN programs means variety in their content as well.
Some of the key elements you need to check in BSN programs in Pennsylvania are accreditation, cost, program outcomes, and so on.
Another important element can be located too.
Since you would like to attend the program as close to your home as possible.
Depending on your previous education, you can look for the BSN program in the state.
For instance, if you have a BA degree in another working industry, there is nothing wrong to switch to nursing.
An accelerated BSN program would be ideal for you.
Being an ADN or LPN nurse, an RN to BSN program would be okay too.
As you can see, you have many program choices.
While you can find the three of these options at Wilkes University in Wilkes-Barre.
What more do you want, all in one!
BSN Program Length in Pennsylvania
Time is your greatest capital.
Therefore, you would like to spend it wisely in every aspect of life.
A BSN education will usually take 4 years from you.
Be them much or less, you have to consider this length.
However, the case is different if you choose an accelerated BSN program.
This one usually takes 16 months to complete.
While RN to BSN ones take 2 years.
So length is an important factor in your studies.
For this reason, you should check the school you apply in previously, in order for the time to be worth it.
BSN Program Admission Requirements in Pennsylvania
Whatever the issue, I prefer to go in simple terms.
Here are some of the key requirements you need to meet as you apply for a BSN program in Pennsylvania:
At least 1450 combined SAT score (or ACT score of 21 or higher)
Send a Letter of recommendation
Attach official high school or university transcripts with GPA
Tuition and Costs of BSN Programs in Pennsylvania
Many a time money becomes a source of stress.
But it does not have to be such.
A BSN education will generally consist of payment for tuition and other fees such as lab and books.
The additional fees are generally separate from the tuition, and each nursing school will inform you of that.
However, to give you a general sum of the cost in Pennsylvania, consider the University of  Pennsylvania School of Nursing.
Its BSN program costs $57,250.
Housing is not part of this cost.
Advantages of BSN Programs
Do you want a better job?
Perhaps a higher salary too?
A BSN program then is best for you.
Present in the largest universities in Pennsylvania, it a perfect educational experience to go for.
But the traditional BSN program is not the only one in the state.
There are other paths to it too.
These are the BSN accelerated program and the RN to BSN.
MSN Programs in Pennsylvania
An advanced nursing degree to be found in Pennsylvania is definitely a Masters of Science in Nursing.
This degree is the ticket to other advanced specialties in the field such as Nurse Practitioner, Clinical Nurse Specialist, and Certified Nurse Midwife.
If you ask me what comes along with these titles, it's definitely a higher pay.
In the state, there are more than 25 MSN programs available so far.
MSN Program Length in Pennsylvania
A typical MSN program takes two or three years to finish.
The length is a matter of school.
It fits busy working nurses who want to make this career move at the same time.
If you're one of them, you will make out easily.
To your advantage, you can choose either night or online courses to make both ends meet.
MSN Admission Requirements in Pennsylvania
Admission requirements for an MSN program in Pennsylvania include these:
A Minimum of 3.0 undergrad GPA
Send official transcript that verifies you have completed a BSN degree
Send copies of a current resume as well as a functional RN license
Write an admission essay
Tuition and Costs of MSN Programs in Pennsylvania
MSN program costs differ from school to school.
But as always, you have two types of costs to pay.
It's the tuition cost and additional expenses.
If you're worried about any of them, check an example.
For instance, if you attend the Chatham University in Pittsburgh, you have to pay $32,508 tuition.
For NP programs you can see:
Pennsylvania DNP Program
Pennsylvania FNP Program
Pennsylvania Nurse Practitioner Programs
Pennsylvania Post-Graduate Certificate Nursing Programs
Getting a Pennsylvania Nursing License
I talked about the nursing license in the beginning, but now it's the best time to do so.
You know why?
It's because I will let you know of the ways you can secure it.
Basically, there are two ways to achieve a nursing license
The first way is through taking an exam.
And the second is by the help of endorsement.
As far as the exam is concerned, you will need to complete the necessary application and provide these documents to get licensure:
Having registered the NCLEX exam – and successful completion of it
Proof of your education – sent directly from the school to the state Board
Criminal History Records Check
When applying by endorsement you have to send the following:
Verify education – official transcripts sent directly to the Board via the school
Verify Licensure
Criminal History Records Check
Accelerated Nursing Programs in Pennsylvania
There are various accelerated BSN or MSN programs in Pennsylvania.
The average length of each is usually a maximum of 18 months.
The length is such even if it is offered on a full-time class, which is the case with some colleges inside the state.
However, a BSN is different from an MSN one.
The latter may be prolonged to a period of five years, with either part-time or full-time lessons.
The only way to shorten a program is to complete prerequisite courses before.
While cost and fees are to be considered for this type of program as well.
Although they are separate.
Pennsylvania Accelerated BSN Programs
Pennsylvania Accelerated MSN Programs
Latest Pennsylvania NCLEX-RN Pass Rates and Statistics
State Approved Schools Number: 78
Test Takers Number in 2019: 7,827
Pennsylvania NCLEX-RN Average Pass Rate in 2019: 91.7%
The Best RN Schools in Pennsylvania
I always think the best school for you is the one that fits best with your criteria.
Here are some of the best RN schools in the state.
In them, you have all types of RN programs.
All you have to do is compare and choose what you need.
| School Name | Address |
| --- | --- |
| Saint Francis University | 117 Evergreen Drive, Loretto, PA 15940 |
| Geisinger Lewistown Hospital School of Nursing | 400 Highland Ave, Lewistown, PA 17044 |
| Aria Health School of Nursing | 3 Neshaminy Interplex, Trevose, PA 19053 |
| Carlow University | 3333 Fifth Avenue, Pittsburgh, PA 15213 |
| Cedar Crest College | 100 College Dr, Allentown, PA 18104 |
| Messiah College | 1 College Ave, Mechanicsburg, PA 17055 |
| Eastern University | 1300 Eagle Rd, St. Davids, PA 19087 |
| Waynesburg University | 51 W College St, Waynesburg, PA 15370 |
| Bloomsburg University | 400 E 2nd St, Bloomsburg, PA 17815 |
| Pennsylvania College of Technology | 1 College Ave, Williamsport, PA 17701 |
| Drexel University | 1601 Cherry Street, Philadelphia, PA 19102 |
| Allegany College of Maryland | 18 N. River Lane, Everett, PA 15537 |
| Roxborough Memorial Hospital | 5800 Ridge Ave, Philadelphia, PA 19128 |
| Misericordia University | 301 Lake Street, Dallas, PA 18612 |
| West Chester University | 700 S High St, West Chester, PA 19382 |
| DeSales University | 2755 Station Ave., Center Valley, PA 18034 |
| Alvernia University | 400 Saint Bernardine St, Reading, PA 19607 |
| Villanova University | 800 E. Lancaster Ave, Villanova, PA 19085 |
| Pennsylvania State University | 201 Nursing Sciences Building, University Park, PA 16802 |
| Ohio Valley Hospital School of Nursing | 25 Heckel Rd, Kennedy Township, PA 15136 |
| Northampton Community College | 3835 Green Pond Rd, Bethlehem, PA 18020 |
| University of Pennsylvania | 418 Curie Blvd, Philadelphia, PA 19104 |
| Mount Aloysius College | 7373 Admiral Peary Hwy, Cresson, PA 16630 |
| Pennsylvania College of Health Sciences | 850 Greenfield Rd, Lancaster, PA 17601 |
| Mansfield University | 31 South Academy St, Mansfield, PA 16933 |
| Duquesne University | 600 Forbes Ave, Pittsburgh, PA 15282 |
| Robert Morris University | 6001 University Blvd, Moon Township, PA 15108 |
| Community College of Allegheny County | 808 Ridge Ave, Pittsburgh, PA 15212 |
| University of Scranton | The Estate, Scranton, PA 18510 |
| La Salle University | 1900 W Olney Ave, Philadelphia, PA 19141 |
RN Salaries in Pennsylvania
When it comes to the RN salaries, we're all ears.
Because we just want good pay, don't we?
But let's meet the right criteria for that first.
These criteria that impact a salary are skills, work experience, location, and definitely your educational degree.
The more qualified you are, the better the salary you will get.
Annual Salary Range: Annual Salary by Location:
| Location | Avg. Annual Salary |
| --- | --- |
| Philadelphia | $68,368 |
| Pittsburgh | $62,690 |
| Allentown | $63,454 |
| Erie | $58,789 |
| Upper Darby | $68,368 |
| Reading | $63,130 |
| Scranton | $58,744 |
| Bethlehem | $63,454 |
| Lower Merion | $63,284 |
| Bensalem | $62,690 |
RN Programs by State
---