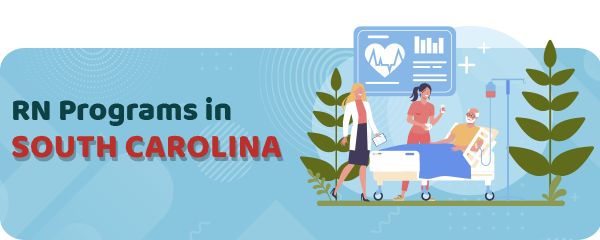 One of the best lessons you can be taught in life is to aim high.
Whether in aiming for a good friend, for a lover, a job, it's the same.
You should go beyond the average.
Similarly, when it comes to your education, and your school choice, no matter the profession, this mentality should always be with you.
However, our topic for today is Registered Nursing in South Carolina.
And considering the importance of being a nurse, there is no doubt you should pay much attention to the process of becoming one.
This process starts earlier on in your childhood when you dream of taking care of people.
While it is nurtured later on when you become conscious of its importance.
And it begins and develops in its full potential when you finally decide to study it as a field.
Choosing the right school to study Registered Nursing is the first thing to consider.
When you do so, you should be aware of one thing.
And that is if the school offers licensure and other career advancements or not.
This information takes some kind of effort to get.
This means you have to check the NCLEX-RN passing rates of students over the years and in the present time.
For South Carolina, this information took me the same effort.
While I reviewed the entire 31 RN programs in the state, I had to narrow down the number of 10 top-rated ones.
This was the only way to come up with the best success in the exam.
The programs were all ASN, BSN, ADN, and MSN degree programs.
These terminate in an Associate Degree in Nursing, a common nursing degree in all US.
Following up with the topic, the health care system in South Carolina is constantly growing.
The need for RNs has added even more possibility to grow even more.
With an average salary of $61,110 reported from the Bureau of Labor Statistics, this career will easily become one of the most sought after in the state.
For RN bridge programs visit:
RN to BSN Programs in South Carolina
RN to MSN Programs in South Carolina
ADN Programs in South Carolina
The nursing profession is never complete without proper education.
An Associate Degree in Nursing is the first nursing path to start your career with.
The favorable length of only two years makes it a wonderful choice for students to whom work is their nearest plan.
The program can easily be found.
All it takes is to check the technical or junior colleges in South Carolina and you will not have to look elsewhere.
Since these colleges are really common in the state, so are the ADN programs too.
They are more than 15 schools in the state so far offering such a program.
What to Look For in an ADN Program in South Carolina
Thinking about what matters most in an ADN program in the state?
Follow me in the next paragraphs.
Accreditation
The beauty of accreditation is that it works at a national level.
So the ADN programs also in South Carolina receive accreditation through organizations that operate in the state.
These organizations are two.
The first one is the Accreditation Commission for Education in Nursing.
While you can also count of the American Association of Colleges of Nursing's Commission on Collegiate Nursing Education.
Both of them are major and accredit your ADN program best.
However, you cannot underestimate either the South Carolina Board of Nursing.
Its role is to approve the ADN program locally.
Licensing
While there are many roads to nursing.
There only two to licensing.
It's attending a nursing program and taking the NCLEX exam.
To make it easier, the program is meant to prepare you for the exam.
Just in case it does, you can make some research on it before registering in the first place.
Since the exam is a big deal, it is a success to pass it too.
This success is seen in 2015.
Back then, 89.3% of candidates who took the exam (2,357 in total) got a license in nursing.
Program Outcomes
Some of the program outcomes you should check cost what it may are these:
Graduation rate
Licensure exam pass rate
Graduate satisfaction
Employment rate
One college that meets the majority of these is the Greenville Technical College in Greenville.
This college actually offers an accredited ADN program in SC.
So you should not neglect it as an opportunity to start your nursing career there.
ADN Program Admission Requirements in South Carolina
Admission requirements always make us struggle.
We want to meet all of them, and it does not always depend on us.
However, the majority of the ADN program requirements in South Carolina include these:
GPA of 2.75 on all required general education and support courses
Proof of CPR certification for Health Care Providers prior to and throughout the curriculum
Criminal background check before admission
Minimum scores from TEAS exam
Tuition and Costs of ADN Programs in South Carolina
The only way to not get surprised by something is to prepare for it beforehand.
Paying your cost of tuition in your ADN program should not be a momentary thing.
You should have an idea about it first.
In South Carolina, this cost includes uniforms, lab fees, textbooks, and similar secondary items.
Different programs have different tuition and additional pay.
To avoid confusion, you need to check them one by one.
However, let me hand you a hand of help too.
Check for example the Midlands Technical College.
Its tuition is $10,880.
This price is for students within the Fairfield, Lexington, and Richland.
While it can be even higher for students who live out of these areas.
Advantages of ADN Programs
Because they are short, ADN programs have become quite popular in the state.
But that's not the only advantage.
The degree is also cheaper than other RN programs and more accessible as well.
So, an ADN degree is the right nursing path for you if these advantages are good news for you.
LPN to RN Programs in South Carolina
How about making some changes in your nursing path.
If you're a Licensed Practical Nurse, you don't have to remain there.
You can take the LPN to RN path and advance further.
There are two ways of these transitions.
One is the LPN to ADN path.
And the other is the LPN to BSN path.
LPN to ADN/BSN Programs
The road to the RN programs becomes simpler and simpler.
Such is the LPN to ADN program in South Carolina.
With only a few semesters of length, this program can be found in Central Carolina Technical College in Sumter.
You can attend classes there during Fall and Summer when it is the time for admission.
While you have to be willing to take 66 semester hours in the program in general.
The second path is the LPN to BSN program.
This one is of a higher level than the first because it helps you attain a Bachelor's Degree in Nursing.
This program, unfortunately, is not available in South Carolina.
For this reason, you need to look for it nationally.
Some of the admission requirements for LPN to RN programs may include:
Have a high school diploma or GED
Having graduated from an accredited LPN program
Have a current, active LPN license
Have a minimum GPA of 2.5
BSN Programs in South Carolina
Almost all nursing programs in South Carolina have a long tradition of existence.
A BSN program is suchlike.
Being a form of career advancement is one of the ways of getting better job opportunities and a higher salary in nursing too.
BSN programs in South Carolina are 10.
What To Look For in a BSN Program in South Carolina
When in South Carolina for an RN career, you should find a good school.
The school should meet all the necessary requirements in order to help you achieve success in the profession.
These requirements include accreditation, affordable cost, and acceptable program outcomes.
The other aspect of the schools you need to check is the variety of BSN programs in them.
You may show interest in an accelerated program or an RN to BSN one.
By all means, you have to make sure the school you choose has these offerings in its curriculum.
A good example of a school is Clemson University in Clemson where you can find an accredited BSN program that meets your needs.
BSN Program Length in South Carolina
The typical BSN program in SC is 4 years long.
The program can be shorter if you choose an accelerated one.
Or else if you opt for an RN to BSN path, which lasts two years.
So, to avoid any disappointment, you should check the length of each in detail before applying it in one.
Only this way you will be ready for it and won't waste energy measuring your time afterward.
BSN Program Admission Requirements in South Carolina
Some of the key requirements you need to meet when applying to a BSN program are three.
Check them below:
Score a grade C on pre-requisite courses
A 0 cumulative GPA
Achieve a verbal and quantitative SAT score of at least 1000 or better
Achieve an ACT score of 22 or better
Send the ATI test score
Tuition and Costs of BSN Programs in South Carolina
Tuition and additional costs are the two major educational costs you have to pay for each BSN program.
While tuition is known, additional payments are the same too.
However, a practical example will always do you well.
It's the University of South Carolina Upstate in Spartanburg.
Its tuition for the semester is $5,355 for students who live within the state.
Despite this cost, they need to pay also health, fee, security fee, technology fee, and similar pays.
Advantages of BSN Programs
If you're an old school person, keep being that.
A traditional BSN program is the same.
It lasts four years but it comes with additional benefits along the way.
These benefits include more job options and better pay as well.
A BSN degree is also a good way to make progress in your nursing career in general.
MSN Programs in South Carolina
A higher degree in nursing means more time and effort in learning.
A Master's Degree is rather short.
You can complete it in two years and earn one of the specialty titles.
These titles include being a Nurse Practitioner, a Clinical Nurse Specialist, or a Certified Nurse Midwife.
You can become one of the three and earn much more than with a lower degree in the field.
MSN programs offering these specialties in South Carolina are many.
All you have to do is choose!
MSN Program Length in South Carolina
MSN program length is fitting to many students.
Being of two to three years long, it is a perfect schedule for busy nurses who work and study at the same time.
The schedule is various.
You can choose either night or online courses in the program.
MSN Admission Requirements in South Carolina
The major MSN admission requirements are 4.
They include:
Minimum 3.0 GPA from all  institutions attended for an undergraduate degree
Send 3 letters of reference
Write a personal goal statement
Actual unencumbered RN license in the state you live
Tuition and Costs of MSN Programs in South Carolina
MSN program cost in South Carolina is divided into three categories.
This means you have to pay tuition, additional costs, and fees.
An academic year in the state for a full-time schedule is $33,794.
This cost can be found at South University in Columbia.
It covers three-quarters of the study.
NP Programs available in South Carolina are:
South Carolina DNP Programs
South Carolina FNP Programs
South Carolina Nurse Practitioner Programs
South Carolina Post- Graduate Certificate Nursing Programs
Getting a South Carolina Nursing License
Here's the path to a Nursing Licensure.
Always with more than one option, and favorable for students.
Applying by each path requires some documents to send to the school.
When you apply for licensure by exam, you should make fee payment and attach these documents:
Birth certificate copy or passport
Signed and dates Passport type photo 2″ x 2″
Copy of Social Security Card
Verify your Education from the Dean or Director of Nursing Program
Register the NCLEX exam- as well as your eventual successful completion
Criminal Background Check
If you can't manage the first, you might do the second.
And that is applying for nursing licensure by endorsement.
At this point, you have to attach an application, make the payment, and send some documents like these:
Copy of a Nursing License
Proof of continued Competency
Proof of the state of residence – driver's license, voter's registration card& state-issued ID
Nursing LicensureVerification from originating state – paper request or NURSYS
Accelerated Nursing Programs in South Carolina
Accelerated programs in South Carolina require a full-time commitment from you.
This commitment means saving 12 to 18 months of your life for them solely.
The beauty of attending them is that they offer you the chance to make progress in your nursing career, and they also culminate with a degree shortly.
Before being admitted into any of these programs, you need to take some courses previously.
While price shifts from one sum to another depending on the number of credits you need for the program to start.
South Carolina Accelerated BSN Programs
South Carolina Accelerated MSN Programs
Latest South Carolina NCLEX-RN Pass Rates and Statistics
Approved Schools in South Carolina: 31
Test Takers Number in South Carolina in 2019: 2,541
South Carolina NCLEX-RN average Passing Rate in 2019: 90.6%
The Best RN Schools in South Carolina
Still interested in nursing education in South Carolina?
Cool, check the best schools there so far.
| School Name | Address |
| --- | --- |
| University of South Carolina - Columbia | Williams-Brice Building, 1601 Greene St, Columbia, SC 02920 |
| York Technical College and the University of South Carolina Lancaster | 452 S Anderson Rd, Rock Hill, SC 29730 |
| Greenville Technical College | 506 S Pleasantburg Dr, Greenville, SC 29607 |
| Lander University | 320 Stanley Ave, Greenwood, SC 29649 |
| Clemson University | School of Nursing, 508 Edwards, Clemson, SC 29634 |
| Aiken Technical College | 2276 Jefferson Davis Hwy, Graniteville, SC 29829 |
| ECPI University - Charleston | 7410 Northside Dr. #100, Charleston, SC 29420 |
| Orangeburg-Calhoun Technical College | 3250 St Matthews Rd, Orangeburg, SC 29118 |
| Central Carolina Tech College | 506 N Guignard Dr, Sumter, SC 29150 |
| Anderson University | 316 Boulevard, Anderson, SC 29621 |
RN Salaries in South Carolina
Registered Nursing in South Carolina will give you a good income.
As long as you're skilled, qualified, and have experience in the field.
However, it depends on the place you work and live as well.
Since different places may have different nursing opportunities and demands.
Annual Salary Range: Annual Salary by Location:
| Location | Avg. Annual Salary |
| --- | --- |
| Columbia | $59,776 |
| Charleston | $60,440 |
| North Charleston | $60,440 |
| Greenville | $62,095 |
| Rock Hill | $62,646 |
| Mount Pleasant | $60,440 |
| Spartanburg | $59,037 |
| Sumter | $56,911 |
| Hilton Head Island | $59,109 |
| Florence | $57,230 |
RN Programs by State
---