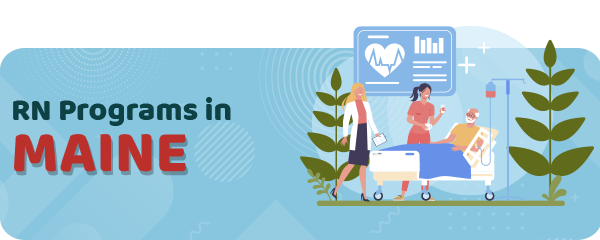 These last days of spring went like a ray of the sun over my life.
Being at home, I came up with many ideas.
Ideas of different sorts.
Ideas about life, work, and also education.
But having been done with all of these myself, I thought I could explore some educational opportunities for others.
So, I decided to make a research and write an article guide about nursing schools in Maine.
Now, I am familiar with nursing in all US, so it was not a big deal for me.
The first thing for you to know about being a Registered Nurse in Maine, is the school you will learn at.
Though it is a struggle to find the right one, it is not impossible.
Not when you have the right criteria in mind, and which is the opportunity for licensure by the end of the nursing program.
One way to find that out is by measuring the NCLEC-RN exam.
And particularly, the percentage of the current and historical passing rates of the students.
From this analysis, the top-five RN schools were chosen in all 12 RN programs across Maine.
Programs reviewed include schools that offer an Associate in Nursing such as (ADN/ASN), BSN, or Direct-Entry MSN Degree.
In Maine, patient-care nursing is the highest aim.
To achieve that, new skills are needed to attain.
Therefore, the state is offering continuing education for its nurses to accomplish this aim as soon as possible.
While nurses are in pursuit of different things.
Among them, career advancement, higher salaries, and in general more job opportunities.
Nurses with a Bachelor of Science in Nursing or even higher level of education, have nearly $20,000 higher salary per year, compared to the nurses with a diploma or certificate program only.
Obviously, the higher the degree, the more you learn, and the more you get paid as well.
For RN bridge programs make sure you check these:
RN to BSN Programs in Maine
RN to MSN Programs in Maine
ADN Programs in Maine
One way for Maine to strengthen its nursing workforce is by investing in education.
Hence an Associate Degree in Nursing program is one of these investments.
Many students apply for this type of program, which can be found in junior and community colleges around the state.
As soon as students come to the graduation stage of this program, they can sit for the NCLEX-RN exam, through which they can opt for licensure as well.
All ADN colleges can be accessed in Maine.
All nurses who are in the doorstep of their license can use this chance to meet their nursing career goals.
What to Look For in an ADN Program in Maine
The hardest thing can be the easiest one if you have the courage to go for it.
Some of the things you need to know before applying for an ADN program have been listed below in this article.
Spend some time reading them.
Accreditation
The list of the criteria, you should have before applying to an ADN program is whether it is accredited or not.
In Maine, both colleges and nursing programs are accredited.
One of the accrediting agencies in the state is the New England Association of Schools and Colleges.
This agency manages the processes, the faculty, facilities, and quality at work through improvement and accountability measures.
However, the programs that function in universities and colleges across Maine are asked to submit to the review process and accreditation from two accrediting bodies available there.
One of them is the Commission for Education in Nursing (AECN).
While the second is the Commission on Collegiate Nursing Education (CCNE).
Whether the schools meet accrediting criteria or not, it is a matter of online checking with the association responsible for the accreditation in the first place.
Licensing
Licensing of the nurses in Maine is regulated by the Board of Nursing.
The Board also takes care of nursing schools, by offering support and guidance in all their steps.
The Board systematically reviews ADN programs and evaluates whether they meet the right criteria to license its candidates.
So far, more than 90% of candidates who undergo the NCLEX-RN exam pass it successfully the first time.
This percentage is higher than the national average.
Program Outcomes
Program outcomes are a clear indication of a School's success.
Some of the elements that shape this success in the long run in nursing programs are these:
Number of diplomas awarded each year
Student attraction and retention
Job achievement data for new graduates
NCLEX metrics
Student review information
One of the schools that offers quality for pre-licensure nursing candidates is the Central Maine Community College in Auburn and Damariscotta.
Graduates from this school are accountable and positive role models for each other, their community, and their patients.
ADN Program Admission Requirements in Maine
Admission requirements in ADN programs in Maine change on a yearly basis.
These requirements are location, population, labor demand, faculty, and facility.
There are some similarities between institutions, so read on in order to prepare yourself for what you might encounter:
Satisfy college-specific and program-specific applications
Provide an official transcript with a GPA of 2.5 or higher
Students must provide evidence of proficient scores on their first attempt of TEAS testing
Provide official transcripts directly to the Admissions Office
Provide application fees to the Admissions department at their school to be considered 'in good standing'
Provide a resume that outlines work and volunteer experience to date
Tuition and Costs of ADN Programs in Maine
ADN program cost at the community college level is separate from other costs such as the entire education such as room, board, materials, fees, and equipment.
The easiest way to find a school with a low cost of tuition is to choose one near home.
This way, meals, and other living expenses will be omitted.
People who live in Maine, have a $100 per credit hour in Eastern Maine Community College.
Also, fees and housing are to be considered too.
Out of state students, on the other hand, pay an amount of tuition of about $135 per credit hour.
Advantages of ADN Programs
The reason ADN programs are beneficial to students is various.
First of all, it's pricing.
It is actually a lower tuition cost compared to the BSN programs in the state.
Second, their campuses are close to home, so it's flexible in terms of move and activities.
LPN to RN Programs in Maine
LPNs have a clear path to nursing transition programs in Maine.
One of these transitional programs is the LPN to RN, which is designed on the previous education of LPNs.
And as a result, they are also shorter than the traditional RN programs as well.
Students can typically choose between an LPN to ADN or LPN to BSN.
LPN to ADN/BSN Programs
The basic RN practice is made possible through an LPN to AND, BSN Programs.
In fact, this transition is the quickest way for that since it takes only a few semesters to complete the program.
From this program, students earn an Associate degree in nursing, and consequently, are able to enter the NXLEC-RN exam.
An LPN to ADN program can be easily found in the Kennebec Valley Community College in Maine.
The program's purpose is to offer students a suitable training that would help them become registered nurses.
While there are currently no in-person LPN to BSN programs in the state, national online programs are available.
LPN to RN program requirements typically include:
Minimum overall GPA (usually 2.5-3.0 or higher)
Currently licensed as an LPN
Must have graduated from a board-approved LPN program
Up-to-date immunizations required
BSN Programs in Maine
In Maine, just like in other US states, BSN degrees will take you 4 years of your life.
They are twice longer than the ADN programs in the first place, due to the double number of the credit hours they demand as well.
The mobility and flexibility of the BSN programs in Maine come as a result of the cost and time they take to complete.
Just like the ADN programs, BSN programs also have the NCLEX-RN exam by their end.
Maine's universities, both public and private, offer BSN programs to students.
Luckily, there are more than five such offerings throughout the state.
What to Look For in a BSN Program in Maine
Initially, when students look for a BSN program in Maine, they should choose diverse active faculties that offer programs through which students can have a close relationship with the faculty.
Secondly, it's the quality of life on the campus, as well as clinical experiences in various patient populations.
An example of the university in Maine that offers a BSN degree is the University of New England in Biddeford.
In this institution of nursing, students are prepared to become competent and ethical nurses, whose aim is to offer compassionate patient care.
Many graduates go on to leadership roles as well.
BSN Program Length in Maine
BSN programs as said earlier take 4 years to complete, with a total of 120 credit hours.
However, if students choose to attend this program without any break, they can finish it in less than 2.5 years.
Yet, the credit hour number would be the same.
BSN Program Admission Requirements in Maine
The following is a sample of common admission criteria.
while each school has individual requirements, there are some similarities as you will see:
Submit an online application prior to the deadline
Apply with competitive GPA and ACT scores through online application systems
Submit official transcript
Background and drug screening must be 'negative'
Tuition and Costs of BSN Programs in Maine
Tuition cost is different in different schools that offer a BSN program in Maine.
These costs may include room and board, books, equipment, insurance, and university fees.
One example to check is the University of Maine at Orono.
Its tuition cost in a year is more than $8,000.
While mandatory fees have a cost of $2,500.
Room and board, on the other hand, take $10,000 on a yearly basis.
Advantages of BSN Programs
The beauty of pursuing BSN programs in this state is that you can go for different roles in nursing.
First of all, you will be able to have a leadership position in the nursing workforce.
Secondly, with a BSN degree, you can easily opt for an MSN one in a specialty track which will reward you with a better salary.
University programs are often affiliated with city hospital networks as well.
This, in turn, can help students make valuable professional connections for their future careers.
MSN Programs in Maine
Through an MSN program in Maine, you may achieve different nursing titles.
Some of them include a nurse educator, a nurse researcher, and a pediatric nurse practitioner.
These types of nursing specialties are offered in five universities across Maine.
Students are surely encouraged to look carefully through the course descriptions of each school offering these programs, in order to select the right school for their needs.
MSN Program Length in Maine
As expected, MSN programs are shorter than other nursing programs in the state.
They usually take 40 credit hours and 1.5 to 2.5 years to complete given a full-time attendance.
In addition, there is also extensive clinical rotation along with other reflective and didactic elements as part of the program.
MSN Admission Requirements in Maine
MSN program admission requirements vary from person to person.
But they also depend on the faculty's experience, facilities and so on.
Since these programs offer different types of nursing, nurses have to match their professional profiles to what the programs offer.
Admissions criteria vary from school to school.
However, nurses should be prepared to meet or exceed the following expectations in order to be admitted to graduate studies:
A BSN from an accredited undergraduate program in the US
Competitive GRE scores (145+ on verbal; 287+ combined)
GPA of 2.75+
Provide evidence of immunization
RN license in good standing for the state
Three professional letters of reference; one from a recent employer
Personal application letter discussing goals and potential contributions as well as experiences and abilities to share with students
Tuition and Costs of MSN Programs in Maine
The lowest cost of an MSN program in Maine can be found at the University of Maine at Orono.
Its credit hour price is $675.
With this price, students can take part in training that helps them rise to the next education level.
While mandatory fees are included in the cost of tuition, accommodations, food, texts, and materials are extra for students.
For NP programs visit:
Maine DNP Programs
Maine FNP Programs
Maine Nurse Practitioner Programs
Maine Post-Graduate Certificate Nursing Programs
Getting a Maine Nursing License
Maine Board of Nursing regulations for licensure by examination or endorsement include:
*Certain fields on each application require verification, signatures, or notarizations from the indicated governing bodies*
Candidates must complete all fields of the application, and include the following information:
Official transcripts (if out-of-state program attended) – sent directly to the state board via the nursing school
Recent 2″ x 2″ passport picture – signed and dated
Candidates looking for licensure through endorsement should include the following information with their completed application:
NCLEX Exam passed
Transcripts sent by nursing program attended
Verification of Licensure from state obtained (if applicable) and sent directly to the state board
Learn more about ME RN license information at the Maine State Board of Nursing.
Accelerated Nursing Programs in Maine
One way to fasten your nursing education is through accelerated MSN programs as well.
Usually, the BSN program in Maine takes 15 short months.
Whereas the BA to MSN takes 36 months.
Both of the programs are attended full-time with clinical hours available.
Before entering this program, students should consider completing any prerequisite course needed for entrance.
Tuition depending on the program, especially if it is considered a graduate program, can vary and will be increased by any courses taken beforehand.
Maine Accelerated BSN Programs
Maine Accelerated MSN Programs
Latest Maine NCLEX-RN Pass Rates and Statistics
Total Number of State Approved Schools: 12
Total Number of Test Takers in 2019: 787
2019 Average Statewide Maine NCLEX-RN Pass Rate: 92.6%
The Best RN Programs in Maine
The best RN Programs in Maine are only a click below.
Check them and see which one is best for you.
Considering the type of program, the level you're at, and the place.
I am sure you will choose right!
| School Name | Address |
| --- | --- |
| Eastern Maine Community College | 354 Hogan Rd, Bangor, ME 04401 |
| University of New England | 11 Hills Beach Rd, Biddeford, ME 04005 |
| Kennebec Valley Community College | 92 Western Ave, Fairfield, ME 04937 |
| Southern Maine Community College | 2 Fort Rd, South Portland, ME 04106 |
| Central Maine Community College | 1250 Turner St, Auburn, ME 04210 |
RN Salaries in Maine
After finishing nursing school, surely you wait for the payment.
The more qualified you are, the higher the salary.
So consider education as crucial to a higher income.
I promise you will not regret having an MSN degree in your resume.
Annual Salary Range:
Annual Salary by Location:
| Location | Avg. Annual Salary |
| --- | --- |
| Portland | $63,575 |
| Lewiston | $62,940 |
| Bangor | $58,060 |
| South Portland | $63,575 |
| Auburn | $62,940 |
| Brunswick | $63,024 |
| Biddeford | $63,278 |
| Sanford | $64,278 |
| Augusta | $60,182 |
| Scarborough | $63,575 |
RN Programs by State
---