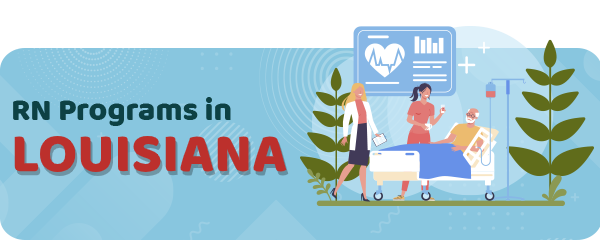 There's no doubt that America is home to nursing.
And we would not know that if we never searched for opportunities there, through online sources.
For this reason, I made a little research.
And came out with really useful information on how to become a Registered Nurse in one of its states like Louisiana.
However, nothing is as easy as it seems.
On the way to this article, I found out that finding the right RN school in this state is really a challenge.
Unless you set certain criteria.
This criterion is the opportunity of licensure by the end of the nursing program in a school
The issue of licensure in particular became my only concern.
So I measured the NCLEX-RN exam passing rates in all Louisiana's nursing schools.
Precisely, the current and historical percentage of passes was analyzed.
From this analysis, the top-ten RN schools were chosen to be part of the article out of in total 27 RN programs in the state.
All these programs offer an Associate degree in Nursing such as ASN, BSN, ASN, and Direct-Entry MSN Degree.
Regardless of this number of RN programs in Louisiana, the need for RNs is still noticed.
The state is mostly encouraging nurses to go for a BSN degree or graduate studies.
Because honestly, nurses with these levels of studies are more apt for career opportunities and better salary at work.
When talking about the salary, comparing it on a yearly basis, you can see that it is $3,500 higher than that of the Associate Degree candidates.
However, the state is striving each day to advance the health care system and meet the needs of the population at large.
For RN bridge programs in the state check:
RN to BSN Programs in Louisiana
RN to MSN Programs in Louisiana
ADN Programs in Louisiana
The Associate Degree in Nursing or ADN in Louisiana is mostly pursued by high school graduates.
This type of program can be easily found in many colleges and technical schools.
It is also accessible in both private and public schools.
Students pass the program with high competitive grades and the starting dates of the programs are many.
After graduating from the ADN program, students are ready to undergo the national NCLEX-RN exam.
This is the step that makes students ready for a license.
By the end of the license, students can apply for jobs in the field and this way practice the skills they have gained in their education.
What else could be better than that?
So, if you're looking for an ADN program in this state, you may as well check local universities too.
Because this is the second address where you can get the highest quality education in nursing.
What to Look For in an ADN Program in Louisiana
Before applying to an ADN Program in Louisiana, you need to make sure it is accredited, offers correct licensure and how is program outcome evaluation.
Amid additional requirements, you should be aware of school culture, location, and benchmarks in relation to one.
Accreditation
Accreditation makes a school credible and qualitative.
Initially, the duty of each accrediting body in Louisiana is to assure national and regional accreditation of the main institutions where nursing is taught.
These institutions are faculties, and facilities as well as programs that receive this accreditation as well.
All of these should have the same accreditation as other colleges and programs in the state.
There are three accrediting bodies in Louisiana so far.
To begin with, regional accreditation is managed through the Southern Association of Colleges and Schools (SACS).
While programs receive their accreditation with the help of the Commission for Education in Nursing (AECN).
Or through the Commission on Collegiate Nursing Education (CCNE).
The latter, check different programs and update the list of those programs that meet the needed criteria for accreditation, and also those which do not.
As simple as that!
Licensing
The issue of License for the ADN programs in Louisiana is regulated through the Board of Nursing.
The Board makes sure Nurses who have graduated from the ADN program have the necessary skills and classroom time needed to sit and pass the NCLEX exam.
With this exam, students are highly expected to become RNs.
The majority of RN, that is over 85% of them so far have passed the NCLEX exam for the first time.
Program Outcomes
Program outcomes are a good way to raise the reputation of a nursing school.
Especially, when the school has success stories in the field.
Checking out the following information on your college choice's websites can help you determine which program is right for you:
Number of annual graduates
Number of annual students enrollment
NCLEX pass-rate information; use comparable from other schools and states
Employment after licensure
Student and faculty satisfaction and growth
For example, Baton Rouge General School of Nursing which is located in Baton Rouge has a noble mission.
Its mission is to save lives and improve health outcomes for all people in the community.
The program is accredited from the CCNE.
ADN Program Admission Requirements in Louisiana
Admission requirements are very useful in nursing programs.
First, it helps the school choose candidates that are serious in the program field.
And second, it makes it possible for the quality selection of them as well.
Therefore, setting admission requirements for a Nursing program is healthy for the entire healthcare and nursing in general.
Here are some of Louisiana's ADN admission requirements:
Submit completed transcripts and CE certificates
Have a GPA of 2.5 or to exceed competitive standards
Write a personal history/personal statement
Provide evidence of professional fluency in languages other than English proficiency in other languages than English
Provide a competitive score on an applicant's TEAS results
Complete and submit the application for the ADN program within the required timeframe
Be in 'good standing' during the admissions process
Tuition and Costs of ADN Programs in Louisiana
Compared to other types of education, ADN programs are definitely higher.
Furthermore, if you're not used to spending much, you might find it hard at first.
For this reason, colleges across Louisiana have made ease to students in terms of the financial aspects.
All schools have published yearly costs, tuition, residence, meal plan, books, and equipment in their online websites.
However, students are still asked to check fees and discuss the issue with both parents and Bursar's to realize their payment obligations correctly.
In the Louisiana Delta Community College, for instance, you will find tuition fees for credit hour of $210.
Out of state students then pay more, more than $350 per credit hour.
However, program-specific supplies, housing, or meals are not at all influenced by these prices.
Advantages of ADN Programs
ADN programs have small class sizes and also more one-to-one contact with the faculty.
For this reason, it is easier to influence many students for nursing.
Also, learning in small classes makes learning more communal and fruitful.
Since community colleges are quite convenient for students, ADN programs can mainly be found in these institutions.
BSN Programs in Louisiana
BSN programs in this state are four years long.
Similar programs of this degree are also accelerated programs, online programs, and bridge programs offered for those who aim for a BSN degree.
All of them in total are dozen, located in major centers across the state.
These different programs of this type have appeared as a result of the huge demand for various nursing education.
As well as to make use of the existing diplomas and degrees as much as possible.
What To Look For in a BSN Program in Louisiana
When choosing a BSN program, it is important to consider its characteristics.
Among these characteristics, it is necessary to check is the university if public or private, the cost of tuition, its location as well as its overall mission statement for nursing.
All these factors altogether have an impact on a student's quality of life, job prospect, and program outcomes.
Such a university is the LSU Alexandria.
The faculty works with empathetic and evidence-based care for different types of patients and manages to promote health consistently.
BSN Program Length in Louisiana
BSN programs take 8 full semesters to complete.
However, since the demand for more programs I noticeable, there have been offered other programs of this type.
Such are the accelerated programs, intensive course work, and clinical offering as well, which take 2.5 years to complete.
RNs who already have an ADN degree may opt for another BSN program of this type in the form of a bridge program, and which fits their experience and learning as well.
BSN Program Admission Requirements in Louisiana
Each program has unique admission requirements in order to attract and retain the best pool of candidates.
Below is a sample of the average admissions criteria to help you prepare for your application:
Submit high school transcript
Provide proof of immunizations
Meet or exceed admissions standards with a GPA of no less than 3.0 overall
Pre-requisite course marks must be competitive
Applicants may be waitlisted depending on the quantity and quality of submissions
Tuition and Costs of BSN Programs in Louisiana
Honestly, the tuition and costs of BSN programs in Louisiana are to be considered.
In order to make out with the price in the studies, students should try to observe what needs to be paid in a program, and what is excluded from it.
Usually, additional payments include housing, food costs, and program equipment, fees, and textbooks.
By considering these fees, students are able to make a good financial choice for their BSN program.
But let's see a model of payment.
For instance the University of Louisiana at Lafayette.
Its cost per semester is $6,000.
But the price may change as the course load changes.
In this cost housing and fees are not included.
Just like program-related costs aren't either.
Advantages of BSN Programs
There are a few distinct advantages to pursuing a BSN program.
Class sizes are large, which can be surprising to freshmen, however, the diversity of thought and culture often makes up for it.
BSN programs also have more theoretical learning than ADN ones.
MSN Programs in Louisiana
The MSN degree is a specialty path in nursing education.
Some of the roles you may earn with this degree are critical care nurse, family nurse practitioner, or a nurse anesthetist.
However, to qualify for any of these, you need a graduate degree in the first place.
In Louisiana, you will find over 10 MSN programs like this.
MSN Program Length in Louisiana
Different MSN schools have different program lengths.
But usually, MSN programs take 4-6 semesters to complete.
Students can take their classroom blocks in order to have enough time to balance two things.
They are clinical placement as well as personal and professional responsibilities.
Because in life, balance is the key to success.
MSN Admission Requirements in Louisiana
There are many MSN program options to be found in Louisiana.
From them you may find, on-campus programs, hybrid, online and out of state programs.
While each school is unique, there are some trends in admissions that we've listed here you need to consider:
BSN with a minimum of 3.0 GPA from a regionally accredited institution
Competitive grade in statistics within the last 5 years
Competitive grade in total health assessment within the last 5 years
MAT of 45th+ percentile
GRE 1,000+ or 153 and 157+ with a minimum of 4.0 on analytic writing
Competitive TOEFL score of 550+ on paper, 79+ on the web, or 213 on a computer if applicable
Current resume and letters of recommendation
Personal interview with faculty
Tuition and Costs of MSN Programs in Louisiana
The average cost of an MSN program in Louisiana can be found at the University of Louisiana at Lafayette.
Its per-credit tuition fee is $782 for those who live in the state.
While $1,342 for those living out of it.
In this university on-campus graduate studies are accommodated.
While secondary costs such as administrative fees, parking, nursing equipment, and housing.
For NP programs visit:
Louisiana DNP Programs
Louisiana FNP Programs
Louisiana Nurse Practitioner Programs
Louisiana Post-Graduate Certificate Nursing Programs
Getting a Louisiana Nursing License
Louisiana nursing licensure can be obtained by either examination or by an endorsement by submitting the following:
Candidates are to complete the application, pay the subsequent fees, and also submit the following information for consideration:
Official transcripts from a state board approved nursing program
Criminal background check packet – includes authorization and fingerprint cards (2)
Proof of registration for NCLEX exam
Recent 2″ x 2″ passport photo – signed
Candidates looking for licensure through endorsement should complete the preceding requirements, and must also include:
Successful completion of NCLEX or State Board Test Pool Examination (SBTPE)
Verification of Licensure
Nursing Program Data/Verification form – sent by the school to the state board
Nursing Employment Verification form
Accelerated Nursing Programs in Louisiana
When it comes to nursing programs in Louisiana, you should consider all options.
One of these options is accelerated programs that are available across the state.
Their length is approximately 12 to 18 months, while they can be found in four colleges.
The classes in these programs are heavy and they demand full-time attendance in the place where they are held.
The majority of them also offer clinical hours along with the course work.
As for the admission requirements in these programs, students should take prerequisite courses which are a must to enter the programs.
If you require completion of courses before attending the program, this can have an effect on the overall tuition costs, as well as other various factors, such as housing.
Louisiana Accelerated BSN Programs
Louisiana Accelerated MSN Programs
The Best RN Schools in Louisiana
We all remember our first day at school.
And it seems as real as it was the first time.
However, we knew that we're in the right place.
So, we just enjoyed the moment.
And the same will happen when you choose the right school for your nursing career.
A sense of belonging will make you want to do your best to succeed.
In Louisiana, you will have 10 nursing schools to choose from.
Having read this article, you will know how to make the choice.
| School Name | Address |
| --- | --- |
| Louisiana Tech University | 305 Wisteria St, Ruston, LA 71272 |
| University of Louisiana at Lafayette | 411 E Saint Mary Blvd., Lafayette, LA 70503 |
| Louisiana Delta Community College | 7500 Millhaven Rd, Monroe, LA 71203 |
| LSU Health Sciences Center New Orleans | 1900 Gravier St., New Orleans, LA 70112 |
| University of Holy Cross | 4123 Woodland Dr, New Orleans, LA 70131 |
| University of Louisiana at Monroe | 700 University Ave, Monroe, LA 71209 |
| South Louisiana Community College | 1101 Bertrand Dr, Lafayette, LA 70506 |
| Southeastern Louisiana University | Room 1009C, SLU Box 19835, Hammond, LA 70402 |
| Baton Rouge Community College | 555 Julia Street, Baton Rouge, LA 70802 |
| McNeese State University | 4205 Ryan St, Lake Charles, LA 70605 |
RN Salaries in Louisiana
Nursing schools in Louisiana pay off in the end.
The highest salary you will get with this profession will be with an MSN degree.
Anyway, you will earn enough to make a living with other degrees as well.
For that, you have the three salary shifts as presented above.
Annual Salary Range: Annual Salary by Location:
| Location | Avg. Annual Salary |
| --- | --- |
| New Orleans | $63,071 |
| Baton Rouge | $59,072 |
| Shreveport | $58,412 |
| Lafayette | $58,372 |
| Lake Charles | $57,572 |
| Kenner | $63,037 |
| Bossier City | $58,412 |
| Monroe | $58,107 |
| Alexandria | $56,290 |
| New Iberia | $58,033 |
RN Programs by State
---