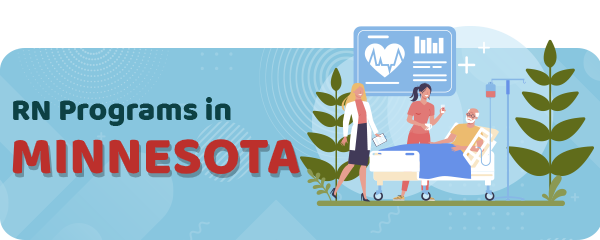 Often times we judge a book by its cover.
Some things, in the first view that seems difficult, may be in fact easy.
But we don't know that without checking them well and trying to make them work.
This way, you might have thought about a new career.
It may be teaching, painting, or even nursing.
If it's the latter, I suggest you follow me in this article guide,.
Simply to see how you can manage to become a successful Registered Nurse in one of the USA states, Minnesota.
Now the start of each career is built upon a solid education.
And education is taken in school.
However, finding the right nursing school in Minnesota is still a challenge for many.
But one way to make this decision easy is to have in mind the right criteria regarding it.
And that is the possibility of licensure by the end of the studies in any of them.
If that is fine, all else will be fine.
Anyway, there are some things in life, you can't do totally on your own.
You need to make some kinds of measurements.
At this time, you have to measure the NXLEC-RN exam passing rates of graduate students in a particular school.
In particular, the percentage of the exam passes need to be analyzed thoroughly.
For this analysis, the top-ten RN programs were chosen, out of 45 programs in entire Minnesota.
These programs include those that off an Associate in Nursing (ADN/ASN), BSN, or Direct-Entry MSN Degree.
This in one hand.
On the other hand, nursing and patient care in Minnesota is going through progress nowadays.
The state is doing that by stimulating nurses with nursing degrees to become RNs in the meantime.
This stimulation is followed up by other new job positions for nurses, which estimates 2,000 in total over the five upcoming years.
Close enough.
Especially with the expansion of educational chances for both students and RNs, the future cannot be anything but better.
The Bureau of Labor Statistics reports the average salary in Minnesota for RNs to be $72,310.
With this average, it is not a surprise why this career is becoming each day more popular and more rewarding for its population.
For RN bridge programs visit:
RN to BSN Programs in Minnesota
RN to MSN Programs in Minnesota
ADN Programs in Minnesota
If you're looking for a nursing degree which will prepare you with quality patient-care in different medical areas.
These areas include hospitals, clinics, and other care facilities, then Minnesota is the right place to go.
The degree program is two years' time and is also offered in other institutions such as community and technical colleges in the state.
Since it is a quick start, nurses choose this career path for their future RN license.
Also, they choose it due to the fact is it less expensive than other programs.
A typical ADN program in Minnesota can be found in more than 25 accredited and approved schools around the state.
What to Look For in an ADN Program in Minnesota
So many things are noticed by means of comparison.
Similarly, when choosing the right ADN program, you have to compare the options.
Some of the elements that need to be considered in a Nursing school are accreditation, licensing, program outcomes, and so on.
Let's go through them thoroughly.
Accreditation
The main element that makes a nursing school worth attending and spending time in education in is surely accreditation.
It ensures quality.
In Minnesota, RN programs are accredited from two organizations.
One of them is the Commission for Education in Nursing (AECN).
And the other is the American Association of Colleges of Nursing's Commission on Collegiate Nursing Education (CCNE).
While you will also see that program approval is secured with the help of the Minnesota Board of Nursing.
Licensing
RN licensure is taken through sitting and passing the NCLEX exam.
This exam is taken usually upon graduation from an ADN program.
In order to best prepare for this exam, you can make a review of the school's curriculum that you apply for and check the passing rates of the exam in that school.
From the report done by the American Association of Colleges of Nursing in 2015, you will see that 83.7% of nurse graduates have passed the exam and got the license as well within the same year.
Program Outcomes
Program outcomes are responsible for program success in many nursing schools.
You may check the following criteria if you want to choose the school that helps you achieve success in the field:
Graduation rates
NCLEX-RN pass rates
Graduate satisfaction
Employment rates
In Minnesota, an example of an RN school where you can find an accredited ADN program is the Minnesota State College Southeast.
ADN Program Admission Requirements in Minnesota
Admission requirements in RN schools change every now and then.
Therefore, before applying to a school, you should check them all first.
Here's a sampling of the types of requirements that ADN programs in the state can have:
Completion of the ATI TEAS exam with a score of 420 or above
Completion of all prerequisite courses
Cumulative GPA of 3.0
Tuition and Costs of ADN Programs in Minnesota
Tuition and costs of an ADN program in Minnesota are divided.
For tuition, you will have to consider paying the mandatory fees as well.
While indirect costs such as textbooks and transportation are sideways as well.
However, if you cannot afford the pay by no means, the schools offer financial aid through their departments.
So, they will surely help you in this matter for your favorite program.
In Lake Superior College in Duluth, you will find a $16,000 price for both tuition and fees for an ADN program.
Advantages of ADN Programs
The beauty of pursuing ADN programs in Minnesota is that through them, you will be able to land the jobs you like as a registered nurse.
Also, the short time frame of the program makes them less expensive than others.
Because of these two reasons, ADN programs are quite popular in the state and in the nursing career in general.
LPN to RN Programs in Minnesota
RN programs are easiest to follow if you are an LPN in the first place.
In Minnesota, you will find also LPN to RN programs, which offer you enough education and training for an RN license.
In fact, you don't have to complete an RN program at all, if you complete this one as a practical nurse.
LPN to ADN/BSN Programs
Since we're talking about popularity, let's talk more.
There are other programs that are popular in Minnesota as far as nursing programs are concerned.
It's the LPN to AND and LPN to BSN programs.
The first, which is the LPN to ADN is the shortest one.
It takes a few semesters to complete.
You can find this type of program at Hibbing University, with 64 total number of credits to meet.
While the LPN to BSN program can be found in the Herzing University's Minneapolis campus.
In this university students are able to take courses in nursing informatics, applied pathophysiology, and similar.
LPN to RN programs in the state often require the following:
Current LPN license
Verify graduation from an accredited LPN program
Minimum general GPA (usually 2.5 or higher)
Prerequisite courses completion
BSN Programs in Minnesota
The second nursing degree to be pursued in Minnesota is the Bachelor of Science in Nursing (BSN).
You can attend this type of program in both traditional colleges and urban areas around the state in four years' time of completion.
Through a BSN degree, you can opt for other nursing careers such as School Nurse, ER Nurse, critical care nurse, and others.
Since it is a higher nursing degree, it has also a higher salary as well.
BSN programs are offered in 20 schools around Minnesota.
All programs of this type are properly accredited.
What To Look For in a BSN Program in Minnesota
The first range of factors that make a school worth applying to in Minnesota is cost, accreditation, and program outcomes.
But these are not the only ones.
There are other secondary factors such as location, transport and so on which make a program to be searched for by students.
Having a BA degree in another field of study, you can go with an accelerated BSN program.
While being a registered nurse with either a diploma or certificate program, you should go for the RN to BSN program choice.
A good example of the accredited and approved BSN program in Minnesota is the Gustavus Adolphus College, located in Saint Peter, MN.
BSN Program Length in Minnesota
BSN programs in Minnesota are known sometimes as Generic BSN or Pre-Licensure BSN. With four years' length, they are enough for students.
But if some want to go faster with the studies, they may go for Accelerated BSN programs, which take more than a year to finish.
In addition, an RN to BSN bridge program takes one to two years to complete.
However, the length mostly depends on the program type as well as on the issue of whether the candidate has taken any coursework previously as well.
BSN Program Admission Requirements in Minnesota
BSN program requirements are different from school to school.
So, you need to make sure you meet them, once you apply for one.
The following requirements have been listed here to help you on this matter:
Minimum cumulative GPA of 2.85
Complete all prerequisite courses with a grade of C or higher
Write& Send a Personal essay
Interview is required
Tuition and Costs of BSN Programs in Minnesota
Different BSN programs in Minnesota have different costs.
However, the categories are mainly the same.
First, there is tuition, mandatory school fees, uniforms, books, and similar expenses.
While room and board are separate costs.
Tuition is more expensive for students who live out of Minnesota.
That's certain.
But what can you do!
You need to adopt it.
Now, when we're talking about the cost, let's check the Metropolitan State University in Saint Paul.
Its tuition is $286.02 per credit for students who live inside the state, while mandatory fees are not covered in this cost.
Advantages of BSN Programs
BSN programs have many benefits if you pursue one.
Being a four-year degree, this is the main reason why students who are in front of licensure choose this nursing path.
Other students choose since it opens up more nursing positions on the go.
Next, it is also a very flexible career path.
You can pursue an ADN in the first place.
But also, if you have a Bachelor's degree in another subject as well.
And if you want a graduate degree in nursing, with a BSN you can easily go for it for sure.
MSN Programs in Minnesota
Through an MSN nursing program, you will not only be a graduate-level nurse, but you will have the chance to pursue other types of nursing positions too.
Amid them, you may specialize in Clinical Nurse Specialist, Nurse Midwife, Family Nurse Practitioner, and similar titles.
Despite the general MSN degree that is available in Minnesota.
You can also have the opportunity to choose for other specialized MSN degrees in nursing too.
In fact, aside from a general MSN degree, many schools offer specialized MSN degrees where you can choose your nursing focus.
MSN Program Length in Minnesota
MSN programs are clearly shorter than other nursing programs at a lower level.
The length is mainly 2 to 3 years of lessons.
This length may change depending on the field of specialization, the schedule, and the type of coursework you will attend.
MSN programs in Minnesota are offered in many schools.
They are offered part-time, online, or even at night.
These flexible schedules are set for busy working nurses.
Minnesota also offers a few MSN programs which are purposefully created for those candidates who already hold a non-nursing bachelor's degree.
These intensive programs last around 16 months.
MSN Admission Requirements in Minnesota
Admission to MSN programs can be very competitive.
Therefore, it's a good idea to be certain that you meet all the entrance requirements, before applying to any of the schools in the state.
An example of requirements you will face for most MSN programs in the state include:
Official transcripts from every post-secondary school attended
Have a BA degree from a regionally accredited institution
Cumulative GPA of 3.0 or higher
Current unencumbered nursing license
2 years of recent clinical practice as an RN
Tuition and Costs of MSN Programs in Minnesota
All good things have a price.
MSN programs are also expensive.
But they are justified since they pay off with the nursing jobs that they bring along for nurses.
The expenses included in this type of program however are tuition, fees, clinical components, textbooks, and so on.
However, there may be also students who cannot afford these payments.
For this reason, there are financial aid options that are given to students as student loans.
Usually, the school you attend the MSN program decides whether you qualify or not for it.
An example of tuition in Minnesota is the Saint Catherine University, with $782 per credit.
In this cost, additional fees are not covered.
For NP programs visit:
Minnesota DNP Programs
Minnesota FNP Programs
Minnesota Nurse Practitioner Programs
Minnesota Post-Graduate Certificate Nursing Programs
Getting a Minnesota Nursing License
Minnesota regulations for becoming a licensed nurse require specific information for application by examination or endorsement.
These requirements include:
Complete your application with fees paid
'Confirm you have completed the Nursing Program' – the top portion by the candidate, bottom portion 'Affidavit' completed by the nursing program
Register for NCLEX
Good moral character proofs if necessary
To apply for licensure by endorsement include the following information:
Complete application and fees
Verify your Nursing licensure – request form or NURSYS (if applicable)
'Confirmation of Nursing Employment for Licensure by Endorsement' – top portion completed by the candidate, remainder completed by current employer
Accelerated Nursing Programs in Minnesota
Accelerated MSN programs take 12 to 18 months.
They may be shorter or longer however, depending on the courses taken previously.
At this type of program, candidates can move into a BSN or MSN even if they have a BA in another field.
One feature of this program is that they recommend not working out of the program requirements.
Which is not the same compared to bridging programs.
Tuition for these programs varies depending on additional courses required, as well as other various factors.
Minnesota Accelerated BSN Programs
Minnesota Accelerated MSN Programs
Latest Minnesota NCLEX-RN Pass Rates and Statistics
Total Number of State Approved Schools: 45
Total Number of Test Takers in 2019: 3,433
2019 Average Statewide Minnesota NCLEX-RN Pass Rate: 86.2%
The Best RN Schools in Minnesota
Check the top-ranked RN schools in Minnesota below.
Then choose.
| School Name | Address |
| --- | --- |
| University of Northwestern - Saint Paul | 3003 Snelling Ave N, St Paul, MN 55113 |
| University of Minnesota - Twin Cities | 5-140 Weaver-Densford Hall, 308 Harvard Street SE, Minneapolis, MN 55455 |
| Concordia College | 901 8th St. S., Moorhead, MN 56562 |
| Winona State University | 175 W Mark St, Winona, MN 55987 |
| St. Catherine University | 2004 Randolph Ave, St. Paul, MN 55105 |
| Inver Hills Community College | 2500 80th St E, Inver Grove Heights, MN 55076 |
| Century College | 3300 Century Ave N, White Bear Lake, MN 55110 |
| Bethel University | 3900 Bethel Dr, St Paul, MN 55112 |
| North Hennepin Community College | 7411 85th Ave N, Brooklyn Park, MN 55445 |
| St. Cloud State University | 720 4th Ave S, St Cloud, MN 56301 |
| College of St. Benedict/St. John's University | 37 South College Avenue, St. Joseph, MN 56374 |
| Alexandria Technical & Community College | 1601 Jefferson St, Alexandria, MN 56308 |
| Minnesota State University - Mankato | 228 Wiecking Center, Mankato, MN 56001 |
| Pine Technical & Community College | 900 4th St SE, Pine City, MN 55063 |
| Rochester Community & Technical College | 851 30th Ave SE, Rochester, MN 55904 |
| Ridgewater College | 2101 15th Ave NW, Willmar, MN 56201 |
| Metropolitan State University | 700 7th St E, St Paul, MN 55106 |
| Lake Superior College | 2101 Trinity Rd, Duluth, MN 55811 |
| Hibbing Community College | 1515 E 25th St, Hibbing, MN 55746 |
| Rasmussen College - Mankato | 1400 Madison Ave, Mankato, MN 56001 |
RN Salaries in Minnesota
After school, you get to work.
After good work, comes a good salary.
And vice versa.
So, choose the good.
Annual Salary Range: Annual Salary by Location:
| Location | Avg. Annual Salary |
| --- | --- |
| Minneapolis | $67,812 |
| St. Paul | $67,812 |
| Duluth | $60,479 |
| Rochester | $61,754 |
| Bloomington | $61,271 |
| Brooklyn Park | $60,233 |
| Plymouth | $60,479 |
| Eagan | $61,214 |
| Coon Rapids | $63,112 |
| Burnsville | $67,620 |
RN Programs by State
---