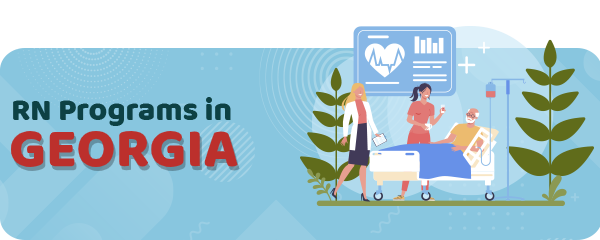 Georgia known as the Empire State offers good welfare to its population.
This welfare does not include only financial or social status but the health care and the medicine offered to them in general.
They say: "A healthy mind in a healthy body is the formula for all other secondary successes in life".
And as far as health care is concerned, in Georgia, you can go for nursing education.
To find the right school there, you need to first check an element in each of them.
If they assure you of the licensure by the end of the studies, you've found the right one.
However, all things should be measured correctly.
A school's licensure can be measured through the NCLEX-RN passing rates.
In particular, the percentage of graduates who have passed it is specifically analyzed.
Amid the 53 RN programs offered in Georgia, 20 of them were selected for this analysis, and were consequently, put into this article.
The programs are chosen to result in an Associate Degree in Nursing such as AND, ASN, BSN, and Direct-Entry MSN Degree.
With the continual progress in nursing, in Georgia, you will find high-quality services to patients from the trained nurse professionals.
Employers around the state also offer leadership positions for nurses with a Bachelor of Science in Nursing (BSN), as well as a salary higher than the normal average.
In a year, the BSN nurse earns more than 20,000 than the nurse with diploma status only.
In Georgia, patient care is considered the future of the nursing profession.
In this regard, there will be other educational options for furthering this potential as well.
For RN bridge programs visit:
RN to BSN Programs in Georgia
RN to MSN Programs in Georgia
ADN Programs in Georgia
Becoming a nurse in Georgia is possible through many program options.
Besides the program, there is also a lack of nurses in the state, so the need for them is to be considered too.
However, the fastest way to become an RN in the state is through earning an Associate Degree in Nursing (AND).
The degree can be earned in various colleges in the state.
It takes two years or four semesters to complete it.
While the end of it comes with the NCLEX-RN exam, which nurses have to sit for.
Associate degree nursing programs are several in Georgia.
They are more than 20.
In the local programs, education is accessible for all students.
What to Look For in an ADN Program in Georgia
Considering which ADN program to pursue can be overwhelming for students.
We've compiled a list of the few key factors to examine to make your decision-making process easier.
Accreditation
Through accreditation colleges and programs manage to meet their educational standards.
There are two accrediting institutions in Georgia who function in this regard.
One of them is the Accreditation Commission for Education in Nursing (AECN).
While the other is the American Association of Colleges of Nursing's Commission on Collegiate Nursing Education (CCNE)
Licensing
As you can see, licensure has a huge role in choosing which nursing program to attend.
In Georgia however, things are getting easier.
The state is preparing a system through which ADN programs will always require a license.
Until then, students can check licensure in the Georgia Board of Nursing website.
NCLEX-RN pass rates are 85% greater during the past years.
The same is for graduation as well, so things are getting better with nursing education every time in this state.
Program Outcomes
Your college program's outcomes could greatly influence whether you choose to attend or not.
Below are some criteria that will help make the selection process easier:
Annual NCLEX-RN pass rates compared to the state and nationally
Student engagement data
Post-licensure hiring data
Graduates vs enrollments each year
West Georgia Technical College is part of a strong network of local colleges.
The college is part of the Technical College System of Georgia.
In this college WGT's program is available.
It is designed to lead students toward an Associate Degree in Nursing, the National Council Licensure Examination for Registered Nurses (NCLEX-RN), and secure employment in the field as RNs.
ADN Program Admission Requirements in Georgia
Quality does not come by staying in one place.
As a nursing professional, you need to make moves that strengthen and help your career growth.
Similarly, to remain a qualified candidate in nursing, the programs at nursing schools change their admission requirements on a yearly basis.
In this respect also labor demands and faculty specialties are included.
While each institution is unique, they do share some admission requirements.
These requirements are:
Create an online account and complete the computer competency requirement
Have a grade of 'C' or better, depending on what is currently competitive for entry
Provide all official school transcripts via the Admissions office
Submit a personal statement
Show proof of current vaccination schedule
Confirm up-to-date CPR certification
Tuition and Costs of ADN Programs in Georgia
Nowadays everything is transparent.
And so are prices and tuition costs as well.
In Georgia, for example, all colleges have made public the cost of education in their areas.
This way, students see the financial commitment and measure if they can afford it or not in a particular school
While costs do vary from school to school, the same elements have a price for each program.
Items like uniforms, equipment, housing, texts, and other fees are in with tuition.
But they may be computed separately as well.
However, to have a clearer idea about a school, let us consider the College of Coastal Georgia.
It totals a per-credit-hour tuition rate is nearly $100.
In it, students enrolling is 12 credits per semester.
Additional mandatory fees go almost $800 per semester.
Books, uniforms, and equipment can be purchased separately through recommended third-party suppliers.
Advantages of ADN Programs
The first most important advantage of pursuing an ADN program in Georgia is that you get to find a job in the field easily.
Since hands-on patient care is valued and common in the state, hiring is one of the products of this estimation.
From entry-level education, students can easily pass into the RN in just 2.5 years' time.
Students can attend this degree in local colleges around Georgia.
They are found in both urban and outlying communities.
Their housing costs and commuting costs reasonable when students are able to live at home.
LPN to RN Programs in Georgia
Nursing programs in Georgia go through a hierarchy.
LPNs eventually go for an RN.
For this transition, there are programs that help nurses fill the gap between practical and registered nursing.
The reason why these programs are popular and common in the state is that prior education as an LPN is considered every time.
As a result, the RN program can be completed in a shorter amount of time than the traditional one would, normally.
LPN to ADN/BSN Programs
The beauty of enrolling in a LPN to RN program is that it can lead to either an ADN or BSN degree.
The fastest one is the LPN to ADN.
It takes only a few semesters for students to be able to sit for the NCLEX-RN exam.
This type of program can be pursued at Georgia Northwestern Technical College.
It can be finished in less than three semesters.
In addition, through the LPN to BSN program, students can also earn a Bachelor of Nursing.
This program can be found in Georgia Southwestern State College in Americus.
Through it, students will have a general education through a strict nursing curriculum, which eventually leads them to a BSN degree.
Prior to pursuing an LPN to RN program in Georgia is having an LPN license in the first place.
Also, the student needs to have graduated from an LPN program as well as have completed prerequisite courses with a passing grade.
While there are other requirements to meet as well.
BSN Programs in Georgia
After the ADN program, comes something else.
It's a Bachelor of Science in Nursing.
You can actually earn this degree in 25 undergraduate nursing programs across Georgia.
The degree is really advantageous for RNs since it helps them become more mobile and flexible inpatient care roles.
Apart from that, other significant roles in nursing are given to them as well, such as leadership and manager positions.
What To Look For in a BSN Program in Georgia
The place where we study has a major impact on our interest to learn.
Thus the scientific and cultural environment is special to be around.
But in the faculty, there have to be learning opportunities as well.
In Georgia's BSN programs there are leadership ability experiences offered in nursing.
They can be accessed in both clinical and lab rotation.
And last but not least, it's accreditation.
This ensures the school is in good standing and that license is offered by the end of the program.
Throughout the United States, Albany State University offers leadership opportunities to its students.
Through a BSN program, the state of Georgia is covering the need for nurses that is momentarily present.
BSN Program Length in Georgia
BSN programs in Georgia are 4 years in length.
In this time, students are able to work both in the classroom and in clinical blocks.
While they can also find time for volunteer pursuits during summer as well.
However, institutions and schools vary from one another.
Some, for instance, offer accelerated programs or RN to BSN options, through which they help fill the gaps in RN education and are really needed in the labor market.
BSN Program Admission Requirements in Georgia
Every school has its unique admission criteria to allow students into their programs.
However, the following is a sampling of the most common admittance criteria:
Complete pre-requisites with a minimum grade of C or better
Submit a personal essay to be evaluated on structure, grammar, and content
Provide evidence of updated vaccinations
Remain in good standing with the university
Provide a completed background inquiry and health history
Tuition and Costs of BSN Programs in Georgia
The truth is there is a cost for everything in this world.
Similarly, it is the same for education.
In Georgia, educational costs are not so cheap.
But considering the fact that they are high-quality ones, and that job opportunities arise when finishing them, you would accept them as they are.
The tuition costs are most of the time hard to define.
But the schools give their price for both individuals within the state and out of them.
In particular, they consider paying for housing, food, textbooks, and nursing equipment.
One University to consider for the tuition is Columbus State University.
The total tuition per semester is $4,000.
While other expenses are separately estimated.
Advantages of BSN Programs
The perks of pursuing a BSN degree program in Georgia are manifold.
First of all, it opens career opportunities which are special for this type of nursing degree and those higher than it.
Another advantage is through aging when nurses with BSN degrees can have administration or teaching roles.
This way, they are not obliged to only work on the hospital floor with patients.
With an ADN degree only, you cannot do so.
Career growth can also expand through the RN to BSN bridge program.
MSN Programs in Georgia
The future of the nursing profession is bright.
But with higher education, it is even brighter.
Thus pursuing a Master of Science in Nursing is a wise decision.
This degree is available to all nurses who want to prosper in the field.
MSN programs in Georgia offer leadership, administrative, and practical nursing skills to their students.
In addition, they also offer other secondary roles in informatics management, nurse anesthesiology, pediatric nursing, and similar disciplines of nursing.
As such, prospective students interested in these programs can benefit from other additional offerings.
These educational offerings are research, clinical care, teaching, or administrative roles that can apply to the programs that offer them more than a dozen times in the local institutions.
MSN Program Length in Georgia
About 4 semesters for full-time coursework, the MSN programs in Georgia are also available part-time.
Students may choose to take some courses online as offerings allow.
MSN Admission Requirements in Georgia
MSN admission requirements in Georgia vary on many factors.
Amid them, it's the pathway a student chooses, demand, and space availability.
However, there are some similarities in the core admissions criteria, such as the one listed below:
Submit all required forms for admission to graduate studies
Provide transcripts of undergraduate studies
Submit a professional resume
nurse in Georgia
Have your colleagues and mentors submit letters of reference letters to your graduate Admissions officer
Conduct a professional interview with nursing faculty
Tuition and Costs of MSN Programs in Georgia
Some things are more difficult to attain, but only because we don't know their real value.
If we did, we would accept them just as they are and try to achieve them.
For example, MSN costs are higher than those of the BSN degree in the state.
One reason for that is the quality and the intensity of the classes.
One example is the Clayton State University in Morrow.
Its cost per credit hour is $600.
Students are asked to meet a considerable amount of credit hours in order to attain their degree in the pathway they are interested in.
For NP programs visit:
Georgia DNP Programs
Georgia FNP Programs
Georgia Nurse Practitioner Programs
Georgia Post-Graduate Certificate Nursing Programs
Getting a Georgia Nursing License
Georgia requirements for nursing licensure by examination or endorsement are as follows:
The application process must include a completed application form and fees paid, as well as this supporting documentation:
Criminal background check
Registration for the NCLEX-RN exam
Register with COGENT – Live Scan fingerprint
Apply for endorsement of licensure can be done by providing the following information:
Completed application and fees paid
Completed criminal background check
Official transcripts
Verification of original licensure by examination
Verification of current state license
Proof of one of the following: verification of employment, proof of graduation within the last 4 years, completion of Georgia approved reentry program
Register with COGENT
Accelerated Nursing Programs in Georgia
Last but not least come the accelerated programs in Georgia.
With so many opportunities in education, these programs also offer career opportunities for a dedicated nurse.
Similar programs found across the state are 6.
Some of them require specific courses before admission to them.
While some have their own availability standards too.
The latter can easily influence the cost of education in the program as well.
For instance, most of the programs have a particular rate for the course.
In Georgia, these programs are attended in a full-time schedule while they can be completed in less than 15 to 24 months.
Georgia Accelerated BSN Programs
Georgia Accelerated MSN Programs
Latest Georgia NCLEX-RN Pass Rates and Statistics
Total Number of State Approved Schools: 53
Total Number of Test Takers in 2019: 4,494
2019 Average Statewide Georgia NCLEX-RN Pass Rate: 90.9%
The Best RN Schools in Georgia
Georgia, just like other states, offers many opportunities in nursing.
You can pursue there an ADN, BSN, and MSN degree.
These degrees can be earned in both private and public schools.
Through these degrees, nurses can apt for more career opportunities in the field eventually.
| School Name | Address |
| --- | --- |
| Georgia College | 231 W Hancock St, Milledgeville, GA 31061 |
| Kennesaw State University | 1000 Chastain Rd, Kennesaw, GA 30144 |
| Chattahoochee Technical College | 980 S Cobb Dr, Marietta, GA 30060 |
| College of Coastal Georgia | 1 College Dr, Brunswick, GA 31520 |
| Emory University | 1520 Clifton Road NE, Atlanta, GA 30322 |
| Gwinnett Technical College | 5150 Sugarloaf Pkwy, Lawrenceville, GA 30043 |
| Gordon State College | 419 College Dr, Barnesville, GA 30204 |
| Wiregrass Georgia Technical College | 4089 Val Tech Rd, Valdosta, GA 31602 |
| Abraham Baldwin Agricultural College | 2802 Moore Hwy, Tifton, GA 31793 |
| Piedmont College | 1021 Central Ave, Demorest, GA 30535 |
| Georgia Gwinnett College | 1000 University Center Ln, Lawrenceville, GA 30043 |
| South Georgia State College | 100 W College Park Dr, Douglas, GA 31533 |
| University of North Georgia | 1201 Bishop Farms Pkwy, Watkinsville, GA 30677 |
| Southeastern Technical College | 3001 E 1st St, Vidalia, GA 30474 |
| Georgia Southwestern State University | 800 GSW State University Dr, Americus, GA 31709 |
| Georgia Highlands College | 3175 Cedartown Hwy, Rome, GA 30161 |
| Middle Georgia State University | 100 University Pkwy, Macon, GA 31206 |
| Berry College | 2277 Martha Berry Highway NW, Mount Berry, GA 30149 |
| Valdosta State University | 1500 N Patterson St, Valdosta, GA 31698 |
| Clayton State University | 2000 Clayton State Blvd, Morrow, GA 30260 |
RN Salaries in Georgia
The RN salary in Georgia depends on many factors.
First of all its educational level.
An MSN degree pays off much more than the others.
While other factors such as work experience, place, and skills matter as well.
Annual Salary Range: Annual Salary by Location:
| Location | Avg. Annual Salary |
| --- | --- |
| Atlanta | $62,845 |
| Augusta-Richmond County | $59,070 |
| Columbus | $57,399 |
| Savannah | $59,389 |
| Athens-Clarke County | $62,400 |
| Macon | $59,014 |
| Roswell | $62,608 |
| Albany | $58,400 |
| Marietta | $62,677 |
| Warner Robins | $58,836 |
RN Programs by State
---