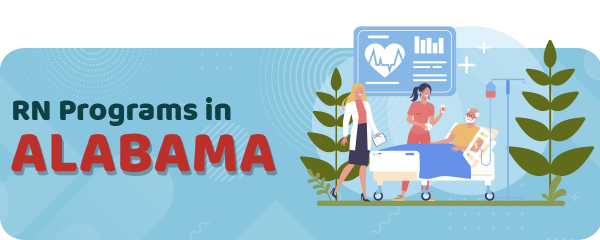 Nursing is more than an education.
It's a mission.
In Alabama, it's both a mission and a profession.
With the huge number of schools and programs to consider, it's not to be surprised why many choose to pursue this dream.
And it's only when you're determined that choice does not seem difficult.
Not when you have all the options in front of you.
Especially taking into consideration the fact that the schools there give support to students in terms of the license.
Apart from that, the selection can be made through the NCLEX-RN exam passing rates too.
With these criteria, the top-ten nursing schools in Alabama have been listed in this article.
The listing has been done as an analysis of the current historical passing rates of the NCLEX or RN exam.
In other words, the percentage of the graduate students who have passed the exam, in the midst of the total 39 RN programs in Alabama.
These programs are offered in schools where you can attend an Associate degree in Nursing.
From the options to consider are the AND, ASN, BSN, or Direct-Entry MSN Degree.
Offering programs like these, the state intends to promote quality nursing care.
This in turn leads to professional development in the field.
Alabama manages to do so through ensuring skill set for nurses and the prospective ones, as well as by ensuring quality care for the patients.
But that is not all the good news as far as Nursing in the state is concerned.
There is more.
To begin with, RN jobs in Alabama are expected to increase by nearly 19% in job positions from now on and 2022.
45% of the Bachelor's degree nurses, on the other hand, need to pursue an equivalent or a higher degree in nursing programs in order to have more job opportunities in the field.
This is both a progress and a challenge for them.
For RN bridge programs in Alabama you can take a look at these addresses:
RN to BSN Programs in Alabama
RN to MSN Programs in Alabama
ADN Programs in Alabama
RN programs in Alabama are various.
For instance, an Associate Degree is an example of initial progress as far as professional development, and successful career is concerned.
While serving others with this degree is the most common practice.
Though the entire US states have limitations in health care, making a career in the field in Alabama means facing these limitations cost what it may.
However, the state is rich with more than 20 community colleges and private institutions that do a really great job with nursing students.
Their role is to prepare them for the nursing NCLEX license in the near future.
What to Look For in an ADN Program in Alabama
Apart from RN programs, in Alabama, there are also AND programs to consider.
In this department, just like in other nursing ones, you need to find a good school.
And a good school is mainly one that is accredited from the Board of Nursing in the state.
However, there are other criteria to consider when attending.
To know which are they, follow me in the next steps.
Accreditation
First and foremost is accreditation.
Accreditation has long been one of the most common practices for the legitimization of the nursing programs in the state.
The action comes with a national evaluation system from AND programs.
This system is the Accreditation Commission for Education in Nursing (AECN).
The practices and continual improvement plans of these programs in Alabama are regulated by a regulatory agency special for educational institutions.
This agency is the Alabama Commission on Higher Education.
This institution helps students with the school choice, which is accredited and which is not.
And also, which one may need further checks until choosing to study in it.
Licensing
A title always adds to professionalism.
So does license in nursing.
Through this license, the nurses are considered as Registered Nurses.
For this reason, licensing has a huge role in ensuring that the Alabama Board of Nursing agrees with a student's school choice in AND program.
Program Outcomes
To attend an AND college program, you need to gather as much information as you can be related to it.
To make sure of that, the school you attend needs to meet these aspects at least:
How many nursing students graduate successfully
NCLEX pass rates
Graduate job market statistics
Student and graduate satisfaction metrics
Calhoun Community College, for instance, is the place you can find an accredited AND program.
The College is located in Tanner of Alabama.
The college is part of the federal-state initiatives through which the AND training program is easily accessed to students.
It is indeed a good initiative in a time when the state is facing healthcare shortages.
ADN Program Admission Requirements in Alabama
Admission is normal for all schools.
It is the door through which you cannot enter without the right key.
The key in this respect is the set of requirements you need to meet as a student to be admitted therein.
In Alabama, there are two bodies that accept nursing students.
These are the individual community colleges and private institutions.
They have different criteria in terms of admission and they change every year.
Regardless of the fact that even school institutions vary, the AND programs, however, have the following requirements as most common:
Each applicant must meet the general admission requirements of the school
Each applicant must meet the minimum overall GPA requirements
Each applicant must submit appropriate ACT, SAT or COMPASS scores
Each successful graduate must take a drug and background screening to prepare for employment
Applicants must have an Alabama High School Diploma or its equivalent
Applicants have a minimum ACT composite of 16 or a total of 790 or greater on the SAT
Applicants must pass a health screening test
Tuition and Costs of ADN Programs in Alabama
The usual cost and tuition for an AND program in Alabama are different from college to college.
The difference comes as a result of the program size, the place where it is attended, and similar factors.
To give you an idea of the cost, check for instance the Shelton State Community College's 2-year AND program.
Its total cost is $13,000 for a two-year program.
In this cost, several items are included such as NCLEX review materials, nursing instruments, and footwear for clinical placement.
Advantages of ADN Programs
One of the first advantages to encounter when starting a nursing career in nursing is the short amount of time one can do so.
This advantage comes as a result of the lack of licensed RNs in Alabama.
While it is made possible by the government and other postsecondary initiatives in the state.
Another advantage in these programs is the potential for course flexibility and clinical placement in hospitals and doctor's offices.
LPN to RN Programs in Alabama
Another interesting feature in Alabama nursing programs is that there is a possibility of transition from LPNs to RN.
To do so, they need to attend a specialized LPN to RN program.
In these programs, the student will be able to learn the previous nursing coursework.
However, the courses in this phase will be shorter than the traditional RN programs.
LPN to ADN/BSN Programs
Often times, change can be hard.
But it is necessary.
In Alabama, nurses can make their transition from LPN to AND pathway.
From this transition, the nurse will get an associate degree by only passing a few semesters.
Such a pathway can be taken at Herzing University in Birmingham.
It demands 48 credits to finish it.
With another transition such as from LPN to the BSN program, students can get a bachelor's in nursing with a shorter amount of time to complete.
However, in Alabama, there are not yet current LPN to BSN programs available.
But there are online ones, fortunately.
LPN to RN program admissions requirements commonly include:
Current, active Alabama LPN license
Graduate of an approved LPN program with copies of transcripts
Completion of all prerequisite courses with a passing grade
Background check and immunization records
BSN Programs in Alabama
Bachelor of Science in Nursing (BSN) programs in Alabama are offered in more than 15 universities.
They are allowed to offer these programs by the Alabama State Board of Nursing.
These programs have a timeline of 4 years length.
Apart from that, students are also given the chance to complete a specialization in another aspect of nursing.
As well as have additional time for clinical practice and nursing experience.
What To Look For in a BSN Program in Alabama
What you look for in a thing is usually what you are in essence, and what you aim for.
BSN programs in Alabama are mainly accessed from freshmen students who have finished high school education.
However, their application and attendance are different from those students who have a faster track in this education.
They are usually entering the RN to BSN.
A university worth being mentioned in the Samford University BSN program in Birmingham, Alabama.
The university is accredited by two accrediting bodies in the state.
These bodies are the Commission on Collegiate Nursing Education (CCNA).
This commission ensures the quality of BSN education, whose programs are scattered everywhere in the country.
While the second body is the Council on Accreditation (COA).
This council ensures the quality of Nurse Anesthesia programs nationwide in the U.S.
BSN Program Length in Alabama
The length of any process is a matter of the parts it is made of.
BSN programs in Alabama usually take 4 years to complete.
BSN undergraduates can get a BSN degree in less than 2 years.
In the meantime, they will undergo online lessons, distance learning as well as summer sessions.
All of these as part of the degree program.
In addition, RNs who are in the process of improving the AND qualifications, also have another 2-year schooling to be able to get the BSN.
However, there are other faster options in this regard to consider as well.
BSN Program Admission Requirements in Alabama
An important feature of the nursing schools in Alabama is that their admission requirements vary from each of them.
However, BSN programs in Alabama universities have the following common requirements in general:
Students meet admission criteria to the university
Students have a minimum GPA of 3.0 – often there are language, math and science credit requirements
Students have a minimum composite ACT of 21 or composite SAT of 1000
Tuition and Costs of BSN Programs in Alabama
BSN tuition and costs depend on a few factors.
One of them is the length of the program.
Another is whether a student wants to fasten the study or not and so on.
However, let's see some proof.
For instance, the BSN program at the University of Southern Alabama takes $8,000 yearly for a 4-year study for those who live in the state.
The expenses for this sum cover scrubs, shoes, nursing materials, and equipment, as well as NCLEX exam materials.
The latter is an additional cost for which, the students should make careful research.
Advantages of BSN Programs
Compared to AND, BSN programs' advantage is that they offer more lifetime professional earnings for the graduates.
Consequently, with a degree in the field, there happen to be more chances to prosper in a career.
The nurse, in particular, benefits from this advantage the most.
Her role, which includes more knowledge for the patient's condition.
Also other roles such as leadership role and advocacy abilities with medical teams, patient-family interaction, and community health advocacy, all these duties are in the responsibility of a BSN graduate.
MSN Programs in Alabama
Master of Science in Nursing or MSN degree is a degree program for those RNs who are interested to become an advanced practice registered nurses.
A candidate can earn this degree through the existing coursework which is of a graduate level.
There has to be also a clinical practice for those nurses who want to take teaching or leadership status as well as be involved in policy or other health initiatives or community engagement across the state.
Other clinical avenues for RNs and MSNs are nursing specialists and nurse practitioners.
At this time, there are only a couple of in-state universities that offer a CCNE-accredited MSN nursing program.
MSN Program Length in Alabama
MSN programs in Alabama take three to five years.
The length mainly depends on the experience of the candidate in the field, but also from the career path they choose to follow.
These career fields can be such as Pediatric Primary Care Nurse Practitioner, a Nurse Anesthetist, or a Women's Health Nurse Practitioner.
It has to be noted that MSN degree comes after the baccalaureate in nursing, as an undergraduate degree program.
MSN Admission Requirements in Alabama
There is some variation between the in-state programs' admission standards, but overall, applicants can expect to be evaluated and possibly admitted based on the following criteria:
BSN degree from an institution on academic par with where you'd like to take your graduate studies
Nursing license to practice in the state where you'd like to practice your clinical rotations
GPA of a minimum of 3.0
Letters of professional reference that specifically discuss the candidate's readiness for graduate studies
Official transcripts from all previous educational programs
Applicant test scores from the GRE, GMAT, and MAT graduate testing that falls in line with the school's criteria (some variance between schools in this regard)
Tuition and Costs of MSN Programs in Alabama
MSN programs are worth pursuing, but surely they have a cost as well.
But that depends on the university type.
As far as the cost is concerned, the University of Alabama at Birmingham offers courses in the field of $2000 for a course and $510 per credit hour.
Also, the fees need to be considered too.
Since there are many courses in the Alabama universities, the students can choose 10to 15 of them.
With this calculation, the program cost rises to $20,000.
For NP programs you can visit:
Alabama DNP Programs
Alabama FNP Programs
Alabama Nurse Practitioner Programs
Alabama Post-Graduate Certificate Nursing Programs
Getting an Alabama Nursing License
Becoming an RN in Alabama, in general, is simple.
But that has not become simple by surprise.
The Board of State has approved this nursing program by passing the NCLEX-RN exam as a prior step.
Obviously, the state has a clear regulatory requirement.
Along with a completed application, the applicant must have ready:
An official transcript from an approved nursing program that 'substantially meets' state requirements
A high school diploma
Proof of US citizenship or equivalent and the ability to work in the U.S.
Be of good moral character
Nurses from other states may apply for endorsement to practice.
They should be prepared to submit:
Eligibility for licensure in your former state
The exam application with addendum for Out of State Repeat Examination Application
Provide proof of registration for NCLEX-RN
An official transcript to be mailed to the Alabama Board of Nursing for review
Accelerated Nursing Programs in Alabama
Moving faster with nursing education has become a habit in the profession.
Along with that, and with the increase of the demand for nurses Alabama offers similar accelerated programs.
These programs are designed to help nurses transit from RNs to BSNs as well as from BSNs to MSNs'.
These programs can be eligible for a nurse depending on whether the program helps in getting a BSN degree.
If it's just a graduate-level program with a higher cost, it is not worth pursuing.
A BSN program, however, takes 12 months to complete at an accelerated rate.
Or as much as 3 years' part-time at the MSN level.
• Alabama Accelerated BSN Programs
• Alabama Accelerated MSN Programs
The Best RN Schools in Alabama
Going for a nursing career in Alabama means doing close research first.
Research in what?
Basically, in the schools that are available there for the students.
To make things easier for you as a student, below you will see the top-ten programs there.
You have the chance to both choose from a variety of programs.
As well as from various school institutions.
| School Name | Address |
| --- | --- |
| Coastal Alabama Community College - Bay Minette | 1900 Highway 31 South, Bay Minette, AL 36507 |
| Spring Hill College | 4000 Dauphin Street, Mobile, AL 36608 |
| University of Alabama at Birmingham | 1701 University Blvd, Birmingham, AL 35294 |
| Troy University | 600 University Ave, Troy, AL 36082 |
| The University of Alabama | 650 University Boulevard East, Tuscaloosa, AL 35401 |
| Auburn University | 710 South Donahue Drive, Auburn, AL 36849 |
| Coastal Alabama Community College - Monroeville | 2800 South Alabama Avenue, Monroeville, AL 36460 |
| Herzing University | 280 W Valley Ave, Birmingham, AL 35209 |
| University of South Alabama | 5721 USA Dr. N. Room 3083, Mobile, AL 36688 |
| Wallace State Community College - Hanceville | 801 Main Street Northwest, Hanceville, AL 35077 |
RN Salaries in Alabama
Alabama is home to nursing.
As a result, the need for nurses is always growing.
For this reason, students have much to hope for in terms of salary.
However, the salary depends on many factors.
First of all, it's their educational degrees, experience and so on.
The more equipped with these, the higher will be the income.
Annual Salary Range: Annual Salary by Location:
| Location | Avg. Annual Salary |
| --- | --- |
| Birmingham | $60,043 |
| Montgomery | $56,872 |
| Mobile | $58,703 |
| Huntsville | $59,991 |
| Tuscaloosa | $59,456 |
| Hoover | $55,217 |
| Dothan | $56,111 |
| Decatur | $58,158 |
| Auburn | $56,850 |
| Gadsden | $59,510 |
Regional Salary in Alabama
| Region | Employed | Avg. Annual Salary | Avg. Hourly Pay | Top 10% Annual Salary | Bottom 10% Annual Salary |
| --- | --- | --- | --- | --- | --- |
| Anniston-Oxford-Jacksonville, AL | 960 | $61,310 | $29.48 | $79,880 | $41,700 |
| Auburn-Opelika, AL | 1,070 | $72,480 | $34.85 | $93,600 | $50,820 |
| Birmingham-Hoover, AL | 17,330 | $70,290 | $33.79 | $84,860 | $51,060 |
| Daphne-Fairhope-Foley, AL | 1,440 | $65,260 | $31.37 | $78,500 | $49,380 |
| Decatur, AL | 760 | $62,920 | $30.25 | $80,710 | $47,690 |
| Dothan, AL | 1,860 | $61,220 | $29.43 | $77,970 | $45,960 |
| Florence-Muscle Shoals, AL | 1,390 | $60,060 | $28.88 | $73,910 | $47,500 |
| Gadsden, AL | 1,120 | $63,860 | $30.7 | $77,590 | $46,370 |
| Huntsville, AL | 5,520 | $66,540 | $31.99 | $85,620 | $49,810 |
| Mobile, AL | 5,180 | $65,340 | $31.41 | $77,420 | $49,320 |
| Montgomery, AL | 3,310 | $70,680 | $33.98 | $92,000 | $49,200 |
| Tuscaloosa, AL | 2,370 | $64,070 | $30.81 | $81,410 | $48,300 |
* Salary information based on the May 2022 Occupational Employment Statistics (OES) Survey for Registered Nurses, OCC Code 29-1141, BLS.
* Employment conditions in your area may vary.
RN Programs by State
---