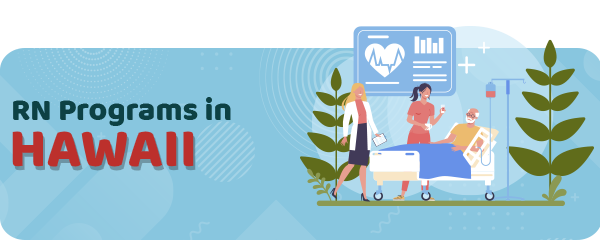 Day after day, we're coming closer to more nursing opportunities.
With every state, there is a door of education through which aspiring nursing students can enter.
However, finding the right school to study is a challenge in and of itself.
To make it easier, you can check the main factor that makes a school fit for you, and that is license by the end of the program.
This issue can be found out through the NCLEX-RN pass rates.
In particular, the percentage of the passing rates of this exam has been analyzed closely.
As a result, the top three nursing schools have been listed in this article, out of 8 of them available in the state.
These programs offer an Associate degree in Nursing such as BSN, ADN, ASN, or Direct- Entry MSN Degree.
But that's not all.
The state of Hawaii continually tries to make the nursing field grow for its population.
In fact, some of the most common benefits created as e result of this endeavor are salaries, opportunities, and continual growth for nurses with a Bachelor's Degree in Science in Nursing.
Nurses with this type of degree, earn an average of $1000 per hour more than the national rate in the US.
But Hawaii does not stop here.
The state aims to reach an average of 80% of BSN nurses in this year we're in.
For RN bridge programs visit:
RN to BSN Programs in Hawaii
RN to MSN Programs in Hawaii
ADN Programs in Hawaii
To become a nurse, you don't have to think much.
However, you can go to many pathways to do so.
One of the easiest pathways in nursing in Hawaii is indeed the ADN program.
With two years of enrollment, it is the most efficient way to launch your nursing career.
The need for this program comes for a few reasons.
One of them being the nursing shortage as well as the retiring nurses as time passes.
These types of programs such as the ADN are offered in different technical and community colleges around Hawaii.
With these options, the need for nurses is being met in the meantime.
What to Look For in an ADN Program in Hawaii
Choosing between ADN programs can be tough, but we're here to help!
Take a look below at some of the most important criteria for comparing each school.
Accreditation
In Hawaii, nursing schools such as junior, technical and private colleges receive accreditation through many accrediting bodies.
One of them is the Accrediting Commission for Community and Junior Colleges (ACCJC).
The second is the Western Association of Schools and Colleges (WASC).
This accrediting body is recognized by the U.S Department of Education.
AND programs, for instance, receive accreditation through the Accreditation Commission for Education in Nursing (AECN)
Or else, through the American Association of Colleges of Nursing (CCNE).
In this respect, students should consider colleges that meet regulatory benchmarks.
Licensing
Licensing is crucial to attend nursing school.
So, before applying to a school students must make sure they are able to take the NCLEX-RN exam at the end of the program.
They can do so by contacting the Board of Nursing.
Because licensure standard is updated on a yearly basis, the Board has enough competency to do so for the student.
From the number of RN licensure candidates, 70% of them receive RN licensure by passing the exam in the state.
Program Outcomes
Graduate outcomes of a Nursing program are a clear indication of its success.
Having this in mind, you will know which school works best for you and so you can choose.
Look for:
Annual total of program diploma-holders
Licensure pass rates
Student satisfaction met benchmarks
Employment opportunities within the nursing field
One of the colleges that welcomes nursing applicants for an RN program in Hawaii is the Kapiolani Community College.
With the ADN program in its curriculum, you will be a lifelong career in patient care management there.
ADN Program Admission Requirements in Hawaii
Admission is like filtration.
Only the best product comes out.
Similarly, admission requirements narrow down the competition.
And consequently, only the best candidates are admitted to the ADN program.
Through the set of requirements, a student is expected to advance in his or her profession.
The most common requirements in Hawaii as far as Nursing is concerned are these:
Complete all application forms and submit ahead of college deadline
GPA with a minimum of 2.5 in pre-requisite science courses
Exhibit proficiency in other languages than English
Successfully pass a drug screening
Have an overall GPA of 2.5 or higher, depending on yearly program requirements
Tuition and Costs of ADN Programs in Hawaii
Transparency is the key to all communication.
Whether you are at home, with a friend or at work, knowing things, helps you have a better relationship with them in the long term.
In this respect, knowing how much you have to pay for your studies is necessary as well.
The tuition cost must be clear to both students and their families who finance their studies.
The costs are of course different from school to school.
However, there are also similarities between them too.
The latter usually include housing, uniforms, nursing equipment, and student fees.
You might not believe this until you read a good role model of a school cost in Hawaii.
Well, here is one.
The University of Hawai'i-Maui College has a tuition and fee cost of $3,000 for a year.
While the book cost is $1,000.
Nursing supplies and equipment, however, are not estimated.
But, this pricing mirror is enough to stimulate students who want to spend their money well in education.
Advantages of ADN Programs
ADN programs have their own benefits students gain from in Hawaii.
First and foremost, they are cheaper than attending a nursing degree at university.
Next, having the college near the community makes it easier for students who become nurses to make connections with local clinics and hospitals.
While building strong professional relationships during school often pays off for the ADN graduate.
BSN Programs in Hawaii
BSN programs in Hawaii belong to the undergraduate nursing program at the university level.
They take longer than the ADN programs.
This degree helps students choose their nursing role at work.
This happens because the BSN program prepares RNs for practicing bedside care and management position inside the hospital or clinic.
In addition, having another educational degree in nursing makes the candidate more qualified and worth being hired as well.
On the eight islands of the state, there are more than five BSN programs as the state strives to fill the need in the patient care profession.
What To Look For in a BSN Program in Hawaii
What matters most in a BSN program in Hawaii is the class size, the clinical groups, post-graduate employment rates, and so on.
Since the programs take 2.5 to 4 years to complete, there are enough options in the state's area to check for.
However, one thing is sure.
Students should check more than tuition.
For example, a BSN program that offers both an evidence-based and caring environment a be found in the University of Hawai'i –Hilo.
BSN Program Length in Hawaii
A normal BSN program can be completed in 8 semesters.
Nurses with a license in the field may go for the faster RN to BSN program which is offered in many universities in Hawaii.
However, in order to find the right BSN path, students can consult with the team of admission to a particular school and choose therein.
BSN Program Admission Requirements in Hawaii
BSN program prerequisites vary from school to school, however, BSN admission requirements for students are generally as follows:
Satisfactory completion of general education and program course requirements
School transcripts from high school and any post-secondary institutions
GPA of 2.75 or higher
Record of updated vaccinations
Be in good financial standing with the university
Complete a background and health inquiry screening
Tuition and Costs of BSN Programs in Hawaii
BSN programs' median wage in Hawaii is $65,000.
With that in mind, pursuing an education in nursing is always a good idea.
But to choose wisely, you need to see which school offers the best value program with the tuition it offers.
To find that out, you need to check both the costs and outcomes of programs around the state.
An example to consider is the Chaminade University of Honolulu.
Its tuition is $20,000 per year.
In this cost, on-campus housing and meal plans go around $12,000.
Whereas books, supplies and other additional expenses come near $2000.
Advantages of BSN Programs
Nelson Mandela once said: '' Education is the most important tool you can use to change the world'', and he was right.
A BSN program in Hawaii can be a means of lowering patient mortality, some data suggests.
But the BSN degree comes with other advantages as well.
One of them is also that BSN candidates make a more accurate diagnosis at work.
The two of these together make a significant difference in patient outcomes and patient statistics in general in the state.
MSN Programs in Hawaii
When going for a nursing career in Hawaii, aim for a Master of Science in Nursing too.
This degree may result in various nursing roles as well.
These roles may include Clinical Nurse Specialist, Nurse Midwife, and Nurse Practitioner.
These titles are possible to achieve for those candidates with graduate-level credentials in the first place.
In Hawaii, particularly, in Aloha, two universities offer an MSN degree.
Apart from the main degree, there may be accessible other specialized technical branches of nursing too.
The citizens of this state have another studying opportunity as well.
It's an online MSN degree.
MSN Program Length in Hawaii
The MSN Program in Hawaii takes four semesters of full-time work.
The program is indeed an intensive work of both clinical and theoretical graduate-level components.
So students should think twice before choosing this stage of education since it will require a lot from their time and effort.
MSN Admission Requirements in Hawaii
Each graduate degree program has rigorous standards that students must meet in order to gain entrance to the program.
While institutions vary, there are some similarities between programs admission requirements:
Pay application fees
Show proof of "C" or better in pre-requisite courses at the undergraduate level
Show proof of English Language Proficiency or submit a Test of English a Foreign Language (TOEFL) with a 600+ score
Have passed the NCLEX licensure exam by the end of the first semester of graduate work
Show evidence of up-to-date vaccination schedule
Tuition and Costs of MSN Programs in Hawaii
Because of the intense program in an MSN degree, the costs and tuition are also high.
For example at Hawaii Pacific University, you will find a $1,100 per credit hour, in a total of 50 credit hours till the end of the program.
Additional costs are not included in tuition estimates.
For NP programs visit:
Hawaii DNP Programs
Hawaii Nurse Practitioner Programs
Hawaii Nurse Practitioner Programs
Hawaii Post-Graduate Certificate Nursing Programs
Getting a Hawaii Nursing License
Hawaii state application for licensure by examination or endorsement are as follows:
Application by examination must include the following documentation:
Completed application with code – NSG-01 0616R
Official final transcript – sent directly from school to the nursing board
Copy of government-issued ID that includes photo and date of birth
Provide Social Security Number and a copy of the card
Endorsement for licensure can be completed by submitting:
Successful completion of one of the following: NCLEX-RN, State Board Test Pool
Exam (SBTPE), or a state board examination incepted before the SBTPE
Graduate from a state-approved institution
Copy of Social Security Number
Verification of original licensure by examination – provide the date of the request for license verification
Verification can be done via NURSYS (if applicable)
Accelerated Nursing Programs in Hawaii
Accelerated Nursing Programs in Hawaii are only available online.
This availability makes them flexible in relation to course start dates, the sequence of courses taken, and the opportunity to meet both work and personal life needs.
Being admitted in any of these programs means meeting different sets of requirements.
The favorite program is the first thing to find.
While tuition depends on the courses taken prior to admission and the general program tuition is necessary to pay too.
Hawaii Accelerated BSN Program
Hawaii Accelerated MSN Program
The Best RN Schools in Hawaii
Slowly, we came to the RN schools' section.
With three schools in total, still, we have much to say.
RN Schools in Hawaii offer different nursing programs to its students.
They offer BSN, ADN, and MSN degree.
While students may also go for online and local classes.
Or else, choose accelerated programs as well.
| School Name | Address |
| --- | --- |
| Kapi'olani Community College | 4303 Diamond Head Rd, Honolulu, HI 96816 |
| University of Hawai'i at Mānoa | 2500 Campus Rd, Honolulu, HI 96822 |
| Hawai'i Community College | 200 W Kawili St, Hilo, HI 96720 |
RN Salaries in Hawaii
Last but not least, comes the RN salary.
It is typically in proportion to the level of education of the employee.
And also a result of skills, work experience, and so on.
While the place you work at has a significant role in the salary as well.
Annual Salary Range: Annual Salary by Location:
| Location | Avg. Annual Salary |
| --- | --- |
| Honolulu | $66,239 |
| Hilo | $65,794 |
| Kailua | $66,239 |
| Kaneohe | $66,239 |
| Waipahu | $66,209 |
| Pearl City | $66,239 |
| Waimalu | $66,209 |
| Mililani Town | $65,794 |
| Kahului | $65,794 |
| Kihei | $65,794 |
RN Programs by State
---