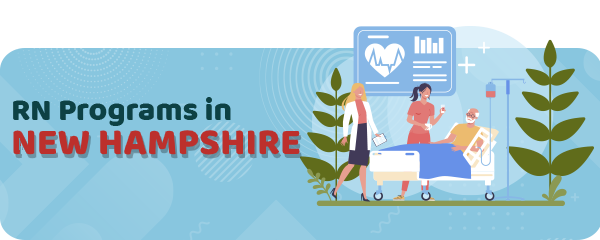 Too many things in life seem difficult because we don't know the right way to reach them.
But New Hampshire is definitely within your reach, and so do its nursing school.
All it takes is a decision away, and the right criteria of choice.
Though in this state the number of RN schools is not so huge.
Still, it is a challenge to choose among them.
However, here you are reading this article.
And with it, I intend nothing but to help you solve this matter.
The first thing to know is whether the school you want to apply for a nursing program offers to license.
That's crucial.
If it does, you move along with the application.
If not, you check others.
Many people think finding out this element is hard.
It is not.
All it takes is to check the NCLEX-RN exam passing rates, and you've got the historical and present percentages of these passes.
I did the same analysis in New Hampshire in all 15 RN programs across it.
The programs checked were all offering an Associate Degree in Nursing, such as the BSN, ADN, ASN, or MSN programs.
By the way, all are available in the state.
The state is not only rich with programs, but with job opportunities too.
Monthly jobs in registered nursing in New Hampshire are projected by the New Hampshire Employment Security.
With this amount of jobs, the need for healthcare practitioners is also growing.
Especially, when the average annual salary in this field is estimated to be $72,760 as stated by the Bureau of Labor Statistics.
With this in mind, there is no doubt you should pursue a nursing degree in the so-called ''Granite State''.
For RN bridge programs visit:
RN to BSN Programs in New Hampshire
RN to MSN Programs in New Hampshire
ADN Programs in New Hampshire
The easiest way to a license in registered nursing is waiting for you.
It is an ADN degree.
With only two years' length, it is also the most popular one in New Hampshire as well.
While it is one of the surest ways to jump into the nursing workforce too.
If you're interested, there are 9 ADN programs waiting for you in the entire state area.
What to Look For in an ADN Program in New Hampshire
They say: ''Comparison is the thief of joy''.
But not when it comes to choosing what's best for you.
So far, when it comes to RN programs in New Hampshire, you need to compare which school offers more quality programs.
Quality is usually determined from accreditation, licensing, and program outcomes.
Check them below more closely.
Accreditation
So many things attain value from a single action.
Similarly, accreditation makes a nursing school and program become more credible and applied in from students.
In New Hampshire, RN programs are accredited from two organizations.
One of them is the Commission for Education in Nursing (AECN).
While the other is the American Association of Colleges of Nursing's Commission on Collegiate Nursing Education (CCNE).
However, that's not all.
To be able to attend a program in a nursing school, you need that program to be state-recognized.
This recognition is normally done from the New Hampshire Board of Nursing.
Licensing
The end of an ADN program means the beginning of the Licensure.
This license, however, does not come like a gift.
You need to earn it by sitting and passing the NCLEX exam.
Initially, the ADN program you attend classes in should prepare you for it.
But whether it does or not should be checked before registering the program in the first place.
Let's go through a 2015 report from the American Association of Colleges of Nursing.
According to it, at this time, 709 candidates underwent the NCLEX-RN exam.
These were all first-time exam takes, from whom 87% of them actually got the license.
Program Outcomes
The best way to compare the nursing school programs is to check their background, statistics, and related information in regards to studies.
If these should help you choose the right program, then focus mostly on the following:
Graduation rates
NCLEX-RN pass rates
Graduate satisfaction
Employment rates
But if you want a recommendation, the River Valley Community College in Claremont is one place where you can freely go for an accredited ADN program in the state.
ADN Program Admission Requirements in New Hampshire
ADN admission programs in the state are really tense.
Here are the main ones:
Complete the college application and pay the fee
Provide evidence of high school or college credits in algebra, chemistry, and English with grades of "C" or better
Meet minimum score requirements in all four sections on a single Assessment Technologies Inc. (ATI) Test of Essential Academic Skills (TEAS) assessment
Submit two letters of professional reference
Tuition and Costs of ADN Programs in New Hampshire
If you're wondering where to find an ADN program in NH, consider visiting technical colleges.
That's where their home is.
The ADN programs in these institutions are quite affordable and traditionally 4 years long.
As for the payment, you're mainly responsible to pay tuition and fees.
While other related costs such as transport, books, equipment, and similar obligatory expenses are included as well.
However, if this does not suffice and you need help, go for the available options.
I mean financial aid which is offered in the school of choice.
Yet, you will have to know the normal cost in any of the programs in the state.
Consider for instance the NHTI, Concord's Community College, with $200 per credit.
This tuition is valid for students who live within the state.
While NCLEX-RN exam fees are not covered in this price.
Advantages of ADN Programs
The advantages of ADN programs in New Hampshire consist of its affordable cost, its flexible length as well as the location.
However, the student who attends this program need also be aware of his budget and how to make the most of it.
As well as to do his or her best to fit the schedule, the location which is a small one for this type of education in the state.
LPN to RN Programs in New Hampshire
The LPN to RN pathway is one way to go for an ADN or BSN degree.
This type of program is in reality an accelerated one.
The program considers the LPN nurse's education and experience gained previously in nursing.
As such, the program is shorter than a normal RN program you usually find in the state.
Sounds interesting and easy.
LPN to ADN/BSN Programs
You're probably looking for ways to complete your studies as easily and as fast as possible.
Well, so am I.
Really.
It may sound like a repetition, but repetition is the way to learn.
So, I can't wait to let you know of the other nursing bridge program.
It's the LPN to ADN one, which is available in community colleges of New Hampshire.
It's the easiest way to become a registered nurse.
You can find this program at NHTI-Concord's Community College.
Here the program takes only some semesters to complete, and by the end of it, you get an Associate Degree in nursing.
LPN to BSN programs, on the other hand, are also available in NH.
They may be accessed either online or locally in the state's area.
LPN to RN programs in New Hampshire, in general, may require the following documents for admission:
Completion of any prerequisite courses
Active, unrestricted NH practical nursing license
References or letters of recommendation
BSN Programs in New Hampshire
We've had enough with ADN education.
Now let's learn something about the Bachelor of Science in Nursing, or the BSN degree, in short.
First, it is similarly short as the previous degree.
Meaning, it is a four-year degree, which makes it a traditional nursing path in New Hampshire.
The program is mostly offered in large universities.
Though you may have both normal length programs as well as accelerated ones.
The latter is useful in the pre-licensure BSN program, which helps students prepare for it.
In addition, you may also go for an RN to BSN program at the same time.
And thus meet different nursing needs in your education.
There are 8 schools with BSN programs in the state.
They are all properly accredited and approved by the state.
What's better than that!
What To Look For in a BSN Program in New Hampshire
Though nursing schools and programs vary, one thing is sure, what we require in them will always be our guide to choose wisely.
Namely, when it comes to a BSN program, you should make sure it is accredited, check whether the cost is affordable or not, and see its program outcomes.
Location is also important because you want to attend it easily.
Then come the program type.
For instance, accelerated programs are best for you if you already have a degree in another field.
While having a bridge program ADN to RN, may open up the opportunity for you to have an RN to BSN program as well.
An accredited BSN program can be found at Rivier University in New Hampshire.
Please check it!
BSN Program Length in New Hampshire
Length is the only thing that varies among BSN programs in New Hampshire.
While it is a common practice that a traditional BSN program is a four-year degree.
While accelerated ones take 15 months to complete.
Not forgetting the bridge program of RN to BSN, which is 1-2 years long, always depending on the possibility of credit transfer from one course to the other.
BSN Program Admission Requirements in New Hampshire
When you apply to a BSN program, you need to know what documents to send.
Usually, BS programs have their own sets of requirements upon admission.
The following ones are the general ones:
Submit either an ATI TEAS score at the "Proficient" level or above or a revised SAT (taken as of March 2016) with a minimum score of 1080, with a minimum score of 500 in the Evidence-Based Reading and Writing component and the Math component
Overall GPA of 3.0 or greater
Submit a student essay
Tuition and Costs of BSN Programs in New Hampshire
Worth makes so many things expensive.
And so is the issue of a BSN degree cost.
Though its cost is a bit high, it is still understandable because of the work opportunities and the favorable income it offers.
The general cost of the program includes tuition, labs, mandatory fees, uniforms, equipment, and practice exams pay.
While financial aid and scholarships apply to you depending on the school, or qualification.
As always, I am not leaving without giving you an example of the cost.
It's the University of New Hampshire in Durham I want to tell you about.
Its entire BSN cost per semester is $7,205 for in-state residents.
Advantages of BSN Programs
Do you want to achieve more in nursing?
If yes, then choose a BSN program in New Hampshire.
It's the degree which rewards you with both career progress as well as work opportunities.
Some of the titles you may earn by the help of this degree are school nurse and medical-surgical nurse.
In addition, you will also earn more with a BSN degree, rather than without one.
The chances of earning this education are many.
You can either go with a traditional BSN program, an accelerated one or even a bridge program such as the RN to BSN one is.
MSN Programs in New Hampshire
An MSN degree will always take you higher in your career.
The same applies to an RN career as well.
With this degree, you may opt for nursing titles such as Certified Nurse Midwife, Nurse Practitioner, and Clinical Nurse Specialist.
The degree, of course, takes more dedication, mobility, and time in your career.
But it is worth it when your career job rewards you with a high salary in turn.
The MSN program in New Hampshire is available in 4 nursing schools already.
MSN Program Length in New Hampshire
An MSN program takes 1-2 years of study.
However, length always tricks us because of the school or the courses we choose to attend them.
Yet, the MSN programs in New Hampshire are flexible, and so are their schedule when it comes to mobilizing nurses with busy life and work.
On the other hand, part-time schedules, online classes, and night courses are also available in the state.
Anyway, that's something you should check prior to admission in the program, so that you may regulate your time around your studies well.
MSN Admission Requirements in New Hampshire
Some of the key requirements of MSN programs are professionalism and academic excellence.
Yet, they require secondary requirements as well, to be admitted:
Completion of an ADN, BSN, or diploma from an accredited nursing program and must hold a current, unencumbered RN license
Professional resume
Statement of professional goals and reasons for pursuing graduate study
All official transcripts from colleges or universities previously attended
Tuition and Costs of MSN Programs in New Hampshire
We all know a Masters Science of Nursing will cost us money.
But, luckily, we have many easies along the way.
These are financial aid and scholarships.
On the other hand, we have the general cost of a program which includes tuition and mandatory fees, as well as other related costs which cover room and board, transport and so on.
One way to cope with the cost however is to see a real one.
This time I wanted to let you know of Franklin Pierce University.
Located in New Hampshire it offers a tuition cost of $660 per credit hour.
If you register an MSN program here, additional fees will not be your responsibility.
For NP programs visit:
New Hampshire DNP Programs
New Hampshire FNP Programs
New Hampshire Nurse Practitioner Programs
New Hampshire Post-Graduate Certificate Nursing Programs
Getting a New Hampshire Nursing License
There are two ways to earn a Nursing License in New Hampshire.
You can either do it by exam.
Or through endorsement.
However you may want to achieve it, you need to pay some fees and send some documents along the way.
If you apply by exam, you should have prepared these documents:
Fingerprint/Background Check
Completed 'Declaration of Primary State of Residency'
Copy of your Driver's License
Official Transcripts mailed or electronically sent from the School of Nursing to the Board
Register for the NCLEX
If you apply by endorsement you should submit a completed application and attach the following:
Fingerprint/Background Check
Completed 'Declaration of Primary State of Residency'
Copy of your Driver's License
Verification of licensure from the original issuing state – NURSYS (if applicable)
If this information does not suffice you, you may contact the Office of Professional Licensure and Certification-NH Board of Nursing.
Accelerated Nursing Programs in New Hampshire
Due to the increase in nursing degree students, the need for a variety of nursing programs has increased as well.
This way, many colleges in New Hampshire have added two types of BSN and MSN programs.
A BSN can be completed in 12 to 18 months. While a BA to MSN degree may be attained in 24 months.
The two types of programs are accelerated ones.
Being admitted to these programs require some criteria.
If you don't fulfill them, you need to attend courses prior to the starting date of a program.
While costs depend on the course load.
However, it may be the case, contacting the school is necessary when it comes to admission in its program.
New Hampshire Accelerated BNS Programs
New Hampshire Accelerated MSN Programs
The Best RN Schools in New Hampshire
Here are the five top-rated schools in New Hampshire.
In them, you can get a BSN, ADN, or MSN degree.
| School Name | Address |
| --- | --- |
| Colby-Sawyer College | 541 Main St, New London, NH 03257 |
| St. Anselm College | 100 St Anselm Dr, Manchester, NH 03102 |
| University of New Hampshire | 4 Library Way, Durham, NH 03824 |
| Lakes Region Community College | 379 Belmont Rd, Laconia, NH 03246 |
| Manchester Community College | 1066 Front Street, Manchester, NH 03102 |
RN Salaries in New Hampshire
RN salaries in New Hampshire are great.
Though they change from minimum to a maximum, there is a constant average as well.
The salary as a registered nurse in this state depends on many factors.
To begin with, education.
The higher your education degree, the more you get paid.
Then come other secondary factors such as work experience, location, and skills.
Annual Salary Range: Annual Salary by Location:
| Location | Avg. Annual Salary |
| --- | --- |
| Manchester | $67,209 |
| Nashua | $68,991 |
| Concord | $65,682 |
| Derry | $68,026 |
| Rochester | $64,905 |
| Salem | $67,464 |
| Dover | $65,173 |
| Merrimack | $68,991 |
| Londonderry | $68,991 |
| Hudson | $68,991 |
RN Programs by State
---