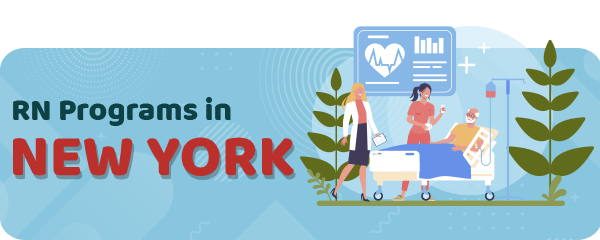 New York has long been known as 'The city that never sleeps''.
It means there is always a move and energy in its streets.
Along with this move, so are the opportunities for work and study.
One of the professions you can grow in easily in New York is definitely Nursing.
Being a vast area, nursing schools are also many, and they are spread all around it.
Yet, it is a challenge to find the right one if you're heading there without reasonable criteria.
But once you find it, the right school will appear in just a few evaluations.
Think about licensure.
Do the schools' you're checking on a daily basis offer it to you.
If yes, feel free to go for any of them.
But do you know how to measure these criteria?
All it takes is to check the NCLEX-RN graduate pass rates in RN programs in New York.
Basically, you should review BSN, ASN, MSN, and ADN programs there.
This time, I have taken care of New York.
From the 97 RN programs there, only 30 of them became an object of this analysis.
You see, it's not that difficult to make your own judge sometimes.
However, let's see how is Registered Nursing doing so far in New York.
Obviously, the city if about to become the top-rated state offering employment in the field.
Recently, the Center of Health Workforce released a report updated in 2018, saying that a huge number of jobs are available for new Registered nurses in the state.
These claims were actually done by the 80% of deans and directors who work in nursing programs there.
On the other hand, the Bureau of Labor Statistics in New York has listed the average salary for RNs to be $85,610.
As such, the RN profession becomes more than a career.
It is indeed a way of living a prosperous and good life.
RNs in York are experiencing this success in nursing with a single BSN degree in the field.
And the number of them is expected to grow still.
RN Bridge programs in New York also include:
RN to BSN Programs in New York
RN to MSN Programs in New York
ADN Programs in New York
The ADN degree in New York, just like in many US states is the ticket to nursing.
With a little of two years of study, it is a perfect choice for students who want to spend as little as time in the study and jump right away into the profession.
If you're looking for it, don't underestimate visiting technical and community colleges for it.
While you can count on 60 ADN programs in the entire state.
What to Look For in an ADN Program in New York
If you've been wondering, here are a few factors to consider when looking for a suitable ADN program in New York.
Accreditation
A reputational ADN program is always accredited.
That's guaranteed.
In New York, ADN programs may receive accreditation by means of endorsement from two organizations.
The first organization to contact for this matter is the Commission for Education in Nursing.
While the American Association of Colleges of Nursing's Commission on Collegiate Nursing Education will not let you bare either.
By all means, you can also check with the New York State Board of Nursing to recognize whether your ADN program is registered with it or not.
Licensing
The license is like a true lover.
If you have faith enough, it always waits for you in the end.
Similarly, after completing successfully the ADN program, you will have the next responsibility.
This is the NCLEX exam.
The program curriculum should previously prepare you for the exam.
But in order to make sure it does, you have to check it in detail when you apply.
According to some information, nearly $9,900 candidates entered and passed the NCLEX exam last year.
While 87.5% of new graduate nurses actually got the nursing license in the end.
That's a success, isn't it!
Program Outcomes
Once you go a certain way, you know how to go through it a second time.
Previous program outcomes show you how much worth a program is for you to choose.
Among the characteristics, you should consider in one are these:
Graduation student rates
Pass rates of the Licensure exam
Graduate student satisfaction
Employment rates
As for an accredited ADN program in New York, you can visit the Bronx Community College in the Bronx.
You could not have gone to a better place!
ADN Program Admission Requirements in New York
Admission requirements for ADN programs are never the same in all schools.
But you may go across the following more often:
• A minimum cumulative GPA of 2.70
• High score on the TEAS V Admission Exam
• Completion of pre-requisite courses with a C grade or higher previously
Tuition and Costs of ADN Programs in New York
Tuition is the most demanding payment of an ADN program in New York.
Other costs include transport, uniforms, books, and other fees.
In order to meet both of these ends, it is a must to check the program of the RN school first.
By all means, you can also consider the Erie Community College in Buffalo for an idea of the ADN cost which is $5,408.
This price does not cover additional fees.
Advantages of ADN Programs
First, an ADN program is best if you plan to spend less time in your studies.
Second, you have the chance to enter the workforce as soon as you finish the program.
Thirdly, they take less money and they are available in many community colleges around the state.
And finally, the variety of programs and schools makes it easier to access an ADN degree even if you live in the countryside of the state.
BSN Programs in New York
When you start your nursing career, so many doors open.
Along with that, you want to grow professionally as much as you can, and to be a role model in it in the meantime.
A Bachelor of Science in Nursing will serve this purpose a lot.
With 4 years of traditional studies, it will give you enough knowledge and experience in the field.
As far as this program is concerned, you may seek it as an accelerated one or as an RN to BSN path.
Both are available in New York in large universities.
The number of schools to be found is 55.
If not both, there you will find at least one of them.
What To Look For in a BSN Program in New York
Once you make up your mind to choose a specific BSN program in New York, by now, you will need to have considered everything about it.
Despite location, accreditation, and cost, you need to consider many other things in the long run.
For instance, you can ask if the school offers an Accelerated BSN program.
You can be eligible for it only if you have a BA degree in another subject first.
While you make also assure for an RN to BSN program as well.
An example of a school that offers a properly accredited BSN degree is the Saint Francis College in Brooklyn.
BSN Program Length in New York
Our time is the greatest asset we have.
So, we better spend it wisely.
A BSN program usually takes 4 years to complete.
At this time period, you will receive general education and many other courses related to nursing.
However, you will also have the chance to pursue a BSN  degree in even a shorter amount of time.
This opportunity comes by pursuing an accelerated BSN program in the state, which takes 15 months to finish.
Apart from that, you may also go for the RN to BSN option, which is a bit longer.
But surely it is shorter than a traditional one (with 2 years of study).
Let's be clear.
BSN Program Admission Requirements in New York
Check these admission requirements for your favorite BSN  program, and make sure you meet them:
Minimum cumulative GPA of 2.8 or higher
Prepare your application and the personal statement
Send 3 recommendation letters
Have Completed three pre-requisite science courses
Tuition and Costs of BSN Programs in New York
As a BSN student, your money will go into your studies.
That's something you expect.
Initially, your responsibility will be to pay for tuition.
This price includes transport, books.
While separate fees include room and board, uniforms, and necessary learning material.
One way to have an idea of the BSN cost is to check the College of New Rochelle.
This college requires $34,960 for the program on a yearly basis.
Advantages of BSN Programs
The perks of pursuing BSN programs in New York are several.
To begin with, BSN programs are the shortest way to an RN license.
Next, the program helps you achieve more work opportunities and also earn a higher salary.
Then, the possibility of going for both accelerated and RN to BSN programs makes the degree quite flexible.
In fact, it may inspire you to advance in career continually.
MSN Programs in New York
After a successful BSN degree, there comes a higher step to nursing.
It's the Master's of Science in Nursing.
This degree helps you attain additional specialty roles in nursing such as Certified Nurse Midwife, Clinical Nurse Specialist, and Nurse practitioner.
The list is even longer, but these are essential titles you may earn through it.
With an MSN basically, you will be able to earn more money.
While you may pursue these studies on more than 30 RN schools in the state.
MSN Program Length in New York
MSN programs in New York are both short and of high quality.
With two to three years you will be able to jump in the new nursing field and work.
However, the length of an MSN program depends mostly on the number of credits per course, and also depends on the type of the program of specialty.
But in general, the program is flexible, as it allows busy nurses to both work and study along the way.
They can do so by attending versatile online and night lessons.
MSN Admission Requirements in New York
From the main requirements, you need to meet in an MSN program are these:
Must have already earned a BSN
A minimum GPA of 3.0
Have your state Nursing License before beginning coursework
Have a full-time clinical experience as a Registered Nurse
Tuition and Costs of MSN Programs in New York
Since it is a short program, MSN studies do not make much money from you.
But whatever they take, it is worth it.
As other nursing programs, you will have to pay for tuition.
One is the tuition, which includes extra fees for labs, textbooks, and similar things.
Depending on the course length, this cost may vary.
However, in New York University you will generally pay $34,372.00 for twenty credits.
Some of the programs you can check in New York for an MSN degree are these:
New York DNP Programs
New York FNP Programs
New York Nurse Practitioner Programs
New York Post-Graduate Certificate Nursing Programs
Getting a New York Nursing License
There are a few requirements you need to meet, as long as you aspire for a nursing license.
The state offers two opportunities to do so.
One way is by exam, the other by endorsement.
If it is the first, you must meet these criteria and provide the following information:
Be of good moral character
Be at least 18 years of age
Graduated from a state-approved school of nursing – official transcripts sent to the board directly from the school
Disclosure of Social Security Number
Register for the NCLEX – obtain a passing score
While Licensure by endorsement  includes fulfilling the information mentioned above, and also attach:
Verification of licensure from originating state – via request or NURSES
Accelerated Nursing Programs in New York
Accelerated programs are the most sought after programs by the end of the nursing career.
They are short and versatile.
With a bit of 10 to 18 months' time, you can finish them and be the focus of many employers in New York.
These programs are offered both on-campus and full-time.
Full-time classes are heavier as they seek more courses and clinical hours to attend.
For this reason, they are less recommended.
Before going for an accelerated program, you need to attend prior to some courses.
The time to attend them is until the beginning of the program.
Courses may affect the tuition of the programs as well as in the program length.
That's why it is a must to check these issues before admission in one.
New York Accelerated BSN Programs
New York Accelerated MSN Programs
The Best RN Schools in New York
When you think of abundance, think of New York.
And think of RN schools there too.
There are 30 of them spread all around the state.
And guess what?
They are all top-rated ones.
| School Name | Address |
| --- | --- |
| Jefferson Community College | 1220 Coffeen Street, Watertown, NY 13601 |
| Pace University - New York | 163 William Street, 5th Floor, New York, NY 10038 |
| Clinton Community College | 136 Clinton Point Dr, Plattsburgh, NY 12901 |
| Cayuga Community College | 197 Franklin St, Auburn, NY 13021 |
| Stony Brook University | 101 Nicolls Road, Stony Brook, NY 11794 |
| St. Peter's Hospital College of Nursing | 714 New Scotland Ave. Room 111, Albany, NY 12208 |
| Farmingdale State College | 2350 Broadhollow Rd, Farmingdale, NY 11735 |
| Hudson Valley Community College | 80 Vandenburgh Ave, Troy, NY 12180 |
| Westchester Community College | 75 Grasslands Rd, Valhalla, NY 10595 |
| University at Buffalo | 3435 Main St, Wende Hall, Buffalo, NY 14214 |
| Onondaga Community College | 4585 W Seneca Turnpike, Syracuse, NY 13215 |
| SUNY Erie Community College - City Campus | 121 Ellicott St, Buffalo, NY 14203 |
| Rockland Community College | 145 College Rd, Suffern, NY 10901 |
| LaGuardia Community College | 31-10 Thomson Ave, Long Island City, NY 11101 |
| Samaritan Hospital School of Nursing | 1300 Massachusetts Ave, Troy, NY 12180 |
| St. John Fisher College | 3690 East Ave, Rochester, NY 14618 |
| SUNY Erie Community College - North Campus | 6205 Main St, Williamsville, NY 14221 |
| Queensborough Community College | 222-05 56th Ave, Bayside, NY 11364 |
| Bill and Sandra Pomeroy College of Nursing at Crouse Hospital | 765 Irving Ave, Syracuse, NY 13210 |
| University of Rochester | 601 Elmwood Avenue, Rochester, NY 14642 |
| SUNY Downstate Health Sciences University | 450 Clarkson Avenue, Brooklyn, NY 11203 |
| Maria College | 700 New Scotland Ave, Albany, NY 12208 |
| Pace University - Westchester Campus | 861 Bedford Road, Lienhard Hall, Room 28, Pleasantville, NY 10570 (914) 773-3552 |
| Dutchess Community College | 53 Pendell Rd, Poughkeepsie, NY 12601 |
| Monroe Community College | 1000 E Henrietta Rd, Rochester, NY 14623 |
| New York City College of Technology - City Tech | 300 Jay St, Brooklyn, NY 11201 |
| St. Joseph's College New York - Long Island | 155 W Roe Blvd, Patchogue, NY 11772 |
| Nazareth College | 4245 East Ave, Rochester, NY 14618 |
| St. Elizabeth College of Nursing | 2215 Genesee St, Utica, NY 13501 |
| Fulton-Montgomery Community College | 2805 State Highway 67, Johnstown, NY 12095 |
RN Salaries in New York
Where can the salary be higher if not in New York?
Nowhere.
If you come here for nursing, the salary will be as presented below in three perspectives.
Annual Salary Range: Annual Salary by Location:
| Location | Avg. Annual Salary |
| --- | --- |
| New York | $77,011 |
| Buffalo | $60,865 |
| Rochester | $62,741 |
| Yonkers | $73,362 |
| Syracuse | $62,732 |
| Albany | $64,683 |
| New Rochelle | $72,909 |
| Mount Vernon | $73,330 |
| Schenectady | $64,430 |
| Utica | $60,947 |
RN Programs by State
---