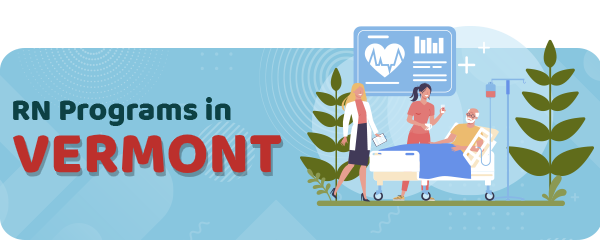 Known as the forests' state, there is no doubt it has a link to healthcare too.
In fact, the nature we live in has a crucial role in developing good healthcare for the population in general.
But apart from fresh air, green valleys what else grows in this state?
Definitely Registered Nursing Industry.
This industry has experienced huge growth in Vermont lately.
Furthermore, the state foresees 225 new job opening in a year.
Add to it the $69,160 average annual salary and you're the next prospective candidate in any of the state's RN schools.
And know that Vermont has all types of Associate Degrees in Nursing.
Starting from an ADN, BSN, or MSN degree.
RN bridge programs in Vermont are available as well.
They include:
RN to BSN Programs in Vermont
RN to MSN Programs in Vermont
ADN Programs in Vermont
Often times, you want things fast.
But not everything can be acquired the same.
However, to your advantage, an ADN degree can.
It basically takes only two years to complete this degree in Vermont.
Found in the most common areas such as where technical colleges are built-in, the degree is quite popular and accessible.
In the state, you have only one ADN program.
But the good news is that the college where you can attend it has over 5 satellite locations in the entire state.
What to Look For in an ADN Program in Vermont
First and foremost, it's the nursing license that you have to make sure the ADN program offers.
After that, you need to also check for cost, accreditation, and program outcomes.
These factors apply to both programs and schools.
Don't forget that!
Accreditation
You have heard so much about accreditation in the previous articles.
And you will still do.
The reason why it is so important in an RN program is huge.
It ensures legitimacy and reputation to it too.
As you can see, accreditation does not happen without a body.
In Vermont, two accrediting bodies function regularly when it comes to RN programs.
The first one is the Accreditation Commission for Education in Nursing.
While the second is the American Association of Colleges of Nursing's Commission on Collegiate Nursing Education.
The third option you have is to get in touch with the Vermont State Board of Nursing.
This board will take care of the local accreditation of the program.
Licensing
Nursing licensure does not come so easily.
You need to go through an exam to secure it.
This exam is the NCLEX exam.
Program Outcomes
Whenever you begin something, you want to know how it will end.
A nursing program outcome is for sure determinant upon a school's long-lasting reputation.
Let me show you some of the key indications of ADN programs' reputation in Vermont:
Graduation rate
Licensure exam pass rate
Graduate satisfaction
Employment rate
Having in mind these indications, you will start searching for a school that meets them.
And to be honest, I would not be surprised if I find you visiting the Vermont Technical College.
The college has accredited ADN programs in some areas.
Basically, you should go to Bennington, Randolph Center, Springfield, Newport, Brattleboro, Lyndon, Saint Albans, White River Junction, and Williston.
ADN Program Admission Requirements in Vermont
One the way to finding a good ADN program there are some requirements you need to meet cost what it may.
An ADN program will mainly ask you to do the same.
In particular, there are some set of requirements needed to meet at Vermont Technical College.
Check them in:
Sending the official transcripts from high school and/or all the attended colleges is a must
SAT I or ACT results
The least Accuplacer scores
Send your Personal essay
Send two letters of recommendation, signed
Tuition and Costs of ADN Programs in Vermont
As in other states, in Vermont also an ADN program has two types of costs.
One the one hand you have the tuition cost.
And on the other, there are the mandatory fees.
The latter usually include insurance, uniforms, and textbooks and they are not always part of the general tuition.
However, if you go to the Vermont Technical College, you will find a $16,994 tuition cost for students who live on the campus.
While $26,982 for students who live out of it.
Advantages of ADN Programs
One characteristic of ADN programs is that they are quick.
If you are one of those people who rush at things, I am sure this program would be ideal for you.
As a result of the program shortage, there is less payment for education as well.
So you win twice.
And also, an ADN program is a good chance for you to enter Registered Nursing.
BSN Programs in Vermont
If you want to know the way to earn more and become a better nurse, try a Bachelor's of Science in Nursing.
With a BSN you are eligible to become two types of nurses.
You can either become a public health nurse, or else a Nurse Educator.
However, a BSN can be obtained in many forms.
One of them is through a traditional BSN degree.
The other is through an RN to BSN program.
Not all schools in Vermont offer the same BSN program.
Some offer a BSN program.
While many others offer an RN to BSN one.
What To Look For in a BSN Program in Vermont
The characteristics of a BSN program to be sought for are the same as those of an ADN.
It's the cost, program outcomes, and accreditation.
These features make the program worthy of pursuing.
The other thing to have in mind is to be determined about the program.
Therefore, you need to check the school early on if it offers the program you want in the beginning.
One school to check for an accredited program in Vermont is the Castleton University in Castleton.
BSN Program Length in Vermont
Once you commit to a BSN degree in Vermont, you have to be prepared about the program length.
The traditional route of the BSN is determined to take 4 years.
The other path, that of the RN to BSN takes 2 years.
While the accelerated BSN programs take only a few months to complete.
BSN Program Admission Requirements in Vermont
When searching for the right school to attend a BSN program, you will have to go through some tests.
These tests are in fact the requirements that you need to meet in one.
Depending on the school, they mainly include these:
At least a GPA of 3.0 from high school
A Minimum of SAT scores of 500, both in critical reading and math (ACT of 21).
Send the approval of your Nursing Faculty
Tuition and Costs of BSN Programs in Vermont
The cost of a nursing program oftentimes makes us second-guess our choice.
A BSN program won't.
Simply because it is affordable.
This cost is usually divided into two parts.
One is tuition.
The other is the mandatory fees like room and board, books, and uniforms.
However, you can always get a real idea of it in a school in a school in Vermont.
Check for instance Southern Vermont with $34,500.
Advantages of BSN Programs
More job opportunities and better pay are two of the main benefits you will reap from a BSN degree.
While career advancement is easy with pursuing this degree as well.
MSN Programs in Vermont
A BSN degree is great, but you can go higher than that in Nursing.
This elevation in nursing education is possible through a Master's of Science in Nursing.
Basically, you can choose to pursue different nursing specialties.
To begin with, you can become a Certified Nurse Midwife.
Secondly, a Nurse Practitioner path would not be bad either.
While a Clinical Nurse Specialist is an option as well.
With all this in mind, you need also to be aware that a BSN is necessary to go for an MSN specialty.
MSN Program Length in Vermont
Doing your MSN in Vermont will not take you more than 3 years.
Having the chance to choose among night or online classes, the program cannot be more flexible.
However, the schedule is something you can regulate prior to admission.
From it depends on the entire program length as well.
So, you should pay attention to both.
MSN Admission Requirements in Vermont
In order to make it simple, there are some clear set of admission requirements when it comes to an MSN program in the state.
The major ones include:
A BSN Degree in Nursing or an ADN
A Bachelor's degree in another subject
An active Nursing license in Vermont
Graduate Record Examination (GRE)
GPA score in college 3.0 or better
Attach 3 letters of recommendation
An essay explaining the reason for choosing a Nursing career
Tuition and Costs of MSN Programs in Vermont
They say Money makes the world go round.
And honestly, sometimes it is so.
The money will help you pursue an MSN program and finish it in less than three years.
Of course, payment for the program is made of two parts.
The main cost is tuition.
However, different colleges have different tuition for their programs.
Some include more than tuition, such as books and extra pay.
While others do not.
In Vermont, Northfield, you can check the Norwich University.
Its semester cost is $7,620.
While technology fees are $575 and resource fee goes around $650.
NP Programs are also present in Vermont.
You can always check the following:
Vermont DNP Programs
Vermont FNP Programs
Vermont Nurse Practitioner Programs
Vermont Post-Graduate Certificate Nursing Programs
Getting a Vermont Nursing License
Nursing Licensure in Vermont comes last, just like a cherry upon the cake.
Having the chance to earn it two ways, by licensure and by endorsement, you will definitely go for it.
If you apply for it by exam, application, fees, and further documentation are needed, such as:
Passport picture dimension 2″ x 2″ – signed and dated
Verification of your education
Criminal Background Check
Proof of Registration for the NCLEX – passing score after completion
If you apply for licensure by endorsement you will need all of the above documents as well as attach the following:
Verification of original licensure – via NURSYS (if applicable)
Meet practice requirements
In case you have more questions related to licensure, you can get in touch with the Vermont Office of Professional Regulation.
Accelerated Nursing Programs in Vermont
All Nursing programs in Vermont come in the form of the accelerated ones.
Whether be it an ADN, a BSN or MSN degree, you can go for each one you like.
A characteristic of this program is that it is offered full-time.
While their length varies at 24 to 36 months at most, of course, they also require some tuition, but if you cannot afford it, financial assistance may be offered to you.
The cost shifts in accordance with the courses needed to be taken prior to the program.
Otherwise, an Accelerated RN program is a good way to fast track your nursing career.
This way you fast your entire life and work opportunities.
Vermont Accelerated BSN Programs
Vermont Accelerated MSN Programs
The Best RN Schools in Vermont
I think we've agreed early on about Quality over quantity, haven't we?
In case we haven't, let's do it now.
Because you have only  5 RN schools to consider in the state.
But the good news is that they all offer a variety of programs you're looking for.
| School Name | Address |
| --- | --- |
| Norwich University College of Graduate & Continuing Studies | 158 Harmon Drive, Northfield, VT 05663 |
| Norwich University School of Nursing | 158 Harmon Drive, Northfield, VT 05663 |
| Southern Vermont College | 982 Mansion Dr., Bennington, VT 05201 |
| University of Vermont | Department of Nursing, Burlington, VT 05405 |
| Vermont Technical College | 124 Admin Drive, Randolph Center, VT 05061 |
RN Salaries in Vermont
Check below the three forms of salaries in RN schools in Vermont.
Annual Salary Range: Annual Salary by Location:
| Location | Avg. Annual Salary |
| --- | --- |
| Burlington | $62,787 |
| Essex | $62,787 |
| Rutland | $63,351 |
| Colchester | $62,787 |
| South Burlington | $62,787 |
| Bennington | $64,506 |
| Brattleboro | $64,636 |
| Hartford | $65,357 |
| Milton | $62,748 |
| Barre | $62,213 |
RN Programs by State
---