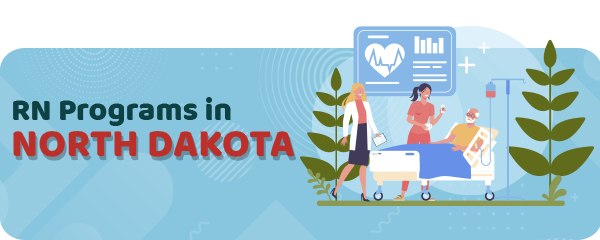 If you're looking for ways to make your nursing dream come true, keep trying.
And keep seeking.
As you seek, you will find that North Dakota is one of the right addresses to go for a successful nursing career.
Though it seems like an old and surrounded by landscapes, its urban areas offer nursing schools to students who are interested in them.
Yet, in North Dakota, just like in other US states, you will find it hard to get to the right school.
Usually, the right school depends on what you want to pursue in terms of the program.
However, there is a bigger criterion you need to consider as well.
This criterion is the opportunity of earning licensure by the end of the studies.
And you can't find that out without an effort.
This effort is translated into the analysis of the NCLEX-RN exam passing rates.
This time, I am doing this for you.
But know that whichever state you seek registered nursing, you will have to do the same.
For this analysis, I have selected 5 top-ranked nursing schools, out of a total of 11 RN programs in North Dakota.
The programs I have listed all are a means of earning an Associate Degree in the field.
These programs include ADN, BSN, ASN, or MSN degree programs.
And I believe you're familiar with all of them so far.
Now, excellence is what we always strive for.
When it comes to registered nursing, the state has the same aim too.
In particular, North Dakota's aim is to enhance patient-based systems that operate in its area.
In addition to that, job opportunities are also expected to increase by 20%.
Though this increase does not come alone, a nursing degree may easily be the ticket towards it.
One way to see this career is worthwhile in the state is one view of the average salary for Registered nurses.
According to the Bureau of Labor Statistics, an average of 65,740 is current and a rewarding sum to receive.
For other RN bridge programs in North Dakota you can visit:
RN to BSN Programs in North Dakota
RN to MSN Programs in North Dakota
ADN Programs in North Dakota
When choosing an RN school, you also have to make the program choice.
In fact, the program determines the school in the first place.
An Associate Degree in Nursing is a good way to start your career.
Being able to complete it in two years, there is no doubt it is one of the most popular degrees in North Dakota.
The right places to attend this program are technical and community colleges.
While the number of schools offering accredited ADN programs are five.
What to Look For in an ADN Program in North Dakota
Some of the key features of ADN programs in North Dakota are Accreditation, licensing, and program outcomes.
Check them below closely.
Accreditation
Accreditation is a minimum standard each nursing school should have.
In North Dakota, this characteristic is achieved by the help of two accrediting organizations.
You may either choose the Accreditation Commission for Education in Nursing (AECN).
Or else, the American Association of Colleges of Nursing's Commission on Collegiate Nursing Education (CCNE).
Both offer national accreditation, so your program is safe with them.
One way to make sure your nursing program is of a high standard and state-recognized is to check it with the North Dakota Board of Nursing.
Licensing
It comes second, but it is crucial to the entire nursing education.
The best news you will ever get in the nursing education will be the time you get the license.
This step comes right after completing the ADN program and passing the NCLEX exam.
Of course, the program should be a bridge to the exam in terms of preparation.
To do so in the beginning, you can take a look at the curriculum of the school, contact the faculty and this way see if the program offers stimulating passing rates of the exam.
This practice is present in North Dakota.
You can learn from the American Association of Colleges of Nursing's report.
It claims that 501 students were first-time takers of the exam in 2015.
While 93.9% of the new nurses who graduated actually got the license.
Program Outcomes
Program outcomes are a good way to stimulate students to apply to schools if they are good.
Usually, they portray their successes, which in essence should never be lacking.
So, schools usually offer information related to these areas of study:
Graduated students' rates
Licensure examination passing rates
Graduate student satisfaction
Employment rate
One place to find a properly accredited ADN program is the Bismarck State College.
ADN Program Admission Requirements in North Dakota
When applying to an ADN program in North Dakota, you need to meet a few requirements first.
These requirements include:
At least a  2.75 of GPA
Have proof of current CPR training for healthcare providers
Having completed a candidate interview
Completing successfully a pre-admission exam
Sounds simple, right?
No time to lose.
Let's move further with the tuition.
Tuition and Costs of ADN Programs in North Dakota
Whenever you need to make a payment about an issue, you get a bit moved.
You wonder how will you make ends meet!
For this reason, I recommend you to prepare for the ADN costs previously.
While you have to cover both tuition and additional fees.
The latter will usually require you to pay uniforms, textbooks, lab fees, and so on.
These fees can be both parts of the cost, or else, remain separate.
This way you will think clear about both.
And even make the payments due.
One way to have an idea of both tuition and fees in an ADN program is the Dakota College at Bottineau.
Its cost may move from $9,132.50 to $12,045.50.
Advantages of ADN Programs
The first best thing about an ADN program in North Dakota is its short length.
The rest of the advantages then come like rays of the sun.
They include affordable cost, easily accessible such as in junior colleges and other nursing facilities.
Also, ADN programs can be the start of a long nursing career.
LPN to RN Programs in North Dakota
LPN to RN programs in the state are best for career growth.
In fact, one sure way to become an RN is through this very program.
The programs are shorter than the usual RN ones.
And they are also more efficient since the candidate has already obtained the LPN skills.
Optional programs from it may be RN to BSN path or RN to ADN path.
LPN to ADN/BSN Programs
An RN degree in North Dakota comes in many ways.
One way is also the LPN to ADN or LPN to BSN path.
The program is a quick way to earn the Associate Degree in Nursing in only two years.
You can find this program most of the time under the series of 1+1 programs of Dakota Nursing.
On the other hand, you may also take the chance to go for the LPN to BSN program.
In the state, this program takes 6 semesters to complete.
LPN to RN programs in ND, in general, have these entrance requirements:
Graduate of a state board approved LPN program
Have a current, active License in Practical Nursing
A minimum overall GPA of  2.5 or higher than that
Having Completed prerequisite courses
BSN Programs in North Dakota
Unlike the ADN degree, a BSN one is 4 years long.
However, its length comes with benefits since it helps you achieve various jobs in nursing, as well as earn a higher income.
If you ask me about the places you can find this program, I will lead you to urban areas and large universities of the state.
While the versatility of this program is proved in its offering of an accelerated one.
The latter is offered to students who have a BA degree in another field.
The other option in regards to the BSN program is the RN to BSN.
This path is for candidates who have an ADN in the first place.
If you still haven't changed your mind about this program, keep looking for it in 8 schools around the state.
What To Look For in a BSN Program in North Dakota
Some of the key features you have to look for in a BSN program are already known.
As mentioned earlier, accreditation, cost, and location are the key to a flexible nursing program.
Another way to make sure you choose a good BSN program in North Dakota is to check its history and for how much time it has been taught in a school.
Usually, long history assures you of a quality program that has actually stood the test of time.
One of these programs is the University of Jamestown.
BSN Program Length in North Dakota
Have you been used with a four-year degree?
If not, you will if you pursue a BSN degree in North Dakota.
Or else, you may opt for the accelerated BSN program as well.
The latter will take 15 months' time to finish.
However, you can pursue this type of program only if you have earned a BA degree in another subject first.
On the other hand, the RN to BSN program is available if you have an RN in the first place.
This type of program takes to years' time.
But as always, the length is a matter of specialty you choose to advance in.
BSN Program Admission Requirements in North Dakota
BSN admission requirements vary from school to school.
Yet, the following ones are generally asked from you to meet in you apply in any of them:
Minimum high school GPA of 3.4 or higher
ACT composite score of 25 or SAT score of 1200
Personal essay
Tuition and Costs of BSN Programs in North Dakota
The cost of a BSN program is made of the main cost of tuition and other obligatory fees.
Among others, you will have to pay for lab fees, transport, books, room, and board.
The best way to meet all this pay is to check the costs previously and to calculate your expenses.
One role model university of the BSN program cost is the Minot State University in North Dakota.
Its total cost is $12,450.
Advantages of BSN Programs
Since it's a versatile program, a BSN degree will help you both make progress in nursing as well as pursue a 4-year traditional education.
Another benefit is the accelerated BSN program which helps you make a higher career move.
In this case, you have the RN to BSN option.
The other general benefits of a BSN program is a higher income, always depending on the job type.
MSN Programs in North Dakota
Last but not least, it's the Master of Science in Nursing.
Through this educational step, you can become many people in nursing.
I mean, you can exercise many nursing roles.
Amid them, it's the Nurse Practitioner, Clinical Nurse Specialist, and Certified Nurse Midwife.
All these nursing specialties require an added amount of trust while they reward you with a higher salary.
An MSN program in North Dakota is offered in nearly 3 schools.
MSN Program Length in North Dakota
You've been told a lot about nursing, their length, and stuff.
Yet length has become a myth.
But don't worry.
An MSN degree will last at most two or three years.
However, length depends on the schedule of the specialty.
And it's not that the schedules are tough.
They aren't.
You can have online and night courses daily.
If you want to know more about the schedule, you can get in touch with the school and it's all well.
It's a good idea to check with any prospective school to see what kind of course schedules they offer.
MSN Admission Requirements in North Dakota
The following requirements are the common ones asked from you once you apply to an MSN program:
A BSN from an accredited school
Completion of a statistics course
Minimum GPA of 3.0 for the last 2 years of baccalaureate study
Current RN license and one year experience as an RN
Tuition and Costs of MSN Programs in North Dakota
There are many things that affect MSN program costs.
Different specialties have usually had different tuition and fees.
This cost generally includes payment for labs, textbooks, and similar payment.
An idea of these payments for the MSN program is the University of North Dakota in Grand Forks.
Its entire cost is $402.67.
For NP programs in the state you can check these:
North Dakota DNP Programs
North Dakota FNP Programs
North Dakota Nurse Practitioner Programs
North Dakota Post-Graduate Certificate Nursing Programs
Getting a North Dakota Nursing License
In North Dakota, applying for a Nursing Licensure isn't a big deal.
You can do it both ways.
Either by means of an exam.
Or by endorsement.
When applying by means of an exam, you must complete the application and include this information:
Official transcripts – sent directly from the school to the state board
Register to take the NCLEX Exam
Criminal Background Check – as well as fingerprints
Whereas, when applying by endorsement, you have to send these:
Send the completed Application with its fees
Send the official transcripts -those sent from the school to the Board of North Dakota
Send verification of the original license
Submit criminal Background Check – along with fingerprints
Accelerated Nursing Programs in North Dakota
The last chance to advance your nursing career is through an accelerated program.
Being relatively short, it keeps you in track with both your life and work and studies.
Its usual length is twelve to eighteen months of study.
This is a program many employers are in search of.
The most important requirements of it are prerequisite courses before the program and have a BA degree.
You may thing requirements will drag you by in your career, but they won't.
You will complete all things in due time.
As they say: ''The best things come to those who wait''.
Check the types of accelerated programs in the state below:
North Dakota Accelerated BSN Programs
North Dakota Accelerated MSN Programs
The Best RN Schools in North Dakota
If you want to know more about nursing schools in the state, don't look far.
Check this section of the article.
Here you have the five top-rated RN schools in North Dakota.
And remember, you're choosing among the best ones.
Your choice will definitely be right!
| School Name | Address |
| --- | --- |
| Bismarck State College | 1500 Edwards Ave, Bismarck, ND 58506 |
| North Dakota State College of Science | 800 6th St N, Wahpeton, ND 58076 |
| Dickinson State University | 291 Campus Dr, Dickinson, ND 58601 |
| Minot State University | 500 University Ave W, Minot, ND 58707 |
| University of North Dakota | 430 Oxford St, Grand Forks, ND 58202 |
RN Salaries in North Dakota
I told you a lot about nursing, and the salary is important too.
Because working means also earning.
ANd earning helps you make a living.
Since all things connect, you should try to make the connection strong.
This way, a good salary will come with effort in your education, skills, and work experience.
All else is secondary.
Annual Salary Range: Annual Salary by Location:
| Location | Avg. Annual Salary |
| --- | --- |
| Fargo | $59,712 |
| Bismarck | $59,324 |
| Grand Forks | $55,588 |
| Minot | $58,369 |
| Mandan | $59,324 |
| Dickinson | $58,369 |
| Jamestown | $58,563 |
| West Fargo | $59,712 |
| Williston | $58,369 |
| Wahpeton | $58,562 |
Regional Salary in North Dakota
| Region | Employed | Avg. Annual Salary | Avg. Hourly Pay | Top 10% Annual Salary | Bottom 10% Annual Salary |
| --- | --- | --- | --- | --- | --- |
| Bismarck, ND | 2,680 | $72,770 | $34.99 | $83,120 | $61,550 |
| Fargo, ND-MN | 4,870 | $76,130 | $36.6 | $93,120 | $62,260 |
| Grand Forks, ND-MN | 1,350 | $72,400 | $34.81 | $82,300 | $60,130 |
* Salary information based on the May 2022 Occupational Employment Statistics (OES) Survey for Registered Nurses, OCC Code 29-1141, BLS.
* Employment conditions in your area may vary.
RN Programs by State
---