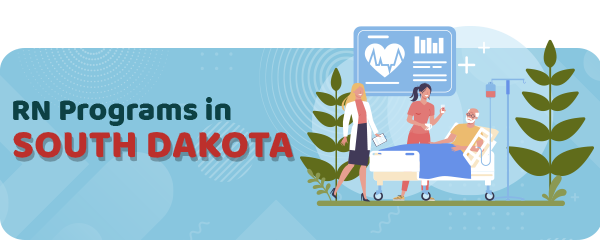 They say: "Comparison is the thief of joy".
But they forget that sometimes comparison is necessary.
How many times you're stuck with a decision, only because you don't see another way.
Having seen Registered Nursing opportunities all around America, it became a matter of interest to me.
So, I wanted to explore it further.
Basically, I wanted to write an article that would help each and everyone to find the right RN program with only a few readings.
However, knowing it to be a challenge, I was also sure it would be worth it.
So I know we've passed along 40 or more America's states and all of them seem to be the right place for you to go for this career.
Bit by bit, we came to South Dakota as well- home to badlands.
And home to Registered Nursing too.
However, we're most interested in the latter.
In particular, I wanted to know more about the RN schools there.
So I managed to not let a minute pass me by without doing a good research on the matter.
First and foremost, you need to know what kind of school you want to pursue this career in.
Knowing how important is licensure, you would not like to go for a school that does not offer you one.
The best way to find such a school is to check its NCLEX-RN exam passing rates.
And that's what I did.
In these schools, I tried to pay attention to the present and historical pass rates were best shown in a percentage.
Among the 11 RN programs I checked, only five of them were qualified to enter the top-rated.
And the latter has been attached as well by the end of this article.
All of them culminate in an Associate Degree in Nursing.
While the degrees offered are various. Amid them, you will find an ASN, BSN, ADN, or MSN degree.
As you can see the variety of programs is to be admired in South Dakota.
But this variety has its source in the entire health care system that prevails all around the state.
Its focus on higher learning has created the conditions for much quality patient care as well.
As a result, job opportunities also seem to grow as we approach the upcoming five years.
This growth is foreseen to be around 13%, which means 300 job positions in a year.
The Bureau of Labor Statistics has so far predicted a $58,340 average salary for RNs in the state.
So the future seems to be nothing but brighter and brighter each day!
Especially when you have a variety of programs in your list, such as:
RN to BSN Programs in South Dakota
RN to MSN Programs in South Dakota
ADN Programs in South Dakota
Some people want things the easy way.
But that is possible only a few times in life.
However, if you're looking for an easy and short nursing career path, I would not blame you if you choose an Associate's Degree in Nursing.
With only two years of study, it is an ideal education for students who want to finish their studies as early as possible.
The programs are most frequently found in technical and junior colleges around the state.
They are also much cheaper than the 4-year degrees in SD, so you're not choosing wrong.
Also, the number of ADN programs is not so huge.
So, your school choice might be even easier than you have imagined.
You have only five top-rated schools so far available there.
What to Look For in an ADN Program in South Dakota
When considering any potential ADN program, don't forget the following criteria.
Accreditation
If you think accreditation isn't crucial to a quality school, try one without it.
You will learn very little from it.
Luckily, in South Dakota, this procedure is completed by two organizations.
One of them is the Accreditation Commission for Education in Nursing.
And second, the American Association of Colleges of Nursing's Commission on Collegiate Nursing Education.
In the meantime, you might like to have your school approved too.
This action will be taken from the South Dakota Board of Nursing.
Licensing
Nursing licensure is the major step in your entire nursing career.
The path towards it starts early in the ADN program.
It continues with the NCLEX exam.
And ends with the passing of it successfully.
The licensure is released from the South Dakota Board of Nursing.
The history of exam passes is long.
In 2015, 86% of new nurses who graduated from nursing programs took the exam and got the license thereafter.
This information comes from the American Association of Colleges of Nursing.
Program Outcomes
The best way to find the right nursing school is to compare it with others and what they all offer to you when it comes to education.
Some of the key elements they need to make public and convince you with the results in are these:
Graduation Rate
Licensure Exam Pass Rate
Graduate Satisfaction
Employment Rate
One of the schools in SD offering an accredited program is the Oglala Lakota College in Pine Ridge.
ADN Program Admission Requirements in South Dakota
The main program admission requirements in the state are these:
Proof of Completed ATI-TEAS entrance exam
Submit the document that you have completed high school and college transcripts
Submit the completed application and pay the application fees
Tuition and Costs of ADN Programs in South Dakota
Holidays are not the only time of the year to calculate money.
You have the ADN program costs as well.
Usually, there are two types of costs you need to consider.
One of the tuition and additional pay such as uniforms, textbooks, and so on.
The second cost is the miscellaneous fees.
These are oftentimes not included in the cost at all.
However, when it comes to tuition, you need a referential point to prepare yours.
Take a look at the University of South Dakota.
Its ADN program credit hour goes nearly to $238.50.
Advantages of ADN Programs
Are you looking for an affordable and short nursing career?
Me too!
Let's take the ADN path.
Since it can be found easily and is also cheap, we have nothing to regret choosing it.
LPN to RN Programs in South Dakota
Registered Nursing has various career paths.
An LPN to RN is one of them.
The beauty of this path is that it is not long and expensive either.
What else do you want?
LPN to ADN/BSN Programs
There are two LPN to RN programs popular in South Dakota.
In case you haven't heard about them, I will let you know.
The first one you can consider is the LPN to ADN program.
This one is short.
You can complete it in only two years.
The university that offers it is the Southeast Technical Institute in Sioux Falls.
This program is of high quality, with 42 credits to finish it.
The second option you can go for in this type of nursing program is the LPN to BSN path.
This one takes longer than the first.
It is available in Aberdeen's Presentation College.
The program can be attended online, which is another advantage of it for nurses who work at the same time.
BSN Programs in South Dakota
Our lives are a mixture of modern and traditional.
Too often we choose the first on account of the second.
However, people differ in their choices.
If you happen to be one of those who cling to a traditional way of learning, there is nothing wrong with that.
You can go for a Bachelor's of Science in Nursing in South Dakota.
After you complete it, the studies will reward you with more job opportunities, and also higher pay.
One of the paths to BSN is the RN to BSN transition, which is available in the state as well.
In fact, all types of BSN programs are.
You can choose from a traditional BSN, an RN to BSN, or an accelerated BSN program.
The choice is in your hands.
The opportunity in the state.
What To Look For in a BSN Program in South Dakota
Choosing a BSN program in South Dakota that works out for you is like going shopping.
You have to choose the things that you need.
So figuratively, some of the ingredients you need to make part of your BSN education are crucial.
These ingredients are a variety of programs, location, cost, and accreditation.
You have to check all, and see which one is your priority.
Since some schools offer the three, it's okay.
But some don't so, you need to be careful not to be surprised when you start the program.
So far, one of the schools that offers the three of the programs, that is the traditional BSN, the RN to BSN transition.
While an accelerated BSN is offered at the University of Sioux Falls.
BSN Program Length in South Dakota
Different BSN programs come with various lengths.
The traditional one does not surprise you ever.
Always a four-year type of degree no matter where you go to study it.
Then come the RN to BSN path which a rather shorter one, with mostly 2 years length.
While the accelerated one ends in as little as 15 months' time.
Sounds cool, right?
Which one are you up for?
BSN Program Admission Requirements in South Dakota
Some of the most important criteria you need to check out in a BSN program in the state are only four.
Not much, right.
Here they are:
At least a 2.75 cumulative GPA
Required ACT score of 20 (22 is preferable to score)
Three Reference Letters
Write and send A Personal Essay
Tuition and Costs of BSN Programs in South Dakota
When it comes to the program cost, you will have to divide your mind into two.
I am joking.
You will have to separate the costs in two.
One is payment for tuition.
The other is the extra cost such as payment for uniforms, mandatory things, lab fees, and textbooks.
For whatever questions, the financial aid department of each school is the right address to go.
One of the colleges that offers a good price of tuition and which you can refer to have an idea of it is the Presentation College in Aberdeen.
Its total tuition is $18,710 in a year.
This pay is attached to the nursing program fee of $130 per credit.
Advantages of BSN Programs
A BSN degree is good for the good with which it comes.
The possibility to choose one of the many nursing specialties is one thing.
Second, the program brings about a good income.
And thirdly, it helps you experience the 4-year traditional schooling, which is still a favorite education to many.
MSN Programs in South Dakota
The MSN degree opens up the way to other nursing specialties.
From them, you may become a Certified Nurse Midwife, Nurse Practitioner, or a Clinical Nurse Specialist.
Different specialties like these are offered in three schools in South Dakota.
MSN Program Length in South Dakota
The average length of MSN programs in the US is the same in South Dakota as well.
The length works best for nurses who are busy at work.
This way programs are given in either online, night, or other class schedules.
So you might definitely find the right time to pursue this degree there, no matter how busy you are.
MSN Admission Requirements in South Dakota
Knowing what are the requirements of MSN schools is the first step to try and meet them.
Here are the usual ones in SD MSN schools:
Bachelor Degree in nursing from an NLN or CCNE accredited institution
A 3.0 cumulative GPA
Having an RN Licensure with a minimum of one year of professional experience in the field
Three recommendations
An Interview with faculty
Tuition and Costs of MSN Programs in South Dakota
In South Dakota, MAN price depends on the type of specialty you choose to study in.
Yet, not all schools require you to pay extra fees along with tuition.
To get an idea of the cost, check the Dakota's Mount Mary College.
Its tuition per credit hour is $545.
While support fees are $45 per credit hour.
And the semester goes around $75.
As for NP programs, the following are basic ones in South Dakota:
South Dakota DNP Programs
South Dakota FNP Programs
South Dakota Nurse Practitioner Programs
South Dakota Post-Graduate Certificate Nursing Programs
Getting a South Dakota Nursing License
The end of nursing education is licensure.
In South Dakota, you can earn licensure in two ways.
If you apply by an exam, the procedure demands you to apply and send documents like these:
Good results of Criminal Background Check – done with fingerprint cards
'Nursing Certification' – taken from the nursing program or official transcripts
Register for the NCLEX – with successful completion
If you earn the licensure by endorsement, you should send the following:
Send the official transcripts to the state Board
Complete the Criminal Background Check
Verify licensure from the state you've obtained it
Proof of employment
Accelerated Nursing Programs in South Dakota
There are not many accelerated programs in South Dakota.
But the existing ones take 12 to 18 months.
The programs are available full-time.
The way to an accelerated program is usually through specific courses.
Depending on the type of the course, so will be the change intuition and the length of it as well.
The programs are usually held locally.
This way, students can fasten their degree program by joining it the clinical practice too.
If you're one of them, you can do so through these programs:
South Dakota Accelerated BSN Programs
South Dakota Accelerated MSN Programs
The Best RN Schools in South Dakota
Before you assume quantity over quality is better, try the reverse.
For example, try checking the five RN schools in South Dakota.
You will definitely find the right program and schedule in one of them.
Though located in almost the same area, their offerings are unique.
| School Name | Address |
| --- | --- |
| University of Sioux Falls | 1101 W 22nd St, Sioux Falls, SD 57105 |
| Augustana University | 2001 South Summit Avenue, Sioux Falls, SD 57197 |
| Southeast Technical Institute | 2320 N Career Ave, Sioux Falls, SD 57107 |
| Dakota Wesleyan University | 1200 W. University Ave, Mitchell, SD 57301 |
| South Dakota State University | 100 Administration Lane, Brookings, SD 57006 |
South Dakota RN Salaries
Sometimes it seems like the salary will never be enough.
But once it is a good one, you will always be content.
So don't bother about looking for what you deserve.
However, when it comes to fairness, make sure you qualify for it.
Now, see the three shifts of the RN salary in South Dakota.
Annual Salary Range: Annual Salary by Location:
| Location | Avg. Annual Salary |
| --- | --- |
| Sioux Falls | $55,779 |
| Rapid City | $55,238 |
| Aberdeen | $51,871 |
| Watertown | $54,824 |
| Brookings | $54,824 |
| Mitchell | $54,824 |
| Pierre | $52,825 |
| Yankton | $53,602 |
| Huron | $53,347 |
| Vermillion | $52,380 |
RN Programs by State
---