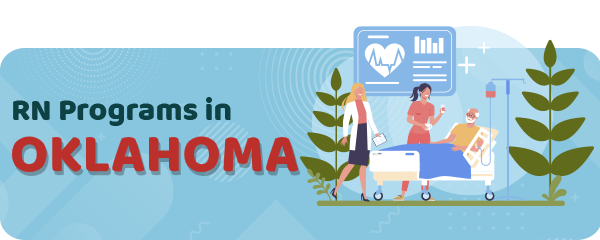 The dream of going abroad is as intense as the desire to work there.
Nursing is a rewarding profession in America, and in particular in Oklahoma.
But as a student, you may face some challenges when starting your career there.
However, you should know that the entire career path starts with a good education first.
In the state, there are in total of 44 RN programs for you to check.
Yet, it is a challenge to find the right one.
But it is not unattainable.
All you have to do is make sure the school you apply in offers nursing licensure.
The rest is easy.
To find that out, you need to take some measures first.
These measures can sum up in a single one: check the NCLEX-RN passing rates.
That's what I did for Oklahoma, and realized that the top-ranked schools in terms of licensure are 20, out of the 44 in total.
In particular, the percentages of the exam passes were considered.
The programs subject to this analysis where BSN, ASN, ADN, and MSN programs.
All of these in fact offer an Associate Degree in Nursing.
With these programs available in the state, there is no doubt healthcare has a good standing in general.
This can be seen in the quality patient-care services offered in its areas.
All of it coming from the aid of the nursing personnel whose progress comes from constantly pursuing higher education and professional development in the field.
In Oklahoma, not only programs are various, but the salary is promising as well.
With an average of $63,080 reported from the Bureau Labor of Statistics, registered nurses have not much to complain.
For RN bridge programs visit:
RN to BSN Programs in Oklahoma
RN to MSN Programs in Oklahoma
ADN Programs in Oklahoma
The beauty of RN programs in Oklahoma is that they are flexible.
For instance, the ADN degree is such with only two years of attendance.
Despite that, it is also cheap and it offers you the opportunity to start working in nursing right away.
The program can mostly be accessed in technical and junior local colleges in the state.
With 18 programs spread all around it, you will find properly accredited programs every time.
What to Look For in an ADN Program in Oklahoma
They say: ''Prevention is better than cure'' and they are right.
Therefore, having the right criteria for your education, helps you choose a quality one in the future.
Check below the most important characteristics a quality RN program should have to be okay for you.
Accreditation
The first thing in a row is usually the most important thing to consider.
Accreditation always makes a school more credible.
It frees us from the fear of failure with its high standard programs.
In Oklahoma, accreditation of the RN programs is done by two organizations that operate nationally.
The Accreditation Commission for Education in Nursing is the first to check for.
While the American Association of Colleges of Nursing's Commission on Collegiate Nursing Education.
By all means, you may also contact the Oklahoma State Board of Nursing to have your program approved at a local level.
Licensing
The second criterion to consider in an ADN program is Licensure.
It's the crown of your nursing education from which you may for even more career options.
This step comes after the NCLEX-RN exam.
The license is usually issued from the Oklahoma State Board of Nursing.
Of course, the exam is a challenge in itself.
But you can make it easy for you by checking previously the school whether it prepares you for it or not.
Program Outcomes
Some of the features of ADN program outcomes to check in the state are these:
Graduation rate
Licensure exam pass rate
Graduate satisfaction
Employment rate
An accredited ADN program to be found in Oklahoma is the Murray State College in Tishomingo.
Check it.
You may get some motivation for the program soon.
ADN Program Admission Requirements in Oklahoma
Program admission requirements sometimes challenge you.
But this does not mean you should stop.
On the contrary.
It means you should strive to meet them in the short run.
They basically vary from school to school.
However, the common ones include these:
At least an ATI TEAS score of 58.7% proficient
Reach a minimum of ACT composite score of 19 or higher
Have a college retention GPA of 2.5 or a nursing pre-requisite GPA of 3.0
Tuition and Costs of ADN Programs in Oklahoma
Money has a way of blowing our minds sometimes.
But an ADN program cost in Oklahoma will always be divided into two parts.
One is paying for tuition.
The other is the additional fees you have to cover such as textbooks, drug screenings, lab fees, and similar.
In order to meet all of them, a previous check-in the program is necessary before admission.
However, if you need to be convinced about the ADN cost in the state, you can check one at Rose State College in Midwest City.
Its entire program cost goes around $13,684.
Advantages of ADN Programs
An ADN program will always be a good choice for you.
You may wonder why?
Well, pursuing a two-year program helps you both study and work.
It is less expensive than other programs, and therefore affordable for you.
Thirdly, it is the most frequently found program in the state, which means you can access it far more easily.
Less urban areas are the most appropriate places to find a suitable ADN program.
If you live nearby, don't move much and enjoy studying in one!
BSN Programs in Oklahoma
A Bachelor of Science in Nursing in Oklahoma comes in three forms.
You can either take one as a 4-year traditional program in some of the largest universities there.
Or else, you may opt for an accelerated BSN degree, if you already have a BA degree in another subject.
The third alternative is the RN to BSN program path.
This one helps you advance in your career.
However, the three programs help your income and your nursing career in general.
Now you choose which one is best for you.
Over 12 schools throughout the state are waiting for you to get one.
What To Look For in a BSN Program in Oklahoma
Knowing what to look for is the easiest way to find it.
Similarly, knowing what you want and want not in a BSN program is the key to complete it successfully.
What matters most in such a program actually is accreditation, program outcomes, location, and costs.
If you're satisfied with these, the program is good for you.
But make sure you choose the most favorable one.
Like for example the University of Tulsa.
Here you can find an accredited BSN program that you're looking for.
BSN Program Length in Oklahoma
Different BSN programs take different periods of time to complete.
The traditional one requires 4 years of study.
The accelerated one takes 16 months.
While the RN to BSN program for nearly two years.
With this variety, you can choose the program that fits best for you.
BSN Program Admission Requirements in Oklahoma
Some of the admission requirements to meet in a BSN program in Oklahoma are three.
Basically, you have to send the following documents:
Copies of all official transcripts
Grade of C or better in all major core courses
Cumulative GPA of 2.5 or better
Tuition and Costs of BSN Programs in Oklahoma
Some things demand from us time, some effort, some money.
A BSN in Oklahoma will require the three of them.
In general, you have to pay for lab fees, tuition, uniforms, textbooks, and so on.
Before starting the program, you should calculate all of these in order to be able to meet all of them.
Oklahoma City University with $13,638 per term, will help you have an idea of a BSN program that is accredited and of an affordable cost.
Advantages of BSN Programs
The majority of the advantages that come with pursuing a BSN program in Oklahoma have already been saying.
It's the length, the opportunity for career advancement, and the variety of programs.
If you pursue the program you will earn all these benefits and also enjoy the Oklahoma state on the go.
MSN Programs in Oklahoma
If you're one of those people who love heights, I have no doubt you want to go high in your education as well.
If such is the case, a Master's of Science in Nursing is the ideal degree for you.
So let me give you glad tidings right now!
With this type of degree, you will be able to earn different titles in Registered Nursing.
Some of them include Nurse Practitioner, Clinical Nurse Specialist, and Certified Nurse Midwife.
As such, you have also the chance to earn and grow professionally immensely.
In Oklahoma, MSN programs are many.
All you have to do is choose one that works best for you.
MSN Program Length in Oklahoma
MSNs take two to three years to complete.
In other words, they are slightly shorter.
Being such, you can also have quite a favorable schedule too.
You can choose from online and evening classes and learn the profession the way you want best.
MSN Admission Requirements in Oklahoma
Being so abundant, there is no doubt MSN programs in this state are also competitive.
That's why admission requirements have to be heavier.
They consist of:
Completion of BSN from a regionally accredited institution
Current RN license
Overall GPA of 3.0 or above
Submission of 3 letters of recommendation
Tuition and Costs of MSN Programs in Oklahoma
If you've been thinking about how to spend your money right, think again.
An MSN program can be one way to invest a lifelong project in the profession.
In general, in Oklahoma, an MSN program will cover payment of tuition, lab fees, and books.
AN example of the existing tuition so far is the University of Oklahoma in Tulsa, Lawton and Oklahoma City.
The tuition there goes around $13,557.20.
This price is valid for people who live in the state.
For NP programs you can check:
Oklahoma DNP Programs
Oklahoma FNP Programs
Oklahoma Nurse Practitioner Programs
Oklahoma Post-Graduate Certificate Nursing Programs
Getting an Oklahoma Nursing License
Step by step, and we reached the Nursing Licensure.
I know you've been waiting long.
But as Rumi says: I know you're tired, but come, this is the way''.
You can get this license in two forms.
One is by undergoing an exam.
And the other way is by endorsement.
Both ways, you need to send an application.
Applying for it by an exam means submitting the following documents:
Proof of age and citizenship
Proof of education – transcript sent from the School of Nursing directly to the state Board
Background Check – with electronically submitted fingerprints or via fingerprint card
Register for the NCLEX exam – future successful completion required
While applying for licensure by endorsement means sending the following information, as well as additional documents:
Passing Score on NCLEX or SBTPE
Verification of licensure from the state you've obtained it
Verification of Employment/continuing practice-provide forms
All ways, the Oklahoma Board of Nursing will help you resolve this issue.
Accelerated Nursing Programs in Oklahoma
One way to advance your nursing education in Oklahoma is through accelerated programs.
With 12 months length, they can be a good transition from other programs.
An accelerated MSN program in the state are taught full-time, local, and have intensive clinical hours.
In order to admitted into any of them, you need to pursue entrance courses previously.
The course then will determine how long you will be attending it as well.
The cost of these programs is different from program to program and from the college, you learn in.
One recommendation would be for you to always check the cost before applying in one.
Oklahoma Accelerated BSN Programs
Oklahoma Accelerated MSN Programs
The Best RN Schools in Oklahoma
Let's go together through some of the top-ranked RN schools in the state.
If may be opting for a BSN, ASN, ADN, or MSN degree.
There is nothing wrong with that.
You will find them in the schools below.
| School Name | Address |
| --- | --- |
| University of Oklahoma - Tulsa | 4502 East 41st Street, Tulsa, OK 74135 |
| Oklahoma City Community College | 7777 S May Ave, Oklahoma City, OK 73159 |
| Eastern Oklahoma State College - McAlester | 1802 E. College Ave, McAlester, OK 74501 |
| University of Oklahoma Health Sciences Center - Oklahoma City | 1100 North Stonewall Ave, Oklahoma City, OK 73126 |
| Oklahoma Baptist University | 500 W University St, Shawnee, OK 74804 |
| Southwestern Oklahoma State University | 100 Campus Dr, Weatherford, OK 73096 |
| University of Central Oklahoma | 100 N University Dr, Edmond, OK 73034 |
| Connors State College - Three Rivers Port Campus | 2501 N. 41st East, Muskogee, OK 07403 |
| Carl Albert State College - Sallisaw | 1601 S Opdyke St, Sallisaw, OK 74955 |
| Northern Oklahoma College - Stillwater | 615 N. Monroe, Stillwater, OK 74078 |
| Eastern Oklahoma State College - Idabel | 2805 NE Lincoln Road, Idabel, OK 74745 |
| Oklahoma State University | 900 N Portland Ave, Oklahoma City, OK 73107 |
| Northern Oklahoma College - Enid | 100 S University Ave, Enid, OK 73702 |
| Rose State College | 6420 SE 15th Street, Midwest City, OK 73110 |
| Eastern Oklahoma State College - Wilburton | 1301 W Main St, Wilburton, OK 74578 |
| Carl Albert State College - Poteau | 1507 S McKenna St, Poteau, OK 74953 |
| Murray State College | 1 Murray Campus Dr, Tishomingo, OK 73460 |
| OSU Institute of Technology - Okmulgee | 1801 E 4th St, Okmulgee, OK 74447 |
| University of Tulsa | 800 S Tucker Dr, Tulsa, OK 74104 |
| Oral Roberts University | 7777 S Lewis Ave, Tulsa, OK 74171 |
RN Salaries in Oklahoma
Here are the minimum, maximum, and average RN salaries in Oklahoma.
An average will always be yours.
But the maximum comes with higher education and great work.
That's for sure.
 Annual Salary Range: Annual Salary by Location:
| Location | Avg. Annual Salary |
| --- | --- |
| Oklahoma City | $60,355 |
| Tulsa | $61,061 |
| Norman | $59,973 |
| Lawton | $54,162 |
| Broken Arrow | $60,870 |
| Edmond | $60,164 |
| Midwest City | $59,238 |
| Enid | $59,782 |
| Moore | $56,590 |
| Stillwater | $59,782 |
Regional Salary in Oklahoma
| Region | Employed | Avg. Annual Salary | Avg. Hourly Pay | Top 10% Annual Salary | Bottom 10% Annual Salary |
| --- | --- | --- | --- | --- | --- |
| Enid, OK | 490 | $70,620 | $33.95 | $78,550 | $52,160 |
| Lawton, OK | 760 | $81,660 | $39.26 | $132,130 | $61,340 |
| Oklahoma City, OK | 12,430 | $77,350 | $37.19 | $96,560 | $60,850 |
| Tulsa, OK | 9,210 | $79,710 | $38.32 | $104,740 | $52,000 |
* Salary information based on the May 2022 Occupational Employment Statistics (OES) Survey for Registered Nurses, OCC Code 29-1141, BLS.
* Employment conditions in your area may vary.
RN Programs by State
---