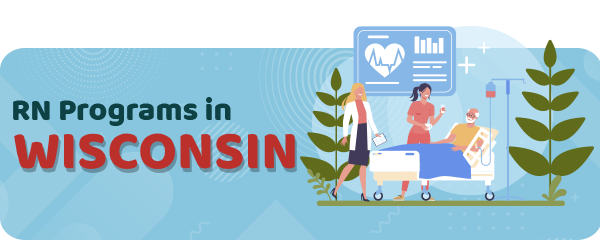 What would you do to try a new thing?
Perhaps make an online research, ask friends for advice, or what else?
Let me read your mind.
Maybe the last thing you would think to do is move somewhere new.
That's certainly the easiest thing.
You may wonder why.
Here's why.
First, changing places helps you change your perspective, your way of thinking, and so on.
And we all know when we change our minds, we change the whole life.
If nursing is one of the things you want to try for the first time, that's what I call courage.
But if you knew that you can pursue a successful career in a specific field of nursing in America's Wisconsin?
If such is the case, you would not think twice.
All it takes some advice on the programs and the schools.
The rest is your journey.
Let's take it together.
Let's go for Registered Nursing in Wisconsin!
I told you already that school is an issue when it comes to choosing.
But it is not the end of the world.
Finding the right one will cost you nothing but an NCLEX-RN exam pass rates check in the state.
In particular, a check on the programs that offer an associate degree in nursing there such as ADN, ASN, BSN, and MSN programs.
So far, I reviewed all exam passes in the state.
And I mean both the actual and historical percentages.
From this analysis 20 of these programs came to be the top-rated ones.
They actually extracted from 42 of them in entirety around the state.
The beauty of pursuing an RN career in Wisconsin is that you learn a lot.
To your advantage, the state also offers a qualitative and flexible learning timetable.
But it also initiates employment for the nurses too.
If you take a look at the job opportunities, you will see many.
To begin with, nearly 1,900 new jobs in a year are expected to open in these five coming years.
On the other hand, the Bureau of Labor Statistics has not stayed in vain either.
Its report on the median salary per nurse has been evident as $71,470 yearly.
Add to this, the number of graduated nurses of 3,000 in a year, as the Wisconsin Center for Nursing suggests.
As such, an RN career in the state is the most rewarding path ever.
Here is the option you can check for RN bridge programs:
RN to BSN Programs in Wisconsin
RN to MSN Programs in Wisconsin
ADN Programs in Wisconsin
An associate degree in nursing isn't something you can't find in Wisconsin.
In reality, it is available in more than 20 schools throughout the state.
The two years length is still there one of the best ways for students who like short-term journeys.
The degree is available in different types of schools.
You can start one in a community college or in a technical one.
What to Look For in an ADN Program in Wisconsin
I told you that your school choice is highly important in your nursing career.
It's the starting point.
Therefore, selecting the one that helps you get the license in the field is necessary.
The rest of the factors you can look at in an RN school include the following ones.
Let's go through them slowly.
Accreditation
When I tell you to need an accredited school, I mean a legitimate one.
Which is not impossible to find in Wisconsin.
As soon as you start your search for organizations, you will find two key ones in the state.
One of them will definitely be the Accreditation Commission for Education in Nursing.
While you will not miss either the American Association of Colleges of Nursing.
The third option you have to check for is the Wisconsin Board of Nursing.
The three of them are in charge of this activity in nursing schools.
So whichever you consider, you win.
Licensing
Licensing is the most desired step in an RN career.
But it takes time and effort to reach it.
Basically, passing the NCLEX exam is mandatory to earn it.
In 2015, in Wisconsin, approximately 3,520 of candidates took this exam.
In this number of people, 87.3% got licenses in the end.
Program Outcomes
The next thing to keep an eye on when selecting your favorite ADN program is its outcomes.
Some of the outcomes you need to consider in a school include:
Graduation rate
Licensure exam pass rate
Graduate satisfaction
Employment rate
With these points in mind, check the Milwaukee Area Technical College in Milwaukee.
It has an accredited ADN program to offer to you.
ADN Program Admission Requirements in Wisconsin
Admission requirements are mandatory to meet in an ADN school in Wisconsin.
They are part of every school indeed.
However, the major ones include:
Academic Skills Assessment test completion (Accuplacer or ACT) with obligatory benchmark scores
Pre-requisite classes completion (Chemistry and Biology classes) C or higher
Send the necessary immunization documentation
Complete the caregiver background check
Tuition and Costs of ADN Programs in Wisconsin
Without learning the tuition of an ADN program, you can't move further.
Because simply speaking, money makes the world go round.
And it determines at some point your education.
However, the cost of this program is ever-changing in the state.
Meaning, it is changing in the schools located in it.
However, tuition most of the time is divided from additional fees.
To give you an idea of the cost, I need to give you concrete evidence.
So check the Chippewa Valley Technical College.
Located in Eau Claire, its tuition is $13,307.
In this cost, books, fees, and tuition are included.
Advantages of ADN Programs
The main perks of pursuing an ADN program in Wisconsin are simple.
First, you will finish it in a faster amount of time than any other program.
And second, you will reap job opportunities for sure and have many schools to pursue the program in, statewide.
LPN to RN Programs in Wisconsin
There are two types of LPN to RN programs in Wisconsin.
These programs help you bridge from an LPN to an RN in a short amount of time.
Through them, nursing students manage to get the credits for nursing courses that have enrolled in prior coursework.
LPN to ADN/BSN Programs
Two types of LPN to RN programs will wait for you in Wisconsin if you're willing to go there.
One is the LPN to ADN path.
And the other is the LPN to BSN one.
The shortest one is the first, with only one year of length.
The program is available at Fox Valley Technical College.
The program is offered full-time and offers 19 credits of previous coursework for the student.
The other program is the LPN to BSN.
A higher RN degree, it ends up with a Bachelor's degree.
You can find it easily at Herzing University and complete it in 28 months.
In order to be admitted to any of the programs, however, you need to meet some requirements.
And these requirements include:
High school transcripts/and the colleges you've attended
Proof of having a current LPN licensure
TEAS exam scores
Complete all prerequisite courses
BSN Programs in Wisconsin
When talking about advancements and progress, let's stop at the Bachelor's of Science in Nursing.
Its length is just like the program, a traditional of four years.
The program is good for you because it is a way to earn more and pursue more nursing career options.
If you're looking for such a program in Wisconsin, keep looking.
The program is offered in both universities and schools around the state.
What To Look For in a BSN Program in Wisconsin
A BSN program is always a good idea, but finding the right one is the best idea ever.
As soon as you realize it you should make a research on the schools offering this program in the state.
Some of the things you need to consider in such a program are program outcomes, licensure, and accreditation.
Secondly, you need to know if the schools offer different types of BSN programs such as the RN to BSN one.
However, at Edgewood College in Madison, you will surely find an accredited BSN program.
BSN Program Length in Wisconsin
Somehow tradition always takes us back and back in time.
The time when things were longer, but surely worth going after them.
A traditional BSN degree however is still available in Wisconsin and America statewide.
A four-year program is what you should expect to pursue if you make your mind about it.
However, a BSN program can also be shorter.
For instance, the RN to BSN one may take two years.
Or else, an accelerated one may take even shorter than that.
BSN Program Admission Requirements in Wisconsin
Each program comes with its own sets of requirements.
However, some are basic and general to all.
They include the following ones:
Cumulative GPA of at least 2.75 and a minimum 2.75 GPA for all science and math courses
Make a Faculty interview
Community service in the curricular or extracurricular form
Personal activities are suggested to make a good candidate
Tuition and Costs of BSN Programs in Wisconsin
The variety of BSN programs comes with a variety of prices too.
But generally, tuition is separate from the fees every time.
However, at Columbia College of Nursing in Glendale, a tuition of $27.016 in a year is expected from you to pay.
In this pay, the application fee of $50, the tuition deposit of $200, and the graduation fee of $114 are not covered.
Advantages of BSN Programs
The advantages of BSN programs are various.
First and foremost, is career advancement.
Second, it is high earning potential.
And thirdly, the variety of programs.
MSN Programs in Wisconsin
After finishing a BSN degree, you can move further.
The Master's of Science in Nursing will give you the life of your dreams.
With high pay and many career opportunities, you will reach the heights of nursing.
This height has steps towards it.
These steps are the variety of specialties you can opt for.
So far, you have the chance to pursue a Certified Nurse Midwife specialty, a Nurse Practitioner, or a Clinical Nurse Specialist.
The only condition you need to meet to pursue an MSN in any of these options is the prior BSN.
MSN Program Length in Wisconsin
Once you register the MSN, you have to do your best.
But prior to registration, you need to know the time it will take to complete the degree.
The length is usually three years.
However, the length depends on the prior coursework you may have taken or it is simply a matter of school.
Such a length is typical for the RN to MSN path.
This option is best for nurses who both work and study at the same time.
The state however offers programs with a variety of schedules.
Basically, you can have a part-time, full-time, or online classes in an MSN program of the sort.
MSN Admission Requirements in Wisconsin
Whichever nursing school you pick for an MSN program, you will find different admission requirements in each.
Yet, the general ones will prevail as such:
Have a BA degree from an accredited Nursing Program
Make a Cumulative GPA of 3.0 or higher
Send official transcripts
Send a copy of the current Wisconsin Nursing License
Provide resume/CV and write a reflective essay
Prepare a Personal interview with a graduate nursing faculty member
Tuition and Costs of MSN Programs in Wisconsin
The best way to learn about the tuition of an MSN program in Wisconsin is to see examples of the sort.
For instance, the Rasmussen College in Green Bay offers an MSN program of $21,795.
In this price both tuition and fees are included.
For NP programs visit:
Wisconsin DNP Programs
Wisconsin FNP Programs
Wisconsin Nurse Practitioner Programs
Wisconsin Post-Graduate Certificate Nursing Programs
Getting a Wisconsin Nursing License
Obtaining nursing licensure is the goal of a nurse.
The opportunity to obtain one either by exam or endorsement makes it even more flexible.
Some of the regulations of the Wisconsin State Board of Nursing for licensure include:
Obtaining licensure through the examination process:
Complete the needed application – and pay the fees
Verify your education – Graduation or Completion form or official transcripts sent directly to the Board from the institution you have previously attended
Register for the NCLEX  – with a passing score after completing it
Earning your nursing licensure through endorsement requires this document:
Verify your licensure from originating state
Accelerated Nursing Programs in Wisconsin
The best characteristic of nursing programs in Wisconsin is the flexibility they offer to the nursing students.
The accelerated one is such a program.
It offers you the time to meet the necessary requirements while completing the program at the same time.
Programs of this type in the state are the BSN ones, which take 12 to 15 months to complete.
Their cost and length depends on the prerequisite courses
While tuition charges according to the credit hour needed for the program.
Wisconsin Accelerated BSN Programs
Wisconsin Accelerated MSN Programs
Latest Wisconsin NCLEX-RN Pass Rates and Statistics
State Approved Schools Total Number: 42
2019 Average Statewide Wisconsin NCLEX-RN Pass Rate: 95.5%
The Best RN Schools in Wisconsin
The best way to find the right RN school in Wisconsin is to narrow down its number.
From this limitation, 20 of them have been selected as such.
So check them below.
| School Name | Address |
| --- | --- |
| Carroll University | 100 N East Ave, Waukesha, WI 53186 |
| Maranatha Baptist University | 745 W Main St, Watertown, WI 53094 |
| Fox Valley Technical College | 1825 N Bluemound Dr, Appleton, WI 54912 |
| Milwaukee Area Technical College | 700 W State St, Milwaukee, WI 53233 |
| Blackhawk Technical College | 6004 S County Road G, Janesville, WI 53546 |
| Waukesha County Technical College | 800 Main St, Pewaukee, WI 53072 |
| Mid-State Technical College | 2600 W 5th St, Marshfield, WI 54449 |
| Bellin College | 3201 Eaton Rd, Green Bay, WI 54311 |
| University of Wisconsin - Oshkosh | 800 Algoma Blvd, Oshkosh, WI 54901 |
| Northcentral Technical College | 1000 W Campus Dr, Wausau, WI 54401 |
| Moraine Park Technical College | 235 North National Avenue, Fond du Lac, WI 54936 |
| Holy Family College | 2406 S Alverno Rd, Manitowoc, WI 54220 |
| Edgewood College | 1000 Edgewood College Dr, Madison, WI 53711 |
| University of Wisconsin - Madison | 701 Highland Ave, Madison, WI 53706 |
| Northeast Wisconsin Technical College | 2740 W Mason St, Green Bay, WI 54307 |
| University of Wisconsin-Eau Claire | 105 Garfield Ave, Eau Claire, WI 54701 |
| Milwaukee School of Engineering (MSOE) | 1025 N Broadway, Milwaukee, WI 53202 |
| Nicolet College | 5364 College Dr, Rhinelander, WI 54501 |
| Marquette University | 1250 W. Wisconsin Ave, Milwaukee, WI 53233 |
| Alverno College | 3400 S 43rd St, Milwaukee, WI 53234 |
RN Salaries in Wisconsin
Here are the nursing salaries from three perspectives in Wisconsin.
Initially, you may have minimal pay.
To proceed with an average.
And finally, end up with a maximum.
Annual Salary Range: Annual Salary by Location:
| Location | Avg. Annual Salary |
| --- | --- |
| Milwaukee | $63,105 |
| Madison | $62,743 |
| Green Bay | $61,168 |
| Kenosha | $62,513 |
| Racine | $62,513 |
| Appleton | $61,180 |
| Waukesha | $62,867 |
| Oshkosh | $60,784 |
| Eau Claire | $59,016 |
| West Allis | $61,181 |
RN Programs by State
---