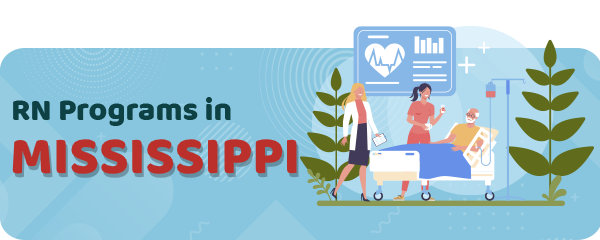 So many things in life draw our attention.
Some are short-term, some are long-term.
Anyway, they make us be curious about them.
When they are easy to get, we jump at the opportunity.
While some do not always happen when they are hard to get to.
But different people have different aims and wishes.
In this aspect, you would choose to do the difficult thing if it is what you want to do for the rest of your life.
This happens when you fall in love when you start university, work and so on.
The list is endless.
Now talking about Nursing in Mississippi, it means the same.
It is quite a challenge to find the right school in this US city.
However, it is not impossible.
Not when you have the will to search with the right criteria.
This criterion is the opportunity of license by the end of the program and other career opportunities on the go.
The best way to ensure a school offers licensure is to measure the NCLEX-RN exam passing rates in all RN programs around the state.
The total number of these programs is 23.
All of which offer an Associate Degree in Nursing such as ADN, ASN, BSN, or Direct-Entry MSN Degree.
With all these programs, it is obvious that Nursing has been long active in Mississippi.
But with the passing of years, the nursing population has aged.
Therefore, the need for more skilled RNs has grown rapidly.
For this reason, both new and existing nurses are needed to join the workforce surely by making progress in the career through nursing education.
From the report done from the Bureau Labor of Statistics, we learn about the salary in this field.
The average salary per RNs in the state on a yearly basis goes around $56,980.
With this payment, you should definitely go for this career, if it's been staying in your mind for long.
Believe me, you will not regret it!
For RN bridge programs visit:
RN to BSN Programs in Mississippi
RN to MSN Programs in Mississippi
ADN Programs in Mississippi
The first route to an RN license in Mississippi is through an ADN degree.
The degree is good for many students since is rather short.
Only two years long.
This type of program is accessible in two places in the state.
In community and technical colleges.
With this degree, you will be able to occupy various nursing positions.
However, later on, you might need a BSN degree as well.
This is a sign that you should aim for more in this career.
Anyway, approved and accredited ADN programs can be found in more than 15 schools in Mississippi.
They're all waiting for you to check.
What to Look For in an ADN Program in Mississippi
With so many schools offering an ADN program in the state, it can be hard to narrow it down to just one.
Below are a few main things to look for when considering a program:
Accreditation
The first thing to look for in an RN school in Mississippi is accreditation.
It has become a must since it ensures a quality program for students.
In the state, you can go to two accrediting organizations to help you with the programs.
One of them is the Commission for Education in Nursing (AECN).
While the second is the American Association of Colleges of Nursing's Commission on Collegiate Nursing Education (CCNE).
While the program you apply for is always approved by the Mississippi State Board of Nursing, as the main body for nursing in the entire state.
So, with the help of these institutions, I don't believe you will quite easily.
Licensing
The way to a successful nursing career is through a license.
But the license does not come easy.
You need to sit the NCLEX-RN exam first and pass it.
This exam usually comes after completing an ADN program in the first place.
So, what I suggest is to check the ADN's curriculum first when you apply, to see if it prepares you for this important exam.
When thinking about the exam, you probably want to know how many people pass it and so on.
Well, from a report done from the American Association of Colleges of Nursing in 2015 says enough.
According to it, there is an 84.5% new nurse graduates in Mississippi who passed the NCLEX exam and got licensed thereafter.
Good news right?
Program Outcomes
Another great way to compare programs is to check on their outcomes.
Prior ADN graduates give their own impression on the programs they've attended.
Some of the most interesting ones that draw new students' attention are these:

Graduation rates
NCLEX-RN pass rates
Graduate satisfaction
Employment rates
A fully accredited ADN program can be found in the Pearl River Community College in Poplarville, Mississippi.
ADN Program Admission Requirements in Mississippi
Admission requirements in ADN programs are different in every school.
But one thing is certain, you need to fulfill all of them, to enter the program.
Here is a list of these requirements:
Submit a copy of all high school and/or college transcripts
Submit a copy of your National League for Nursing Pre-Admission Exam-RN scores
Submit a copy of ACT scores
Make sure you've completed all prerequisite courses
Tuition and Costs of ADN Programs in Mississippi
The cost of an ADN program is highly important when it comes to deciding about enrolling in a program or not.
The cost of tuition mainly includes mandatory school fees, textbooks, uniforms, test fees, and similar.
If you're one of those who cannot afford the program, you can consider financial aid.
The Department of your school choice will always help you in this direction.
As an example of costs, tuition for the ADN program at Mississippi Gulf Coast Community College is $1,150 per semester.
In this price, mandatory fees and indirect expenses are not included.
Advantages of ADN Programs
The ADN program is in essence short.
And that is the first advantage.
There comes the lower cost of tuition.
Other advantages such as small schools and small class sizes make ADN programs in Mississippi quite wanted from students.
BSN Programs in Mississippi
One thing follows the other, and so does a Nursing degree.
The BSN degree comes second, however, it is a higher degree in the field.
The BSN program is accessible in many urban parts around Mississippi, with a 4-year length of study.
This degree rewards you with an RN in the long run as well as opens up more specialized nursing opportunities and jobs along the way.
There are roughly 8 schools throughout Mississippi that offer approved and accredited BSN programs.
And pay also high for nurses who hold this degree.
What To Look For in a BSN Program in Mississippi
When selecting your BSN program, you should have in mind a few things related to it.
One of these things is surely the cost, and whether you can afford it for your studies.
Having a BA degree in another field other than nursing will make you eligible for an accelerated BSN program.
This would be like a second career for you.
In addition, having an RN through the ADN program, you can choose to go for a school in which you can find an RN to BSN bridge program.
One school where you can find a fully accredited BSN program is Belhaven University in Jackson, Mississippi.
BSN Program Length in Mississippi
The standard BSN degree takes an average of 4 years to complete.
But that's not the only route.
There are other accelerated programs, which are slightly shorter.
With 15 months in total.
But to qualify for an accelerated program is a thing.
You need to have a BA degree or a higher degree in another field, to attend such a program.
On the other hand, the RN to BSN programs take 1 to 2 years to finish.
But their length depends on the previous courses attended.
So, you should check the length of the program you're interested in before applying, in order to make all ends meet.
BSN Program Admission Requirements in Mississippi
Competition is the root of much success in the world.
It makes you strive for the better.
Similarly, BSN schools in Mississippi have various admission criteria.
Yet, they don't go far as not to have some in common.
Basically, they include these:
Copy&Submit Official transcripts
Complete all prerequisite courses with a C score
Achieve a composite ACT score of 21 or better
Make a minimum score of 66 on the ATI TEAS (Test of Academic Skills)
Tuition and Costs of BSN Programs in Mississippi
Just like the previous nursing program, the BSN program has its own costs to consider.
Among them, tuition, mandatory fees, textbooks, uniforms, lab fees and similar costs which differ to different school are to be considered.
While there is also financial aid options for those who cannot afford it and who qualify for it.
To give you a model of the price, check the BSN program at Mississippi University for Women in Columbus.
BSN price goes around $3,032.50 per semester.
This price is fitting for full-time students, in which additional fees are not included.
Advantages of BSN Programs
A BSN program initially, will open up more nursing jobs in different nursing fields.
These fields include pediatrics, surgery, hospice, and similar.
If you're interested to pursue a graduate degree, the BSN will surely provide you with the chance for one.
This program is also a good choice for students who like traditional 4-year experience at university.
So, basically, you have two types of BSN programs to go for.
One is the accelerated BSN program.
And the other is the RN to BSN programs.
Both of these are popular in Mississippi.
MSN Programs in Mississippi
The MSN program in Mississippi is the crown of education.
Through this degree, you may go for specialized nursing jobs in different aspects of nursing.
Among them are the Clinical Nurse Specialist, Nurse Midwife, Family Nurse Practitioner, and other administration and higher education jobs.
To pursue an MSN degree, anyway, you need an RN in the first place.
Mississippi is home to more than 4 schools that offer a fully accredited MSN program.
MSN Program Length in Mississippi
The general length of an MSN program is 2 to 3 years.
However, it can be longer once you go for more specialties in nursing.
Since some schools have these MSN specialized degrees, in addition to the general MSN program.
However, the schedule can be quite flexible for this program.
Since busy nurses are always considered when it comes to regulating the length.
MSN Admission Requirements in Mississippi
Different from area to area, admission requirements for MSN programs in Mississippi however, have some elements in common.
They consist of:
Graduate from an accredited BSN Program& institution
Make a minimum cumulative GPA of 3.0
Reach a good score on the GRE test
Evidence of current unrestricted licensure as an RN in Mississippi
At least 1-year clinical experience as a Registered Nurse
Tuition and Costs of MSN Programs in Mississippi
The general idea about the MSN costs is that they include payment for tuition, transport, textbooks, lab fees, equipment, and similar expenses.
However, seeing a model price with your eyes is different.
One way to do so is through the University of Southern Mississippi in Hattiesburg.
Its educational cost for students inside the state is $3,829.50 for an MSN Program.
This payment is for 9-13 semester hours in total.
For NP programs visit:
Mississippi DNP Programs
Mississippi FNP Programs
Mississippi Nurse Practitioner Programs
Mississippi Post-Graduate Certificate Nursing Programs
Getting a Mississippi Nursing License
The more chances you have with something, the better.
Robert Frost once chose the less traveled road.
Did you choose yours?
You basically have two options when it comes to a Nursing Licensure in Mississippi.
You either apply for it by exam, or by endorsement.
Choosing the first way, means you have to send the following documents:
The documents are attached to the application, which should contain the following elements:
Criminal Background Check is required
Official transcript – send it from the nursing school to the state board
Having Completed CBC through 'Student Status Inquiry'
Pass the NCLEX exam
Choosing the second way, which is the application for licensure by endorsement, means something else.
Consequently, you need to notarize, complete, and submit the application, attach fees to it, and attach the following:
Passport photo 2″ x 2″-signed&dated
Declare your state of residence
Verify Your Licensure – do it either by request form or NURSYS (if applicable)
Send the Transcript from school to the state board
'Authorization to release information' form signed and notarized
Accelerated Nursing Programs in Mississippi
Accelerated MSN programs in Mississippi can be obtained in 12 months' time.
In this program, you will attend full-time courses along with clinical hours as well.
Regardless of the intensity, the program is surely rewarding in terms of career path.
Programs such as this have different requirements for entrance.
So you should definitely check the prerequisites of the program you wish to attend.
Any additional course credits that must be completed will add to the amount of time to completion and the number of tuition costs.
Mississippi Accelerated BSN Programs
Mississippi Accelerated MSN Programs
The Best RN Schools in Mississippi
I almost forgot there are schools.
How can I forget 10 top-rated schools throughout the state?
However, in case you do, they are listed below.
You can check them whenever you have time.
| School Name | Address |
| --- | --- |
| Mississippi University for Women | 1100 College Street, Columbus, MS 39701 |
| Mississippi Gulf Coast Community College | 19330 Hwy 67, Biloxi, MS 39532 |
| Coahoma Community College | 3240 Friars Point Rd, Clarksdale, MS 38614 |
| William Carey University | 710 William Carey Parkway, Hattiesburg, MS 39401 |
| Holmes Community College | 1 Hill St, Goodman, MS 39079 |
| Southwest Mississippi Community College | 1156 College Dr, Summit, MS 39666 |
| Northeast Mississippi Community College | 101 Cunningham Blvd, Booneville, MS 38829 |
| Copiah-Lincoln Community College | 1028 JC Redd Dr, Wesson, MS 39191 |
| Northwest Mississippi Community College | 4975 Highway 51N, Senatobia, MS 38668 |
| University of Mississippi Medical Center | 2500 N State St, Jackson, MS 39216 |
RN Salaries in Mississippi
Now let's move to the salaries.
If nothing else, an RN career is worth pursuing due to its good income.
However, not everyone can earn it.
You need to deserve it.
Meaning, you need to meet some criteria.
These criteria mainly include educations, skills, work experience, and place.
The more you meet these points, the higher you will get the pay-and vice versa.
Annual Salary Range: Annual Salary by Location:
| Location | Avg. Annual Salary |
| --- | --- |
| Jackson | $57,025 |
| Gulfport | $56,067 |
| Biloxi | $56,513 |
| Hattiesburg | $55,716 |
| Greenville | $56,685 |
| Meridian | $56,504 |
| Tupelo | $53,790 |
| Southaven | $59,000 |
| Vicksburg | $56,451 |
| Pascagoula | $56,060 |
Regional Salary in Mississippi
| Region | Employed | Avg. Annual Salary | Avg. Hourly Pay | Top 10% Annual Salary | Bottom 10% Annual Salary |
| --- | --- | --- | --- | --- | --- |
| Gulfport-Biloxi-Pascagoula, MS | 3,920 | $71,340 | $34.3 | $91,810 | $51,200 |
| Hattiesburg, MS | 2,060 | $68,750 | $33.05 | $83,330 | $49,050 |
| Jackson, MS | 8,700 | $69,750 | $33.53 | $84,130 | $50,940 |
* Salary information based on the May 2022 Occupational Employment Statistics (OES) Survey for Registered Nurses, OCC Code 29-1141, BLS.
* Employment conditions in your area may vary.

So, step by step we came to the end.

Now all I wish for you is good luck in your RN career!
RN Programs by State
---