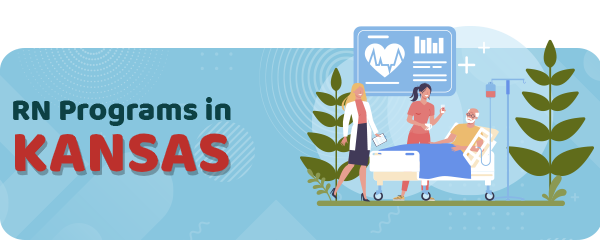 We've been together for a while, and we are still going further.
The more states we check in the USA for nursing, the more you find solutions to follow an education in one of them.
This time, I will tell you about how to pursue an education in nursing.
And how it is highly possible to attain a successful career there.
Well, nothing new.
Knowing the USA as the most abundant country in terms of different industries and achievements.
It is expected to find nursing among them.
However, let's be more concrete in this aim.
And follow me in this article to see the opportunities and steps you can take to become a nurse in one of its states, in Kansas.
Just like in other states, in Kansas also is a bit of a struggle to find the right nursing school.
Not because of their number, but because of whether one works for you or not.
The first thing to check in this regard is if the school offers licensure as a nurse by the end of the program.
But you can't figure this out without an effort.
So, you need to measure the NCLEX-RN exam passing rates in all of the schools located throughout the state.
There are 32 RN programs actually available in Kansas.
From the analysis done on behalf of this article, only the top-ten of them were chosen as of a higher rank.
In particular, the percentage of graduate students passing rates were considered.
The nursing Programs as a source of this review all offer an Associate Degree in Nursing, such an ADN, ASN, BSN, or Direct-Entry MSN Degree.
Great!
After checking this issue, you should know other things about nursing in Kansas, too.
For instance, nursing care has moved to a higher standard lately.
Consequently, it is promoting higher education and it has become a model in this regard.
With a Bachelor of Science in Nursing, nurses earn an average of 45% more money.
With the increase in jobs in the field or 18%, many nurses are empowered to enter the field.
For RN bridge programs visit:
RN to BSN Programs in Kansas
RN to MSN Programs in Kansas
ADN Programs in Kansas
An Associate Degree in Nursing is the first step to a rewarding career in Kansas.
In fact, this is the choice of the majority of high school students in the state.
With the 2 years programs offered and accelerated programs as a result, the flexibility is indeed admiring.
ADN programs in Kansas can be found in both private and public colleges.
They are 20 of them so far found in technical colleges.
Since these colleges are highly frequented, it is more likely to earn this degree there.
What to Look For in an ADN Program in Kansas
In life sometimes, the more options you have to consider pursuing a goal, the harder is to decide.
Thus, choosing the right nursing school in Kansas requires some evaluation of the necessary criteria.
Having 20 and more ADN programs to consider isn't easy.
However, if measuring the following criteria, you will not go wrong.
Accreditation
When a school is accredited, it means it meets the right standards at work and therefore students are more apt to benefit from it.
Also, accreditation helps to measure the learning level of students.
And also makes it possible for employers to evaluate candidates of the same degree.
Two accrediting bodies are available in Kansas.
One of them is the Commission for Education in Nursing (AECN).
And second, there is the American Association of Colleges of Nursing's Commission on Collegiate Nursing Education.
Licensing
Licensing is one of the crucial criteria to help you choose a school.
Usually, in Kansas, this issue is resolved with the Kansas Board of Nursing.
The Board takes care of student's sitting and passing of the NCLEX-RN exam.
After passing this exam, students are considered RNs.
As a result, they are also allowed to make their practice.
From the gathered data, over 88% of RNs so far have passed the NCLEX exam for the first time.
Program Outcomes
A great scholar once said: "The worth of every deed depends on its fruits".
Thus the nursing program outcomes in Kansas are collected on a yearly basis.
This way, they manage to stimulate students to register their programs.
So, students who want to register and are still consider program options should check these university and college program outcomes so that they can decide.
Consider the following outcomes and how you might fit in:
• Graduate number of students each year
• Student Admission in a Nursing Program each year
• School to School comparison of the NCLEX pass-rate information
• Employment number of student in healthcare, post-licensure
• Student satisfaction
Take for example the Johnson County Community College.
Located in Overland Park, it offers a quite serious ADN program that works in national and licensure accreditation and licensing standards.
ADN Program Admission Requirements in Kansas
Program requirements can vary between schools, but we've listed some of the more common criteria to let you know what you're up against:
Offer official transcripts from all secondary and college sources you've attended
Take Prerequisite courses with a GPA of a minimum of 2.5
Application and 'fees arranged' status as per college due dates
Write and Send a Personal statement
Letters of recommendation are an option
Complete drug and background checks
Tuition and Costs of ADN Programs in Kansas
The tuition and costs of nursing programs in Kansas are separate.
Considering the credit hour per semester in colleges there is lower tuition.
One way to lessen this cost is by staying at home or attending public school in their homeland.
In North Central Kansas Technical College- Hays campus there is a $4,600 yearly tuition for people who live inside the state.
Other costs such as insurance, uniforms, equipment, and books go around $3,000.
While living costs apply somewhere else.
Advantages of ADN Programs
ADN programs are the most popular nursing programs in the state.
The advantages of attending them are short length, affordable costs, especially when comparing them with their BSN ones.
Also, they have small class sizes and diversity of programs around the state.
LPN to RN Programs in Kansas
The LPN to RN bridge program is quite common in Kansas.
It is a means of making progress in the career.
The programs are in essence a combination of previous experience of a nurse.
Upon their completion, nurses earn either an ADN or BSN degree.
LPN to ADN/BSN Programs
Bridge programs depend on what students aim to achieve in nursing.
For example, they can choose among the LPN to AND or LPN to BSN programs.
The first work best for students who want to become Registered Nurses in the near future.
This is the shortest path to earn an RN degree.
This type of bridging program can be accessed at the Metropolitan Community College.
They can finish the program there in less than a year.
The second bridging program, which is the LPN to BSN is fitting to those who aspire for a Bachelor's degree in the field.
This type of program can be found at Washburn University.
In the process of earning the degree, LPN students need to take 18 college credit hours.
BSN Programs in Kansas
BSN programs are mainly found in Universities and satellite campuses.
They are twice longer than the ADN ones, and they are mostly found in urban areas of the state.
The programs are offered in large class sizes, while their variety is also present.
In the students, are able to learn a lot of clinical practices.
With more than 15 BSN programs, the experience gained there is manifold.
What To Look For in a BSN Program in Kansas
When seeking a suitable BSN program in Kansas, pay attention to the model of empathy in it, the respect for diversity in every aspect, and the treatment and prevention of healthcare problems in general.
Along with these elements, you see that nursing is more of a mission than a profession.
So, the schools should be working on this element and make the studies for student part of the vision they have for life in general.
One of the most reputational universities in Kansas is Newman University.
In this university students finish their studies with the necessary skills and ethic needed in the main areas of nursing.
With the program in this university also students build their foundation of education in nursing and are then able to move on with an MSN degree.
The program is accredited through the CCNE and receives licensure through the state board of nursing.
BSN Program Length in Kansas
Bachelor degree programs in Kansas take 4 years to complete.
Usually, students have the summers off.
While there are 120 credit hours in the entire program.
Due to many changes in nursing and healthcare in general, in Kansas, there is a huge demand for nurses.
As a result, there have appeared accelerated programs too, such as RN to BSN bridge programs.
These gather the previous experience of the student and add to their own part as well.
So the student is equipped with the necessary knowledge of the field.
BSN Program Admission Requirements in Kansas
Fully researching the entrance requirements for your school of choice will net you valuable information about how to proceed.
While schools do vary in their criteria, here are some of the most common admission requirements for the BSN track:
Minimum 3.0 GPA
Proof that you've gone through vaccination, proof of background check, and drug screening
Meet or exceed admission standards
ACT composite score of 21
Status is 'fees arranged' with the university
Personal statement on an appropriate topic
Tuition and Costs of BSN Programs in Kansas
The price of BSN studies depends on various factors.
The expenses, in essence, vary from year to year.
So, students should be in touch with the updates as well.
These expenses usually cover supplies, uniforms, insurance, room, board, university fees, and tuition.
In addition to the costs, students may also aim for financial aid and work opportunities as well.
Since both can be found on campuses offering BSN programs in the state.
One example of the cost is Kansas State University.
Its total tuition for one credit hour is $300.
While the room and board estimate $7000 per semester.
Advantages of BSN Programs
A BSN program will be beneficial to students.
The program initially offers diverse clinical settings.
Second, the BSN degree is valuable as it offers one the chance to move on with other higher nursing degrees as well.
Thirdly, BSN degree programs in Kansas are offered in large university areas wherein professional growth is continual.
MSN Programs in Kansas
If you want to specialize in a particular aspect of nursing, you can do so by pursuing a Masters of Science in Nursing.
At this point, you can choose to specialize in either gerontology or pediatrics.
The classes of this degree type are offered both online and local, in both part-time and full-time schedules.
Students who are interested to pursue this degree have many options to consider within the state.
There are more than five schools across the state that offer programs at the graduate level.
MSN Program Length in Kansas
MSN programs take 1.5 intensive years of study.
While they take a placement to as much as 5 years of part-time courses.
At the graduate degree level, it is expected that many students will have personal and professional commitments aside from school.
MSN Admission Requirements in Kansas
Along with the healthcare system growth, so are also growing MSN programs as well.
However, entrance in the MSN program is a very competitive one.
Though various institutions have various admission requirements, there are still elements they have in common.
Read on to see which criteria may apply to your MSN program:
Kansas RN license in good standing – able to practice in the state
Have a BSN from an accredited university in the region
Have a GPA beyond 3.0
Have completed undergraduate pre-requisite courses within the last 5 years
Attached a professional resume and personal statement along with 3 letters of professional recommendation
Attend an interview with a faculty panel
Tuition and Costs of MSN Programs in Kansas
At the University of Kansas, graduate students will have to pay approximately $500 per credit hour for the 40 or so credit hours in their course of study.
Similar to the majority of other college and university programs, administration fees, lab and service fees, housing, food, and equipment costs are calculated separately from the price of tuition.
Getting a Kansas Nursing License
Kansas requirements for nursing licensure by either examination or endorsement should include:
Candidates need to complete, sign, and date the application, include the fees, send additional documentation such as:
Criminal background check – fingerprint card, completed and signed
Official transcripts – showing completion of a nursing program and degree obtained (must be sent from the school)
Register for NCLEX examination
Application and affidavit to be signed and notarized
For licensure by endorsement include the above requirements and these additional pieces of documentation:
Request for verification of licensure from the original state of the issue – NURSYS request form (if applicable)
Accelerated Nursing Programs in Kansas
Accelerated programs open up more job opportunities for nursing students.
However, finishing one first is necessary.
One of the entrance admissions is to enroll in other prerequisite courses.
This is additional time in the entire 12-month degree.
The courses have to be paid as well.
The Best RN Schools in Kansas
Kansas offers 1o RN schools for nursing.
In them, you will be able to find various types of programs.
Basically, you will find ADN, BSN, or MSN degree programs.
| School Name | Address |
| --- | --- |
| Baker University | 618 Eighth St, Baldwin City, KS 66006 |
| Labette Community College | 200 S 14th St, Parsons, KS 67357 |
| Pittsburg State University | 1701 S Broadway St, Pittsburg, KS 66762 |
| University of Kansas Medical Center | 3901 Rainbow Blvd, Kansas City, KS 66160 |
| Mid America Nazarene University | 2030 E College Way, Olathe, KS 66062 |
| Emporia State University | 1 Kellogg Circle, Emporia, KS 66801 |
| Newman University | 3100 McCormick, Wichita, KS 67213 |
| Cloud County Community College | 2221 Campus Dr, Concordia, KS 66901 |
| University of St. Mary | 4100 S 4th St, Leavenworth, KS 66048 |
| Butler County Community College | 901 S. Haverhill Rd, El Dorado, KS 67042 |
RN Salaries in Kansas
RN salaries in Kansas change every now and then.
They change from the minimum to a maximum.
While there is always a constant.
Annual Salary Range: Annual Salary by Location:
| Location | Avg. Annual Salary |
| --- | --- |
| Wichita | $61,182 |
| Overland Park | $62,179 |
| Kansas City | $62,370 |
| Topeka | $59,396 |
| Olathe | $62,009 |
| Lawrence | $60,354 |
| Shawnee | $62,179 |
| Salina | $60,546 |
| Manhattan | $58,761 |
| Hutchinson | $60,546 |
RN Programs by State
---