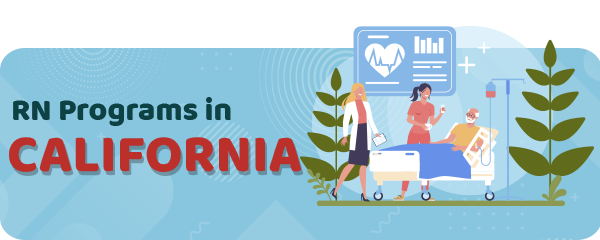 We all need support at some point in life.
And the most important time of life is when we decide to enroll in some type of education.
That's when we need to support the most.
Similarly, going to nursing education in California, you will need some help.
And while choosing the right school in this state isn't the same as picking a flower in the garden, you need to have clearer criteria yourself.
To be more exact, a student's licensure must be secured, so that he or she can apply safely.
This matter can be solved by considering NCLEX-RN passing rates in each of them.
To make this matter even easier for you, I have made sure to put here the 50 top- nursing schools in California.
Their historical and current pass rates were analyzed.
Specifically, the percentage of exam pass rates of the graduate students was observed.
In this analysis, a total of 126 RN programs in the state was included.
Part of the analysis where programs through which students earn an Associate Degree in Nursing such as AND-ASN, BSN, or Direct-Entry MSN Degree.
No matter the program, in California you will surely witness the best patient nursing care.
While RN is the first path to nursing, it is not the end.
The state considers it the beginning of other progressive steps in the career field.
One of these steps is surely the BSN degree.
As a higher educational option, it makes students apt for more job opportunities and more prone to career advancements.
This can be seen in the current trend of the market, wherein a 15% increase in BSN nursing opportunities, salaries, and professional development has been predicted for 5 years to come.
So, don't waste your time anywhere else and be part of this transformative movement in nursing that its main focus is patient care.
For RN bridge programs visit:
RN to BSN Programs in California
RN to MSN Programs in California
ADN Programs in California
Rumi once said: ''What you seek is seeking you''.
There are over 50 AND programs in California.
You can find them in the Golden State if you seek well enough.
Through these programs, prospective nursing students help the state meet the need for licenses RNs in the long run.
Those who have graduated in programs accredited by the state are ready to go for the NCLEX-RN licensure exam.
As soon as they pass it, they are allowed to complete their practice statewide.
The AND is usually the first career step for the majority of nurses in California.
With this diploma, nurses do their best to achieve professional mobility so that they can end up with a personal, professionally financially regular career.
But that's not the end of the road.
Also, nurses manage to attend continuing education by taking courses and other degrees that enrich their professional profile.
What to Look For in an ADN Program in California
There are a few things to consider when choosing a specific nursing program in California.
With the continual renewal and progressive education that is happening globally, we should always stay in touch with the updates.
Some of these things to consider can be summed up in the match between program outcomes and students' expectations regarding a nursing program.
However, breaking these things one by one, we have to consider accreditation, licensing, and program outcomes.
Accreditation
Accreditation of a nursing program in each state is a means of an entire evaluation system whose aim is to design and manage a suitable program in the best practices of the state, and with the best protection measures at work.
In California, accreditation is done by the help of the Accreditation Commission for Education in Nursing (AECN).
This accrediting body accredits the program through a national evaluation platform.
Next, other educational institutions in the state, such as the private and community colleges are accredited by the Accrediting Commission for Community and Junior Colleges (ACCJC).
The latter in particular observe 2-year programs that end up with an Associate Degree in different nursing fields.
Licensing
In California, licensing procedures are regulated by the California Board of Registered Nursing.
The Board is a division of the California Department of Consumer Affairs.
The latter has now become an authoritative body in this respect statewide.
It regulates the licensing and teaching RNs through its various main branches.
These branches are including advocacy for patients, resources of applicants and the public, regulatory enforcement, and assistance for nurses who require intervention.
Program Outcomes
Program outcomes are the most important aspect of evaluating if a program is worth attending or not.
This evaluation most of the time is done by comparison from one program with another.
As a result, students themselves can see the different indicators of success for each and choose the one they consider it fits best to their goals.
The main indicators to consider are the following:
Rate of graduation
Job market statistics
RN licensure pass rates
Salary and career information
Satisfaction data from each school
An example of a college to consider is the Allan Hancock College with an AND program of two semesters is worthy of being mentioned.
In it students are trained to be an RN in a clinical environment and a classroom.
You can find the college in Santa Maria.
The advantage of attending this college is that it offers a 30 unit program.
The program aims to prepare the students for the NCLEX-RN exam with which they can be licensed as well.
ADN Program Admission Requirements in California
Admission requirements of ADN programs in California are a great help to both the schools and students who apply for them.
This way, students see if they meet the skills and knowledge necessary for the program.
The admission criteria, in reality, is an important factor in the whole nursing profession advancement.
Here are some of California's ADN admission requirements:
Submit completed diplomas or certificates
GPA with a minimum of 2.5 in core science courses
Submit personal history/relevant life experience
Exhibit proficiency in languages other than English
Documentation that supports the first attempt and scoring of an applicant's TEAS results
Complete the application for the ADN program
Tuition and Costs of ADN Programs in California
The yearly amount of tuition for nursing students is an issue that concerns all.
However, if we make things simple, we can see that private colleges ask for higher payments due to the programming aspects that they offer.
The higher cost of tuition may be or not a reflection of a student's goals related to his or her profession.
That's what most of us have thought during life, right?
However, pinning it down, some AND programs ask payment for clinical and equipment expenses such as ID tag, uniform scrubs, shoes, analog watch, and stethoscope.
While there are others that separate school costs with students' expenses.
As an example of general tuition, we have the Glendale Community College.
Its yearly tuition fee is $5,600.
In this cost AND equipment are excluded.
Advantages of ADN Programs
Being the first nursing reference for nursing students, ADN programs in California have their benefits.
The first of them is the teachers' quality.
Soon after comes the in-field experience in the area of expertise the students choose.
AND programs also are committed to students.
LVN to RN Programs in California
Nursing pathway programs in California are many.
Luckily, nurses can choose among LVN to AND, LVN to BSN, and LVN to RN.
The latter offers a certificate program in nursing.
However, nurses will surely choose the pathway that suits most to their career goals.
LVN to ADN/BSN Programs
This is the traditional bridge program available in California, meaning LVNs to RNs.
In particular, students can opt for the LVN to ADN program.
The program can be completed in less than 3 semesters.
With this program, students will be able to work at an RN entry-level.
The other pathway such as LVN to BSN takes 3 years to finish.
By the end of it, the student earns a Bachelor's degree.
Usually, the length of each program depends on the amount of credits students want to transfer from their previous LVN program.
The LVN to RN program can be accessed at San Bernardino Valley College.
While the LVN to BSN program can be found in California State University San Marcos.
Entrance requirements for both types of programs are the same:
Licensure as an LVN in the state of California
At least one year of work experience as an LVN
Completion of all prerequisite courses with passing grades
Minimum cumulative GPA (typically 2.5 or higher)
LVN to RN Certificate Program (30 units)
This program is a new arrival in California.
The difference of this program with the LVN to RN is that at the end of it, students receive certification and also the opportunity to sit for the NCLEX-RN exam.
It also does not end with a nursing degree, such as in the case of the AND and BSN programs.
Through this program, LVN students take the 30 units which are a requirement from the state to sit for the NCLEX exam.
In the range of schools that are adding the 30 unit LVN to RN certificate programs in their primary offerings is the Rio Hondo College.
However, having a license from LVN to RN program, does not make students available for work and they are neither considered as having graduated from an approved degree program.
That's why we suggest that students check all programs to ensure that they meet all their studying and career nursing goals.
BSN Programs in California
Earning a BSN Program in California is a means of having highly qualified nurses at work.
Before doing so, nurses may start with a 4 year RN to BSN program.
But surely, they will most likely choose an accelerated BSN one anyway.
The reasons nurses choose a BSN degree are many.
First, tuition covers financial aid and scholarships.
As a result, they get a more credentialed degree with little money.
Secondly, the period spent in the program, which is 4 years, makes more time and chances for volunteer opportunities and clinical rotation.
What To Look For in a BSN Program in California
If you're interested in enrolling in a BSN program in California, you will be able to find it in more than 35 places in the state.
Being so accessible to students, their online courses available as well.
Through the aid distance and part-time students are helped with their nursing career.
However, choosing a BSN program is a matter of setting the right criteria, and seeing if a particular program meets them.
These criteria may be class size, cost of tuition, experienced professors, adequate facilities, and clinical experiences.
One of the campuses in the California State University, located in Sacramento.
In it, students will be able to find a good nursing program for their studies.
The college of this university offers a nursing program as well.
It is designed to adapt to the massive changes that are taking place in healthcare delivery nowadays.
The college receives its accreditation through the American Association of Colleges of Nursing (CCNE).
It is equipped with different nursing career programs and pathways.
This is a good place also for those nurses who want to put their theoretical knowledge in practice through the multiple useful programs offered in the college.
The programs there offer a variety of semesters designed to focus on clinical experiences on community and individual health.
Accelerated and online options are available as well.
They flexibly meet the demands of today's students.
BSN Program Length in California
BSN program in California takes 4 years to complete.
With the new demand for nurses lately, these programs offer an Accelerated BSN track as well as RN to BSN.
Through them, nursing students can gain more professional experience and qualifications through certification.
In the meantime, they achieve the BSN as well, which is estimated to be 4 years long.
BSN Program Admission Requirements in California
Specific program prerequisites and graduation criteria are different from program to program however BSN program admission requirements for Californians are generally as follows:
Minimum GPA of 3.0 with B grades in maths and sciences
SAT or ACT scores within an acceptable range
All application forms and transcripts submitted within the issued timeframes
Original transcripts provided to the Admissions office
Evidence of up-to-date vaccinations
Tuition and Costs of BSN Programs in California
Tuition and costs of BSN programs in California are regulated by the state and federal institutions.
Yet, for some cost is still an issue.
Since all the schools have the same tuition cost, they usually include housing, equipment, and course fees.
While program fees are not covered in this cost.
For example, the University of San Francisco has tuition that averages about $45,000 per two semesters.
Advantages of BSN Programs
The advantages of pursuing a BSN in California are many.
Whether it is an advantage or not, being away from home is one of the issues to consider.
But that is a personal matter for each student.
Next, the program offers minor nursing study fields for those interested.
While, students may also have support services at their presence to help them with the adult-style work at the program.
MSN Programs in California
With the need for nurses, there comes the need for education for those who one to become them as well.
A Master of Science in Nursing has become even more frequent and necessary now that the need is growing for professional nurses at job positions.
With the weekly medical advances happening in the medical field, knowledge is the essential element that makes this advancement take place.
And nurses who receive this knowledge are required greatly.
Just like in BSN, in MSN also nurses can follow professional pathways as RNs.
They can do so by attending accelerated programs, part-time, or distance coursework.
In Carolina, there are 20 programs like this.
One example of them is Sonoma State University.
It offers a Nurse practitioner program, in regards to the MSN program in the first place.
But the university also offers other specialties through which nurses take leadership functions around the state and beyond.
MSN Program Length in California
MSN programs in California are shorter than BSN ones.
They take 3 years to complete while offering the RN to MSN pathway to students equipped with a BSN in the first place.
This program is offered both part-time and full-time.
The first have time for both work and study, which is not the case with the latter group.
MSN Admission Requirements in California
MSN admission requirements cover a variety of specialized criteria.
Being such a long process, there are only a few candidates who have the chance to enter the program in a year or semester.
Their entrance depends on the schedule of the program.
However, the criteria may look like the following:
Be accepted to your school of choice as a graduate student
Be licensed as an RN with no restrictions; able to practice in California
Have two years' experience as an RN
Have a BSN degree with a minimum GPA of 3.0
Have completed the online application and supplemental applications
Have submitted all official transcripts
Tuition and Costs of MSN Programs in California
MSN programs are in essence more expensive than BSN's.
Being a graduate degree, their cost is determined by their autonomy, authority, and upward mobility.
MSN degrees are every way more useful than the BSN or ADN ones.
Their cost depends on the institution a student attends.
And it usually yearly tuition of $16,00 for a full-time study.
In this cost, lab, clinical costs, equipment, and books are not included.
These are expected to be part of the students in the previous studies.
For NP programs visit:
California DNP Programs
California FNP Programs
California Midwifery Schools
California Nurse Practitioner Programs
California Post-Graduate Nursing Program
Getting a California Nursing License
California regulations for nursing licensure within the state by application and those from another state by endorsement:
A completed application along with the following items should be submitted:
Social Security Number or Individual Taxpayer Identification Number
Fingerprint documentation – Live Scan or Hard Card
Recent passport picture (2″ x 2″)
Request for transcript
Request for Accommodation of Disabilities (if applicable)
Application for endorsement of licensure can be done by providing all of the above documentation, as well as the following:
Current/active license from another state
NURSYS Verification Application completed
NCLEX-RN or State Board Test Pool Examination – passing score
Accelerated Nursing Programs in California
There's not strange why we all want things to happen to us as fast as possible.
They are more exciting that way and make us more vulnerable to commit to them right away.
Accelerated Nursing programs are 10 in California.
They usually take 12 to 24 months long to complete, depending on the college.
To be part of any of them, students must pass a particular course.
After that, the program is a full-time one.
Admission requirements in this program are dependent on the previous degree of the student and the college as well.
Their total cost can run as much as $65,000.
The cost also depends upon the program, how many prerequisite courses needed, and if housing costs need to be factored in as well.
California Accelerated BSN Programs
California Accelerated MSN Programs
Latest California NCLEX-RN Pass Rates and Statistics
Total Number of State Approved Schools: 126
Total Number of Test Takers in 2019: 9,053
2019 Average Statewide California NCLEX-RN Pass Rate: 92.3%
The Best RN Schools in California
There are 50 RN schools functioning in California.
With such a great number, you will also have numerous programs to attend.
Consequently, you will also have the chance to pursue other accelerated tracks and subsidiary options in nursing.
| School Name | Address |
| --- | --- |
| Chabot College | 25555 Hesperian Blvd, Hayward, CA 94545 |
| Cuesta College | Highway 1, San Luis Obispo, CA 93403 |
| Sierra College | 5000 Rocklin Rd, Rocklin, CA 95677 |
| Sonoma State University | 1801 E Cotati Ave, Rohnert Park, CA 94928 |
| Monterey Peninsula College | 980 Fremont St, Monterey, CA 93940 |
| California State University, Long Beach | 1250 Bellflower Blvd, Long Beach, CA 90840 |
| California State University, Stanislaus | 1 University Cir, Turlock, CA 95382 |
| Hartnell College | 411 Central Ave, Salinas, CA 93901 |
| Stanbridge University | 2041 Business Center Dr #107, Irvine, CA 92612 |
| Los Angeles Harbor College | 1111 Figueroa Pl, Wilmington, CA 90744 |
| California State University, Channel Islands | 1 University Dr, Camarillo, CA 93012 |
| Mira Costa College | 1 Barnard Dr, Oceanside, CA 92056 |
| Merritt College | 12500 Campus Dr, Oakland, CA 94619 |
| Grossmont College | 8800 Grossmont College Dr, El Cajon, CA 92020 |
| Saddleback College | 28000 Marguerite Pkwy, Mission Viejo, CA 92692 |
| California State University, Sacramento | 6000 J Street, Sacramento, CA 95819 |
| San Diego State University | 5500 Campanile Dr, San Diego, CA 92182 |
| American River College | 4700 College Oak Dr, Sacramento, CA 95841 |
| California State University, San Marcos | 333 S Twin Oaks Valley Rd, San Marcos, CA 92096 |
| Concordia University Irvine | 1530 Concordia, Irvine, CA 92612 |
| Sacramento City College | 3835 Freeport Blvd, Sacramento, CA 95822 |
| Santa Rosa Junior College | 1501 Mendocino Ave, Santa Rosa, CA 95401 |
| Simpson University | 2211 College View Dr, Redding, CA 96003 |
| Chaffey College | 5885 Haven Ave, Rancho Cucamonga, CA 91737 |
| California State University, Los Angeles | 5151 State University Dr, Los Angeles, CA 90032 |
| Moorpark College | 7075 Campus Rd, Moorpark, CA 93021 |
| Bakersfield College | 1801 Panorama Dr, Bakersfield, CA 93305 |
| Mt. San Jacinto College | 1499 N State St, San Jacinto, CA 92583 |
| San Diego City College | 1313 Park Blvd, San Diego, CA 92101 |
| Riverside City College | 4800 Magnolia Ave, Riverside, CA 92506 |
| University of California, San Francisco | 505 Parnassus Ave, San Francisco, CA 94143 |
| Porterville College | 100 E. College Avenue, Porterville, CA 93257 |
| De Anza College | 21250 Stevens Creek Blvd, Cupertino, CA 95014 |
| Glendale Community College | 1500 N Verdugo Rd, Glendale, CA 91208 |
| College of the Siskiyous | 800 College Ave, Weed, CA 96094 |
| University of San Diego | 5998 Alcala Park, San Diego, CA 92110 |
| College of the Sequoias | 915 S Mooney Blvd, Visalia, CA 93277 |
| Evergreen Valley College | 3095 Yerba Buena Rd, San Jose, CA 95135 |
| Santa Barbara City College | 721 Cliff Dr, Santa Barbara, CA 93109 |
| Rio Hondo College | 3600 Workman Mill Rd, Whittier, CA 90601 |
| Los Angeles County College of Nursing & Allied Health | 1237 N Mission Rd, Los Angeles, CA 90033 |
| Palomar College | 1140 W Mission Rd, San Marcos, CA 92069 |
| Imperial Valley College | 380 E Aten Rd, Imperial, CA 92251 |
| Long Beach City College | 4901 E Carson St, Long Beach, CA 90808 |
| Santa Monica College | 1900 Pico Blvd, Santa Monica, CA 90405 |
| Modesto Junior College | 435 College Ave, Modesto, CA 95350 |
| Los Medanos College | 2700 E Leland Rd, Pittsburg, CA 94565 |
| Ventura College | 4667 Telegraph Rd, Ventura, CA 93003 |
| Pasadena City College | 1570 E Colorado Blvd, Pasadena, CA 91106 |
| University of California, Irvine | 252 Berk Hall, Irvine, CA 92697 |
RN Salaries in California
A good job is what we all run after.
And what's behind it is what intrigues us the most.
That's that salary.
The salary, however, does not come easily.
It usually depends on a few factors.
Among them, work experience, education, and place are to be mentioned.
Annual Salary Range: Annual Salary by Location:
| Location | Avg. Annual Salary |
| --- | --- |
| Los Angeles | $71,388 |
| San Diego | $68,184 |
| San Jose | $79,588 |
| San Francisco | $79,461 |
| Long Beach | $70,709 |
| Fresno | $63,543 |
| Sacramento | $68,547 |
| Oakland | $75,149 |
| Santa Ana | $70,773 |
| Anaheim | $70,868 |
RN Programs by State
---