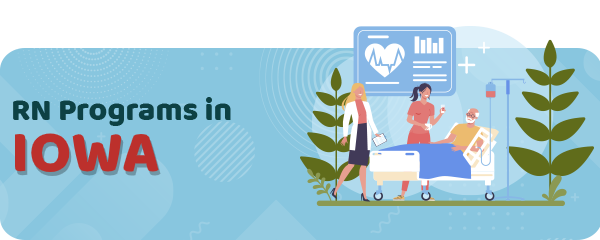 Time flows like a river, and so do opportunities to grow and move.
Growth, however, has many ways.
It may be a new job, a one-way ticket to a place, or an education.
In Iowa this time we will go for the latter.
Yes, for a nursing career.
In Iowa nursing schools are many.
However, some of them are ranked above others.
This ranking makes it easier for you as a student to choose one among them.
The second way to make the school choice easier is to see if they offer licensure by the end of their nursing program.
At this point, I decided to analyze the NCLEX-RN exam pass rates in ten of the top-ranked schools in the state.
In particular, the current and historical percentage of passing rates was considered, among 33 RN programs across Iowa.
The programs that are subject to this analysis are those that offer an Associate in Nursing.
They include (ADN/ASN), BSN, or Direct-Entry MSN Degree.
If you're looking for a place where nursing is having an upward trend.
And where you can pursue a solid education with many leadership opportunities and high salaries as well.
You could not have gone anywhere better!
The state also offers continuing education for nurses.
This project is estimated to have a 17% growth in nursing jobs in the five upcoming years.
In particular, the Bachelor of Science in Nursing (BSN) is offered.
Through this degree, nurses will advance in their position and as a result have a more rewarding career in the long run.
For RN bridge programs visit:
RN to BSN Programs in Iowa
RN to MSN Programs in Iowa
ADN Programs in Iowa
One of the best ways to meet the healthcare demands of the population is through an RN licensure.
This license is the key to a whole healthcare movement through which the population of Iowa receives safe, quality, and continual healthcare through nurses who obtain it.
But the way to the license is surely chronological.
Initially, it can be achieved through an ADN degree.
This type of degree is accessible in many parts of the state.
And it is a great way for students to make a fast jump in the nursing career.
According to the Iowa Board of Nursing (IBON), 20 ADN programs are located in the state.
While in a year's time 2000 students graduate from ADN to BSN programs as a result of sitting the NCLEX-RN exam.
The passing rate is more than 90%.
What to Look For in an ADN Program in Iowa
There are many ADN programs in Iowa, but still, you may be challenged to make a choice.
Knowing which program is the best for you is a matter of your own criteria.
Just like choosing the best clothes while shopping.
However, there are options for you.
For instance, you have the chance to choose between public and private colleges.
Secondly, you can see if the school is accredited, whether it offers licensure and the program outcomes in general.
Considering these criteria, you will not go lame.
Accreditation
In Iowa, all colleges and programs work in high standards of education.
They are all accredited by certain accrediting bodies in the state.
As a result of this characteristic, students make transfers in the nursing credentials.
While the employers measure the transfers among the students.
Initially, colleges receive accreditation from the North Central Association of Colleges and Schools.
They do so by collaborating with the state and other federal bodies.
On the other hand, nursing programs receive accreditation from the Accreditation Commission for Education in Nursing (AECN).
Or either from the American Association of Colleges of Nursing (CCNE).
Students should ensure that their program of choice adheres to college and RN accreditation.
Licensure
ADN programs in Iowa are licensed by the Iowa Board of Nursing.
From this action, the nursing program is meant to offer material, faculty, and educational methods.
These methods prepare the students for the NCLEX exam after earning the diploma.
The information about the program and those of the students are gathered in a special time.
Then they are joined with the NCLEX exam both passing and failing rated.
The Board is responsible for preparing future nurses as best as possible for such a demanding career.
Program Outcomes
Nursing program outcomes help you a lot to choose a program.
One great way to determine this is to compare the data from a few nursing programs and see where your choices rank.
Some of the things you may compare are listed below, and further down the page:
Demographic data of the students (high school graduates/LPNs/mature students)
Program seats available vs graduation rates
Student satisfaction with survey information, (in both formal and candid perspective)
Attach NCLEX passing rates
The North Iowa Area Community College, located in Mason City is an example of the evidence-based nursing program.
It is linked to other local hospitals, clinics, and public health agencies.
ADN Program Admission Requirements in Iowa
ADN admission requirements change on a yearly basis.
These requirements depend on different factors.
Among them are to be included labor force reports, faculty interests, federal funding, and so on.
The latter element is, in fact, the most influential ones in the admission process in general.
While institutions vary, there are a number of commonalities between each schools' admissions criteria:
Submit to drug and background testing as required prior to clinical enrolment
Use the faculty Health Professions Counselor if applicable.
Be prepared to begin class at the appropriate program date (It can be more than one!)
Maintain a GPA of 2.0 or greater
Show evidence of high school diploma or GED by an official transcript
Complete psychology, math and science pre-requisite courses
Show evidence of an ACT of 20+
Tuition and Costs of ADN Programs in Iowa
Tuition will always be there for a student, no matter the school.
So basically, when starting your studies, you have to be ready to pay for anything starting from certain services or even the facility you stay in.
In Iowa, you will surely pay for these.
But you will also pay for other necessary services such as parking, counseling, and the quality of the faculty as well.
Depending on these services, so will be your tuition rate.
Are you ready to spend your money wisely?
If not, you may qualify as those eligible for financial aid.
However, the payment services will be the same for you.
But let's be more concrete.
In Iowa, there is a college, named Kirkwood Community College where you will pay 160$ per credit hour.
Which is an average of $2,300 per semester?
With this in mind, the total price of an AND program is less than $10,000.
In this tuition, admin, technology room, and board are not included.
Advantages of ADN Programs
The advantages of pursuing ADN programs in Iowa are various.
However, they vary from colleges and programs.
For instance, students are more prone to colleges because of the possibility of a practical path to accreditation and employment.
Also, they pay less for them.
And they are able to learn in small class sizes.
The same does not stand for universities.
So, now you get it right why colleges have more access to education here?
Good, now let's move on.
LPN to RN Programs in Iowa
The LPN to RN pathways is available in Iowa too.
RN is the dream of many LPNs in the state.
For this reason, the state offers LPN to RN pathway for them.
These programs are typically shorter than starting an RN program from scratch.
As such, they are an ideal choice for busy LPNs in Iowa.
LPN to ADN/BSN Programs
In addition to the LPN to RN program, there are other nursing pathways available in Iowa.
To being with, there are two.
One of them is the LPN to ADN.
And the second is the LPN to BSN.
The first one is the shortest, with only a few semesters from the beginning to the end of it.
This type of program can be found in Kirkwood Community College in Cedar Rapids.
The program comes with an additional preceptorship in one of the 8 hospitals.
The preceptorship helps nurses make transfers in various nursing directions.
Indifference to the first, the second nursing pathway, from LPN to BSN is a very popular program for students in Iowa.
Iowa Wesleyan University in Mount Pleasant offers this program in time completion of fewer than 2 years.
The program is good because it helps a student get ready for various RN positions.
No matter the pathway, LPN to RN programs in Iowa will typically require the following for enrollment:
Current, active LPN license
Graduate from an accredited LPN program in the state
Complete all prerequisite courses, reach a minimum grade
BSN Programs in Iowa
The typical BSN program in Iowa is twice longer in length and credit hours than other nursing programs.
The program offers theoretical and nursing practice for the students.
While it is also designed to develop students' ethics, clinical skills, and leadership in nursing.
At the end of the study, students earn a Bachelor's Degree in Nursing.
However, they still need to undergo the NCLEX-RN exam to get the license for the practice.
What To Look For in a BSN Program in Iowa
The choices we make, and the friends we choose, are all related to who we are, and what we stand in through life.
Similarly, the BSN program you choose to pursue in Iowa is a direct representation of what you want and need to know from the profession of nursing.
But to find the right program, you need to know each of them what do they offer in the first place.
While each program has its own characteristics, the majority of them offer technical, ethical, and clinical knowledge.
However, students can also choose whether they want a public or private institution.
An urban area or a remote one.
Each of these factors, helps you navigate your thinking and choose the one right for you.
Now let's consider an example of a program at Mount Mercy University.
The program in this institution is an excellent and committed one in Iowa.
The NCLEX pass rates in the university are 90%.
Within its areas, students are able to work with patients of different backgrounds.
As well as being able to perform clinical and volunteer experiences through which they connect and make both personal and professional progress.
BSN Program Length in Iowa
BSN programs in Iowa are 4 years long.
In the middle of the year, there is a summer break, so there are two semesters in total.
Accelerated programs take 2.5 years to complete, though they demand more money to invest in them.
The general BSN program demands 120 credit hours needed for graduation in any of the 50 ADN programs in Iowa.
BSN Program Admission Requirements in Iowa
BSN admission programs vary from different institutions in Iowa.
In order to shape the future nursing workforce however, there are some general trends in admissions that are outlined here:
Send an official high school transcript with at least a 3.0 GPA
Have 4 years of 1 language or 2 years of 2 languages
Fulfill all admissions standards asked from you
Proof that you've engaged in volunteer work in the health care industry
TOEFL of 550+ if it applies
Send Letters of recommendation from professional references
Tuition and Costs of BSN Programs in Iowa
The best investment you can do with your money is to spend them on your education.
This way, you will always benefit from the knowledge gained, and other people will do too.
Thus, I was really curious to know about the tuition and cost of a BSN program in Iowa.
And with a little research, I came to know that it really includes a considerable amount of expenses.
To be more correct with you, faculty, payroll, buildings, and other related services are included.
But other expenses such as equipment, uniforms, insurance, room, and board are not included.
An example of this payment is the Saint Ambrose University in Davenport.
Its total tuition is $30,000 in a year, in which cost additional expenses are not included.
Advantages of BSN Programs
BSN programs come with many privileges.
First, the offer various clinical experiences.
Second, they have different teachers and placement rotations functioning in them.
In these programs, students are able to make professional connections.
The classes in these programs are offered in lecture-style classes.
While students there can have various learning opportunities that can be continued on in clinical rotation.
Finally, in order to continue advancing professionally, the BSN after graduation can pursue doctorate work.
MSN Programs in Iowa
If you want more advanced knowledge in nursing and additional training, you may pursue the MSN degree.
With this type of degree, Iowa nurses are able to move from the general RN position to any other specialty in nursing with a graduate degree.
Some of the roles a nurse may earn are Nurse Midwife, Pediatric Nurse, Mental Health Nurse.
Or they may also attain a role in community health leadership, health policy, or teaching.
MSN Program Length in Iowa
The length of an MSN program in Iowa depends on whether the program is full-time or part-time.
However, the general length is 30 months.
The studies are designed with the classroom component of 40 credit hours, which is 2 to 4 semesters of classroom time.
In addition, there is also a series of clinical experiences.
Students who choose accelerated MSN options are advised to stop work while studying.
MSN Admission Requirements in Iowa
MSN programs are continually growing in Iowa.
They are being accessible in faculty and different facilities.
For admission to these programs, students should work in their application package.
Once they have applied in the program, they can do the same again one or two years after.
Here are the general admissions criteria to help you prepare:
Ready to perform practice as a Registered Nurse in Iowa
Have a BSN from an accredited institution in a region
Meet the GPA of a 3.0
High marks in pre-requisite subjects
Submit in time all post-secondary and CE transcripts
Write& Send your Professional Resume, cover letter
Write&Send three letters of recommendation
Tuition and Costs of MSN Programs in Iowa
MSN program tuition is very reasonable in Iowa.
You can see that at the University of Iowa.
Its tuition for in-state students is $16,000 per year.
Other additional fees, such as administrative ones, and costs like room and board do not apply.
For NP programs visit:
Iowa DNP Programs
Iowa FNP Programs
Iowa Nurse Practitioner Programs
Iowa Post-Graduate Certificate Nursing Programs
Getting an Iowa Nursing License
Iowa state licensure by examination or endorsement requirements are as follows:
Completed application form and paid fees, must also accompany:
Complete two fingerprint cards
Send your Criminal background check in the waiver form
Official transcripts from the School of Nursing – hardcopy only, sent by the school
Register for NCLEX exam and document it
Licensure by endorsement requires a completed application and the following documentation:
Finish a Nursing program approved by Iowa
Send the Official Transcripts from the School of Nursing to the Board
Two completed fingerprint cards and waiver form
Send the document which verifies your license – request from an original state or NURSYS (if applicable)
Reach a Passing score on NCLEX-RN exam
Accelerated Nursing Programs in Iowa
Accelerated MSN nursing programs take 12 to 18 months' time.
In Iowa, there are some specific colleges where you can find such a program.
In them, it is also possible to bridge the degree to a higher one.
To be admitted to any of these programs, you need to meet a few requirements.
Costs of tuition depending on the number of prerequisite courses required, and the program that you chose to complete.
The programs are offered full-time and offer clinical requirements.
So, you should be aware of the schedule beforehand.
Anyway, check the two types of accelerated programs in the state:
Iowa Accelerated BSN Programs
Iowa Accelerated MSN Programs
Latest Iowa NCLEX-RN Pass Rates and Statistics
State Approved Schools Peak Number: 33
Test Takers Highest Number in 2019: 2,072
Average Statewide Iowa NCLEX-RN Pass Rate in 2019: 87.1%
The Best RN Schools in Iowa
With ten RN schools, you have much to hope for in a successful career in Iowa.
All the schools offer both part-time and full-time lessons.
Also, you may pursue accelerated ones, and as a result, graduate even faster than usual.
Sounds good, right?
| School Name | Address |
| --- | --- |
| Kirkwood Community College | 6301 Kirkwood Blvd SW, Cedar Rapids, IA 52404 |
| University of Dubuque | 2000 University Ave, Dubuque, IA 52001 |
| Allen College | 1990 Heath St, Waterloo, IA 50703 |
| University of Iowa | 101 College of Nursing Building | 50 Newton Road, Iowa City, IA 52242 |
| North Iowa Area Community College | 500 College Dr, Mason City, IA 50401 |
| Graceland University | 1 University Pl, Lamoni, IA 50140 |
| Iowa Central Community College | 1 Triton Cir, Fort Dodge, IA 50501 |
| Mount Mercy University | 1330 Elmhurst Dr NE, Cedar Rapids, IA 52402 |
| St. Luke's College | 2800 Pierce St #410, Sioux City, IA 51104 |
| Coe College | 1220 1st Ave NE, Cedar Rapids, IA 52402 |
RN Salaries in Iowa
RN salaries in Iowa are a result of your qualification.
Though other additional factors such as skills, place, and work experience matter.
Education is still crucial.
An MSN degree will surely pay off more than others.
However, you will neven be broke in this state as a nurse.
And, happiness means having the necessary, right?
So, good luck in your nursing career!
Annual Salary Range: Annual Salary by Location:
| Location | Avg. Annual Salary |
| --- | --- |
| Des Moines | $61,461 |
| Cedar Rapids | $60,279 |
| Davenport | $60,006 |
| Sioux City | $52,859 |
| Waterloo | $57,443 |
| Iowa City | $59,784 |
| Council Bluffs | $60,066 |
| Dubuque | $59,570 |
| Ames | $60,889 |
| West Des Moines | $61,461 |
RN Programs by State
---