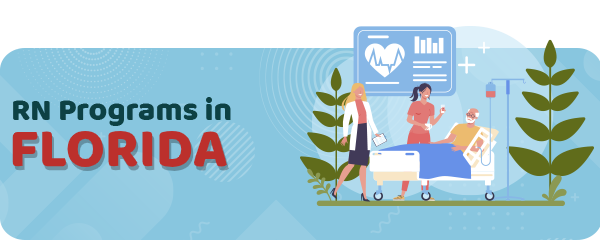 Known as the ''Sunshine state'', and its beautiful beaches, Florida keeps amazing us in every way.
You can go there for pleasure and fun.
To seek and find.
However, if you're seeking to establish a new career as well, you may consider the options there too.
If you did not know you can study nursing in Florida, you've missed enough.
But it is never too late to start seeking.
Ans finding the right school of nursing is the first step to take as a prospective student.
To make the right choice, you will have to check if the school offers licensure by the end of the program or not.
If yes, hooray!
If not, keep looking for other options.
One way to check the licensure is through the NCLEX-RN exam.
In particular, you can check the passing rates of the 50 nursing schools marked as top-ten among 151 ones throughout Florida.
So basically, you will be measuring the percentage of graduate students who have passed the NCLEX exam through years.
In these estimates reviewed programs include those that offer an Associate in Nursing such as AND, ASN, BSN or Direct, Entry MSN degree.
With a considerable number of nursing schools in the state, there are sure many steps towards the enhancement of the field.
Florida so far has created a documented dedication that aims to enhance the skills and qualifications of nurses in general.
In the state, there is a 20% of nurses demand in a year.
This percentage means 6,000 new nursing job positions per year.
At this point, nurses with a Bachelor of Science in Nursing earn more than 40% of those having a diploma degree only.
Seeing these trends, it is obvious that there is a huge need for advancement in specific nursing education.
This trend is momentarily being filled with progress in career, higher salary, and a variety of nursing specialties.
For RN bridge programs visit:
RN to BSN Programs in Florida
RN to MSN Programs in Florida
ADN Programs in Florida
The shortest way to study nursing is through an Associate Degree in Nursing.
In Florida, this degree is the easiest way to be equipped with a diploma and become an RN soon.
The degree takes two years to complete.
While its courses can be attended at community colleges everywhere in the state.
After the successful completion of the program, students will be asked to take the NCLEX-RN exam and start their nursing career right away!
Attaining this degree cannot be hard when we consider there 150 colleges available in Florida.
What to Look For in an ADN Program in Florida
There are many factors to consider when researching ADN programs.
A few indicators of a good program are listed below.
Accreditation
The main accrediting body in Florida so far is the Florida State Board of Nursing.
It manages to regulate AND program requirements in the state through three accrediting organizations.
One of them is the Accreditation Commission for Education in Nursing (AECN).
The second is the American Association of Colleges of Nursing (AACN).
While the third is the Southern Association of Colleges and Schools Commission on Colleges.
The help of the three is welcomed for nursing students in Florida.
Because having accredited standards regulated in a school, they are able to make a better choice by registering one eventually.
Licensing
The NCLEX-RN exam is the end of every ADN program you may take in Florida.
In fact, it is the key to graduation from it as well.
The more scores you pass it, the easier it will be for you to receive the license and start your job hunting process in nursing.
If we take a look at the last years' college candidates' success in the exam, we can see an 85% percentage.
Which is very much to hope for more in the future.
Program Outcomes
Before registering for a nursing school, you need to check a few things first.
One of them is to see whether the academic standards of the school you apply to meet your criteria.
One way to make sure of these standards is to set yours and also check theirs.
Some of the criteria to consider in Florida Nursing schools are these:
How many students graduate each year of total enrolled
How many students successfully pass the NCLEX on their first attempt
How satisfied are students with courses and student services
How many students obtain jobs in the field during the first year post-licensure
One example of the universities around Florida is the Broward College in Fort Lauderdale, founded in 1959.
This university was founded to extend the 2-year diploma opportunities in the state.
The ADN program in the state is on purpose created to help students get the license.
They are usually helped to do so through a strong general college education with many community clinical experiences as well.
ADN Program Admission Requirements in Florida
In Florida, each school has slightly different admissions criteria.
However, the following is a general list that will help give you an idea of what they may be looking for:
Be of good standing in the college of your choice
Have a GPA of 2.5 or higher
Complete the online application
Submit all official transcripts
Have up to date vaccinations and health forms completed
Satisfactorily pass all background inquiries
Tuition and Costs of ADN Programs in Florida
The cost of an ADN program in Florida is to be questioned.
It is one of the key issues that determine a student's school choice.
Usually, tuition is separate from other expenses such as room, board, equipment, uniforms, and other school fees.
In some schools, there is a total cost of attendance.
This is a much more transparent form of payment for students because costs are divided into different sections.
This payment, of course, varies from year to year.
For this reason, updates should be done yearly.
One example to consider is the Florida Gateway College in Lake City.
Its total tuition cost is nearly $100 for credit hour for those who live in Florida.
However, the same does not stand for additional costs.
While books, equipment, and housing expenses are specific for every person, no matter the location.
Advantages of ADN Programs
Attaining the ADN degree in Florida will at least give you a few benefits.
Since a student's main concern when they begin their studies is the cost, in this degree, costs are lower than those of the BSN.
Secondly, there are small class sizes, which means a better learning environment is provided for a student.
This, in turn, is also a way or sharing empathy methods in nursing care.
LPN to RN Programs in Florida
In Florida, Licensed Practical Nurses usually pursue registered nursing.
So practical nurses who wish to do so in the future, may apt for the LPN to RN program in the state.
This program is, in reality, the first nursing experience for a nurse, and the first nursing education he or she obtains as well.
With a shorter program than the RN one, it is even easier to dive into it soon.
LPN to ADN/BSN Programs
LPN programs have various transitions such as ADN or BSN degree.
The shortest one is usually the LPN to ADN.
It can be completed in less than a year.
This type of program may be attended in the College of Central Florida.
It takes three semesters with $10,000 cost for those who live in the state.
But that's not all.
Students who aim to enter a mother in-depth RN education may pursue an RN to BSN option.
The latter is worth attending since is offers a bachelor's degree at the end of the program.
This type of program can be found at West Coast University on Miami campus.
Students will be able to finish it in 34 months.
Florida LPN to RN programs will typically require the following for admission:
Completion of a board-approved LPN program
Current, unobstructed Florida LPN license
Minimum GPA (usually 2.5 or above)
BSN Programs in Florida
A Bachelor of Science in Nursing, indifference to an ADN degree takes four additional semesters to complete.
This degree has more value for students in terms of their nursing education since it has both higher cost and timing.
And whenever education is expensive and long, it means there are more job opportunities along the way.
Of course, with over 60 bachelor degree programs in nursing, Florida is a source of work and studying opportunities in the field.
What To Look For in a BSN Program in Florida
A thing is worthy because of what it offers.
This way, a quality BSN program offers many growth opportunities in nursing.
Amid them, students will gain both medical and patient care skills.
These include communication, leadership, and evidence-based practices.
And students are most likely interested to benefit from the three of these offerings inside a BSN program.
BSN programs that have experienced and credentialed nursing faculty are the most searched after from students.
One of these universities is Florida A&M University.
It is a nursing institution whose foundations are of a long historical aspect and of academic excellence.
BSN Program Length in Florida
Studies are the most beautiful part of our lives.
When we study what we love, we wish their lessons to be always with as, as well as the memories and knowledge gained from them.
However, everything has an end.
And BSN programs also begin and end in their due time.
Usually, they take 4 years to complete, each with free summertime, or 8 semesters separately.
As for the length, the BSN programs in Florida may take less time to complete.
You can do so by attending accelerated programs.
These programs' length mostly depends on the labor market demand, the interest of the faculty, and the need for students.
These programs have popularity since the government makes it possible for the RN to enter the BSN level in the meantime.
BSN Program Admission Requirements in Florida
BSN programs do vary in their admission requirements.
However, what follows is an average sampling of what your university may require in order to admit you:
School application, completed and submitted ahead of deadlines
Fee waiver application with attached ACT, SAT or NACAC
Submit ACT or SAT score with a minimum of 19 or 500 respectively
Submit high school or GED transcript
Submit TOEFL score if applicable
Tuition and Costs of BSN Programs in Florida
Just like everywhere in the world, in Florida also there are both public and private schools.
And the thing that makes them differ most is usually the price of education.
With that in mind, you will go where fits you best.
However, there is a common rule that tuition credits are regularly given to those who live in the state are.
While you will have to pay for other expenses as well such as housing, food, equipment, and books.
The annual tuition at Jackson University, for instance, is $31,000.
In this cost, both housing and food are included, which make $10,000 per year.
Advantages of BSN Programs
When talking about the perks of pursuing a degree, we will see there are many.
First of all, the nursing job trend is indeed wide these days.
So, one reason to pursue a BSN degree is this.
Next, through the BSN, students may have the chance to go for a higher nursing degree such as the case of the MSN.
The degree also offers students skills on patient care needs.
While the theoretical part makes students able to go for management or leadership roles in the field as well.
MSN Programs in Florida
Do you want your resume to be as rich as possible?
Go and get an MSN degree in nursing then.
These programs are very frequent nowadays in Florida.
Along with this, many personnel and policy changes are happening.
With the new gains in knowledge also.
With all this pressure, nurses can fill the place of facilitators and administrators by getting nursing care roles.
These roles are to be mentioned Nursery Midwifery and Advanced Practice role.
The RN to MSN degree path is both flexible in its schedule and its availability too.
There are over 10 MSN programs offered in the state.
They can be accessed in both online and on-campus form.
While part-time lessons are fit to those with busy life routine.
Not bad, right?
MSN Program Length in Florida
A good RN to MSN program to be found in Florida is one at Florida State University.
It is a 24 months program with both course and clinical placement, with full-time two years of study.
RNs are advised that balancing shifts on the hospital floor with the rigors of graduate work is highly stressful and not recommended.
MSN Admission Requirements in Florida
Admission requirements vary from program to program at the MSN level.
However, some of the core criteria remain the same.
Generally speaking, you will have to provide the following:
Graduate from an accredited BSN program with a GPA of 3.0 or higher
Submit a current resume with references
Submit evidence of your RN licensure with 2+ years of practice
Be in good standing at your choice university
Have practiced as an RN for two or more years
Submit all transcripts from undergraduate institutions
Tuition and Costs of MSN Programs in Florida
In Florida, MSN costs are different from the area you may be in.
They depend on a few factors such as faculty availability, clinical costs, and other similar expenses.
One university to mention is Florida State University.
Its costs are very economical at $400 per credit hour.
This stands for those who live in the state.
The university is in Tallahassee.
In it you may find various nursing paths as far as the graduate level is concerned.
For NP programs there you may check:
Florida DNP Program
Florida FNP Programs
Florida Nurse Practitioner Programs
Florida Post-Graduate Certificate Nursing Programs
Getting a Florida Nursing License
Florida requirements for nursing licensure by examination or endorsement are as follows:
Licensure through application must include the following documentation:
Completed application – fees paid
Proof of graduation from a state-approved institution
Electronic fingerprints – Live Scan
Applying for endorsement of licensure can be done by providing the following information:
Completed application – fees paid
Electronic fingerprint scan – Live Scan appointment
Request current state licensure board to send verification to Florida Board
Accelerated Nursing Programs in Florida
One of the fastest ways to make progress in the nursing career is to attain a type of degree.
An opportunity to do so may be accelerated programs for instance.
While bridge programs can be attended by practicing as a Registered Nurse in the first place.
Both of these programs can be found in various colleges around Florida, within 12 to 16 months in total.
The first is offered by a full-time schedule in various locations.
And being part of them also means meeting some requirements.
These requirements are different from program to program.
And they are also a reason for the tuition cost to change as well.
This change is due to the additional courses that they offer.
Florida Accelerate BSN Programs
Florida Accelerated MSN Programs
Latest Florida NCLEX-RN Pass Rates and Statistics
Total Number of State Approved Schools: 151
Total Number of Test Takers in 2019: 13,744
2019 Average Statewide Florida NCLEX-RN Pass Rate: 80.8%
The Best RN Schools in Florida
I would like to talk about infinities here, just like John Green in his books.
But that does not seem the case.
While selecting the nursing schools for this article, I thought they will never end.
Being 50 of them, I was amazed.
But I might not be as amazed as the student who checks them one by one.
And when that happens, I will know that the student is serious in his aim.
Are you, too?
| School Name | Address |
| --- | --- |
| Florida Gulf Coast University | 10501 FGCU Blvd S, Fort Myers, FL 33965 |
| University of Tampa | 401 W Kennedy Blvd, Tampa, FL 33606 |
| Seminole State College of Florida | 100 Weldon Blvd, Sanford, FL 32773 |
| University of Miami | P.O. Box 248153, Coral Gables, FL 33146 |
| Valencia College | 1800 S Kirkman Rd, Orlando, FL 32811 |
| Keiser University - Lakeland | 2400 Interstate Dr, Lakeland, FL 33805 |
| Tallahassee Community College | 444 Appleyard Dr, Tallahassee, FL 32304 |
| Northwest Florida State College | 100 E College Blvd, Niceville, FL 32578 |
| State College of Florida, Manatee-Sarasota | 5840 26th St W, Bradenton, FL 34207 |
| Keiser University - Tallahassee | 1700 Halstead Boulevard, Tallahassee, FL 32309 |
| West Coast University | 9250 NW 36th Street, Doral, FL 33178 |
| Eastern Florida State College - Palm Bay | 250 Community College Pkwy SE, Palm Bay, FL 32909 |
| Pensacola Christian College | 250 Brent Ln, Pensacola, FL 32503 |
| University of Central Florida | 12201 Research Parkway, Suite 300, Orlando, FL 32826 |
| Broward College | 111 East Las Olas Boulevard, Fort Lauderdale, FL 33301 |
| University of North Florida | 1 UNF Dr, Jacksonville, FL 32224 |
| Southern Florida State College | 600 W College Dr, Avon Park, FL 33825 |
| Nova Southeastern University - Fort Myers | 3650 Colonial Ct., Fort Myers, FL 33913 |
| Florida State University | 98 Varsity Way, Tallahassee, FL 32306 |
| Florida Southern College | 111 Lake Hollingsworth Dr, Lakeland, FL 33801 |
| Polk State College | 3425 Winter Lake Rd, Lakeland, FL 33803 |
| Florida Atlantic University | 777 Glades Rd, Boca Raton, FL 33431 |
| City College - Altamonte Springs | 177 Montgomery Rd., Altamonte Springs, FL 32714 |
| Jacksonville University | 2800 University Blvd N, Jacksonville, FL 32211 |
| University of West Florida | 11000 University Pkwy, Pensacola, FL 32514 |
| University of South Florida | 12901 Bruce B Downs Blvd, Tampa, FL 33612 |
| Jersey College - Largo | 2025 Indian Rocks Rd., Largo, FL 33774 |
| Keiser University - Orlando | 5600 Lake Underhill Rd, Orlando, FL 32807 |
| University of Florida | 1225 Center Dr, Gainesville, FL 32603 |
| St. Petersburg College | 6605 5th Ave N, St. Petersburg, FL 33733 |
| Lake-Sumter State College | 9501 US-441, Leesburg, FL 34788 |
| College of Central Florida - Ocala | 3001 SW College Rd, Ocala, FL 34474 |
| Palm Beach Atlantic University | 901 S Flagler Dr, West Palm Beach, FL 33401 |
| Keiser University - Melbourne | 900 S Babcock St, Melbourne, FL 32901 |
| Galen College of Nursing - Tampa Bay | 0200 Dr. Martin Luther King Jr. St N, Saint Petersburg, FL 33716 |
| Keiser University - Port St. Lucie | 9400 SW Discovery Way, Port St. Lucie, FL 34987 |
| Jersey College - Tampa | 3625 Queen Palm Dr, Tampa, FL 33619 |
| Utica College | 9400 4th St N Suite 100, St. Petersburg, FL 33702 |
| Jersey College - Fort Lauderdale | 7775 West Oakland Park Blvd., Sunrise, FL 33351 |
| Fortis Institute - Pensacola | 4081 E Olive Rd Suite B, Pensacola, FL 32514 |
| Southeastern University | 1000 Longfellow Blvd, Lakeland, FL 33801 |
| Keiser University - Clearwater | 16120 US Hwy 19 North, Clearwater, FL 33764 |
| St. Johns River State College | 5001 St. Johns Ave., Palatka, FL 32177 |
| Nova Southeastern University - Fort Lauderdale | 3301 College Ave, Fort Lauderdale, FL 33314 |
| ECPI University | 660 Century Point #1050, Lake Mary, FL 32746 |
| Pasco-Hernando State College | 10230 Ridge Road, New Port Richney, FL 94654 |
| College of Central Florida - Citrus | 3800 S. Lecanto Highway, Lecanto, FL 34461 |
| Ave Maria University | 5050 Ave Maria Blvd, Ave Maria, FL 34142 |
| Mercy Hospital College of Nursing | 3663 S Miami Ave, Miani, FL 33133 |
| Rasmussen College - New Port Richey | 8661 Citizens Dr, New Port Richey, FL 34654 |
RN Salaries in Florida
After finishing your nursing degree in Florida, you will not stay in vain.
Many job opportunities will await you.
But the salary may, however, vary from some factors.
So, you should know that a good education, is the most important one.
The rest is secondary.
They usually include work experience, skills, place, and similar.
Annual Salary Range: Annual Salary by Location:
| Location | Avg. Annual Salary |
| --- | --- |
| Jacksonville | $59,962 |
| Miami | $61,849 |
| Tampa | $60,534 |
| St. Petersburg | $60,483 |
| Hialeah | $61,372 |
| Orlando | $60,438 |
| Fort Lauderdale | $61,696 |
| Tallahassee | $57,623 |
| Hollywood | $61,696 |
| Pembroke Pines | $61,296 |
RN Programs by State
---