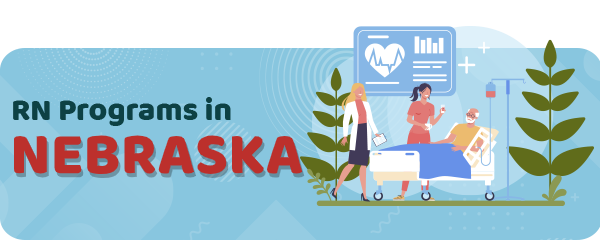 They say: ''Wherever you go, make sure you be all there''.
Going to Nebraska for a Nursing career is not a bad idea.
In fact, it could be the best thing you've done in your life if taken seriously.
It all begins with your school choice, which is every student's struggle.
This struggle comes from two reasons.
First, you don't know which is the best school for you.
Or either you have not yet determined your studying field.
However, this time I am writing about Registered Nursing.
So, the first criterion to choose a suitable RN school in this state is to find a school that offers you licensure and other career opportunities.
Sounds easy, doesn't it?
Well, this step also takes some effort.
You need to check the NCLEX-RN pass rates of all current and historical exams in over 17 RN programs in Nebraska.
In particular, the percentage of graduate students who have passed the exam ought to be analyzed.
From the RN programs, part of this analysis ought to be mentioned in the ASN, ADN, BSN, and MSN degree programs.
In Nebraska, you will find in general a progressive healthcare system.
The state is managing this progress by stimulating all students to go for a registered nursing degree in its schools.
However, this is not the only degree earned in Nebraska.
There are others too, such as are different nursing jobs as well.
Considering this tight relationship between education and work, the annual salary per Registered Nurse in the state has been estimated to be $58,970, as the Bureau of Labor Statistics reports.
For RN bridge programs visit:
RN to BSN Programs in Nebraska
RN to MSN Programs in Nebraska
ADN Programs in Nebraska
ADN programs in Nebraska are rather short.
You can finish a program in two years' time and start working right away as a registered nurse.
In case you don't know yet, this type of program can be found in small schools.
In Nebraska, these schools are technical and junior colleges.
While you can count on 7 schools in the state for a fully-accredited program.
What to Look For in an ADN Program in Nebraska
The more you want something, it seems like it will never come.
However, you should know what to seek.
Once you have the clear criteria of your favorite ADN program, you have a clear idea of what you won't accept as well.
So, the following criteria are crucial to a good ADN program in Nebraska.
Accreditation
Not only is accreditation important when it comes to an ADN program.
It is also the organization that offers accreditation as well.
In Nebraska, you can either choose the Commission for Education in Nursing.
Or else, you can look for the American Association of Colleges of Nursing Education.
While the Nebraska State Board of Nursing will always approve your program choice.
So, with the help of all these organizations, your studies are safe, and your learning of high quality.
Licensing
Licensing is like the dessert, it always comes last, but is the sweetest part of the nursing journey.
It usually comes after finishing the ADN program.
To get the license you need to take and pass the NCLEX exam first.
The program by far should prepare you for the exam.
However, to make sure it does, you check the curriculum of the school the exam passing rates, and the faculty as well.
If they are set right, you go for the school choice.
Though you're not the first to pass the exam.
There are others before you.
You can see that from the report published in 2015 from the American Association of Colleges of Nursing.
The report enumerates 1,250 students who sit the NCLEX-RN exam.
86.8% of them who sit the exam actually got licensed.
Program Outcomes
Program outcomes tell a lot about an ADN program.
In Nebraska schools usually publish their statistics from past program graduates on the following areas:
Graduation rates
NCLEX-RN pass rates
Graduate satisfaction
Employment rates
An example of the school in Nebraska is Southeast Community College, in Lincoln offers an approved and fully accredited AND a degree.
ADN Program Admission Requirements in Nebraska
ADN program admissions in Nebraska vary from school to school.
But the most common ones are these:
Cumulative GPA of 2.75 in science prerequisites and a minimum GPA of 2.5 in general education
Submit all official transcripts
Personal statement and 2 personal references
Completion of the ATI Test of Academic Skills (TEAS) exam
Tuition and Costs of ADN Programs in Nebraska
ADN programs are quite affordable in Nebraska.
That comes due to the short length and the possibility of accessing them in community colleges around the state.
However, in all of them, you will have to pay for tuition and mandatory fees.
In the latter, you will have to cover payment for uniforms, books, test expenses, and similar.
More fees vary from school to school.
So the best way to get well with them is to check the program before applying.
The normal ADN program in Nebraska can be found in Central Community College in Grans Island, NE.
Its entire cost is $11,922.
Advantages of ADN Programs
If you're one of those who can't wait for the school to end, an ADN program is an ideal choice for you.
With two years' length, you will be able to both works and study more advanced degrees by the end of it.
Such a program is common everywhere in Nebraska.
Mostly, you will find it in less urban areas of the state.
LPN to RN Programs in Nebraska
The LPN to RN pathway is a specialized path for LPNs who seek RN license.
Being quick and cheaper than other RN programs, they also offer the chance to attend the program while having few credits from a previous education or nursing practice.
LPN to ADN/BSN Programs
LPN candidates can pursue RN degrees in two ways.
One of them is the LPN to ADN pathway, through which you earn an associate degree in nursing.
And the other is the LPN to BSN program, which brings about various BA degrees in the field.
The LPN to ADN program is available in the Western Nebraska Community College.
In this college enter LPNs with previous general education in nursing.
Whereas the LPN to BSN path is available at Fremont's Midland University.
In this University students should meet the program advisor to plan the studying program.
BSN Programs in Nebraska
A BSN program is best for those candidates who want to spend more time in their studies.
As well as for those who want to pursue higher nursing degrees in the future.
Available in many universities in Nebraska, the program takes 4 years to complete.
While at the same time, the program has other accelerated programs as well as RN to BSN ones which you can make use of.
In Nebraska, you have 10 schools offering a BSN program accredited with good care.
What To Look For in a BSN Program in Nebraska
BSN programs differ in many ways.
This difference sometimes helps you focus your attention and find out what you really need in one.
Anyway, there are some general elements which you should really consider when doing your program choice.
It's the location, program outcomes, accreditation, and similar.
If you already have a BA degree in a field other than nursing, you are free to go for an accelerated BSN program.
Whereas if you do have an RN in the first place and are eager for a BSN, you can achieve it through the RN to BSN program.
As simple as that!
An accredited BSN program can be found in Clarkson College in Omaha.
The school is a role model one, so the program as well.
BSN Program Length in Nebraska
With a four year length, the BSN program is made of general education and special nursing courses.
In addition, you have other accelerated BSN programs with 15 months' length.
But the thing is this program is fitting only for the candidates who have a BA degree in another field.
If you already work as an RN, you may pursue an RN to BSN program in 1 to 2 years length, always depending on the coursework.
BSN Program Admission Requirements in Nebraska
BSN admission requirements in Nebraska usually consist of the following:
Official high school transcript or GED, as well as any prior college transcripts
Official standardized test scores (SAT or ACT)
Personal essay
Tuition and Costs of BSN Programs in Nebraska
BSN programs in Nebraska include both tuition and mandatory fees.
The latter cover college fees and other expenses.
These expenses are covered by lab fees, textbooks, and similar things.
One way to have a clear idea of the cost is to check a university.
An example of this is the University of Nebraska Medical Center with $285.25 per credit hour.
This cost is for students within the state.
While $885.75 for those out of it.
Advantages of BSN Programs
I already stated that a 4-year study comes packed in the BSN degree.
And that's an advantage in and of itself.
The second is the opportunity to grow in a career by means of higher education.
Other than that, with a BSN degree, you will be able to enter any management position in nursing.
With it, you can also jump into other nursing careers as well as go for a second career in another field of study too.
What could be more flexible than that!
MSN Programs in Nebraska
One way to become a nurse is through primary nursing education.
It could be an ADN degree.
While the way to become the best is through a higher degree, which is the Masters of Science in Nursing.
This program works best for nurses who are keen on earning nursing titles in specialties such as Clinical Nurse Specialist, Nurse Practitioner, and so on.
With this degree, you will work harder, but you will definitely earn better.
You can find an MSN program in any of the schools around Nebraska.
They are all waiting for you to prove yourself to them.
And you better do so!
MSN Program Length in Nebraska
The average MSN program length in Nebraska is 2 to 3 years of study.
The length then depends on the school, on the program, and what type of coursework is offered in them.
The MSN program is quite flexible since it makes ease for nurses who are both at work and studying for the degree.
While is it true that programs vary from one to the other in the courses that they offer.
And so does their length vary as well.
MSN Admission Requirements in Nebraska
The most common admission criteria you need to consider when applying for MSN programs in Nebraska are these:
GPA of 3.0 or above
Graduation from an accredited nursing program
Current unencumbered licensure as a registered nurse in the state
Written statement
Tuition and Costs of MSN Programs in Nebraska
If an MSN program is expensive, let it be.
It is not the only choice you have in Nebraska.
You have both scholarships and financial aid to consider.
However, you should try to make a plan for your expenses as well as categorize them well.
For instance, tuition and extra obligatory fees include uniforms and textbooks.
Knowing this, you will put your money in the right place when the time comes to.
While an example of the general cost of MSN studies is the Nebraska Methodist College in Omaha, with $719 per credit hour.
For NP programs visit:
Nebraska DNP Programs
Nebraska FNP Programs
Nebraska Nurse Practitioner Programs
Nebraska Post-Certificate Nursing Programs
Getting a Nebraska Nursing License
The nursing license in Nebraska can be attained by means of an exam, as well as by means of an endorsement.
However it may be, the following criteria should be met from every potential candidate:
Upon examination, the candidate must fill the necessary application, pay the needed expenses, and attach this type of information related to him:
Be of good moral character
Graduated from a state-approved nursing program
Proof of citizenship or your immigration status
The passing score on the NCLEX-RN exam
If you happen to apply for a nursing license by endorsement, you should send the application, make the payment, and attach these documents:
Be of good moral character
Proof of degree from the nursing program
Proof of citizenship/age
Proof of current/active license
Passing score on the NCLEX or State Board Test Pool Exam (STBPE)
Accelerated Nursing Programs in Nebraska
In Nebraska accelerated programs come in the form of a mixture of studies and intense coursework.
With 12 to 18 months of learning, you may get the accelerated program in any of the nursing schools in the state.
This fastening of the studies through deep work will fasten your entire nursing career.
However, the accelerated program have their own requirements as well.
You have to meet them all before admission.
While the cost of these programs changes according to some factors, which have not yet set from the Board.
Nebraska Accelerated BNS Programs
Nebraska Accelerated MSN Programs
The Best RN Schools in Nebraska
There are five RN schools in Nebraska that are considered the best.
Being such, they're worth putting below.
Check them and find the best RN programs at the same time!
| School Name | Address |
| --- | --- |
| Nebraska Methodist College | 720 N 87th St, Omaha, NE 68114 |
| Bryan College of Health Sciences | 5035 Everett St, Lincoln, NE 68506 |
| Union College | 3800 South 48th Street, Lincoln, NE 68506 |
| Clarkson College | 101 S 42nd St, Omaha, NE 68131 |
| University of Nebraska Medical Center | 42nd and Emile, Omaha, NE 68198 |
RN Salaries in Nebraska
RN salaries are satisfactory in all US.
So are in Nebraska.
However, the salary depends mostly on the degree.
The higher your education in nursing, the more you get paid.
While other factors such as skills, experience at work, and place are secondary.
Annual Salary Range:
Annual Salary by Location:
| Location | Avg. Annual Salary |
| --- | --- |
| Omaha | $60,173 |
| Lincoln | $59,882 |
| Bellevue | $60,173 |
| Grand Island | $59,055 |
| Kearney | $59,055 |
| Fremont | $59,275 |
| Hastings | $59,055 |
| North Platte | $57,258 |
| Norfolk | $52,380 |
| Columbus | $59,055 |
RN Programs by State
---