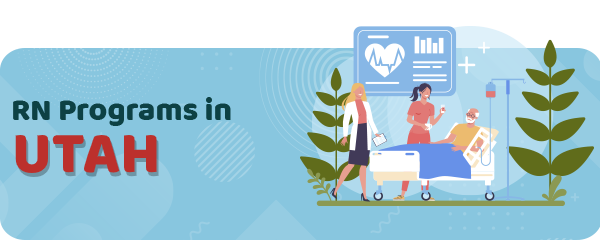 If you have not yet heard about Registered Nursing in Utah, maybe you have never searched for it.
As a result, you think finding the right school there is difficult.
But let me make your life easier.
When looking for the right school, make sure you check the school's licensure option and other career growth.
If one can assure you that, the rest is easy.
You are then asked to measure the licensure exam, which is the NCLEX-RN one.
So far, you can measure both the current and previous student passing rates in the entire 18 RN programs in Utah.
From them, five of them have been ranked in this article as the best RN programs to look for in the state.
To your advantage, they all offer an ASN, ADN, BSN, or MSN degree in the field.
These degrees are very rewarding to pursue there.
Despite securing you a successful career in nursing, they also manage to help you make a living through quality patient care.
This profession is getting better each day in Utah.
Along with it, job opportunities are also increasing.
The truest statistics can be seen from the reports of the Bureau of Labor Statistics.
According to the Bureau, in Utah, Registered nurses earn $61,000 on a yearly basis.
This average is justifiable considering the fact that RN education and jobs are frequent both in rural and urban areas of the state.
So if you're interested in becoming an RN there, your doors are all open.
For RN bridge programs visit:
RN to BSN Programs in Utah
RN to MSN Programs in Utah
ADN Programs in Utah
If you want Registered Nursing, you may want it as soon as possible.
Just like the majority of people.
But hey, it is possible.
Two years are nothing compared to a lifetime ADN degree in your resume.
The fact that you can earn this degree fast, is what makes it popular in Utah as well.
All it takes is to look for a degree in either technical or junior colleges.
While there are 8 ADN programs in the state offering such a program.
What to Look For in an ADN Program in Utah
Now let's take a look at the criteria you need to make sure an ADN program should have.
They are three in total.
And I like to say: "The Golden Three" which includes accreditation, Licensing, and Program outcomes.
Accreditation
Whenever I happen to tell someone about my school, they ask me about accreditation.
Then I realize how important it is to a reputational and quality education.
You can see it from these questions.
While it is sure accreditations adds to the ADN program's high working standard.
In Utah, this action is taken from two accrediting bodies that function there.
One is the Accreditation Commission for Education in Nursing.
While the other is the American Association of Colleges of Nursing's Commission on Collegiate Nursing Education.
The last thing to check is local accreditation, for which you have nothing to worry about either.
The Utah Board of Nursing will take care of that.
Licensing
Nursing Licensure comes last, but the preparation for it starts early on.
Precisely, it starts in the ADN program enrollment.
The path toward the license is through the NCLEX exam.
Program Outcomes
Program outcomes are what draw or keep students away from nursing education.
The program rates surely vary from school to school.
But some of the key ones include these:
Graduation rate
Licensure exam passing rate
Graduate satisfaction
Employment rate
A school to look for the program outcomes is the Stevens-Henager College in West Haven.
There you will surely find an accredited ADN program.
ADN Program Admission Requirements in Utah
Each ADN program in Texas has a set of requirements to receive students.
Some of the key ones usually include:
Having completed all pre-requisite courses with C grade
A cumulative GPA of 3.0 for all pre-requisite courses
Kaplan entrance exam results to send
Current BLS card holder
Pay fees for the application
Tuition and Costs of ADN Programs in Utah
If you ask students about their education fees, they will probably try to change the conversation.
But as a nursing student, this should not be the case with you.
All you have to do is to separate the costs.
Meaning you have to bear in mind tuition and other additional expenses, which always come second.
These include uniforms, textbooks, and other fees.
The tuition is usually definite in each nursing school.
Take for example the Dixie State University in Saint George.
Its ADN program is nearly $10,000 for three semesters.
Advantages of ADN Programs
The main advantage of pursuing an ADN degree in Utah is that you can attain a degree in different forms.
Then the accessibility of the programs in both technical and junior colleges.
As well as the short amount of time in the school makes the degree quite favorable for every aspiring student.
BSN Programs in Utah
The more you invest in your nursing education, the more you will benefit from career opportunities along the way.
And Utah offers these opportunities very often.
The BSN degree is four years long, but its fruits are precious.
Some of the jobs you can land with this degree include nurse educator position and public health nurses.
The other variant of the BSN program is the RN to BSN option, which is shorter than the traditional one.
In Utah, you have 5 RN schools offering this type of program.
What To Look For in a BSN Program in Utah
The major points you have to look for in a BSN program are simple.
As expected, they consist of cost, accreditation, and program outcomes.
In addition, you can also check whether schools have online courses as well.
That would be a bonus.
The other thing you can check is whether BSN programs offer an RN to BSN program as well.
By all means, having a role model school will help you a lot.
Such a school is the Brigham Young University in Provo.
BSN Program Length in Utah
One thing to make you happy about when it comes to a BSN program in Utah is that length is always a matter of the type of program.
Traditional BSN programs surely take four years longer to complete.
But the same does not apply to other programs.
For example, the accelerated ones take only a few months.
While RN to BSN programs take 1 to 2 years most.
BSN Program Admission Requirements in Utah
Different BSN schools have no equal admission requirements.
However, the general ones among all include these:
Having completed all pre-requisite courses with C grade or higher than that
List of the community, school, and/or church where you have done service over the past 5 years
Impromptu essay with good content, good organization, spelling, grammar, and so on
Send letters of recommendation
Tuition and Costs of BSN Programs in Utah
The BSN cost of tuition is the same way separated like the other nursing paths.
You basically need to pay the tuition and the separate fees.
In Dixie State University, you will find an $8,000 cost of a BSN degree.
Advantages of BSN Programs
BSN programs can be found easily in Utah.
That's the first most important advantage.
Next, they also are a means of employment and other career advancements too.
So, pursuing such a degree will only bring you good things in life and work.
MSN Programs in Utah
There comes a moment in your life when you need to take the stairs to reach the top.
The top isn't unreachable, but it takes effort.
A Master's of Science in Nursing is the closest step to the Registered Nursing top.
Through this degree, you can go for different nursing specialties.
Among others, you can choose to become a Nurse Practitioner, a Clinical Nurse Specialist, or a Certified Nurse Midwife.
If you previously have a BSN degree in your pocket, you're closer to the MSN than you may imagine.
And MSN programs in Utah are not little.
You just have to find the one that offers the nursing path you're interested in.
MSN Program Length in Utah
MSN programs in Utah are crucial to professional acquirement, but they are relatively short.
However, some busy working RNs may find it hard to attend the program.
But the programs have solutions to this problem.
They offer online flexible schedules if they cannot afford to attend the local ones.
MSN Admission Requirements in Utah
Some of the most common MSN admission requirements in Utah are like the following:
Have a BSN in nursing with a 3.0 cumulative GPA
Graduate Record Examination (GRE) scores, taken within the last 5 years
Attach Personal statement
Send two letters of recommendation
Tuition and Costs of MSN Programs in Utah
We took a look at many things related to an MSN degree.
But let's not forget the costs either.
Here also we have tuition and fees.
So before applying to an MSN program, you need to be aware of both.
In Utah, the Westminster College in Salt Lake City has a tuition of $44,520 for its MSN program.
For NP programs visit:
Utah DNP Programs
Utah FNP Programs
Utah Nurse Practitioner Programs
Utah Post-Graduate Certificate Nursing Programs
Getting a Utah Nursing License
So far you're familiar with the Nursing Licensure procedures in the US.
Yes, it's through exam and endorsement.
The first is common to in-state residents.
The second is best for those candidates from other US states.
If you apply for Nursing licensure in Utah by the exam, you need to complete the application forms and send these documents:
Criminal Background Check – attach fingerprints (2)
Register to take the NCLEX – have a successful score in it
Attach official transcripts -you can send them directly from the school to the Board or seal them in an envelope with the school stamp
By all means, register for the NCLEX – completing it successfully is a must
The other way of applying for the license, which is by endorsement, requires sending this document:
Verification of licensure from originating state of issuance
To know more about an RN license in Utah, you can contact the Utah Department of Commerce-Division of Occupational and Professional Licensing.
Accelerated Nursing Programs in Utah
Accelerated BSN programs in Utah are the best way to have a short nursing path.
Though they are full-time, they require time and effort to complete them successfully.
A characteristic of these programs is that they have admission requirements for their prospective candidates.
For this reason, students should check them previously to know them.
Surely, accelerated program costs vary from college to college.
But they also depend on the additional courses and housing, whether they apply or not.
By all means, don't forget to check:
Utah Accelerated BSN Programs
Utah Accelerated MSN Programs
The Best RN Programs in Utah
Step by step and here we are at the end.
As you go, check the best RN programs in the state.
The five of them have been ranked below.
| School Name | Address |
| --- | --- |
| Western Governors University | 4001 S 700th E, Ste 700, Salt Lake City, UT 84107 |
| Brigham Young University | 551 KMBL, Provo, UT 84602 |
| Southern Utah University | 351 W University Blvd, Cedar City, UT 84720 |
| University of Utah | 10 South 2000 East, Salt Lake City, UT 84112 |
| Roseman University | 10920 S. River Front Parkway, South Jordan, UT 84095 |
RN Salaries in Utah
When it comes to the RN salary in Utah, I want to stimulate you
Simply because I have reasons.
The main reason is education.
As you saw above, all nursing paths are a means of earning a higher income.
So go and do your best, and get paid the same!
Annual Salary Range: Annual Salary by Location:
| Location | Avg. Annual Salary |
| --- | --- |
| Salt Lake City | $60,594 |
| West Valley City | $60,421 |
| Provo | $58,375 |
| Sandy | $60,429 |
| Orem | $58,375 |
| Ogden | $59,070 |
| West Jordan | $60,373 |
| Layton | $58,849 |
| Taylorsville | $59,149 |
| St. George | $65,134 |
RN Programs by State
---