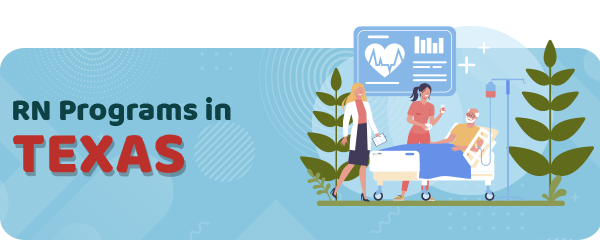 Doing the right thing is the key to excellence.
A great scholar once said: "Wisdom means doing the right thing, at the right time and the right way".
The same applies to find the right nursing school in Texas too.
Your choice needs to be wise.
You just need to determine the program you want to attend, then choose a school that offers an accredited one.
So far, the most rewarding nursing field in this state is Registered Nursing.
So, I will guide you on how to find such a school in a state where all things seem to be bigger than anywhere else in America.
As always, the process of school choice is a bit of a challenge.
You need to make some effort to reach a good one.
In a nutshell, it means checking the NCLEX-RN passing rates of students in the state.
Specifically, you need to check the historical rates over the years.
And then the current passing rates as well.
Clear enough, right?
The passing rates are usually in the form of the percentage, so you may go for it as well.
However, this information is just to make things clear for you.
Otherwise, I have worked out everything about Texas in this respect.
From my review done on the RN programs in the state, 118 of these programs were subject to analysis.
As a result, only 50 of them have been chosen as top-rated programs in the state.
All of them offer an Associate Degree in Nursing.
Basically, ASN, BSN, ADN, and MSN programs were carefully reviewed.
A view on Registered nursing in Texas
In life needs and wants are different things.
The first ones are always a priority because we base our lives on them.
Yet, these needs are different for everyone.
In Texas, this need is more emphasized in nursing.
From the report done on the Texas Center for Nursing Workforce, from 2015 to 2030, nurses' numbers will decrease slightly in the state.
But as always, every twist has its turn.
Similarly, this breakdown will be a means for many new nurses to build a new career instead.
And that's not impossible.
Not with a $72,890 annual salary as reported from the Bureau of Labor Statistics.
For RN bridge programs visit these two addresses:
RN to BSN Programs in Texas
RN to MSN Programs in Texas
ADN Programs in Texas
An ADN program is definitely one of the main nursing paths in Texas.
Their flexibility lies in their short length and affordable price.
Two of the most sought for traits from students in their studies.
With only two years' length, this type of program is available in the most accessible facilities too.
These facilities include technical and community colleges.
While the total number of RN schools in Texas goes around 65.
Though not all of them have been included in this article.
But just like the stars, they exist, even though you can't touch them.
What to Look For in an ADN Program in Texas
In Nursing, just like in other professions, we want to seek the best education.
Some of the key characteristics you must never give up on in any RN school are as follows.
Accreditation
I'd like to start small.
But the most important things in life aren't small.
Accreditation is not a lifetime aim, but one of the ways to make your education path worthy and qualitative for sure.
Nursing schools in Texas need accreditation to be a source of long-term success for their students.
For this reason, two organizations in the state do their best to find accredited RN schools for them.
The first organization responsible for this practice is the Accreditation Commission for Education in Nursing.
The other is the American Association of Colleges of Nursing's Commission on Collegiate Nursing Education.
The third one is the Texas Board of Nursing.
Last but not least, this one is responsible for recognizing RN programs at a local level.
Licensing
Nursing is one of those professions where graduation and licensing are really two different things.
However, they complete each other.
And ADN program, for instance, should play a huge role in preparing you for a license.
The license comes as a result of passing the NCLEX exam in the first place.
Therefore, the idea is to find a school whose curriculum aims to give you this type of preparation that is crucial to this step.
Program Outcomes
The success of a thing depends on its fruits, basically, its outcome.
Some of the main elements which tell you a lot about an ADN school's success are as follows:
Graduation rate
Licensure exam pass rate
Graduate satisfaction
Employment rate
To be even more convinced that these schools exist, check a good one.
It's the Brookhaven College in Dallas.
Here's where you can attend an accredited ADN program for sure.
ADN Program Admission Requirements in Texas
Admission requirements are in fact certain criteria that an ADN program sets for its students.
These criteria make one aim to step higher in terms of qualification, which usually include the following:
Reach a GPA score of 2.7 or higher
Reach a 2.5 GPA on courses prior to admission
Current BLS Healthcare provider level CPR-American Heart Association
Passing HESI exam scores
Tuition and Costs of ADN Programs in Texas
Money is always a big deal.
When it comes to paying for your RN studies, it's the same.
But with a little bit of calculation, you can make it easier.
ADN program costs can be easy to pay as well.
By separating tuition from expenses you will have a clear idea of what it is expected from you as a student.
Additional costs usually include textbooks, uniforms, and other additional fees.
But there may be other additional costs along the way, for which you need to be aware of.
The only way to do so is to check role model ADN schools such as Navarro College in Corsicana in Texas.
Its tuition cost goes approximately $7,200.
In this price expenses such as books and lab are excluded.
Advantages of ADN Programs
The good that comes with an ADN degree is expected.
First of all, you qualify for Registered Nursing.
So, it's a good step to the career.
Second, it helps you jump into work right after finishing the degree.
And with the favorable price, it is even more likely the best program choice you might have done too.
The other advantage of pursuing this program is that you don't have to search for it far.
All it takes is a visit to technical and junior colleges and here you have the opportunity to study the ADN program.
LVN to RN Programs in Texas
Almost everyone can become a Registered Nurse.
LVNs can become too.
Therefore an LPN to RN pathways is two.
You can either go for an LVN to ADN path.
Or to an LVN to BSN one.
LVN to AND Programs
The first nursing path of LVN to ADN has a key characteristic.
And that is an end in an Associate Degree in Nursing.
With only a few semesters and you're done!
And the shortage is the key to its popularity as well.
This program is available at Dallas Nursing Institute.
LVN to BSN Programs
The LVN to BSN program is the second nursing path you can go for in Texas.
Through it, you can attend a curriculum that helps fill the void between registered and vocational nurses.
This program can be found at Sam Houston State University in Huntsville.
This program, just like the LVN to ADN demands you to have a current LVN license.
But that's not all.
In the meantime, you have to prepare official transcripts of the test points, as well as the least GPA score so that you can be admitted to the program.
BSN Programs in Texas
Let's go through the second nursing degree in Texas.
It's a Bachelor of Science in Nursing.
The degree has a long tradition in the state.
With four years of length, it could not be otherwise.
However, the longer amount of time something takes from us, the more should prepare and strengthen our working skills.
The same happens with a BSN degree.
It is a means of acquiring more job and career opportunities in nursing.
With a BSN, you can become a nurse educator, which is in the range of public health nurses.
A BSN also can be pursued through an RN to BSN program, as well as an accelerated one too.
To whichever nursing degree, 50 or more schools will be on your service in the entire state.
What To Look For in a BSN Program in Texas
Many people have doubts when it comes to choosing the right thing.
Choosing a BSN program in Texas is not as difficult as choosing the love of your life.
But somehow both seek some kind of research LOL.
But without going so far, you can take a look at the right criteria a BSN program should meet, in order to choose with your heart at peace.
These criteria include accreditation, cost, location, and the outcomes of the program.
Other factors such as schedule are secondary.
While when it comes to the variety of programs, you should carefully check them in the schools and choose the one you're interested in.
By all means, an accredited BSN program is available at Midwestern State University in Wichita Falls.
BSN Program Length in Texas
A BSN program length does not take long. Mainly, it is a matter of program type.
A traditional BSN is doomed to last four years.
If you're one of those people who want shorter studies, you should neglect this one.
Rather, you can go for other BSN programs such as accelerated one, which takes up to 16 months.
Or else, you can choose an RN to BSN one, with only two years long.
BSN Program Admission Requirements in Texas
Take a look at the few BSN admission requirements in Texas schools.
They generally include:
Having finished all pre-requisite courses with a cumulative 3.0 GPA or higher
Completed HESI A2 assessment with at least 80% scores in Math and composite English language
Write and send the Personal statement
Tuition and Costs of BSN Programs in Texas
They say ever level of life will seek a different side of you.
It's true.
When considering a BSN program application, payment is an important factor to be aware of.
Primarily, you will be asked to pay for tuition.
Then other additional fees come along.
They usually include uniforms, lab fees, books, and so on.
Traditional BSN programs have a standard cost.
This can be seen at Texas A&M University.
The university has locations in Round Rock, McAllen, Bryan, and Lufkin.
Its cost of tuition there is $25,994.
In this cost, additional fees are excluded such as books, room and board, supplies, loan fees, travel, and personal pay.
Advantages of BSN Programs
If nothing else, a BSN program will help you land better jobs in the field.
However, the more qualified, the more responsibility is weighed upon your shoulder.
So, having this type of program means you will have to be more responsible for practicing nursing in the state.
However, knowledge will make you stronger.
For example, pursuing an RN to BSN path will always elevate your professional profile and will improve your working practice as well.
MSN Programs in Texas
Following up with the nursing degrees, it seems they will never end.
After a BSN comes the Master's of Science in Nursing, an advanced degree in the field.
I say advanced because through it you can obtain other nursing specialties as well.
Amid them, you can become a Nurse Practitioner, a Certified Nurse Midwife, or else, a Clinical Nurse Specialist.
In order to qualify for the MSN, a prior BSN degree is a must.
And, don't worry, Texas is home to both.
MSN Program Length in Texas
When it comes to MSN program length, I am sure you will like it.
Who would not give 2-3 years of life to become a Master of Science in Nursing?
Being a huge title, you think not everyone is capable of acquiring it.
But it is not true.
Everyone can.
Even nurses with busy schedules work and study at the same time can attend it.
They can attend it due to the flexible schedule programs offer, such as online or evening courses.
MSN Admission Requirements in Texas
Different MSN schools set unique requirements for students.
But you are sure to find the following ones as the most common:
GPA of 2.75 in the last 60 hours of coursework toward the undergraduate nursing degree and a minimum GPA of 3.0 in all prior graduate course work
Submit GRE scores you've taken within the last 10 years
Send three letters of recommendation
Make an Individual interview with the faculty you're graduated in
Tuition and Costs of MSN Programs in Texas
The cost of MSN programs so far was different from state to state.
Well, they are different even from program to program.
From this point of view, you need only an example to be convinced about that.
A typical MSN cost can be found in the University of Texas Medical Branch.
The university is located in Galveston and its entire MSN cost is $16,168.
Together with course fees, which count $4,270, the total cost becomes $20,438.
However, programs determine the price.
This difference can be seen in this variety of programs in the state:
Texas DNP Programs
Texas FNP Programs
Texas Nurse Practitioner Programs
Texas Post- Graduate Certificate Nursing Programs
Getting a Texas Nursing License
The paths toward Nursing Licensure in Texas are clear.
You either acquire it by exam, or by endorsement.
Whichever path you take, you also need to complete a Nursing degree approved from the state and also pass the NCLEX exam.
If you choose to apply for it by means of an exam, you have to submit these documents:
Submit your Criminal Background Check – with fingerprints
Reach a Passing score on 'Nursing Jurisprudence Examination'
Affidavit of Graduation
Register for NCLEX exam – passing score upon completion
If you apply to it by endorsement, you need to both fill the necessary application and the following documents:
Criminal Background Check – submit it electronically if you live within Texas
Reach a Passing score on 'Nursing Jurisprudence Examination'
Verify your Licensure from the state you've earned it – NURSYS (if applicable)
Accelerated Nursing Programs in Texas
Accelerated Nursing Programs are a means of making progress in the field.
The same is in every US state, and so in Texas too.
An accelerated MSN program can be the same.
With 10 to 15 months' length, they are enough to make this move.
On the other hand, direct entry to an MSN program takes 3 years long.
Whichever program you take, you will have to commit to it full-time.
While prerequisite courses will be required from you to take in both.
Texas Accelerated BSN Programs
Texas Accelerated MSN Programs
Latest Texas NCLEX-RN Pass Rates and Statistics
Total Number of State Approved Schools: 118
Total Number of Test Takers in 2019: 12,757
2019 Average Statewide Texas NCLEX-RN Pass Rate: 92.3%
The Best RN Schools in Texas
Are you ready to go through 50 RN schools in Texas?
If you are looking for the best one, you will have to.
But trust me, it will not be hard.
There you have all the programs, schedules, and work opportunities.
All you need is to choose the one that fits you best.
| School Name | Address |
| --- | --- |
| East Texas Baptist University | 1 One Tiger Dr, Marshall, TX 75670 |
| LeTourneau University | 2100 S. Mobberly Ave., Longview, TX 75602 |
| Laredo College | West End Washington St, Laredo, TX 78040 |
| University of Houston | 14000 University Blvd, Sugar Land, TX 77479 |
| Texas A&M University | 8447 Riverside Parkway, Bryan, TX 77807 |
| Concordia University Texas | 11400 Concordia University Dr., Austin, TX 78726 |
| University of The Incarnate Word | 4301 Broadway St, San Antonio, TX 78209 |
| Howard College | 1001 Birdwell Lane, Big Spring, TX 79720 |
| University of Texas Medical Branch | 301 University Blvd, Galveston, TX 77555 |
| Texas State University | 1555 University Blvd, Round Rock, TX 78665 |
| West Texas A&M University | 2501 4th Ave, Canyon, TX 79016 |
| Texas Tech University - Health Sciences Center | 3601 4th St, Lubbock, TX 79430 |
| University of Texas Health Science Center at Houston | 6901 Bertner Ave, Houston, TX 77030 |
| Mountain View College | 4849 W Illinois Ave, Dallas, TX 75211 |
| Blinn College | 8441 State Highway 47, Bryan, TX 77807 |
| UT Health San Antonio | 7703 Floyd Curl Dr, San Antonio, TX 78229 |
| Texas Christian University | Annie Richardson Bass Building 2101, 2800 W Bowie St, Fort Worth, TX 76109 |
| Stephen F. Austin State University | 1936 North St, Nacogdoches, TX 75962 |
| Lone Star College - Montgomery | 3200 College Park Dr, Conroe, TX 77384 |
| Lone Star College - Kingwood | 20000 Kingwood Drive, Kingwood, TX 77339 |
| Covenant School of Nursing | 1919 Frankford Ave , Lubbock, TX 79407 |
| Texas Lutheran University | 1000 W Court St, Seguin, TX 78155 |
| Amarillo College | 2201 S Washington St, Amarillo, TX 79109 |
| University of Texas - Austin | 1710 Red River St, Austin, TX 78701 |
| University Of Texas - El Paso | 500 West University Avenue, El Paso, TX 79968 |
| Texas A&M International University | 5201 University Blvd, Laredo, TX 78041 |
| Baylor University | 333 North Washington Avenue , Dallas, TX 75246 |
| Brookhaven College | 3939 Valley View Ln, Farmers Branch, TX 75244 |
| University of Texas - Tyler | 3900 University Blvd, Tyler, TX 75799 |
| Texas Woman's University | 6700 Fannin Street, Houston, TX 77030 |
| Lone Star College - Tomball | 30555 Tomball Pkwy, Tomball, TX 77375 |
| Texas A&M University Commerce | 2600 South Neal Street, Commerce, TX 75428 |
| Sam Houston State University | 1 Financial Plaza, Suite 215, Huntsville, TX 77340 |
| Alvin Community College | 3110 Mustang Rd, Alvin, TX 77511 |
| Central Texas College | 6200 W. Central Texas Expressway, Killeen, TX 76549 |
| Panola College | 1109 W Panola St, Carthage, TX 75633 |
| Lamar State College – Port Arthur | 1500 Procter St., Port Arthur, TX 77640 |
| El Paso Community College | 9570 Gateway N Blvd, El Paso, TX 79924 |
| Lone Star College - Cy-Fair | 9191 Barker Cypress Rd, Cypress, TX 77433 |
| Angelo State University | 2601 W Ave N, San Angelo, TX 76904 |
| Austin Community College | 3401 Webberville Road, Austin, TX 78702 |
| Western Governors University | 12515-8 Research Blvd, #250, Austin, TX 78759 |
| Del Mar College | 101 Baldwin Blvd, Corpus Christi, TX 78404 |
| Texas A&M University - Corpus Christi | 6300 Ocean Dr, Corpus Christi, TX 78412 |
| Temple College | 2600 S 1st St, Temple, TX 76504 |
| Lamar University | 4400 S M L King Jr Pkwy, Beaumont, TX 77710 |
| Tyler Junior College | 1327 S Baxter Ave, Tyler, TX 75701 |
| Wharton County Junior College | 911 Boling Highway, Wharton, TX 77488 |
| San Jacinto College - South | 13735 Beamer Rd, Houston, TX 77089 |
| Lone Star College - North Harris | 17200 Red Oak Drive, Houston, TX 77090 |
RN Salaries in Texas
The majority of people dislike asking them about how much they earn.
That happens for many reasons.
But being satisfied with your salary at work is necessary.
And btw, it is the main source of motivation.
However, earning well depends on many factors.
To begin with, it's the quality of your education, skills, work experience, and so on.
The place is a secondary factor.
So, see how the salary changes in Texas considering the three types of shifts.
Annual Salary Range: Annual Salary by Location:
| Location | Avg. Annual Salary |
| --- | --- |
| Houston | $65,236 |
| Dallas | $63,031 |
| San Antonio | $61,889 |
| Austin | $62,595 |
| El Paso | $55,668 |
| Fort Worth | $62,016 |
| Arlington | $61,915 |
| Corpus Christi | $59,024 |
| Plano | $62,759 |
| Garland | $62,895 |
RN Programs by State
---