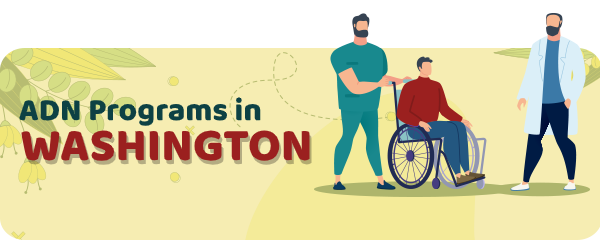 Washington is a state in which RNs with ADN degrees have great opportunities.
Being a nurse can be challenging, but also rewarding in both short and long terms.
In Washington, as well as in other states, there is not enough RN with Associates Degree.
It is why there are so many interesting and great programs to become an RN with an ADN.
Nowadays, the programs don't last as much as they did in the past, so the process gets simpler.
Keep reading to find out more about ADN programs in Washington.
Popular Programs
Choosing the Perfect ADN program in Washington – Things to Know
Don't feel overwhelmed with so many choices for school around you.
Let's break the process into a few steps and the decision will be easier.
Always consider only programs accredited Accreditation Commission for Education in Nursing or the American Association of Colleges of Nursing.
If college is your choice, make sure that it is accredited by the state's Nursing Care Quality Assurance Commission.
Next, check whether you will be eligible to take the NCLEX after you complete the program you have chosen.
Many students choose to research schools more and it can be a good way to make the decision.
Narrow the choice to a few schools and compare their statistics.
For example, check how many students start and complete the program; check what their overall satisfaction with the school is.
Make sure to check what the NCLEX pass rates are for the students who complete the program.
Once you are completely sure that you have gathered all information, you can move to the fulfilling requirements for admission.
ADN Program Admission Requirements
Each school comes up with certain admission requirements, that can change even annually.
However, there are some requirements that many schools share.
Those are having a cumulative GPA of at least 3.0.
You will have to have a minimum of 74% score on the TEAS
Students are required to have at least 2.0 for all pre-requisite classes and 8 on the COMPASS E-Write Test.
After you complete and fulfill all the requirements you can be admitted to the majority of ADN programs in the state of Washington.
The Costs
The tuition costs for ADN programs are different across the state.
Also, the list of things that tuition covers isn't the same for all programs.
Also, some schools include the costs for the review materials and nursing instruments, while some don't.
For example, the estimated tuition for the ADN program at Columbia Basin College is $11775.
Schools in West Virginia
Let's take a quick look at the ten best schools in Washington.
There are many options, so make sure to find the one that meets all your standards.
If you want to finish the coursework in two years, you can take Big Bend Community College
Pierce College offers a great and comprehensive ADN program, while Whatcom Community College has a 96% completion rate.
If you are interested in entry-level nursing roles, you can check the Bellevue College.
One of the best ADN degree programs is the program at Columbia Basin College.
On the other hand, if you attend Everet Community College you can get a transfer degree – ASsosialte in Applied Science.
Walla Walla University provides a great BSN education route for all aspiring registered nurses.
If you are eager to educate yourself in a dynamic environment, choosing Olympic College can be the best decision.
South Puget Sound Community College has a unique and comprehensive DTA/MRP program that lasts for three years and Wenatchee Valley College is for students looking for limited enrollment.
| School Name | Address |
| --- | --- |
| Big Bend Community College | 7662 Chanute St NE, Moses Lake, WA 98837 |
| Pierce College | 9401 Farwest Drive SW, Lakewood, WA 98498 |
| Whatcom Community College | 237 W Kellogg Rd, Bellingham, WA 98226 |
| Bellevue College | 3000 Landerholm Cir SE, Bellevue, WA 98007 |
| Columbia Basin College | 2600 N 20th Ave, Pasco, WA 99301 |
| Everett Community College | 2000 Tower St, Everett, WA 98201 |
| Walla Walla University | 204 S College Ave, College Place, WA 99324 |
| Olympic College | 1600 Chester Ave, Bremerton, WA 98337 |
| South Puget Sound Community College | 2011 Mottman Rd SW, Olympia, WA 98512 |
| Wenatchee Valley College | 1300 Fifth St, Wenatchee, WA 98801 |
| Pacific Lutheran University | 12180 Park Ave S, Tacoma, WA 98447 |
| Gonzaga University | 502 E Boone Ave, Spokane, WA 99202 |
| University of Washington | 1959 NE Pacific Street, Seattle, WA 98195 |
| Peninsula College | 1502 E Lauridsen Blvd, Port Angeles, WA 98362 |
| Skagit Valley College | 2405 E. College Way, Mount Vernon, WA 98273 |
| Bellingham Technical College | 3028 Lindbergh Ave, Bellingham, WA 98225 |
| Walla Walla Community College | 500 Tausick Way, Walla Walla, WA 99362 |
| Tacoma Community College | 6501 S 19th St, Tacoma, WA 98466 |
| Seattle Central College | 1200 12th Ave S, Seattle, WA 98144 |
| Centralia College | 600 Centralia College Blvd, Centralia, WA 98531 |
| Yakima Valley College | South 16th Ave. & Nob Hill Blvd, Yakima, WA 98902 |
| Shoreline Community College | 16101 Greenwood Ave N, Shoreline, WA 98133 |
| Seattle Pacific University | 3307 3rd Ave West, Seattle, WA 98119 |
| Northwest University | 5520 108th Ave NE, Kirkland, WA 98033 |
| Seattle University | 901 12th Avenue, Seattle, WA 98122 |
| Lower Columbia College | 1600 Maple St, Longview, WA 98632 |
| Highline College | 2400 S 240th St, Des Moines, WA 98198 |
| Washington State University | 103 E Spokane Falls Blvd, Pullman, WA 99202 |
| Lake Washington Institute of Technology | 11605 132nd Ave NE, Kirkland, WA 98034 |
| Clark College | 1933 Fort Vancouver Way, Vancouver, WA 98663 |
| Spokane Community College | 1810 N Greene St, Spokane, WA 99217 |
| Grays Harbor College | 1620 Edward P Smith Dr, Aberdeen, WA 98520 |
| North Seattle College | 9600 College Way N, Seattle, WA 98103 |
| Renton Technical College | 3000 NE 4th St, Renton, WA 98056 |
| Heritage University | 3240 Fort Rd, Toppenish, WA 98948 |
Salary
The salary of an RN is higher than that of salaries in some other states.
The annual salary is around $67730.
However, salary depends on several factors including working facility, years of experience, location, etc.
Annual Salary Range:
Annual Salary by Location:
| Location | Avg. Annual Salary |
| --- | --- |
| Seattle | $69,380 |
| Spokane | $62,910 |
| Tacoma | $67,610 |
| Vancouver | $66,120 |
| Bellevue | $69,380 |
| Everett | $67,860 |
| Federal Way | $67,610 |
| Kent | $67,480 |
| Yakima | $62,770 |
| Bellingham | $64,750 |
ADN Programs by State
---