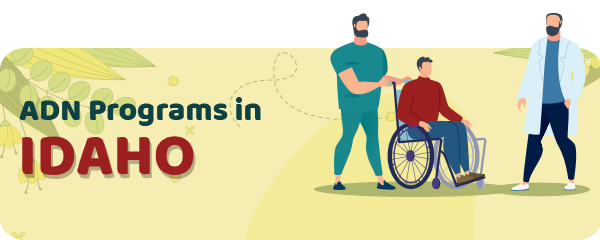 If you want to learn more about ADN programs in Idaho, keep reading to find out all you need to know for this rewarding career.
The Healthcare system in Idaho is in the growing need for registered nurses with an Associate's Degree.
That is why you will have so many options for education and job opportunities across the state.
The modern programs are flexible and last shorter, but you can always find traditional comprehensive programs, too.
Let's start from the first step toward your career as an RN with ADN.
Choosing the Perfect ADN Program in Idaho – Things to Know
First, you will have to decide which program to complete in Idaho.
The decision is very important because it can affect your future carrier, employment, further education capabilities, etc.
However, you should consider only officially approved programs.
The  Accreditation Commission for Education in Nursing and the American Association of Colleges of Nursing maintain the accreditation process of ADN programs.
Colleges in Idaho need to be approved by the Northwest Commission on Colleges and Universities.
Next, make a list of programs that make you eligible to take the NCLEX exam after you complete the program.
Compare the schools by its graduates' employment rates, NCLEX pass rates, students' success rates, etc.
With all this information you can have a bigger picture of the school, and decide whether it fits your expectation and preferences.
Once you are sure about your decision, you can continue with the admission requirements.
ADN Program Admission Requirements
Each school can set basic requirements students must fulfill to be admitted to programs.
Some schools update their requirements for nursing programs more frequently than others and make sure that you have the latest information.
However, in Idaho, you will have a GPA of at least 3.0 and a score on TEAS at least 60%.
You have to submit a GED or high school transcript with graduation date, provide a record of all college-level credits and evidence of current CPR certification.
Additionally, in Idaho, you have to meet the criteria for physical ability to be admitted to the nursing program.
The Costs
Education costs vary across the country.
The tuition is based on various factors and can be significantly different for different degree level programs.
Also, some schools have fees that include everything a nursing student will need, including nursing instruments and learning materials, while for your others, you have to purchase those separately.
For example, if you choose the College of Western Idaho, expect to pay around $140 per credit hour.
Schools in Idaho
Check the list of all the best schools in Idaho.
Don't rush with your decision, because you have plenty of options.
| School Name | Address |
| --- | --- |
| Boise State University | 1910 University Dr, Boise, ID 83725 |
| Brigham Young University - Idaho | 525 S Center St, Rexburg, ID 83460 |
| Carrington College | 1122 North Liberty Street, Boise, ID 83704 |
| College of Eastern Idaho | 1600 S 25th E, Idaho Falls, ID 83404 |
| College of Southern Idaho | 315 Falls Ave, Twin Falls, ID 83301 |
| College of Western Idaho | 2407 Caldwell Blvd., Nampa, ID 83651 |
| Idaho State University | 921 South 8th Avenue, Pocatello, ID 83209 |
| Lewis-Clark State College | 500 8th Avenue, Lewiston, ID 83501 |
| North Idaho College | 1000 W. Garden Ave, Coeur d'Alene, ID 83814 |
| Northwest Nazarene University | 623 S University Blvd, Nampa, ID 83686 |
| Stevens-Henager College - West Haven | 1890 South 1350 West, Ogden, ID 84401 |
Salary
An average salary of a registered nurse in Idaho is $59860.
However, how much you will earn depends on your city, your education level, employer, professional experience, additional certificates, etc.
Annual Salary Range:
Annual Salary by Location:
| Location | Avg. Annual Salary |
| --- | --- |
| Boise | $60,170 |
| Nampa | $59,540 |
| Pocatello | $55,110 |
| Idaho Falls | $57,650 |
| Meridian | $60,110 |
| Coeur d'Alene | $62,410 |
| Twin Falls | $54,920 |
| Lewiston | $62,620 |
| Caldwell | $59,480 |
| Moscow | $62,410 |
ADN Programs by State
---