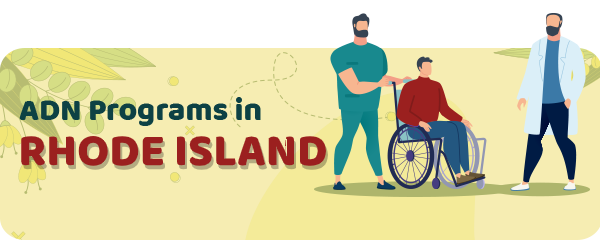 Rhode Island is experiencing a growing demand for registered nurses with an Associate's Degree.
It is why educational programs are becoming shorter and more effective, while there are so many new programs you choose as your educational path.
Because of the great offer of ADN programs in Rhode Island it is easier to find the one that fits your schedule and preferences.
Keep reading to find out more information.
Choosing the Perfect ADN Program in Rhode Island – Things to Know
Choosing the appropriate program is highly important for your further career and possibly further education.
However, you don't have to stress about it too much.
You can follow the next advice and have a wiser approach.
The first thing is to make a list of all properly accredited programs across the state.
In Rhode Island, check only programs accredited through the Accreditation Commission for Education in Nursing or the American Association of Colleges of Nursing.
For colleges, the state's Board of Nursing is in charge of the accreditation.
Next, check whether you will be qualified to take the NCLEX exam after you complete the program.
Always try to find out as much information as you can about the school and students.
For example, finding out how many students start the program and how many of them complete it, can tell you a bit more about the difficulty of the programs.
Check the NCLEX pass rate to discover competency and overall student satisfaction metrics.
ADN Program Admission Requirements
Schools set their requirements for different ADN programs and change them from time to time.
Some even change them annually, so make sure you are familiar with the latest requirements.
However, the majority of schools have similar admission requirements that include submitting the Accuplacer test score with a minimum of 90 for the reading section, and 65 for a math section.
Next, you will have to provide the results of the HESI A2 test score of 75% or better.
Students are required to complete all pre-requisite courses and to submit all official transcripts.
Make sure to prepare all the documents on time.
The Costs
The ADN program fees are different at schools and across the state.
Some schools require tuition for all expenses, and in some schools, you will have additional costs for nursing instruments and learning materials.
For example, at the New England Institute of Technology, you will have to pay year is around $27000 per academic year.
Schools in Rhode Island
Check the list with all the best RN programs you can attend in Rhode Island.
Luckily, the choice is wide so you have larger chances to find the program which fulfills all your needs.
| School Name | Address |
| --- | --- |
| Community College of Rhode Island | 400 East Ave, Warwick, RI 02886 |
| New England Institute of Technology | 1 New England Tech Boulevard, East Greenwich, RI 02818 |
| Rhode Island College | 600 Mount Pleasant Avenue, Providence, RI 02908 |
| Salve Regina University | 100 Ochre Point Ave, Newport, RI 02840 |
| University of Rhode Island | 45 Upper College Rd, Kingston, RI 02881 |
Salary
The average annual salary of a registered nurse in Rhode Island is $66850.
It depends on many factors including city, working facility, professional experience, certificates, etc.
Annual Salary Range:
Annual Salary by Location:
| Location | Avg. Annual Salary |
| --- | --- |
| Providence | $67,160 |
| Warwick | $67,160 |
| Cranston | $67,160 |
| Pawtucket | $67,160 |
| East Providence | $67,160 |
| Woonsocket | $67,100 |
| Coventry | $67,040 |
| North Providence | $67,160 |
| North Providence | $67,160 |
| West Warwick | $67,160 |
ADN Programs by State
---