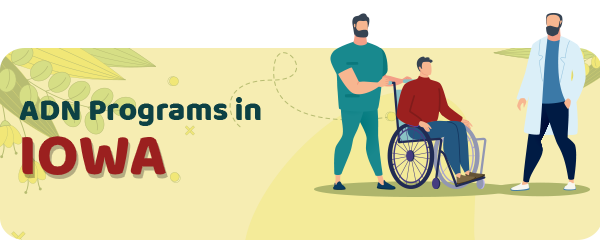 Many US states, including Iowa, need more registered nurses with Associates Degree and they are working their way to overcome the issue with more training programs and different educational routes.
In Iowa, there are plenty of different degree level programs for nurses.
Programs last shorter than before, but you can always pick a comprehensive and traditional program on almost any university across the state.
A career in nursing can be challenging, but it is a rewarding career in so many aspects.
Keep reading to learn more about your educational opportunities for ADN programs in Iowa.
Choosing the Perfect ADN Program in Iowa – Things to Know
The first step toward a career in nursing is to choose the appropriate program.
Some students find it difficult to pick because there are so many educational programs across Iowa.
However, there is a way to narrow your choice and to ensure you are getting the best education with the best opportunities.
The program you choose has to meet two criteria – to be properly accredited and to make you eligible to take the NCLEX exam.
In Iowa, make sure that the Accreditation Commission for Education in Nursing or the American Association of Colleges of Nursing approved the ADN program.
The North Central Association of Colleges and Schools maintains the accreditation process for colleges.
Next, check the overall school statistics.
For example, you can find the NCLEX pass rates and job employment rate of graduates in for the first six months after graduation, to learn more about employers' preferences.
Check the number of students who start the program and compare it with the number of students who complete it, to get a better sense of the education challenges.
Once you are 100% sure about your decision, proceed to the admission requirements.
ADN Program Admission Requirements
Schools in Iowa have different requirements for their different level programs.
Some schools tend to update requirements annually but also share basic requirements.
For example, you can be admitted to a school in Iowa if you have a minimum GPA of 2.0 and if you show evidence of an ACT of 20+ score.
Next, you have to complete all application form and processing fee on time and to submit official high school or college transcripts.
Only students who have completed psychology, science, and math pre-requisite courses will be considered.
Additionally, Iowa is one of the states where students are asked to complete the criminal background and drug check.
If you finish and submit everything on time, good luck – you will be admitted to the school in Iowa!
The Costs
The fees for ADN and other nursing degree programs are different across the state.
The tuition covers various things in different schools.
Ii some schools, you will have additional expenses for the appropriate footwear, nursing instruments, and learning materials.
For example, the semester at Kirkwood Community College will cost you around $2300.
Schools in Iowa
Iowa has an extensive list of quality schools that offer nursing training.
Let's have a short overview of the best schools in Iowa and their nursing programs.
If you want the best clinical practice, you can pick the Kirkwood Community College, because it has a 12-16 week one-on-one clinical preceptorship.
The University of Dubuque is known for its excellent and highly-appreciated BSN programs.
Allen College in Waterloo, on the Cedar River and Mount Mercy University, has comprehensive education programs that are known across the country.
The University of Iowa is suitable for entry students and North Iowa Area Community College is an excellent choice for those looking for a robust curriculum of ADN program.
Graceland University has several BSN programs for nurses, as well as Luke's College.
Iowa Central Community College has strong theoretical and practical training for nurses.
Coe College graduates are trained to work in various healthcare settings.
| School Name | Address |
| --- | --- |
| Kirkwood Community College | 6301 Kirkwood Blvd SW, Cedar Rapids, IA 52404 |
| University of Dubuque | 2000 University Ave, Dubuque, IA 52001 |
| Allen College | 1990 Heath St, Waterloo, IA 50703 |
| University of Iowa | 101 College of Nursing Building | 50 Newton Road, Iowa City, IA 52242 |
| North Iowa Area Community College | 500 College Dr, Mason City, IA 50401 |
| Graceland University | 1 University Pl, Lamoni, IA 50140 |
| Iowa Central Community College | 1 Triton Cir, Fort Dodge, IA 50501 |
| Mount Mercy University | 1330 Elmhurst Dr. NE, Cedar Rapids, IA 52402 |
| St. Luke's College | 2800 Pierce St #410, Sioux City, IA 51104 |
| Coe College | 1220 1st Ave NE, Cedar Rapids, IA 52402 |
| Southwestern Community College | 1501 W. Townline St., Creston, IA 50801 |
| Luther College | 700 College Dr, Decorah, IA 52101 |
| Morningside College | 1501 Morningside Ave, Sioux City, IA 51106 |
| Southeastern Community College | 1500 West Agency Rd, West Burlington, IA 52655 |
| Marshalltown Community College | 3702 S Center St, Marshalltown, IA 50158 |
| Northeast Iowa Community College | 1625 Hwy 150 South, Calmar, IA 52132 |
| Northwestern College | 101 7th Street SW, Orange City, IA 51041 |
| Des Moines Area Community College | 2006 S Ankeny Blvd, Ankeny, IA 50023 |
| Iowa Wesleyan University | 601 N Main St, Mt Pleasant, IA 52641 |
| Eastern Iowa Community Colleges | 101 West Third St, Davenport, IA 52801 |
| Iowa Lakes Community College | 300 S 18th St, Estherville, IA 51334 |
| Northwest Iowa Community College | 603 W Park St, Sheldon, IA 51201 |
| St. Ambrose University | 518 W Locust St, Davenport, IA 52803 |
| Clarke University | 1550 Clarke Dr, Dubuque, IA 52001 |
| Purdue Global University-Davenport | 2660 East 53rd Street, Suite 6/7, Davenport, IA 52807 |
| Mercy College of Health Sciences | 928 6th Ave, Des Moines, IA 50309 |
| Grand View University | 1200 Grandview Ave, Des Moines, IA 50316 |
| Hawkeye Community College | 1501 East Orange Road, Waterloo, IA 50701 |
| Western Iowa Tech Community College | 4647 Stone Ave, Sioux City, IA 51106 |
| Briar Cliff University | 3303 Rebecca St, Sioux City, IA 51104 |
| Iowa Western Community College | 2700 College Rd, Council Bluffs, IA 51503 |
| Indian Hills Community College | 525 Grandview Ave, Ottumwa, IA 52501 |
| Purdue University Global - Des Moines | 4655 121st Street, Urbandale, IA 50323 |
Salary
A registered nurse in Iowa earns an annual median salary of $60690.
However, factors such as location, education, experience, and city determine the salary in different working settings.
Annual Salary Range:
Annual Salary by Location:
| Location | Avg. Annual Salary |
| --- | --- |
| Des Moines | $61,350 |
| Cedar Rapids | $60,170 |
| Davenport | $59,900 |
| Sioux City | $52,770 |
| Waterloo | $57,330 |
| Iowa City | $59,680 |
| Council Bluffs | $59,960 |
| Dubuque | $59,470 |
| Ames | $60,780 |
| West Des Moines | $61,350 |
ADN Programs by State
---