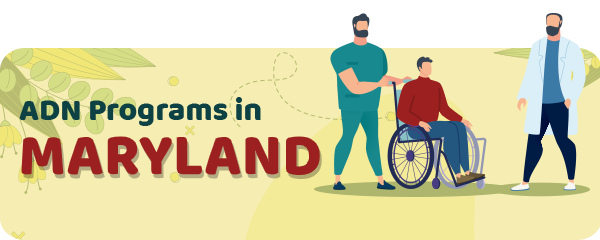 If you want to learn what the best way to get an ADN for registered nurses in Maryland is, keep reading.
Because Maryland is facing issues with the healthcare system due to the lack of registered nurses with an Associate Degree, there are new programs across that state to help overcome the shortage.
Modern programs nowadays are very effective and sometimes last shorter than traditional programs from the past.
There are just a few steps that are between you and your nursing career, and here is everything you need to know to start on the right track.
Choosing the Perfect ADN Program in Maryland – Things to Know
The first decision you have to make is which program to choose.
Choosing an ADN program isn't easy because Maryland has plenty of options.
But, you should consider programs that are officially approved.
In Maryland, the Commission for Education in Nursing or the Commission on Collegiate Nursing Education is in charge of ADN program approval.
Colleges have to pass the state Board of Nursing approval.
The next step is to narrow the choice to programs that will make you eligible to take the NCLEX exam.
Lastly, ask around for general school statistics.
For example, find out what are the NCLEX pass rates, overall students' success, the average duration of the program, etc.
Once you gathered all information, you can continue with the preparation for the admission.
ADN Program Admission Requirements
Each school is authorized to manage and set its admission requirements.
Requirements can change based on current trends in education, but there is a basic set of requirement every student have to pass to be admitted to nursing training at schools in Maryland.
You will have to provide a supplementary personal statement, complete the criminal background check, provide proof of vaccinations, and submit all application forms and fees on time.
Students are required to submit the official transcripts and provide evidence of competitive SAT and ACT scores.
Only students who fulfill all requirements and submit necessary documentation on time will be admitted to the school in Maryland.
The Costs
Maryland schools have different fees based on different factors.
You should check whether the fee includes additional cots for the nursing instruments, footwear, and learning materials.
For example, the tuition per credit hour of the ADN program at Anne Arundel Community College is around $110.
Schools in Maryland
Maryland has quite an extensive list of excellent schools with ADN programs and other levels of nursing degrees.
That is why you have a higher chance of finding the one that matches your preferences.
For example, Cecil College offers an excellent and famous Associate of Science nursing program.
Anne Arundel Community College in Arnold and Carroll Community College in Westminster offer high-quality educational programs for a variety of students.
If you are looking for an acclaimed 2-year associate's degree, Hagerstown Community College can be appropriate for you.
Salisbury University has both BSN and MSN program and Notre Dame of Maryland University has an entry-level BSN program as well.
Allegany College of Maryland offers a unique 'ladder-style' ADN program.
Harford Community College features a classic associate's degree program and has, an LPN to RN option as well.
Howard Community College is suitable for students looking for an accelerated program and Towson University has a 120-unit high-quality BSN program.
| School Name | Address |
| --- | --- |
| Cecil College | 1 Seahawk Dr, North East, MD 21901 |
| Anne Arundel Community College | 101 College Pkwy, Arnold, MD 21012 |
| Hagerstown Community College | 11400 Robinwood Dr, Hagerstown, MD 21742 |
| Salisbury University | 1101 Camden Ave, Salisbury, MD 21801 |
| Notre Dame of Maryland University | 4701 N Charles St, Baltimore, MD 21210 |
| Allegany College of Maryland | 12401 Willowbrook Rd, Cumberland, MD 21502 |
| Harford Community College | 401 Thomas Run Rd, Bel Air, MD 21015 |
| Howard Community College | 10901 Little Patuxent Pkwy, Columbia, MD 21044 |
| Carroll Community College | 1601 Washington Rd, Westminster, MD 21157 |
| Towson University | 8000 York Rd, Towson, MD 21252 |
| Frederick Community College | 7932 Opossumtown Pike, Frederick, MD 21702 |
| College of Southern Maryland | 8730 Mitchell Rd, La Plata, MD 20646 |
| University of Maryland | 655 West Lombard Street, Baltimore, MD 21201 |
| Community College of Baltimore County | 800 S Rolling Rd, Catonsville, MD 21228 |
| Montgomery College | 51 Mannakee St, Rockville, MD 20850 |
| Stevenson University | 1525 Greenspring Valley Rd, Stevenson, MD 21153 |
| Chesapeake College | 1000 College Cir, Wye Mills, MD 21679 |
| Baltimore City Community College | 2901 Liberty Heights Ave, Baltimore, MD 21215 |
| Wor-Wic Community College | 32000 Campus Dr, Salisbury, MD 21804 |
| Morgan State University | 1700 E Cold Spring Ln, Baltimore, MD 21251 |
| Coppin State University | 2500 W North Ave, Baltimore, MD 21216 |
| Prince George's Community College | 301 Largo Rd, Largo, MD 20774 |
| Bowie State University | 14000 Jericho Park Rd, Bowie, MD 20715 |
| Washington Adventist University | 7600 Flower Ave, Maryland, MD 20912 |
| Johns Hopkins University | 525 N. Wolfe Street, Baltimore, MD 21205 |
Salary
Salary is based on various factors, including location, years of experience, degree, employer, etc.
An average annual salary of a registered nurse in Maryland is $65390.
Annual Salary Range:
Annual Salary by Location:
| Location | Avg. Annual Salary |
| --- | --- |
| Baltimore | $65,200 |
| Frederick | $67,870 |
| Gaithersburg | $70,000 |
| Bowie | $70,040 |
| Rockville | $70,100 |
| Hagerstown | $64,240 |
| Annapolis | $67,030 |
| College Park | $70,190 |
| Salisbury | $67,470 |
| Cumberland | $58,200 |
ADN Programs by State
---