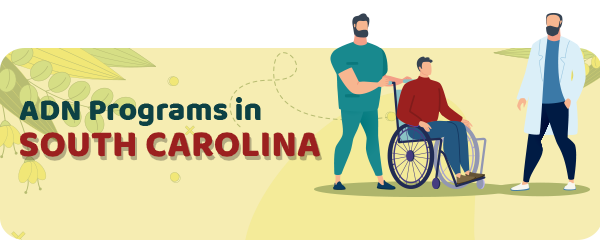 Great news for aspiring nurses in South Carolina!
Becoming an RN with ADN is now much simpler than it was in the past.
There are plenty of educational training programs available, and those don't last so much.
Because South Carolina is facing issues due to a shortage of registered nurses with an Associate's Degree, the process is getting simpler and there is a variety of programs you choose from on your educational path.
Find the one that fits your schedule and educational preferences.
Choosing the Perfect ADN Program in South Dakota – Things to Know
Due to a large number of programs, students can feel a bit overwhelmed upon deciding which one to take.
If you follow our next tips, you can decide much easier.
The first criterion your chosen program should meet is to have appropriate accreditation.
South Carolina is one of the states in which the Accreditation Commission for Education in Nursing and the American Association of Colleges of Nursing are in charge of the ADN program accreditation process.
In South Carolina, colleges are accredited by the state's Board of Nursing.
Next, you have to ensure that you will be qualified for the NCLEX examination after you complete the program of your choice.
You can also research about overall school's statistics to get a better picture of the school.
For example, find out how many students start the program, how many of them finish it, what are their average grades, NCLEX pass rates, how were they satisfied with the school and organization, etc.
If you have all information about the school and you are 100% sure of your choice, you can start with the admission requirements.
ADN Program Admission Requirements
Each school set its own requirements for the programs.
Some schools change the requirements annually, to meet modern educational needs.
However, some requirements are common for a large number of schools.
To be admitted to ADN programs, students are required to have a  minimum GPA of 2.75 on all general education and supporting courses.
Next, students have to score a minimum on the TEAS exam and to complete a criminal background check.
Lastly, students have to submit proof of CPR certification for Health Care Providers.
After you checked all requirements from the list, you will be admitted to the ADN program in South Carolina.
The Costs
Educational costs of ADN programs are different across the state.
The price depends on several factors, including the list of things tuition covers.
Some schools have the tuition that covers all expenses, including review materials and nursing instruments.
For example, if you choose the ADN program at Midlands Technical College, you can expect to pay around $10880.
Schools in South Carolina
Students in South Carolina have plenty of nursing programs across the state.
Let's check the ten best RN programs in this state.
The University of South Carolina in Columbia is convenient for many students because it offers both undergraduate and graduates nursing programs.
Next, York Technical College and the University of South Carolina Lancaster are known for exceptional educational principles and the high success of their students.
Greenville Technical College and Aiken Technical College have useful programs based on both theoretical and practical knowledge.
Lander University has a CCNE-accredited pre-licensure BSN program, as well as the Clemson University
ECPI Charleston is convenient for working students because it has remote and online classes available.
Orangeburg-Calhoun Technical College is based on a personalized approach with small class sizes.
Central Carolina Tech College has an ADN program that has been approved by the State Board of Nursing and accredited by ACEN.
Lastly, Anderson University is suitable for those students looking to finish the program in a short time, due to the Accelerated Bachelor of Science in Nursing program.
| School Name | Address |
| --- | --- |
| University of South Carolina - Columbia | Williams-Brice Building, 1601 Greene St, Columbia, SC 02920 |
| York Technical College and the University of South Carolina Lancaster | 452 S Anderson Rd, Rock Hill, SC 29730 |
| Greenville Technical College | 506 S Pleasantburg Dr, Greenville, SC 29607 |
| Lander University | 320 Stanley Ave, Greenwood, SC 29649 |
| Clemson University | Clemson University, Clemson, SC 29634 |
| Aiken Technical College | 2276 Jefferson Davis Hwy, Graniteville, SC 29829 |
| ECPI Charleston | 7410 Northside Dr. #100, Charleston, SC 29420 |
| Orangeburg-Calhoun Technical College | 3250 St Matthews Rd, Orangeburg, SC 29118 |
| Central Carolina Tech College | 506 N Guignard Dr, Sumter, SC 29150 |
| Anderson University | 316 Boulevard, Anderson, SC 29621 |
| Trident Technical College | 7000 Rivers Ave, North Charleston, SC 29406 |
| Spartanburg Community College | 107 Community College Drive, Spartanburg, SC 29305 |
| University of South Carolina Aiken | 471 University Pkwy, Aiken, SC 29801 |
| Bob Jones University | 1700 Wade Hampton Blvd, Greenville, SC 29614 |
| Medical University of South Carolina | 99 Jonathan Lucas St, Charleston, SC 29425 |
| Charleston Southern University | 9200 University Blvd, North Charleston, SC 29406 |
| Tri-County Technical College | 7900 US-76, Pendleton, SC 29670 |
| Francis Marion University | 4822 E Palmetto St, Florence, SC 29506 |
| Midlands Technical College | 316 S Beltline Blvd, Columbia, SC 29205 |
| Fortis College in Columbia | 246 Stoneridge Drive, Suite 101, Columbia, SC 29210 |
| Piedmont Technical College | 620 Emerald Rd N, Greenwood, SC 29646 |
| University of South Carolina - Upstate | 800 University Way, Spartanburg, SC 29303 |
| Newberry College | 2100 College St, Newberry, SC 29108 |
| Technical College of the Lowcountry | 921 Ribaut Rd, Beaufort, SC 29902 |
| Horry Georgetown Tech College | 2050 US-501, Conway, SC 29526 |
| South University | 9 Science Ct, Columbia, SC 29203 |
| Florence-Darlington Technical College | 320 West Cheves Street, Florence, SC 29501 |
| University of South Carolina - Beaufort | 801 Carteret Street, Beaufort, SC 29902 |
| Northeastern Technical College | 1201 Chesterfield Hwy, Cheraw, SC 29520 |
| Williamsburg Technical College | 601 MLK Jr. Avenue, Kingstree, SC 29556 |
| The Citadel | 171 Moultrie Street, Charleston, SC 29409 |
Salary
A registered nurse in South Carolina earns on average $59360 per year.
Of course, salaries can vary in different cities, different facilities and due to differences in professional experiences and certifications.
Annual Salary Range:
Annual Salary by Location:
| Location | Avg. Annual Salary |
| --- | --- |
| Columbia | $59,570 |
| Charleston | $60,230 |
| North Charleston | $60,230 |
| Greenville | $61,880 |
| Rock Hill | $62,430 |
| Mount Pleasant | $60,230 |
| Spartanburg | $58,830 |
| Sumter | $56,710 |
| Hilton Head Island | $58,900 |
| Florence | $57,030 |
ADN Programs by State
---