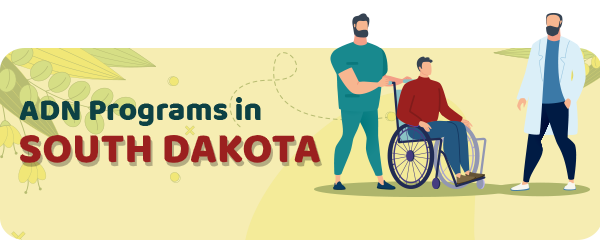 Becoming an RN with an ADN in South Dakota has never been shorter and simpler.
Obviously, you will have to commit to the process and learn as much as you can to finish one of the numerous ADN programs in South Dakota.
Because the state is having issues due to a shortage in the number of registered nurses, more and more programs are being developed to meet the needs of modern health care.
Keep reading to find out more information about ADN programs in South Dakota.
Choosing the Perfect ADN program in South Dakota – Things to Know
You might feel confused when you start searching for all nursing training programs.
However, if you start researching on time, the process doesn't have to be so challenging.
The first step is to find out which programs are accredited through the Accreditation Commission for Education in Nursing or the American Association of Colleges of Nursing and consider only those.
Colleges are accredited by the state's Board of Nursing.
The next step is to check whether you will be qualified to take the NCLEX exam after you complete the program you have chosen.
Many students find it useful to check the overall school's statistics including NCLEX pass rates and student satisfaction metrics.
You can also check how many students start the program, and what percentage of them completes it.
Once you find out all information about your ADN program, you can continue with the admission requirements.
ADN Program Admission Requirements
Keep in mind that requirements for different schools vary because of several factors.
The requirements can change annually, but there are some most common requirements you should fulfill for the majority of schools.
Those are submitting complete college and high school transcripts, completing the ATI-TEAS initial exam.
You will also have to fulfill all application forms and pay for application fees.
Once you have finished all steps, you can get admitted to your ADN program of choice in South Dakota.
The Costs
The fees vary across the state and the price depends on many factors.
The tuition of some schools includes all student's expenses, such as nursing instruments, footwear, and learning materials, and for some programs, you will have to pay additionally.
For example, the University of South Dakota charges $238 per credit hour.
Schools in South Dakota
Let's have a brief overview of the best RN programs in South Dakota.
Because there are so many options, you should be able to find the one that matches all your needs.
For example, the University of Sioux Falls has a traditional BSN program that focuses on Christian principles.
Augustana University has a long, 75 years tradition of education nurses based on modern standards.
Southeast Technical Institute has an exceptional 42-credit AAS nursing program.
If you want a comprehensive education you can pick a 4-year BSN program at Dakota Wesleyan University
South Dakota State University has lots of options for nursing programs and specializations.
| School Name | Address |
| --- | --- |
| University of Sioux Falls | 1101 W 22nd St, Sioux Falls, SD 57105 |
| Augustana University | 2001 South Summit Avenue, Sioux Falls, SD 57197 |
| Southeast Technical Institute | 2320 N Career Ave, Sioux Falls, SD 57107 |
| Dakota Wesleyan University | 1200 W. University Ave, Mitchell, SD 57301 |
| South Dakota State University | 100 Administration Lane, Brookings, SD 57006 |
| University of South Dakota | 414 E Clark St, Vermillion, SD 57069 |
| Mount Marty College | 1105 W 8th St, Yankton, SD 57078 |
| Oglala Lakota College | 490 Piya Wiconi Rd, Kyle, SD 57752 |
| National American University | 5301 US-16, Rapid City, SD 57701 |
| Presentation College | 1500 North Main Street, Aberdeen, SD 57401 |
| Sisseton Wahpeton | BIA Rd 700, Agency Village, SD 57262 |
Salary
The average annual salary of a registered nurse in South Dakota is around $54290.
You can expect variations in salary based on years of professional experience, additional skills, and certificates, employer, location, etc.
Annual Salary Range:
Annual Salary by Location:
| Location | Avg. Annual Salary |
| --- | --- |
| Sioux Falls | $55,580 |
| Rapid City | $55,040 |
| Aberdeen | $51,690 |
| Watertown | $54,630 |
| Brookings | $54,630 |
| Mitchell | $54,630 |
| Pierre | $52,640 |
| Yankton | $53,410 |
| Huron | $53,160 |
| Vermillion | $52,200 |
ADN Programs by State
---