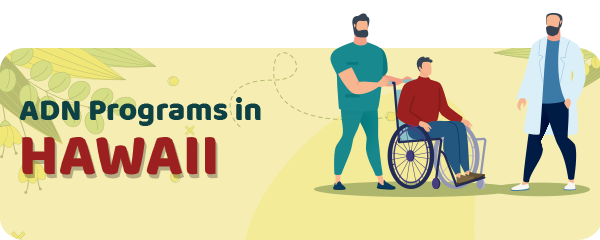 If you want to continue your career in the nursing field, as a registered nurse with an Associate's Degree, go for it!
You have plenty of options and educational programs to achieve your goals.
Recently, Hawaii is experiencing a shortage of RNs with ADN, and that is why there are more and more nursing programs available across the state.
Some programs are shorter and more flexible, while others offer a traditional, comprehensive approach and last longer.
Keep reading to find out everything you need to know about ADN programs in Hawaii.
Choosing the Perfect ADN Program in Hawaii – Things to Know
First, you have to choose the program that suits you.
There are plenty of options in the nursing field in Hawaii, and you might feel confused upon decision.
However, there are a few things to consider.
Programs accredited by the Accreditation Commission for Education in Nursing or the American Association of Colleges of Nursing are accepted across the state.
The same applies to junior, technical, and private colleges in Hawaii accredited by the Accrediting Commission for Community and Junior Colleges.
Next, check whether you will be eligible to take the NCLEX exam after you complete the program.
Many students find it useful to find out more about school statistics, including NCLEX pass rates and graduates' employment rates in the first few months after graduation.
You also check how many students start the program and how many of them complete it, what is the average time for completion, etc.
Once you are completely sure about your decision, you can proceed to the admission requirements.
ADN Program Admission Requirements
Admission requirements vary across Hawaii.
Schools can change requirements, so make sure that you have the latest information.
However, for the majority of schools, you will have to meet the basic requirements.
Those are having a minimum cumulative GPA of 2.5. and proficiency in other languages than English.
Students are also asked to pass a drug screening and to submit all applications on time.
The Costs
School fees are different and based on various factors.
Tuition for some programs includes additional expenses for the nursing instruments and learning materials.
In other cases, those expenses are not included in the tuition.
For example, if you choose the University of Hawaii – Maui College you will have to pay $3000 per year.
Schools in Hawaii
Hawaii has plenty of high-quality schools, but let's have a shortlist of the best RN programs.
For example, Kapi'olani Community College includes clinical and classroom hours during the first and second year of studies.
The University of Hawai'i at Manoa has an impeccable reputation of being the institution with a focus on researching for more than seven decades.
Hawai'i Community College is also a great choice, as part of the community of Hilo.
| School Name | Address |
| --- | --- |
| Kapi'olani Community College | 4303 Diamond Head Rd, Honolulu, HI 96816 |
| University of Hawai'i at Mānoa | 2500 Campus Rd, Honolulu, HI 96822 |
| Hawai'i Community College | 200 W Kawili St, Hilo, HI 96720 |
| University of Hawai'i - Hilo | 200 W Kawili St, Hilo, HI 96720 |
| Kauai Community College | 3-1901 Kaumualii Hwy, Lihue, HI 96766 |
| University of Hawai'i - Maui College | 310 W Kaahumanu Ave, Kahului, HI 96732 |
| Hawai'i Pacific College | 1164 Bishop St, Honolulu, HI 96813 |
| Chaminade University of Honolulu | 3140 Waialae Ave, Honolulu, HI 96816 |
Salary
Nurses in Hawaii earn average annual salaries of $66540.
However, the salary depends on many factors, such as city, education level, employer, additional certificates, etc.
Annual Salary Range:
Annual Salary by Location:
| Location | Avg. Annual Salary |
| --- | --- |
| Honolulu | $66,120 |
| Hilo | $65,680 |
| Kailua | $66,120 |
| Kaneohe | $66,120 |
| Waipahu | $66,090 |
| Pearl City | $66,120 |
| Waimanalo | $66,120 |
| Mililani Town | $66,000 |
| Kahului | $65,680 |
| Kihei | $65,680 |
ADN Programs by State
---