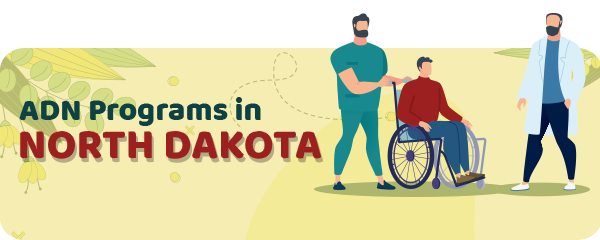 If you live in North Dakota and want to obtain an Associate's Degree in Nursing, you will be pleased to know that there are many available programs for a variety of students.
North Dakota, as well as other states, is facing challenges in healthcare, due to a shortage of registered nurses with ADN.
That is why there are more programs now then there was in the past.
Modern programs also last shorter but are very effective.
Keep reading to find out more about ADN programs in North Dakota.
Choosing the Perfect ADN Program in North Dakota- Things to Know
Choosing the appropriate ADN program can be stressful because it is a decision that can affect your entire career.
With so many options out there, aspiring students don't know how to pick the perfect ADN program.
Here are a few tips to follow.
First of all, you should choose only programs accredited through the  Accreditation Commission for Education in Nursing or the American Association of Colleges of Nursing's Commission on Collegiate Nursing Education.
The North Dakotas Board of Nursing maintains the accreditation process for colleges.
You should also ensure that you will be eligible to take the NCLEX exam after you complete the program.
Moreover, lots of students find it useful to research more about the school.
For example, check the number of students who start the program, and find out how many of them complete the programs successfully at the appropriate time.
Also, find out what are NCLEX pass rates general students' satisfaction metrics.
Once you gathered all the necessary information and you are 100% sure about your decision, then you can continue to the admission procedure.
ADN Program Admission Requirements
Each school has individual admission requirements for aspiring students.
But, the majority of the schools accept only students with a minimum GPA of 2.75, those who have completed the pre-admission examination and have proof of current CPR training for healthcare providers.
Additionally, you have to complete and pass a candidate interview.
The school can change their requirement annually, so you should check for updated information before you start the process.
The Costs
The fees for nursing schools and ADN programs vary across the state.
The fee is based on several factors, including the policy about everything that it covers.
Tuition for some school covers all expenses, including nursing instruments and learning materials, while for others it just covers the costs for education.
For example, if you choose an ADN program at Dakota College at Bottineau, you will have to pay between $9132 and $12045.
Schools in North Dakota
There is a large number of available schools that offer nursing training in North Dakota.
Let's go briefly through some of the best schools that you can choose for the ADN program.
For example, Bismarck State College offers a wide range of nursing education pathways.
North Dakota State College of Science in Red River has a great reputation as well as the Dickson State University in Stark County.
If you want something progressive and comprehensive, you can pick the ADN program at the Minot State University, in the charming Minot city.
Lastly, the University of North Dakota has a 120-credit BSN program for registered nurses.
| School Name | Address |
| --- | --- |
| Bismarck State College | 1500 Edwards Ave, Bismarck, ND 58506 |
| North Dakota State College of Science | 800 6th St N, Wahpeton, ND 58076 |
| Dickinson State University | 291 Campus Dr, Dickinson, ND 58601 |
| Minot State University | 500 University Ave W, Minot, ND 58707 |
| University of North Dakota | 430 Oxford St, Grand Forks, ND 58202 |
| Lake Region State College | 1801 College Dr. N, Devils Lake, ND 58301 |
| University of Mary | 7500 University Dr, Bismarck, ND 58504 |
| North Dakota State University | 1340 Administration Ave, Fargo, ND 58102 |
| Dakota College at Bottineau | 105 Simrall Blvd, Bottineau, ND 58318 |
| Williston State College | 1410 University Ave, Williston, ND 58801 |
| University of Jamestown | 6000 College Ln, Jamestown, ND 58405 |
Salary
On average, a registered nurse in North Dakota can make $59550 annually.
Keep in mind that the salary of an RN depends on location, working facility, years of experiences, certificates, and other important factors.
Annual Salary Range:
Annual Salary by Location:
| Location | Avg. Annual Salary |
| --- | --- |
| Fargo | $59,500 |
| Bismarck | $59,120 |
| Grand Forks | $55,390 |
| Minot | $58,160 |
| Mandan | $59,120 |
| Dickinson | $58,160 |
| Jamestown | $58,360 |
| West Fargo | $59,500 |
| Williston | $58,160 |
| Wahpeton | $58,550 |
ADN Programs by State
---