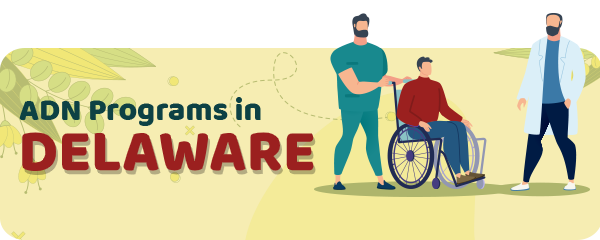 The career of a registered nurse can be challenging, but it is rewarding on so many levels.
Delaware has a shortage of registered nurses with an Associate's Degree, and the state is coming up with new educational programs to overcome this issue.
Luckily, there are more and more nursing programs available across the state and some are shorter than they were before.
There are also flexible programs for working students.
If you want to start your nursing career on the right track, keep reading for more information ADN programs in Delaware.
Choosing the Perfect ADN Program in Delaware – Things to Know
The first toward your career is to choose a suitable program.
Many students feel confused and overwhelmed with so many opportunities in front of them.
But, our guidelines can simplify your decision process.
First of all, you should check the program accreditation.
In Delaware, the ADN programs are accredited by the Accreditation Commission for Education in Nursing or the American Association of Colleges of Nursing.
Next, check whether you will be eligible to take the NCLEX test after you complete the program.
Lastly, get more information on the school.
Check what NCLEX pass rates are, graduates employment rates, overall students' success, and satisfaction metrics, number of students who start programs and number of those who complete it, etc.
You can contact the school for more information or search online.
This information will help you to compare schools and decide with more confidence.
Once you are completely sure about your choice, you can continue with the admission requirements.
ADN Program Admission Requirements
Requirements for ADN programs vary across the schools and state.
Some schools change the requirements more frequently and can be a bit more rigid when it comes to students' admission.
However, let's see what the most common requirement are for ADN programs in Delaware.
If you want to start a program, you will have to complete an online application, and complete a background inquiry and health history check.
Next, you have to meet the minimum GPA of 2.5, and to complete an NLN-PAX, submit the vaccination confirmation documents, and CPR certification.
Lastly, you will have to meet the current requirements for the abilities section of the screening criteria of the school of your choice.
If you meet all requirements, you will be admitted to a nursing program in Delaware.
The Costs
The program fees are different across the state.
Some higher-end schools have fees that cover every student's expense, including those for nursing instruments and learning materials.
Check the list of things included in the tuition for the school of tour choice.
For example, if you choose the Delaware Technical Community College, you will have to pay between $1800 and $2000 per semester.
Schools in Delaware
There are plenty of schools in Delaware that have some kind of nursing program.
Because of that, you have higher chances to find the perfect school that meets all your expectations and needs.
For example, Beebe Healthcare is known country-wide for its leading accredited RN diploma programs.
Delaware Technical Community College in Dover is suitable for students looking for competitive and fact-paced nursing programs.
If you are looking for a traditional 4-year program that has research opportunities, mentorships, excellent student support, and community engagement, that you can pick the University of Delaware.
| School Name | Address |
| --- | --- |
| Beebe Healthcare | 424 Savannah Road, Lewes, DE 19958 |
| Delaware Technical Community College - Dover | 100 Campus Dr, Dover, DE 19904 |
| University of Delaware | 25 North College Ave, Newark, DE 19716 |
| Delaware Technical Community College - Stanton | 400 Stanton Christiana Rd, Newark, DE 19713 |
| Wesley College | 120 North State Street, Dover, DE 19901 |
| Delaware State University | 1200 N. DuPont Highway, Dover, DE 19901 |
| Delaware Technical Community College - Georgetown | 21179 College Dr, Georgetown, DE 19947 |
Salary
Salary is based on different factors that include the city where you live in and work, your professional experience and certificates, education level, etc.
A registered nurse in Delaware earns yearly $66590, which makes Delaware one of the top-paying states for RNs.
Annual Salary Range:
Annual Salary by Location:
| Location | Avg. Annual Salary |
| --- | --- |
| Wilmington | $67,610 |
| Dover | $67,500 |
| Newark | $67,560 |
| Milford | $67,670 |
| Seaford | $66,280 |
| Middletown | $67,400 |
| Ellendale | $67,670 |
| Smyrna | $67,430 |
| New Castle | $67,610 |
| Georgetown | $67,670 |
Regional Salary in Delaware
| Region | Employed | Avg. Annual Salary | Avg. Hourly Pay | Top 10% Annual Salary | Bottom 10% Annual Salary |
| --- | --- | --- | --- | --- | --- |
| Dover, DE | 1,630 | $75,460 | $36.28 | $86,850 | $58,100 |
* Salary information based on the May 2022 Occupational Employment Statistics (OES) Survey for Registered Nurses, OCC Code 29-1141, BLS.
* Employment conditions in your area may vary.
ADN Programs by State
---