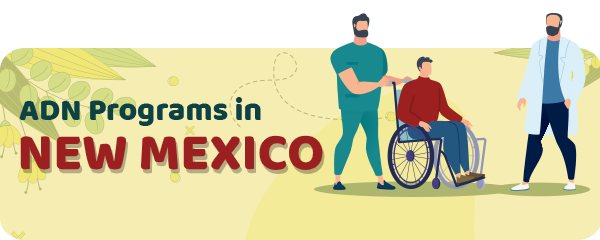 A career in the nursing field is rewarding in so many aspects, but it can be challenging.
In New Mexico, there is a deficit in registered nurses with an Associate's Degree, and more and more programs are developing to overcome this issue.
The programs are nowadays shorter and very effective.
If you want to find out more useful information on the ADN programs in New Mexico, keep reading.
Choosing the Perfect ADN Program in New Mexico – Things to Know
The first step toward becoming an RN to ADN is to pick the ADN program.
It is an important decision that will affect your career growth and further education capabilities.
However, if you follow our next few tips, you can decide in a stress-free manner.
The things to consider are accreditation, eligibility for an NCLEX exam, and overall school impression.
The nursing programs in New Mexico are accredited through the Accreditation Commission for Education in Nursing or the American Association of Colleges of Nursing's Commission on Collegiate Nursing Education.
State's Board of Nursing is in charge of the college accreditation process.
Next, you want to make that a program you choose will make you eligible to take the NCLEX exam after you complete it.
Many students like to find out more about the school, to make the decision easier.
Check the overall school statistics in students' numbers and success, the NCLEX pass rates, satisfaction metrics, etc.
Once you have all the information you need, decide, and be completely sure about your choice before you move toward admission requirements.
ADN Program Admission Requirements
Each school comes up with an individual set of requirements.
Sometimes, the admission requirements can change yearly, so make sure that you have the latest information on this step.
To be admitted to an ADN program at a variety of schools in New Mexico, you will have to submit official transcripts from all your past schools and have a minimum GPA of 2.0.
Additionally, you will have to complete a TEAS test and submit the score, and provide proof of having a minimum GPA of 2.75 on all pre-requisite courses.
The Costs
Across New Mexico, you can find a lot of schools whose fees can vary slightly or significantly.
Before you make a choice, check the list of things that schools tuition covers.
Tuition for some schools covers all expenses, including costs of nursing materials, footwear, and learning materials.
For example, if you choose an ADN program at New Mexico Junior College, you will have to pay around $570 per semester.
Schools in New Mexico
Let's go briefly through the list of best and most important schools in New Mexico that offer nursing training.
Luckily, there are a lot of programs, so you have higher chances of finding the perfect school.
Eastern New Mexico University is known for its acclaimed ADN pathway.
San Juan College is great for students who look for flexibility during their education because of work or family.
New Mexico State University in Carlsbad, Clovis Community College, and Santa Fe Community College have excellent ADN programs with a comprehensive approach.
You pick the closest one to you and you won't regret it.
The University of New Mexico in Albuquerque has a pre-licensure BSN degree program.
New Mexico Junior College is quite competitive as it accepts only 50 students to its ADN program.
The University of New Mexico in Valencia is known for its high success rates, and 80% to 100% completion in only six semesters.
On the plus side, it has the ACEN-accredited ADN program.
If you are looking for a versatile education after which you will be able to care for patients in a different clinical setting, you can choose Carrington College.
Lastly, Luna Community College is a high-quality school with a minimum of 68-hour credit program.
| School Name | Address |
| --- | --- |
| Eastern New Mexico University | 52 University Blvd, Roswell, NM 88203 |
| San Juan College | 4601 College Blvd, Farmington, NM 87402 |
| New Mexico State University - Carlsbad | 1500 University Dr, Carlsbad, NM 88220 |
| University of New Mexico - Albuquerque | 1 University of New Mexico, Albuquerque, NM 87131 |
| New Mexico Junior College | 1 Thunderbird Circle, Hobbs, NM 88240 |
| University of New Mexico - Valencia | 280 La Entrada Rd., Los Lunas, NM 87031 |
| Carrington College | 1001 Menaul Blvd. NE, Albuquerque, NM 87107 |
| Clovis Community College | 417 Schepps Blvd, Clovis, NM 88101 |
| Santa Fe Community College | 6401 Richards Ave, Santa Fe, NM 87508 |
| Luna Community College | 366 Luna Dr, Las Vegas, NM 87701 |
| Central New Mexico Community College | 525 Buena Vista Dr SE, Albuquerque, NM 87106 |
| University of New Mexico - Gallup | 705 Gurley Ave, Gallup, NM 87301 |
| Dona Ana Community College | 2800 Sonoma Ranch Blvd, Las Cruces, NM 88011 |
| Brookline College | 4201 Central Avenue N.W., Suite J, Albuquerque, NM 87105 |
| New Mexico State University - Las Cruces | 1780 E University Ave, Las Cruces, NM 88003 |
| Grand Canyon University | 6700 Jefferson St. NE, Suite D-2, Albuquerque, NM 87109 |
| Western New Mexico University | 1000 W College Ave, Silver City, NM 88062 |
| Northern New Mexico College | 921 N Paseo De Onate, Espanola, NM 87532 |
| University of New Mexico - Taos | 1157 County Road 110, Ranchos De Taos, NM 87557 |
| PIMA Medical Institute | 4400 Cutler Ave N.E., Albuquerque, NM 87110 |
| National American University | 4775 Indian School Rd NE, Albuquerque, NM 87110 |
Salary
An annual median salary of a registered nurse in New Mexico is around $57970.
Employer, city, experience, certificates, skills – are the factors that affect the salary of a registered nurse.
Annual Salary Range:
Annual Salary by Location:
| Location | Avg. Annual Salary |
| --- | --- |
| Albuquerque | $59,630 |
| Las Cruces | $53,910 |
| Santa Fe | $59,930 |
| Rio Rancho | $59,440 |
| Roswell | $55,620 |
| Farmington | $58,830 |
| Alamogordo | $56,570 |
| Clovis | $56,180 |
| Hobbs | $54,710 |
| Carlsbad | $55,620 |
ADN Programs by State
---