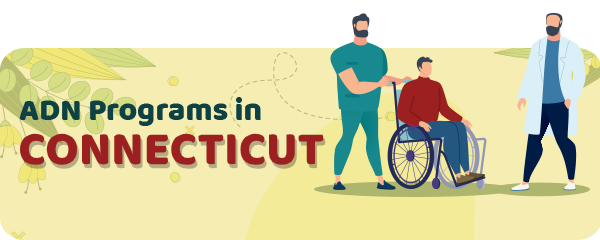 If you want to become a registered nurse with ADN in Connecticut, you have plenty of options to start your career.
The USA is experiencing issues due to a shortage of registered nurses with an Associate's Degree.
It why students have more programs available then there were in the past.
There are shorter and more flexible programs, as well as traditional programs with a comprehensive approach.
A career in nursing can be challenging especially at the beginning, but it is a very rewarding career.
Keep reading for more information on ADN programs in Connecticut.
Choosing the Perfect ADN Program in Connecticut – Things to Know
The first step is to pick the program.
Aspiring nursing students might feel confused with so many nursing training across the state.
However, you should consider only programs accredited and approved by the Accreditation Commission for Education in Nursing or the American Association of Colleges of Nursing.
Those are known for its high educational standards and large employment rate.
Next, research for programs that will make you eligible to take the NCLEX exam without additional training.
If you are still unsure about the program you would like to start, find out more about overall school statistics, including employment rate after graduation, NCLEX pass rates, student satisfaction metrics, and their complaints.
Having this information will help you to eliminate schools that seem less competent than others.
Once you are completely sure about your chosen program, you can move on to the requirements for the school.
ADN Program Admission Requirements
The schools in Connecticut can set their requirements and change them annually.
Always check the newest requirements for the program you would like to start.
However, there are some elementary requirements you will have to meet to be admitted to the majority of schools in Connecticut.
The minimum required GPA in Connecticut is 2.5.
Students have to submit transcripts, application fees to the Admission department on time as well as evidence of proficient scores in TEAS.
To be admitted you have to be considered 'in good standing' at the college of choice;
Only students that meet all requirements mentioned above will be considered for the program admission.
The Costs
The fees for programs are different and calculated using different factors.
Check what additional expenses you will have and whether the tuition covers the expenses for nursing instruments, learning materials, or footwear.
For example, the fee per credit hour at Gateway Community College is $230.
Schools in Connecticut
The list of best RN programs in Connecticut covers modern and traditional programs.
You can check the shortlist to find the school that has the best program for you and your expectations.
The University of Connecticut in Avery Point offers programs for students who already hold a bachelor's degree in another subject.
Sacred Heart University has a traditional BSN program that teaches the students a holistic approach to the patient.
The University of Connecticut in Waterbury has a unique Certificate for entry students in the nursing field.
Naugatuck Valley Community College is based on six values – communication, critical thinking, caring, professionalism, holistic care, and safe and competent practice.
Yale University is well-known for its Graduate Entry Prespecialty in Nursing.
| School Name | Address |
| --- | --- |
| University of Connecticut - Avery Point | 1084 Shennecossett Rd, Groton, CT 06340 |
| Sacred Heart University | 5151 Park Ave, Fairfield, CT 06825 |
| University of Connecticut - Waterbury | 99 E Main St, Waterbury, CT 06702 |
| Naugatuck Valley Community College | 750 Chase Pkwy, Waterbury, CT 06708 |
| Yale University | 400 West Campus Drive, Orange, CT 06477 |
| Southern Connecticut State University | 501 Crescent St, New Haven, CT 06515 |
| University of Connecticut - Storrs | 231 Glenbrook Road, Unit 2026, Storrs, CT 06269 |
| Western Connecticut State University | 181 White St, Danbury, CT 06810 |
| Three Rivers Community College | 574 New London Turnpike, Norwich, CT 06360 |
| University of Connecticut - Stamford | 1 University Pl, Stamford, CT 06901 |
| Fairfield University | 1073 N Benson Rd, Fairfield, CT 06824 |
| Quinnipiac University | 275 Mt Carmel Ave, Hamden, CT 06518 |
| University of Saint Joseph Connecticut | 1678 Asylum Ave, West Hartford, CT 06117 |
| Capital Community College | 950 Main St, Hartford, CT 06103 |
| Northwestern Connecticut Community College | 2 Park Pl, Winsted, CT 06098 |
| Gateway Community College | 20 Church St, New Haven, CT 06510 |
| Norwalk Community College | 188 Richards Ave, Norwalk, CT 06854 |
| Central Connecticut State University | 1615 Stanley St, New Britain, CT 06053 |
| Goodwin University | 1 Riverside Dr, East Hartford, CT 06118 |
| University of Bridgeport | 126 Park Avenue, Bridgeport, CT 06604 |
Salary
A registered nurse in Connecticut earns an average annual salary of $68500.
There are several determining factors for the salary.
Those are city, employer, experience, certificates, education level, etc.
Annual Salary Range:
Annual Salary by Location:
| Location | Avg. Annual Salary |
| --- | --- |
| Bridgeport | $71,450 |
| New Haven | $69,470 |
| Hartford | $68,410 |
| Stamford | $72,980 |
| Waterbury | $68,250 |
| Norwalk | $72,980 |
| Danbury | $70,280 |
| New Britain | $68,370 |
| West Hartford | $68,410 |
| Greenwich | $72,980 |
ADN Programs by State
---