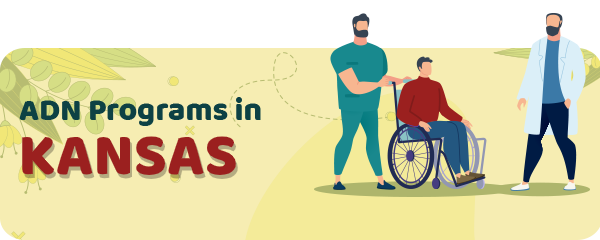 The Healthcare system in Kansas is facing a shortage of registered nurses with an Associate's Degree.
That is why aspiring nurses have lots of options to gain ADN.
Programs are effective and shorter than they were in the pasts, because of the growing need for the RNs with ADN.
Flexible and traditional programs are available, and you can pick whatever suits your schedule!
Keep reading for more information on ADN programs in Kansas!
Choosing the Perfect ADN Program in Kansas – Things to Know
The first step toward your career is choosing the appropriate ADN program.
Popular Programs
Lots of schools across Kansas include some nursing programs in their offer, but not all of them have the same education standards, job employment rate, or NCLEX pass rates.
The program you choose should be accredited through the Accreditation Commission for Education in Nursing or the American Association of Colleges of Nursing.
Next, you have to have sure that you will be acceptable to take the NCLEX exam without additional training after you complete the program.
Lots of students find it useful to get more information about the school and to compare them.
For example, you can narrow the choice to a few schools, and check their statistics about students' success, NCLEX pass rate, the job employment rate in the first six months, etc.
You can contact the school or search online.
Having all this information will make it easier to make a decision based on a broader picture of the school.
After you are sure that school meets all your preferences, you can continue to the admission requirements.
ADN Program Admission Requirements
Each school can set its requirements for the ADN programs.
Some schools have more rigorous requirements than others and can change them, even annually.
In Kansas, lots of schools have elementary requirements that each student has to meet to be considered for the program.
Those include having a minimum GPA of 2.5 and having completed all the necessary pre-requisite courses.
Additionally, students have to complete the criminal background and drug check and submit all application forms and fees on time.
Lastly, students need to provide an official high school and college transcripts.
Start preparing your documentation on time and don't forget to check the latest requirements for the school of your choice.
The Costs
The tuition for each program is different and can include various things.
Fees for some programs include all necessary costs for the appropriate footwear, learning materials, and nursing instruments, while others don't include any of that.
For example, if you choose the ADN program at North Central Kansas Technical College in Hays campus, you will have to pay around $4600 per academic year.
Schools in Kansas
Kentucky has a lot of schools with nursing training.
The programs are different, and some schools offer different level degrees, traditional or accelerated programs.
Let's break down necessary information about the best schools in Kentucky, so that you can find the one the meets your preferences exactly.
For example, Baker University offers excellent and innovative BSN degree program.
If you want something with a long tradition, you can choose Labette Community College, which has nursing programs since 1968.
Mid America Nazarene University offers a traditional BSN program as well as Emporia State University.
Newman University is a private university which implements Catholic standards in their education.
Pittsburg State University has an impeccable reputation for the pre-licensure BSN degree nursing program.
University of Kansas Medical Center is suitable for those who want to focus on clinical and laboratory practice, and it has 678 hours with a focus on these aspects.
Cloud County Community College has many programs including classic ADN and LPN to ADN programs.
If the duration of the program isn't an issue for you, pick a University of St. Mary and its traditional, comprehensive 4-year BSN program.
Butler County Community College is for those wanting something shorter and it has a fully accredited associate degree nursing program, which lasts just two years.
| School Name | Address |
| --- | --- |
| Baker University | 618 Eighth St, Baldwin City, KS 66006 |
| Labette Community College | 200 S 14th St, Parsons, KS 67357 |
| Pittsburg State University | 1701 S Broadway St, Pittsburg, KS 66762 |
| University of Kansas Medical Center | 3901 Rainbow Blvd, Kansas City, KS 66160 |
| Mid America Nazarene University | 2030 E College Way, Olathe, KS 66062 |
| Emporia State University | 1 Kellogg Circle, Emporia, KS 66801 |
| Newman University | 3100 McCormick, Wichita, KS 67213 |
| Cloud County Community College | 2221 Campus Dr, Concordia, KS 66901 |
| University of St. Mary | 4100 S 4th St, Leavenworth, KS 66048 |
| Butler County Community College | 901 S. Haverhill Rd, El Dorado, KS 67042 |
| Coffeyville Community College | 400 W 11th St, Coffeyville, KS 67337 |
| Fort Scott Community College | 2108 S Horton St, Fort Scott, KS 66701 |
| Wichita State University | 1845 Fairmount St, Wichita, KS 67260 |
| Fort Hays State University | 600 Park St, Hays, KS 67601 |
| Garden City Community College | 801 Campus Dr, Garden City, KS 67846 |
| Dodge City Community College | 2501 N 14th Ave, Dodge City, KS 67801 |
| Johnson County Community College | 12345 College Blvd, Overland Park, KS 66210 |
| North Central Kansas Technical College | 2205 Wheatland Ave, Hays, KS 67601 |
| Washburn University | 1700 SW College Ave, Topeka, KS 66621 |
| Benedictine College | 1020 N 2nd St, Atchison, KS 66002 |
| Bethel College | 300 East 27th Street, North Newton, KS 67117 |
| Hutchinson Community College | 1300 N Plum, Hutchinson, KS 67501 |
| Seward County Community College | 1801 N Kansas Ave, Liberal, KS 67901 |
| Neosho County Community College | 800 W 14th St, Chanute, KS 66720 |
| Barton Community College | 245 NE 30 Rd, Great Bend, KS 67530 |
| Kansas City Kansas Community College | 7250 State Ave, Kansas City, KS 66112 |
| National American University - Overland Park | 10310 Mastin St, Overland Park, KS 66212 |
| Colby Community College | 1255 S Range Ave, Colby, KS 67701 |
| National American University - Wichita | 7309 E 21st St N G-40, Wichita, KS 67206 |
| Kansas Wesleyan University | 100 E Claflin Ave, Salina, KS 67401 |
| Rasmussen College | 11600 College Blvd #100, Overland Park, KS 66210 |
| Hesston College | 301 S. Main St., Hesston, KS 67062 |
Salary
A registered nurse in Kansas on average makes $60190 per year.
Salary always depends on a wide range of factors, which include the location, working facility, experience, education level, etc.
Annual Salary Range:
Annual Salary by Location:
| Location | Avg. Annual Salary |
| --- | --- |
| Wichita | $61,080 |
| Overland Park | $62,070 |
| Kansas City | $62,260 |
| Topeka | $59,290 |
| Olathe | $61,900 |
| Lawrence | $60,250 |
| Shawnee | $62,070 |
| Salina | $60,440 |
| Manhattan | $58,660 |
| Hutchinson | $60,440 |
ADN Programs by State
---