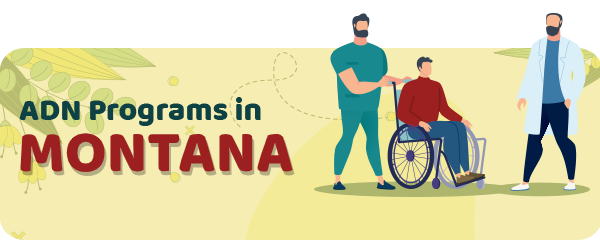 Montana is one of the states in the US that need more registered nurses with an associate's degree in its healthcare system.
In this state, numerous educational programs offer quality nursing training.
Some programs are accelerated, and it won't take as much time to complete as it would if you pick traditional education.
If you want to learn more about ADN programs in Montana including costs, schools, and salaries of nursing experts, keep reading.
Choosing the Perfect ADN Program in Montana – Things to Know
The first step toward your advanced nursing education is to pick the ADN program.
The choice isn't simple, because students can pick among various programs across the state.
However, some programs offer better job opportunities because they have appropriate accreditation.
The Commission for Education in Nursing and the Commission on Collegiate Nursing Education maintain the accreditation process for ADN programs, while the state's Board of Nursing deals with colleges.
You should make sure that you will be eligible to take the NCLEX exam after you complete the chosen program.
Also, learning more about the school itself gives you a better impression of the programs and students' responsibilities.
For example, if you want to know how challenging to finish school is, you can compare the number of students who start the program and the number of those who complete it.
Check what the NCLEX pass rates are and what an average time for completing the program is.
Having more information about the school will help you to make a decision.
Once you are completely sure about your choice, you can continue to the school requirements.
ADN Program Admission Requirements
Admission requirements are not the same across the state.
The school is authorized to update or change the requirements at the beginning of each academic year.
But, there are some general requirements common for most of the schools in Montana.
The first step toward admission is to prepare all high school and/or college transcripts.
Next, fulfill and submit all application forms and submit a proof of paying the fees on time.
Only students with a cumulative GPA of 2.5 or higher and an extracted GPA of 2.85 or higher for all pre-requisite courses are considered.
Make sure to submit the necessary documentation on time.
The Costs
The next thing to consider is the costs of education for a registered nurse with an ADN in Montana.
The fees vary across the state as well as the additional costs for nursing instruments, learning materials, etc.
Tuition for some schools includes all expenses, and it will be a good idea to check the list of things included in the tuition.
For example, if you pick the ADN program at the Helena College University of Montana you will have to pay somewhere between $8678 and $13378.
Schools in Montana
There is a large number of schools that offer exceptional training in the nursing field.
Because of it, you have higher chances to find the one that meets your needs completely.
For example, Montana Tech was the first school that has come up with a 4-year program and has a long tradition of 78 years of nursing education.
If you are looking for something shorter, you can pick a 5-semester program at Helena College.
A suitable choice is also a Missoula College with a 2-year program.
Carroll College features a high-quality, CCNE-accredited program.
Montana State University is the only school in the state with a generic BSN program in the state.
| School Name | Address |
| --- | --- |
| Montana Tech | 1300 W Park St, Butte, MT 59701 |
| Helena College | 1115 N Roberts St, Helena, MT 59601 |
| Carroll College | 1601 N Benton Ave, Helena, MT 59625 |
| Montana State University | Sherrick Hall, Bozeman, MT 59715 |
| Missoula College | 1205 East Broadway Street, Missoula, MT 59802 |
| City College of MSU Billings | 3803 Central Ave, Billings, MT 59102 |
| Flathead Valley Community College | 777 Grandview Dr, Kalispell, MT 59901 |
| Salish Kootenai College | 58138 US-93, Pablo, MT 59855 |
| Great Falls College | 2100 16th Avenue South, Great Falls, MT 59405 |
| Miles Community College | 2715 Dickinson St, Miles City, MT 59301 |
| Blackfeet Community College | 504 SE Boundary St., Browning, MT 59417 |
| Montana State University-Northern | 300 13th St West, Havre, MT 59501 |
| Aaniiih Nakoda College | PO Box 159, Harlem, MT 59526 |
Salary
The salary of registered nurses varies across the state and is affected by several factors.
Those are education level, experience, city, working facility, certificates, etc.
An average yearly salary of a registered nurse in Montana is around $57490.
Annual Salary Range:
Annual Salary by Location:
| Location | Avg. Annual Salary |
| --- | --- |
| Billings | $60,740 |
| Missoula | $52,420 |
| Great Falls | $54,990 |
| Butte-Silver Bow | $52,420 |
| Bozeman | $52,420 |
| Helena | $53,370 |
| Kalispell | $56,290 |
| Havre | $54,040 |
| Anaconda-Deer Lodge County | $52,420 |
| Miles City | $59,790 |
ADN Programs by State
---