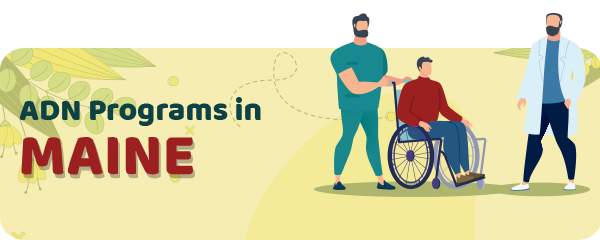 If you live in Maine and you want to continue your career in nursing as a registered nurse with an Associate's Degree, there is a pretty straightforward way to do it.
You can choose one of the numerous ADN programs at various schools across Maine.
In present circumstances, where more and more states are experiencing a shortage of RNs with AND, programs are getting accelerated and effective.
However, if you want a traditional education, there are high-quality programs as well.
Keep reading to find out useful information on ADN programs in Maine.
Choosing the Perfect ADN Program in Maine – Things to Know
The first step is to pick your educational program.
You might get overwhelmed with so many options in front of you.
But, if you follow our guidelines,  you can decide easier and without the necessary fuss.
First of all, your program should be accredited through the Commission for Education in Nursing or the Commission on Collegiate Nursing Education.
In Maine, the New England Association of Colleges and Schools is in charge of college accreditation.
Next, make sure that you will be qualified to take the NCLEX exam without additional training.
Then you can research more about the school, students' success rates, NCLEX pass rates, the average time to complete the program, etc.
You can always contact the school for more information about programs and students' support during studies.
If you have all the necessary information on the school of your choice, you can continue to the admission requirements.
ADN Program Admission Requirements
The requirements for each program are different.
Schools can change the requirements according to current trends in education or competition.
However, lots of schools in Maine that have nursing programs have a basic set of requirements students have to fill to be admitted.
Those are having a GPA of 2.5 or greater, having a competitive score on the TEAS exam.
Students are required to provide the application form and processing fees on time as well as official high school and college transcripts.
Additionally, all students are asked to submit a resume that describes former work and volunteer experience of a candidate.
The Costs
How much the school will cost you depends on which program you choose.
The tuition sometimes covers all the expenses, including those for appropriate footwear and nursing instruments, and sometimes not.
For example, if you choose the ADN program at Eastern Maine Community College, expect to pay a fee of 100$ per-credit-hour.
Schools in Maine
There are plenty of high-quality nursing programs in Maine.
Some offer various nursing degrees and RN to BSN bridge program.
Let's have a quick overview of the state schools, to make your decision easier.
Eastern Maine Community College is known for its outstanding ADN program.
Students who look either traditional or accelerated BSN program can pick the University of New England.
Kennebec Valley Community College in Fairfield and Southern Maine Community College have excellent curriculums focused on both theory and clinical experience.
Central Maine Community College is dedicated to training nurses to perform evidence-based practice and improve the current state healthcare system.
| School Name | Address |
| --- | --- |
| Eastern Maine Community College | 354 Hogan Rd, Bangor, ME 04401 |
| University of New England | 11 Hills Beach Rd, Biddeford, ME 04005 |
| Kennebec Valley Community College | 92 Western Ave, Fairfield, ME 04937 |
| Southern Maine Community College | 2 Fort Rd, South Portland, ME 04106 |
| Central Maine Community College | 1250 Turner St, Auburn, ME 04210 |
| St. Joseph's College of Maine | 155 W Roe Blvd, Patchogue, ME 11772 |
| University of Maine at Orono | 5713 Chadbourne Hall, Orono, ME 04469 |
| University of Maine at Fort Kent | 23 University Dr, Fort Kent, ME 04743 |
| Northern Maine Community College | 33 Edgemont Dr, Presque Isle, ME 04769 |
| University of Southern Maine | 96 Falmouth St, Portland, ME 04103 |
| Husson University | 1 College Cir, Bangor, ME 04401 |
| Maine College of Health Professions | 70 Middle Street, Lewiston, ME 04240 |
Salary
A salary is a result of various factors, including location and education degree, employer, and professional experience.
A registered nurse in Maine earns an annual salary of $61140 on average.
Annual Salary Range:
Annual Salary by Location:
| Location | Avg. Annual Salary |
| --- | --- |
| Portland | $63,460 |
| Lewiston | $62,830 |
| Bangor | $57,960 |
| South Portland | $63,460 |
| Auburn | $62,830 |
| Brunswick | $62,910 |
| Biddeford | $63,170 |
| Sanford | $64,170 |
| Augusta | $60,080 |
| Scarborough | $63,460 |
ADN Programs by State
---