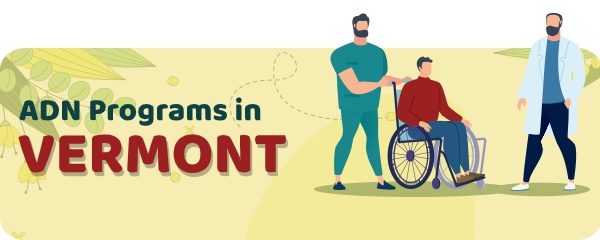 If you have always seen yourself as a registered nurse and you live in Vermont, there are a few steps you need to complete to get there.
Working as a registered nurse is rewarding, but also can challenging.
In Vermont, like in other states, there is a growing need for registered nurses with an Associate's Degree, and new programs are developing across the state to meet the needs.
It is why more and more programs are getting shorter, but effective.
There are so many options you can choose from, so keep reading to find more about fees, duration, best schools, and admission procedures.
Choosing the Perfect ADN Program in Vermont – Things to Know
When you first start getting into schools, you will notice that there are quite a few of them, but don't feel overwhelmed.
There are a few criteria that your chosen ADN program should meet.
The first one is appropriate accreditation.
The state's Board of Nursing manages the accreditation process for colleges; the Accreditation Commission for Education in Nursing or the American Association of Colleges of Nursing accredit the programs.
The next step is to check if you are going to be eligible to take the NCLEX exam after you complete the ADN program of your choice.
Some students find it useful to learn more about school statistics.
For example, research to find out how much students start the program and how many of them complete it, what are their NCLEX pass rates and job opportunities after completion.
Learning all this information about the program will give you a broader picture so you can continue with the admission requirements.
ADN Program Admission Requirements
The requirements of schools can vary and the school can change them annually.
However, some requirements are common for the majority of the schools.
Students are required to provide SAT I or ACT results and have minimum Accuplacer scores.
You will have to submit a personal essay, high school or college transcripts, and two letters of recommendation.
After you complete all these steps, you can be admitted to an ADN program in the state of Vermont.
The Costs
The fees for each program vary across the state as well as the list of things that tuition covers.
Let's take Vermont Technical College for example.
The estimated tuition for the ADN program is $16994 for students with an off-campus status.
Those who choose to take the room and the board can expect to pay around $30000 for the full program.
You should check if the tuition covers nursing instruments, review materials, and other costs.
Schools in Vermont
Check the list of best Registered Nurses program in Vermont.
Because there are so many options, you have higher chances to find the one that actually fits your needs.
| School Name | Address |
| --- | --- |
| Norwich University College of Graduate & Continuing Studies | 158 Harmon Drive, Northfield, VT 05663 |
| Norwich University School of Nursing | 158 Harmon Drive, Northfield, VT 05663 |
| Southern Vermont College | 982 Mansion Dr., Bennington, VT 05201 |
| University of Vermont | Department of Nursing, Burlington, VT 05405 |
| Vermont Technical College | 124 Admin Drive, Randolph Center, VT 05061 |
Salary
The salary is calculated with a large number of factors, including years of experience, certificates, facility, and the city.
An average annual salary of an RN in Vermont is $61080.
Annual Salary Range:
Annual Salary by Location:
| Location | Avg. Annual Salary |
| --- | --- |
| Burlington | $62,450 |
| Essex | $62,450 |
| Rutland | $63,010 |
| Colchester | $62,450 |
| South Burlington | $62,450 |
| Bennington | $64,160 |
| Brattleboro | $64,290 |
| Hartford | $65,010 |
| Milton | $62,410 |
| Barre | $61,880 |
Regional Salary in Vermont
| Region | Employed | Avg. Annual Salary | Avg. Hourly Pay | Top 10% Annual Salary | Bottom 10% Annual Salary |
| --- | --- | --- | --- | --- | --- |
| Burlington-South Burlington, VT | 2,920 | $81,230 | $39.06 | $99,540 | $60,900 |
* Salary information based on the May 2022 Occupational Employment Statistics (OES) Survey for Registered Nurses, OCC Code 29-1141, BLS.
* Employment conditions in your area may vary.
ADN Programs by State
---