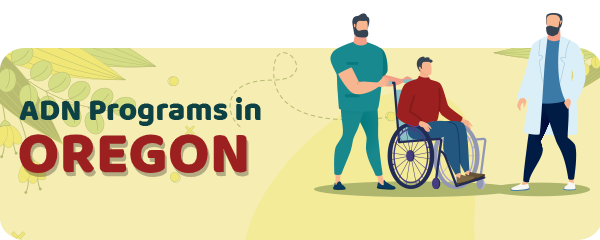 If you want to become an RN with ADN in Oregon, you will be happy to know now is the perfect time to start your ADN program!
Due to a nation-wide shortage of registered nurses with Associate's Degree, there are more educational programs available across the state which now last significantly less than before.
The programs have different curriculums to meet the needs of all interested students.
Keep reading to find out more information about the procedure and requirements for schools.
Choosing the Perfect ADN Program in Oregon – Things to Know
To find the best school for you with nursing training, you will have to do a little research.
Learning all you can about available programs is great to make the decision stress-free as it is a decision that will affect your further career development and education possibilities.
Make a list of all programs accredited through the Accreditation Commission for Education in Nursing or the American Association of Colleges of Nursing and choose one from the list.
Oregon's Board of Nursing is in charge of college accreditation.
Next, consider only ADN programs which will make you eligible to take the NCLEX exam after your completion.
Lastly, research as much as you can about schools in general.
Compare the statistics, for example, NCLEX pass rates and student satisfaction metrics, etc.
Don't forget to check how many students start the ADN program each year and how many of them complete it.
Once you are 100% sure of the decision, you can proceed with the admission requirements for the school of your choice.
ADN Program Admission Requirements
The admission requirements for different schools can vary, and change yearly.
Thus, make sure that you have updated information on the school requirements.
For the majority of the schools, you will have to submit the admission essay and have one letter of recommendation.
Only students that have completed the TEAS exam with a minimum score of 63% will be considered.
Students are required to submit a high school diploma or GED.
Only students who fulfill all the requirements will be admitted to an ADN program in Oregon.
The Costs
The costs vary across the state as well as the list of things the tuition covers.
Make sure to check whether the learning materials and nursing instruments are included in the overall fee, or you have to provide money for the additional costs.
For example, the full costs for the ADN program at the Linn-Benton Community college will cost you from $11500 to $13800.
Schools in Oregon
Let's have a quick overview of the best schools in Oregon with nursing training.
Because there are so many of them, you have higher chances to find the one that fits your preferences.
Clatsop Community College is known for its high-quality nursing program for ASN students.
Chemeketa Community College nurtures the holistic approach to patient care and has a rigorous curriculum.
Lane Community College offers wide nursing education, with ADN programs and LPN to RN bridge programs.
Central Oregon Community College has a partnership with colleges in the area to ensure their BSN students get the best knowledge.
The graduates can choose to go on to a BSN degree through partnerships with area colleges.
Linn Benton Community College has developed the leading nursing program, following strict theoretical and practical standards.
Rogue Community College has various nursing degree programs, including LPN to RN and an ADN degree.
If you seek a program that lasts for two years, you can check Clackamas Community College which offers the Associate of Applied Science degree in nursing.
The OHSU in Portland is a world leader in educating students in the healthcare and nursing field.
Walla Walla University, also in Portland, has BSN courses for juniors and seniors in nursing.
Lastly, Portland Community College offers the possibility for ADN graduates to transfer to the BSN programs.
| School Name | Address |
| --- | --- |
| Clatsop Community College | 1651 Lexington Ave, Astoria, OR 97103 |
| Chemeketa Community College | 4000 Lancaster Dr. NE, Salem, OR 97305 |
| Lane Community College | 4000 E 30th Ave, Eugene, OR 97405 |
| Central Oregon Community College | 2600 NW College Way, Bend, OR 97701 |
| Linn Benton Community College | 6500 Pacific Blvd SW, Albany, OR 97321 |
| Rogue Community College | 3345 Redwood Hwy, Grants Pass, OR 97527 |
| Clackamas Community College | 19600 Molalla Ave, Oregon City, OR 97045 |
| OHSU - Portland | 3181 SW Sam Jackson Park Rd, Portland, OR 97239 |
| Walla Walla University - Portland | 10345 SE Market Street, Portland, OR 97216 |
| Portland Community College | 12000 SW 49th Ave, Portland, OR 97219 |
| OHSU - Eastern Oregon University | One University Boulevard, La Grande, OR 97850 |
| Concordia University-Portland | 2811 NE Holman St, Portland, OR 97211 |
| Oregon Coast Community College | 400 SE College Way, Newport, OR 97366 |
| OHSU - Southern Oregon University | 1250 Siskiyou Blvd., Ashland, OR 97520 |
| Mt. Hood Community College | 26000 SE Stark St, Gresham, OR 97030 |
| Sumner College | 8338 NE Alderwood Rd, Suite 100, Portland, OR 97220 |
| Blue Mountain Community College | 2411 NW Carden Ave, Pendleton, OR 97801 |
| OHSU - Monmouth | 345 N. Monmouth Ave, Monmouth, OR 97361 |
| OHSU - Oregon Tech | 3201 Campus Dr, Klamath Falls, OR 97601 |
| Columbia Gorge Community College | 400 E Scenic Dr, The Dalles, OR 97058 |
| Southwestern Oregon Community College | 1988 Newmark Ave, Coos Bay, OR 97420 |
| Linfield College | 2255 NW Northrup St, Portland, OR 97210 |
| George Fox University | 414 N. Meridian St., Newberg, OR 97132 |
| Treasure Valley Community College | 650 College Blvd, Ontario, OR 97914 |
| Umpqua Community College | 1140 Umpqua College Rd, Roseburg, OR 97470 |
| University of Portland | 5000 N Willamette Blvd, Portland, OR 97203 |
| Klamath Community College | 7390 S. Sixth St., Klamath Falls, OR 97603 |
Salary
A registered nurse in Oregon earns a median annual salary of $63170.
The salary depends on several factors, including location, facility, experience, etc.
Annual Salary Range:
Annual Salary by Location:
| Location | Avg. Annual Salary |
| --- | --- |
| Portland | $66,290 |
| Eugene | $62,170 |
| Salem | $63,990 |
| Gresham | $66,200 |
| Beaverton | $66,290 |
| Hillsboro | $66,080 |
| Medford | $59,420 |
| Springfield | $61,710 |
| Bend | $61,300 |
| Corvallis | $62,500 |
ADN Programs by State
---